Disclaimer: Brandy Howard is an actress and writer, best known for her work as "the hot girl" in commercials for beers including Coors Light, Miller Light and Bud Light. She is not a medical professional or a scientist, although she is in Mensa. Per ushe, the opinions, beliefs & viewpoints expressed by the various authors on this website do not necessarily reflect the opinions, beliefs and viewpoints of Autostraddle.com 'as a whole. Also, we joke around a lot.

+++++
Three days ago, I was sitting on my couch eating Oreos and watching Family Guy when my dermatologist ruined my life.
I was multitasking an Oreo and sifting through my mail, when I came across a newsletter from Lisa Benest, M.D. It was a glossy, botox-filled pamphlet, featuring extreme close-ups of beautiful women with no pores and no problems. The front page said, "Would you choose GM food if given a choice?"
And life, as I knew it, was over.
Life-ruining news is like great gossip: it must be shared immediately, and with as many people as possible. So here I am, and here's the deal: GM stands for Genetically Modified.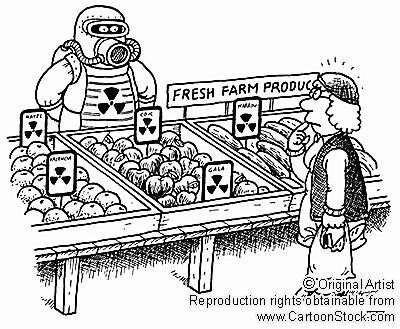 When I hear the words "genetically modified," I think of cloning sheep and test tube babies and stem cell research and chromosomes and how the curly hair gene is dominant over the straight hair gene and I wish they could find a way to modify that before I procreate. But this is not about people, or animals. It's about corn. And soybeans.
According to the article, in the mid-90s, sharecroppers and scientists got together and created a special super-hero gene that they injected into the DNA of corn and soybeans in order to grow super-hero crops. With this modified DNA, the crops were able to withstand large amounts of deadly pesticides.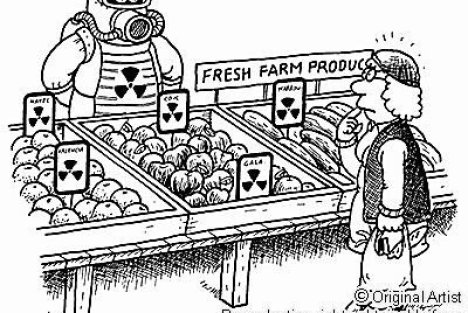 Despite the obvious problems with making food immune to being slathered with the harshest, most toxic of chemicals, the Clinton administration launched an expensive propaganda campaign convincing the country that these super-hero crops were awesome because they would put us on the fast track to ending world hunger.
We, the people, voted (well, probably not any of us since were all watching Life Goes On and the OJ trial and were too young to vote), and boom! Here we are. More than half the food in the grocery store contains GM derivatives, world hunger is at an all time high, and there's a laundry list of disorders linked to consuming GM foods (including but not limited to autism and infertility).
The whole thing is extremely disturbing and I decided to scan the newsletter and let you guys read about it for yourselves. If Riese/Laneia/Rachel/Taylor were writing this they'd be witty and smart and they would dissect the newsletter and put it into relatable lesbian terminology and wrap it up neatly at the end. I, however, am too lazy and have no skillz (except numchucks and bowhunting).
All I know is this: all the food you buy needs to say CERTIFIED ORGANIC or the baby that you'll never have will be autistic and you'll always be gassy cuz of all the bacteria growing in your stomach with superstrong DNA. Being gassy all the time SUCKS (and I know this firsthand). It's totes inconvenient and not sexy. The same goes for infertility.
Here's the Newsletter. READ IT NOW!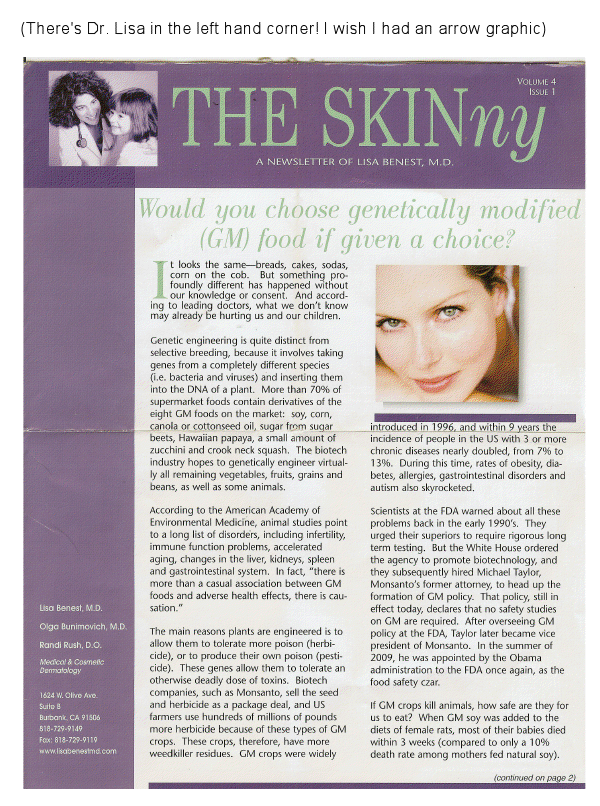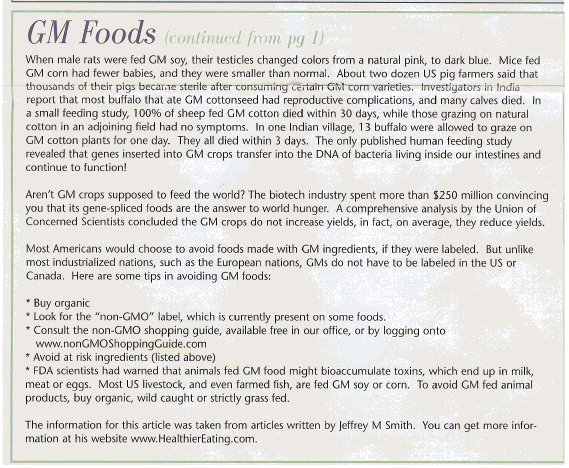 HOW FUCKED UP IS THAT?????
Last night I decided to make brownies (after I realized I'd eaten all the Oreos), but I looked on the back of the Vegetable Oil and found out it's made from soybeans. I had the generic Vons vegetable oil and it was definitely not Certified Organic. It wasn't even fake organic.
I had my first cooking dilemma: do I pop over to Trader Joes and get non-GM vegetable oil?
Do I just use what I have?
Or, do I just skip making brownies all together?
Fuck that. I already had the brownie mix, and once it's in your head, there's no going back. In the end, my laziness won and I used the bad oil. I had already eaten a bag of Doritos anyway, and there was no way those were made with organic corn. The brownies didn't taste as good as they usually do, though. Something seemed.. altered, and it wasn't just the oil — it was my awareness.