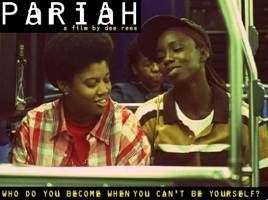 Focus Features paid "well under $1 million" for the worldwide rights to Pariah, the black lesbian coming-of-age film that earned a standing ovation on Sundance Film Festival's opening night, which we suspected could change the world or something. Pariah also made the front page of The New York Times's Sundance coverage from last weekend.
Weinstein Co. and Sony Pictures Classics also bid for the film but Focus Features bagged it. It's part of a two-picture deal because NBC Universal liked the film so much they want Dee Rees to also work on another, yet-to-be-determined, project, which indiewire says totals a "seven figure deal."
Focus Features has a strong track record with LGBTQ-themed films, having successfully rolled out The Kids Are All Right (nominated for four Oscars this year), Brokeback Mountain and Milk.
A relevant quote from filmmaker Dee Rees:
"The biggest surprise associated with making Pariah came after watching the first rough cut when we discovered that this was not a "black lesbianwp_postsmovie. We had fought this BRUTAL uphill battle in funding the film with financiers and investors balking at the story because it was "too small and specificwp_posts(which is code for "too black and too gay"). After we screened the first cut, one of our early advisors went so far as to describe it as "commercial.wp_postsWe didn't know whether to slap them or celebrate. After all that time fighting our way through pitch after pitch and pass after pass, we had come to wear our "outsidernesswp_postslike a badge of honor. Perversely, we felt like, "How dare you label us accessible?!". LOL. And even more than that, Pariah turned out to be this nice ensemble piece, not just the single-character driven story that it was perceived to be. I'm completely in love with the cast and the way they opened up all of the characters and made it this richer, deeper piece that has so much heart and life beyond [our protagonist], Alike. The amazing performances gave us such an embarrassment of riches in the edit room that we had to actively stay focused to make sure that it remained Alike's story."
Obviously Focus Features loves gay people and knows the market (full disclosure: Focus Features advertised on Autostraddle for The Kids Are All Right, which we think indicates SUPREME WISDOM on their behalf), having produced the most commercially successful LGBT films of all time. (Check out Gay Celebrities Picks of Family Films on their website, it's fun).
A lesbian-directed lesbian-written film about black masculine-presenting women is going to come to your ACTUAL MOVIE THEATER. I can't even.
+
Other homo-friendly films from Sundance:
+
Becoming Chaz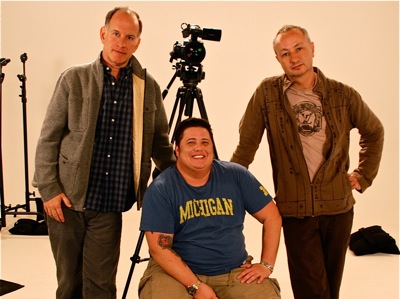 Becoming Chaz, a documentary about Chaz Bono's gender transition, was acquired by the Oprah's OWN Network and will premiere in May.
+
Circumstance
Circumstance, acquired by Participant Media, offers a "rare glimpse of forbidden love in today's Iranian youth culture." Writes Jenni Olson, for Filmmaker Magazine:
Here is a film that both embodies and transcends the label: "lesbian film.wp_postsAll the elements are here — great script, an enormously talented and confident director and a skilled cast that includes the charismatic young actresses Nikohl Boosheri and Sarah Kazemy (pictured above and soon to be swooned over by teenage girls across the globe). The film effectively immerses us in the experience of two teenage girls navigating the wild Iranian underground scene as they grapple with their attraction for one another against the backdrop of an impossibly homophobic society (and an increasingly fervent fundamentalist brother).
+
Codependent Lesbian Space Alien Seeks Same
In Codependent Lesbian Space Alien Seeks Same, three lesbian aliens come to earth — and specifically to the New York lesbian dating scene — with a mission to get their hearts broken by earthlings, therefore protecting the ozone of their planet from the force of their overactive emotions. One alien falls for a stationary store clerk while the other two, turned off by the neediness of earthling women, end up connecting with each other.