This week I found myself in a part of this city we call San Francisco that I know nothing about and never visit. I ate lunch at a delicious little whole-in-the-wall diner called Tito's Cable Car Diner, which is weird because it isn't located on, or even near, a street in San Fran with a cable car and also it is run by a guy not named Tito. But all of that misinformation is forgiven because the food was amazing and the sweetest old man sat next to me and talked to me about birds. It was a lovely experience really.
Other lovely experiences this week include our old cat FINALLY accepting our new cat in the form of head nudges and belly showing, binge-watching Grace and Frankie and Autostraddle dot com.
Speaking of Autostraddle… Stef found some ridiculous tabloid headlines and Stef-ed them up as only Stef can do.
Carolyn speculates on the sex toys perhaps utilized by your favorite television queer folks. You'll be surprised at what you learn about yourself on this one.
Orange is the New Black comes out SO soon. Like right after A-Camp. I wonder if Heather can somehow work out pre-screening at Camp. HEATHERRRRR!
My wife just read The Price of Salt and really identifies with Gabrielle's take on things.
The Editors answered all of the questions.
In a not-so-veiled attempted to win my undying love and affection, Tegan and Sara's new music videos feature cute dogs.
Also Geena Davis! And Comments!
---
On The True Price of Salt: On the Book that Became "Carol":
The Clitionary Award to Cazz and Lex:
On Listling With Minimal Commentary: 39 Completely Context-Free Tabloid Headlines:
The That's What She Said Award to Hattie:

On Pop Culture Fix: Kristen Stewart's Favorite Words are "Dude" and "F-ck":
The Jane Says Award to queer girl:
On Brianna Hildebrand has a Girlfriend: "Deadpool" Actress Is Out on Twitter, NBD:
The Can't Stop Won't Stop Award to queer girl:

The MVP Award to Chloe:
On No Filter: Rhea Butcher Crashes The Rockford Peaches Reunion:
The Regina Phalange Award to Brianna: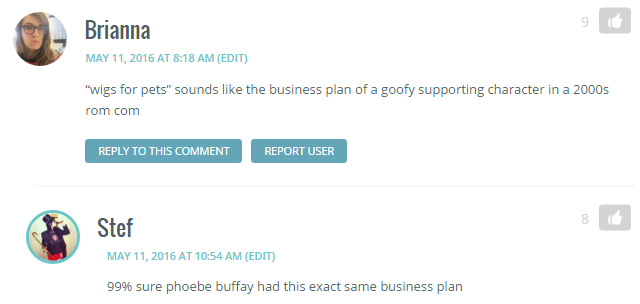 On Boob(s On Your) Tube: "Orphan Black" Wonders Who's The Science Now, Bitch?:
The Priorities Award to Charlotte:

On Orange Is the New Black's Season Four Trailer is Dark and Full of Secrets:
The Orange is the New Dissertation Award to Tessa:
On Some Answers to Some Things You've Been Asking Us #8:
The Butch Please Award to monae:

On Also.Also.Also: Lesbian Kicked Out of Prom for Wearing a Tux and Other Wait, What the F*ck?:
The 11th Commandment Award to S Casey:

---
See a clever, hilarious or thought provoking comment around this website-ship? Email it to me at: bren [at] autostraddle [dot] com!