There's not much new to report on the queer TV front since Thursday's courtroom drama on Grey's Anatomy, but I thought we could have a little rundown of Orphan Black, even though nothing explicitly gay happened on it. Also, thanks to Valerie Anne for letting me know that you can now watch the first four episodes of this season for free on YouTube! Episode five airs on Thursday.
---
Orphan Black
Thursdays on BBC America at 10:00 p.m.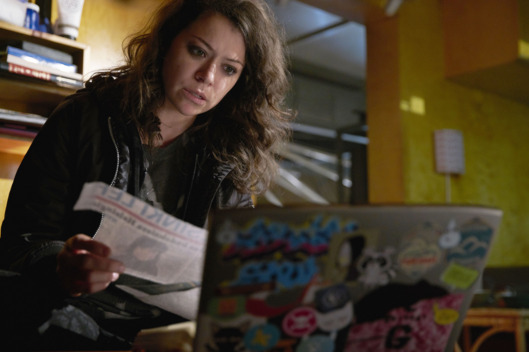 Well, Cosima is still dying and Delphine is still missing and when did this show get so gross? I mean, I know it's always been a little bloody, has always leaned a little into body-horror — but good lord! This week, Leekie's head ends up on a table, prompting Cosima to ask him "Who's the science now, bitch?!" (It is him. Leekie is the science.) They dissect the NeoWorm in his face and conclude that it's some kind of protein delivery system, meaning it's changing Sarah's DNA, meaning she's ten times more frantic about getting it out of her cheek than she was last week, and she was already acting thoroughly unhinged.
First, she gets Dizzy to help her break into MK's RV (where they almost get blown to smithereens). Then, she tries to stiff-arm MK into helping Ferdinand so Ferdinand can find Rachel so Rachel can use her HBIC powers to get the NeoBot out of Sarah's jaw. Too bad Ferdinand was the guy behind Helsinki and that Helsinki was the genocide of about a dozen Ledas, including MK's best friend. So instead of helping Ferdinand, MK lures him to Beth's old apartment and exacts the most beautiful revenge I have ever seen. She tricks him into sitting on a spring-loaded bomb, lights a candle for every clone he killed, takes him step-by-step through a slideshow of why he's the worst, douses him with gasoline, and forces him to transfer his entire three million dollar net worth into her Paypal account. Then she bounces.
Sarah calls S and S diffuses the bomb while rolling her eyes because she's just the baddest badass. Ferdinand lives to see another day … for now.
One of the other dumb things Sarah does is yell at Alison about how she's not pulling her weight, indicating that she does not know about Leekie's head rolling around in Scott and Cosima's laboratory. So, Alison tracks down a Neolution fertility lab, makes color-coded binders containing her research, laminates some new IDs for Felix and Donnie, and sends them into to pose as a couple looking to have a baby. She even phone sexes Donnie and accosts one of her neighbors who's visiting the clinic to find out how she and her husband were able to get pregnant even though they'd had as many problems as Donnie and Alison. The answer is: BrightBorn, which is basically Neolution gynecology. Designer babies.
Rachel tries to get another note to Ferdinand via Charlotte, but her mother intercepts it. She make Rachel choose between saving Charlotte's life (Charlotte, who is kind of Rachel's daughter) and letting her die of Cosimafluenza so they can use the "data set" for more clone research. Rachel says let her die, but that's before she realizes her letter to Ferdinand has been confiscated. She had a backup plan, I think, to save Charlotte. But now she does not and her evil mother is going to let Charlotte die for data and for punishment.
Perfect, beautiful Helena packs her bags and scampers away from the Toronto suburbs after Donnie tells her to dial it back with the pregnancy talk around Alison. He's an idiot. Helena buries her "science babies" in the garden before she goes, apologizing for not "feeding them liquid nitrogen" to keep them alive.
Stay safe, sweet angel!
This continues to be my favorite season since the first one. I know the plot holes and science holes are a little more noticeable this season, but I don't care. I'm happy to suspend my disbelief a little more than usual for the reward of a slowed-down plot and getting to see Tatiana Maslany do brilliant character work.