Oo-de-lally, oo-de-lally, golly, what a week. In case you missed it, Orange Is the New Black's season four trailer is intense as heck and Deadpool's Brianna Hildebrand has a girlfriend. Below is the rest of the queer pop culture news you need in your life today.
---
Celebrity Profiles
There's nothing I love more than a good celebrity profile. (Caity Weaver's GQ profile of Justin Bieber is hands down the best one I've read in 2016.) This week, we've got two queer gems: Variety talked to Kristen Stewart (which Stef mentioned in No Filter, but I want to talk about even more) and NoTofu talked to Sarah Paulson (it was "raw and real").
Here are the top ten things from each profile.
Kristen Stewart
+ Her favorite words are "dude" and "fuck."
+ She drinks champagne over ice like some kind of Liz Lemon while contemplating her life and the mysteries of the universe.
+ She thinks the Twilight sequels are "a little splattered against the wall."
+ She doesn't "fucking know" what Chris Hemsworth was thinking making that Snow White and the Huntsmen origin story.
+ She knows she has a sort of "heavy energy."
+ "I'm not hiding shit," she says. "And I'm very obviously …" She leaves the last word of that sentence in ellipses.
+ She doesn't want to label her sexuality because it's very easy for her to be cool with being with women and she doesn't want that easiness to make kids who are struggling with their sexuality feel bad? Or something.
+ She wants to be part of the LGBT movement without using the word "gay."
+ She let the paparazzi follow her with her girlfriends because she wanted kids to see her kissing another girl and feel okay doing it too.
+ She idolizes Jodie Foster.
Sarah Paulson
+ She "talks fast, laughs easily, and she thinks about things deeply."
+ She didn't mean to out herself, she just really wanted to kiss her girlfriend, Cherry Jones, when she won that Tony Award.
+ "What am I gonna do, pat her on the back and say 'good job, dude?"
+ She knows one of the reasons you were so happy when she started dating women is because you thought she'd be alone forever with 500 cats.
+ She thinks everyone should be able to love "whomever you fucking well please."
+ She doesn't know how Marcia Clark did it either, tbh.
+ Every time she has auditioned for a leading role with brunette hair, they ask her to dye it blonde.
+ She only knew OJ Simpson from the Naked Gun movies(!!!) (before his trial).
+ John Travolta did the dances from Grease and Pulp Fiction for her, on command, on the set of The People vs. OJ Simpson.
Teevee
+ Are you watching Samantha Bee's new talkshow, Full Frontal? You should be. It's very good. This week she dragged Harriet Tubman haters and tackled anti-abortion centers. Emily Nussbaum also wrote a great review of the show in this week's The New Yorker.
+ Hello, Golden Girls Funko figures are here. (Thanks for the heads up, Nic!)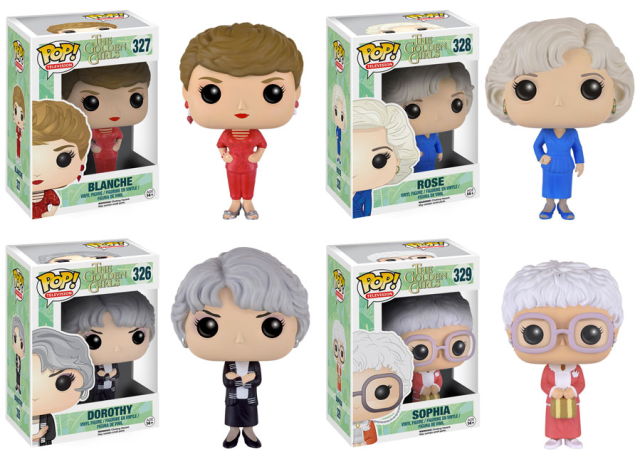 + Scream (and gaymo Audrey) will be back for a second season starting May 30 on MTV. The trailer is finally her. (It's gross!)
Movies
+ What we have here is an adaptation of Sarah Waters' Fingersmith.
Wait, what?
I think Sophie Turner and Jennifer Lawrence are practicing fisting together?