Hello and welcome to the ninth recap of the third season of Faking It, a show about what happens when you turn a maxi dress into a mini pad! This finger lickin' good program is brought to you by the same network that brought you Singled Out, the best game show of all time.
---
We open in Amy's den of sin and martyrdom, where she's engaging in some heavy over-the-clothes petting with her best Amiga, Sabrina. The two hungry teenagers paw at each other's buttons and apparent double-bra situations like cats vaguely interested in having lunch, while cooing about how the past four days have been incredible and magical! Aw man.
Then who should interrupt but Farrah, wanting to know if the ladies are bringing dates to her Ho Ho Ho Ho Ho Ho Ho Ho Ho Ho Ho Ho Holiday Party. Like maybe… you know… Felix? NOPE, says Amy. NOPE No Felix, no dates, no persons of interest. Farrah's not buying it, 'cause she says Amy's seemed ESPECIALLY happy lately, so there must be somebody! The girls, amused with themselves, deny the accusations, but when Farrah dips out, Amy dips in: she knows Sabrina's not ready to come out to her imaginary parents or any other persons from her vacant backstory, but Amy doesn't like lying to her Mom or Karma. Sabrina agrees to let this exclusive circle in on their deal, but is nervous about Karma. Amy insists there's nothing Karma could say that'd come between them! I can't wait to find out what Karma's gonna say to come between them!
---
Java the Jamhouse Hey Jude Don't Be A Steamed Milk You Were Made To Go Out and Mooooo-cha: Karma's convinced that Sabrina's only pretending to be a lesbian in order to sink her claws deeper into Amy's tender label-free skin, but Felix thinks Karma sounds crazy and refuses to partake in Karma's anti-Sabrina campaign.
Like a flash of light from a far away star colony, Amy rushes into the Coffee Haus, burning to tell Karma about Sabrina questioning her sexuality and slipping Amy the tongue. Amy knows Karma's not president of the Sabrina Fan Club, but she really hopes Karma won't talk trash about Sabrina or try to talk Amy out of being in this thing that makes her so so so so happy! Karma's like WHO ME NOPE. HAHAHAHA What was I thinking where was I oops so spacey!!! I just want you to be happy!!!
---
LAUREN & LIAM'S LAIR: NO MORE ONE-NIGHT STANDS IN MY APARTMENT, LIAM, THIS IS NOT A BROTHEL AND YOU DO NOT PAY RENT AND THAT GIRL BROKE MY MUG AND WANTED COFFEE AND THIS IS NOT A COFFEE SHOP FOR ONE-NIGHT STANDS. NO ONE-NIGHT STANDS LIAM HOW HARD IS THAT.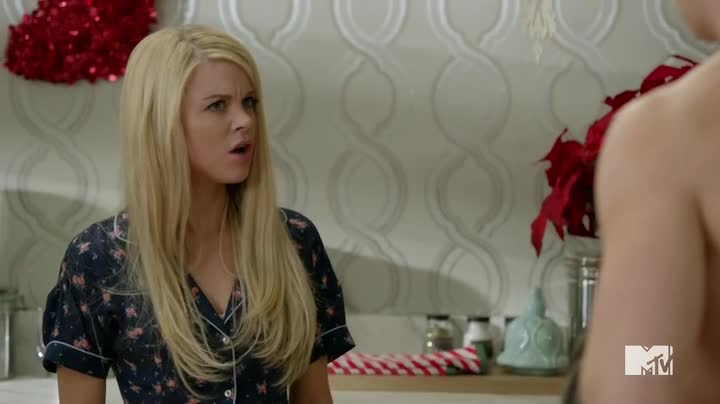 WELL LAUREN EVERYBODY BESIDES MONKS HAVE ONE-NIGHT STANDS. MAYBE YOU SHOULD LOWER YOUR STANDARDS AND HAVE BOYS OVER SO THAT YOU CAN STOP "SLUT-SHAMING" ME BECAUSE I AM A VICTIM.
Lauren: Do you know how hard it is to find a handsome athletic ambitious young libertarian who wears khakis that actually fit and is comfortable with a strong woman?
Does anybody know if Kelly Clarkson wears khakis that actually fit? E-mail me.
---
Band Room: The Band Room has a nice rug that I want for my band room! Shane and Noah are gonna have sex tomorrow! Not tonight, because of the HO HO HO party and the Reiki Healing Test, but tomorrow. Yup for sure tomorrow! It's a sex date!
---
Hester High's World-Famous Cafeteria Common Area Situation With Vitamin Water: Karma gives Sabrina a piece of her mind about playing with Amy's heart and emotions, but Sabrina insists there's nothing fake about their relationship and she won't let Karma fuck it up by being a jealous paranoid bitch.
Sabrina accuses Karma of accusing her of killing Tupac and storms out, leaving her CELL PHONE behind. Yeah, the phone a boy called her on and she had to tuck away while Karma was yelling at her. That phone.
---
Liam's unclear on why Shane hasn't slipped Noah the salami yet and Shane is dying inside 'cause he can't talk to Liam about Noah being trans. Instead, Shane demands details on Liam's sex life, which Liam admits is over 'cause Lauren doesn't have a sexy sexy sex life of her own to drown out the moans and growls from his one-night ladies.
Shane suggests they find her a new man, but Liam says her standards are too high — and, as if on cue, we meet PRESTON, wearing tight khakis and arguing with Penelope Delia Fisher about why there's no Libertarian club at Hester Homo High School For Hedonists. SCORE.
---
Ho Ho Ho Holiday Party: Amy reveals her relationship with Sabrina to her Mom, and her Mom's totes cool!
In fact, Farrah has ALSO reconnected with somebody from her past and he's here right now at this very party! Turns out Farrah's new/old flame, Ron, is a criminal who steals and lies and Amy is not at all thrilled about his return to their fiesta.
---
Meanwhile, Amy summons Felix to her lair to demand he hack into Sabrina's phone.
Felix is no Caleb, unfortunately, and instead fate must jailbreak the phone — Evan, Sabrina's obvious boyfriend, rings his lady to let her know he's in town and on his way to her place and Karma answers, pretending to be Sabrina, and asks him to meet them at the Brew-and-Chew-You in five minutes! Probably there's gonna be like a jazz quartet thing tonight and she doesn't wanna miss it. Who doesn't love a nice jazz quartet and a warm cup of java.
---
Back at the Ho-Ho-Hoagie Party, Amy's determined to prove that Ron is still a terrible person who gets his girlfriends involved in Pyramid schemes and is overall a lying manipulative asshat. Sabrina's like, "What if it was just a little lie that got out of hand and now he really likes her? What if he's changed?" Yup — so Sabrina was lying about her sexuality… but then she fell for Amy anyhow. WATCH AND LEARN, KARMA.
Meanwhile, Lauren shows up with lesbian twins she calls "New Lisbeth." She delivers strict orders on how to improve her Instagram game by taking lots of glamorous candids where she looks "relateably fabulous."
But look out, Lisbeths: Liam's brought Preston to the party, and it doesn't take long for him and Lauren to hit it off on the topic of American exceptionalism and manifest destiny. Sparks are flying this evening, ladies, but Shane's in a tizzy about Noah's vagina and is coping by making Leila answer weird questions about peppermint bark.
Shane: Suppose you absolutely adore candy canes and you don't think you even liked peppermint bark, but then you find some peppermint bark you really wanna eat, does this mean you're a peppermint bark person now and not a candy cane person?
Leila: I'm not allowed to have processed sugar.
Sigh.
---
Pages: 1 2See entire article on one page