In the MTV series Faking It, best friends Karma and Amy pretend to be a lesbian couple in order to become popular — an idea which initially seemed a bit far-fetched to most LGBTQ viewers, to say the least. This charade leading Amy to realize that she has a genuine crush on her best friend, however? That felt very realistic! But a story like Faking It's could only really be told exactly where it's being told — at the fictional Hester High, a sort of parody of ultra-liberal progressive educational institutions where everybody takes Yarn Arts and Reiki, grows their own lunch, eschews popularity contests, celebrates freedom of expression and scoffs at tradition. Although Amy's character hasn't exactly been handled perfectly, the show has been making strides in other areas, going ALL OUT with LGBTQIA representation. With this season's introduction of a gay trans male character, it got us thinking — is Faking It winning the contest for who can represent the most letters in the LGBTQIA "alphabet soup"? And what does it mean that all these strides in representation have occurred just in time for the show to get cancelled?
Once upon a time, a show could really only get away with having one gay character and, if they were lucky, a few guest characters to date that one gay character. Although in life you often find lesbians in the same corners of the world where you find gay men or trans people, that's not how it usually happened on television outside of specifically queer programs like The L Word or Queer as Folk. More and more these days, though, one queer character is not the beginning and end of that show's attempt at representation, but a sign of more queers to come.
So let's take a look at who's really batting it out of the park when it comes to really unfurling the entire rainbow and then running around with it enthusiastically! It should be noted that none of these shows feature an "A", outside of this one second of Faking It:
---
Please note that these infographics are not objective truths, and I couldn't figure out a blanket solution to categorizing regular vs. recurring vs. guest characters that worked for all these shows. It's a little bit of this and a little bit of that, and is absolutely impacted by how personally familiar I am with any given show. This data should not be used as containing concrete facts so much as a useful overview. If a character represents two demographics — like a gay trans man — then they are included twice, once for "gay" and once for "trans man."
---
Faking It – LGBTQI – 3 Seasons (MTV)
We're only at Season Three and Faking It already scores big for representing a few identities rarely seen on screen: a gay trans man, a bisexual man and an intersex woman. ALSO a poly queer Mom! Also! ALSO. ALSO. Although I didn't count her character as a trans woman because her character was not identified as such, trans actress of color Laverne Cox had a guest role in Season Two.
---
Glee – LGBTQ – 6 Seasons (Fox)
Glee is the only show on this list to feature both a trans woman and a trans man in prominent roles, and the only show besides Transparent to feature both a trans man and a trans woman at all… although Glee's treatment of their trans woman character was pretty appalling. Still Glee is a rare bird for having storylines that centered entirely on several queer characters, most notably Kurt, Blaine, Santana and Brittany.
---
Degrassi: The Next Generation – LGBTQ – 14+ seasons (CTV)
Degrassi has the advantage of having several casts cycle through the show with turnover every few years. This provides a lot more opportunities for diversity, and they sure do go there. Starting with Marco, Degrassi has been telling the stories of teenage queers falling in love since the early '00s. Adam remains one of the few trans male characters to be part of the main cast of any television show, ever. But uh, his story didn't end too well.
---
Orange is the New Black – LBTQ – 4+ seasons (Netflix)
Oh man I go crazy for a show that has shit-tons of queer women in it! Orange wins all the diversity awards for racial diversity and focusing unapologetically on women's stories. Its regular cast represents a lot of people we rarely see on TV, like a queer transgender woman of color and a fat butch lesbian. Plus, there's two black lesbian characters in the main cast and they aren't even dating each other!
---
Nip/Tuck – LGBTQI – 7 Seasons (FX)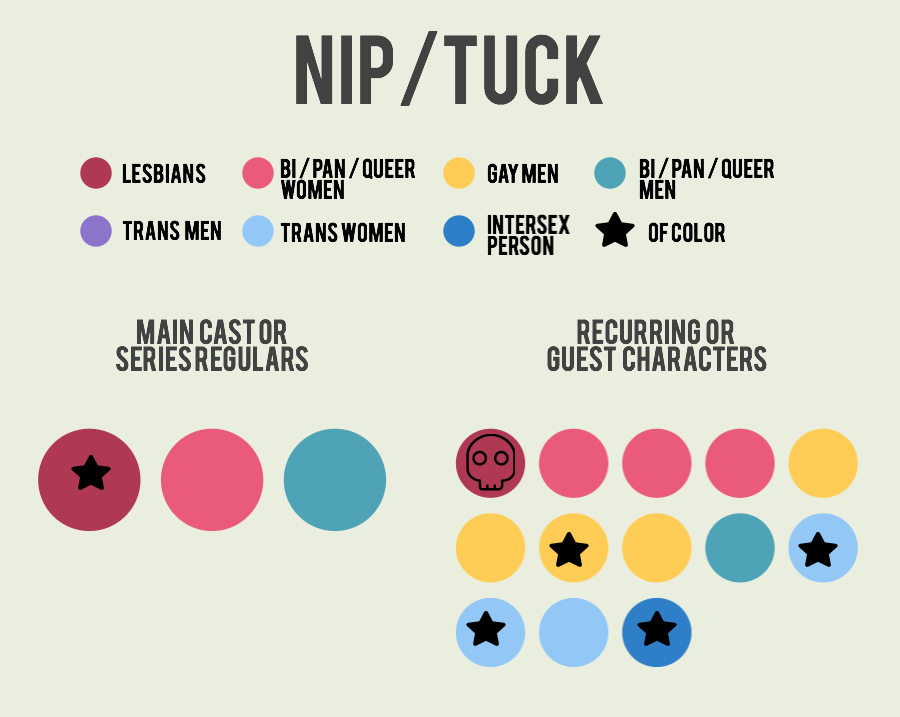 Nip/Tuck was not afraid to be totally queer and also totally offensive to queer people. It was a real paradox of a program! This is why it's a good thing that GLAAD has shifted its focus on evaluating media representation from quantity to quality.
---
Transparent – LBTQ – 3+ Seasons (Amazon)
Transparent has changed the face of trans representation but it's also been telling really interesting stories about queer sexual orientations, too. Every woman in the Pfefferman family is queer! Also, however, everybody is white. Seriously that one person of color in the "recurring" column is our very own Brittani Nichols, who once wrote, "I rarely see anyone that looks like me in movies/web series/TV. To the point that the most glaring examples of people that look like me ARE ACTUALLY ME."
---
The L Word – LGBTQ – 6 Seasons (Showtime)
The L Word has featured more lesbian and bisexual female characters than any other show in the history of time forever. It was also lauded for its inclusion of Max, one of the first trans male TV characters with a recurring role, but his character, much like Unique's on Glee, was so mishandled that it likely did more harm than good. The L Word knocked it out of the park with lesbian representation, but definitely needed more racial diversity. Of the four lesbians of color indicated as "Main Cast or Series Regulars," only one — Bette Porter, played by Jennifer Beals — was in all six seasons of the show.
---
Sense8 – LGBTQ – 2+ Seasons (Netflix)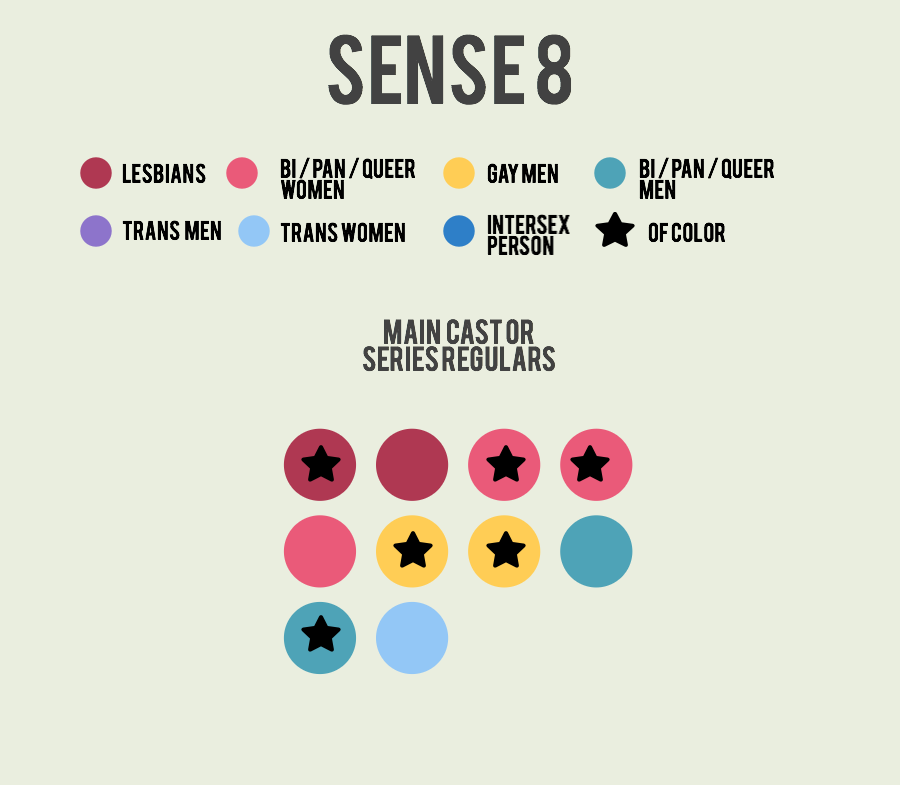 Sense8 scores for having a two gay men of color as well as a lesbian trans woman dating a black woman. Some of the representation here is based on the fact that the producers have said that all the Senses are pansexual, which so far hasn't really been an element of their specific lives so much as an element of their ability to exist within the consciousness of other variously-gendered Senses.
---
Empire – LGBQ – 3+ Seasons (Fox)
Empire is notable for having so many queer characters of color. And also for killing and/or shooting them.
---
Pretty Little Liars – LBTQ – 7 Seasons (Freeform)
Along with Santana Lopez, Emily Fields is one of a few queer women of color in the main cast of a non-streaming television show.
---
Skins – LGBQ – 7 Seasons (e4)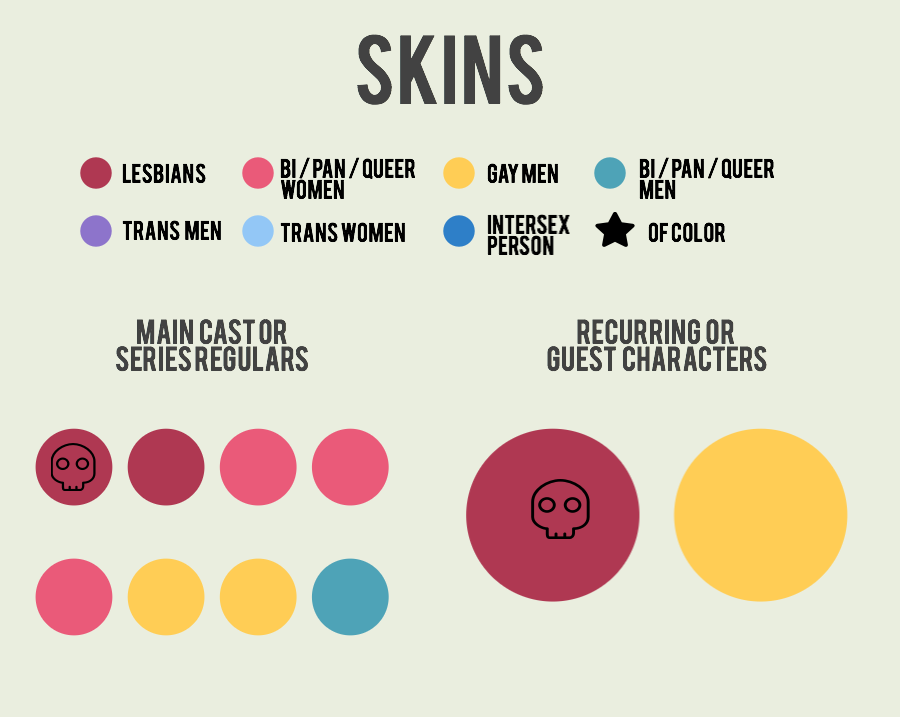 Not included in the infographic is the fact that in Series Five, Franky was presented as genderqueer, although that element of her character was kinda wiped out in what turned out to be the show's final season.
---
True Blood – LGB – 7 Seasons (HBO)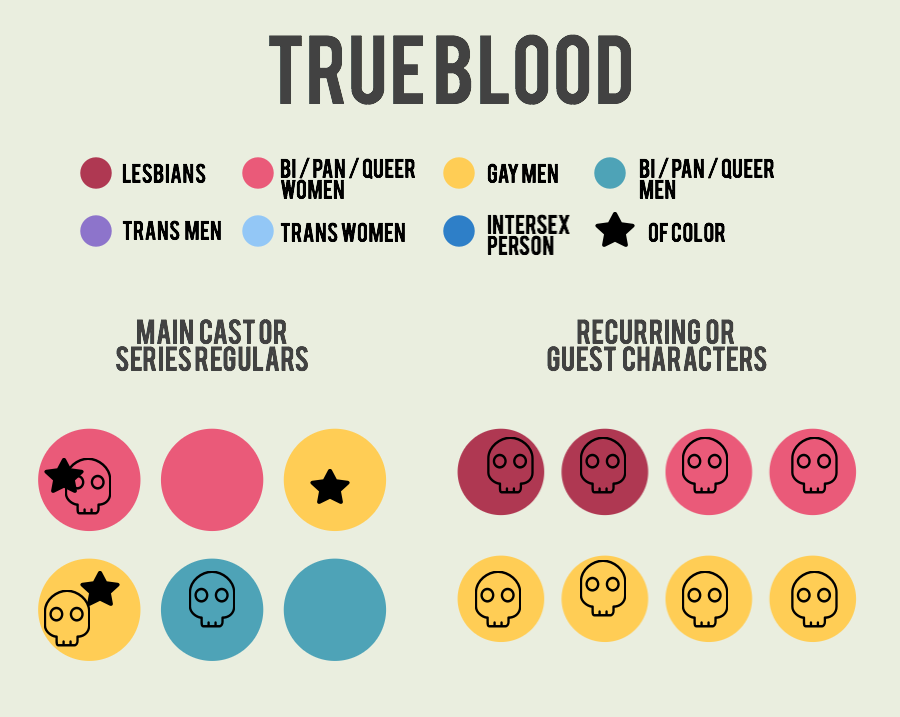 True Blood's numbers benefited significantly from vampires being pansexual. It also gets props for having a gay black man and a bisexual black woman in its main cast, both of whom had more than one same-sex relationship throughout the show. They killed Jesús, though, so.
---
The Fosters – LBTQ- 4+ Seasons (Freeform)

In addition to giving us a story focused very tightly on a middle-aged interracial lesbian  relationship, The Fosters has also broken ground with its portrayal of a pre-teen gay boy coming into his identity.
---
American Horror Story – LGBTQ – 5+ Seasons (FX)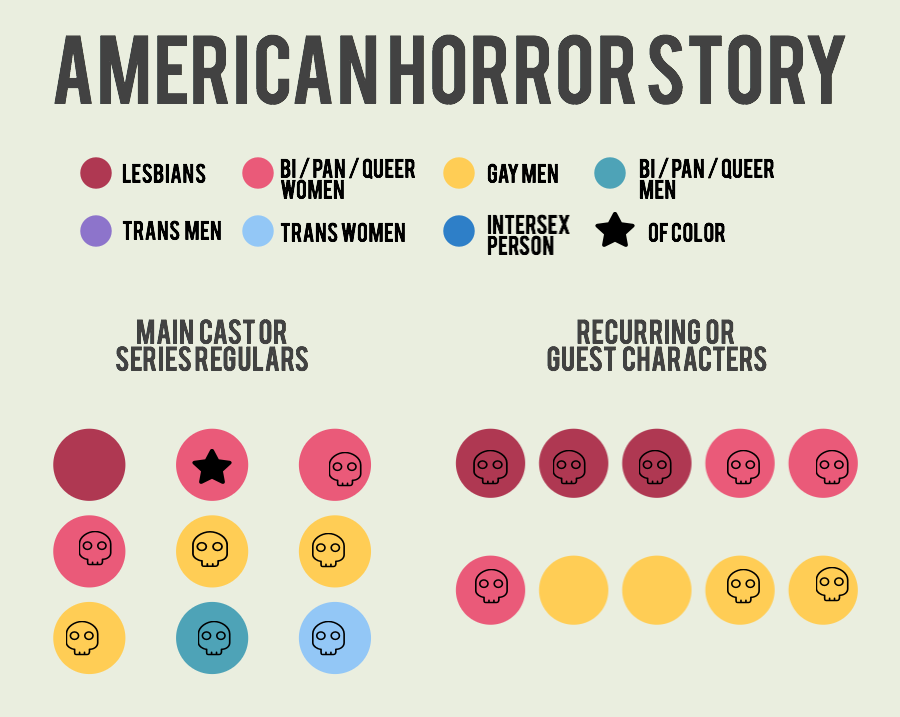 With a new cast every season and a creator who loves creating offensive transgender characters, AHS has had many opportunities to showcase queer characters and subvert tropes. Its second season was notable for having a lesbian character be the only one left standing at the series end, subverting the dead lesbian trope.
---
Shameless – LGBQ – 7+ Seasons (Showtime)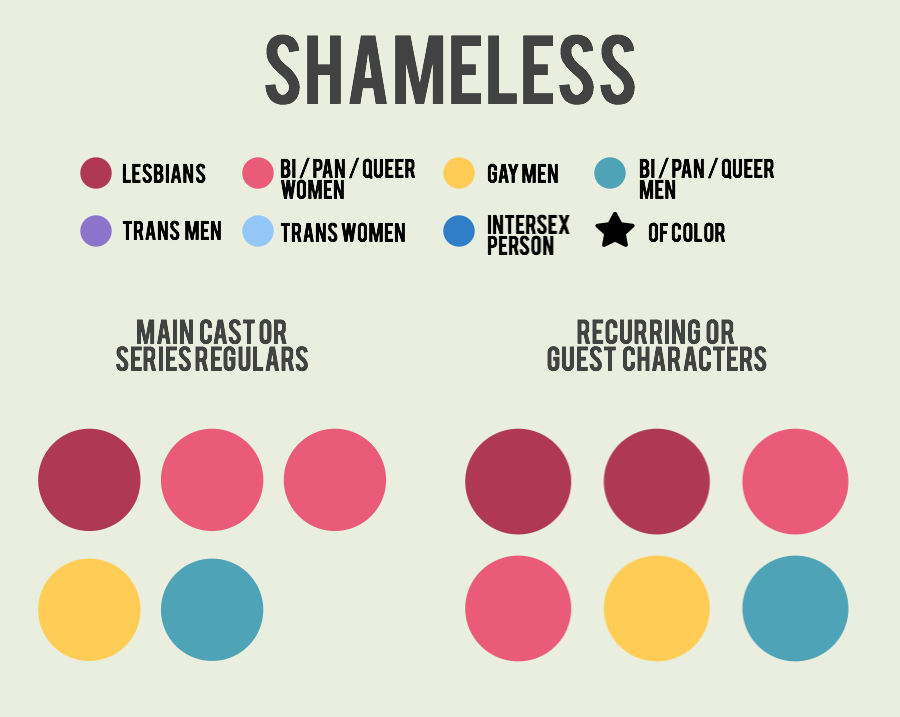 I've never seen this show! This data is based on Wikipedia. Educate me, friends!
---
Wentworth – LBTQ – 4+ Seasons (Foxtel)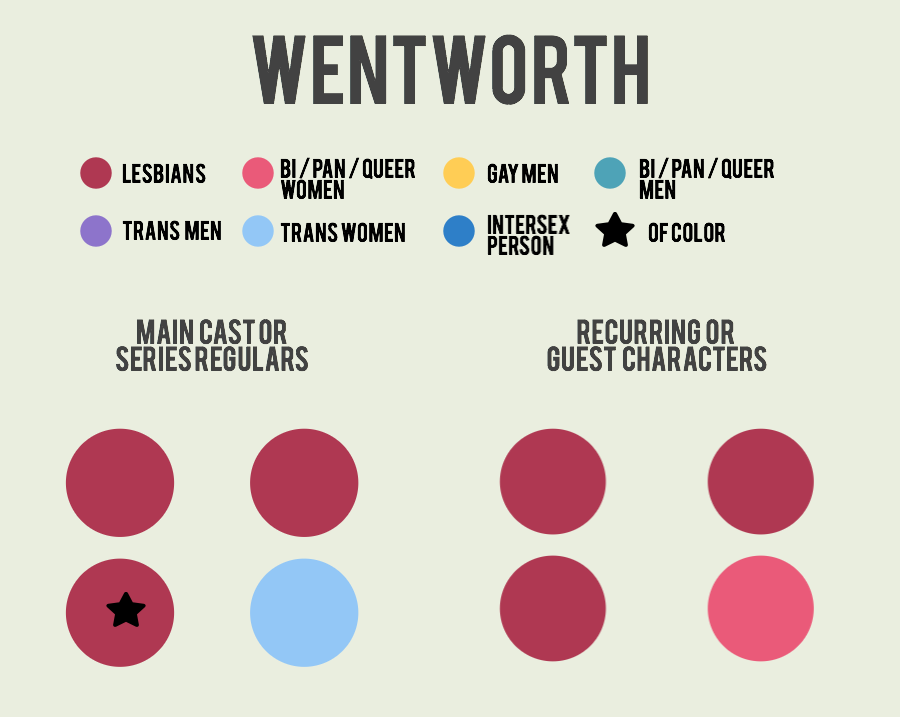 Wentworth is so good and its trans female character Maxine has been done really well. Also props for showing that prison staff, not just prisoners, can be gay too!
---
Queer as Folk – LGBT – 5 Seasons (Showtime)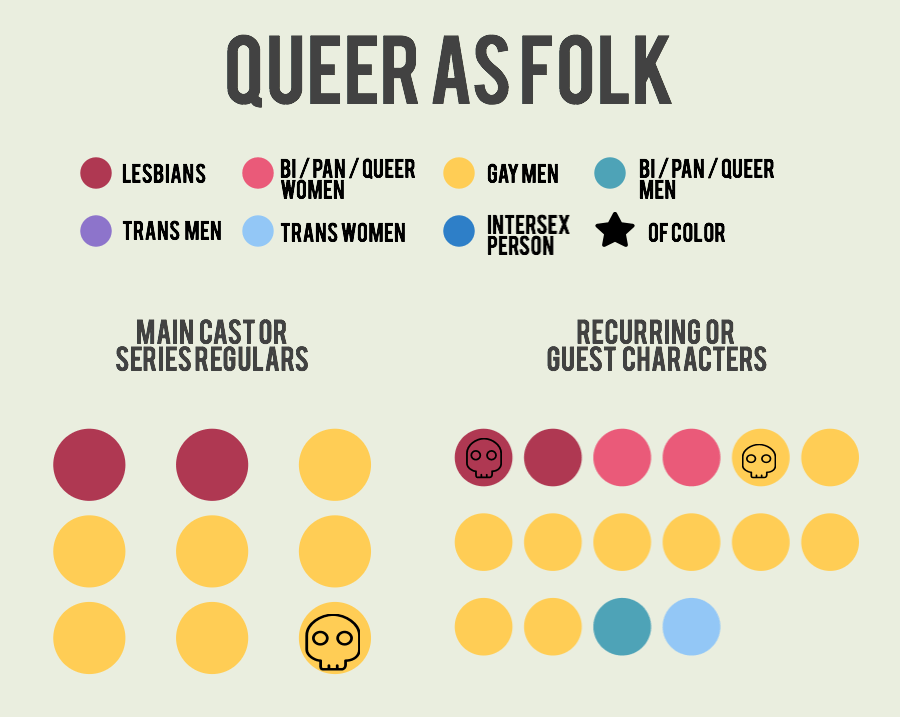 WHITER THAN FRIENDS. Also the trans woman character had like three lines in six seasons, so.
---