​​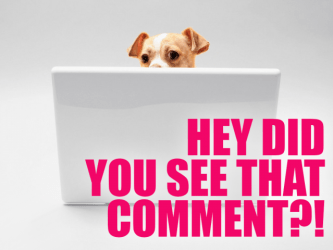 Hello there, weekday warriors! This week was pretty okay in gay. Jane Lynch got a star on the Walk of Fame, Raven-Symoné and AzMarie continued to be the cutest ever and Janelle Monae's new album started streaming online. Also, butch clothing line Marimacho invited you to come celebrate their New York Fashion Week debut (not to be confused with LA Fashion Week) on Saturday.
But wait! There's more surprisingly super news that shouldn't still be surprising us in 2013. NASA's astronaut candidate class is half women this year and at least six children's clothing companies want to do more than dress young girls like "pink glitterbombs".
Finally, Vanessa baked a honey cake for Rosh Hashanah (and you can too), Kate made a playlist to soothe your long distance love sads and Brittani premiered a brand new episode of Words With Girls.
---
On Raven-Symoné and AzMarie Are Basically The Cutest Thing Ever:
The Using Pensatucky Power For Good Award to Jackie: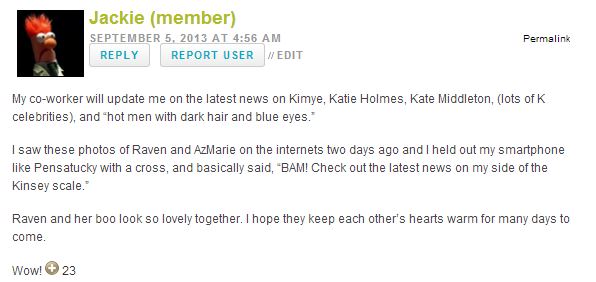 The Everyone's Raven About Them Award to Carmen SanDiego:

On Badass Lady Astronaut Candidates: Meet NASA's Class of 2013:
The It's Basically The Underwater Level In Mario Bros. Award to Jones:

On Queer Outfit of the Week: Back to School:
The This Is Why Online Courses Were Invented, Right? Award to e:

On We've Got 12 Loyal A-Campers and They've Got 12 Reasons To Attend A-Camp:
The A-Camp Angels Award to jenfriday:


On Autostraddle Calendar Girls 2014: Rachel is Miss September:
The Meep Urch Meep* Award to Grace:

The You've Got Chemistry Award to Luccia:

*Pssh, Grace! This is for you.
---
See a clever, hilarious or thought provoking comment around this website-ship? Email it to me at: carrie [at] autostraddle [dot] com!