Since Autostraddle dot com got started back in the day, our eventual goal has been to create real tangible three dimensional communities where queer women can connect and love and support one another. The bigger we get, the more we are able to facilitate the creation of these communities: we host international meetups regularly, we run weekly interviews with readers, we created A-Camp… the list goes on and on. Our hopes and dreams include the idea that one day, every single Straddler will have a real-life community to call their own. We're running a revolution, but the thing about a revolution is that we're nothing without each other. So in the spirit of loving each other and creating bonds that are real, we're going to start running some community-based submissions every so often. Think of these submissions as a peek into your fellow Straddlers' diaries, scrapbooks, homemade collages. It's like sitting on someone else's bedroom floor and listening to them describe what the inside of their soul looks like. We know it's scary to put on your cutest shoes and brush your hair and get out there when we host a meetup weekend, but we want you to be brave and do it because it is always worth it. Community is everything. This is what can happen when you meet Straddlers in real life. This is what the beginning of the revolution looks like. – Vanessa
---
What I Want From My Queer Community: Inspired By An Autostraddle London Meetup
By Hattie
"Stop worrying about your identity and concern yourself with the people you care about, ideas that matter to you, beliefs you can stand by, tickets you can run on. Intelligent humans make those choices with their brain and hearts and they make them alone. The world does not deliver meaning to you. You have to make it meaningful… and decide what you want and need and must do. It's a tough, unimaginably lonely and complicated way to be in the world. But that's the deal: you have to live; you can't live by slogans, dead ideas, clichés, or national flags. Finding an identity is easy. It's the easy way out." – Zadie Smith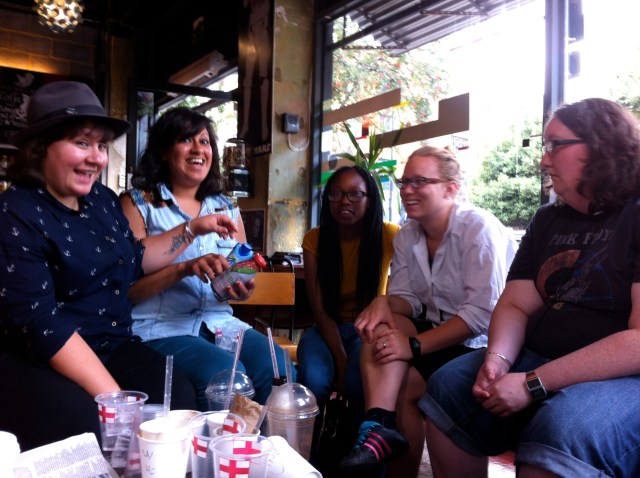 I want a group of fiercely loving queers around me.
I want to laugh about the amount of us called Alice and Kate, for some unexplained reason.
I want them to tell me to suck up my fear and send my writing off to Autostraddle even if it sucks, and that it probably doesn't suck. I want them to offer to edit it for me.
I want us to be each other's cheerleaders. To be unashamedly clapping from the sidelines of our lives. I want that movie night. That popcorn. I want to pick it out of my teeth for days afterwards because that's what popcorn does to me and it's why I don't eat it but I'd eat it for these queers and I'd want the reminder of the night for longer. I want to show them the kind of friend I can be. I want to lure them with promises of baked goods but hope secretly that they can see my worth beneath that.
I want people who admit they've felt loneliness. I want people who've never thought it's possible to have too many friends and they just don't quite have space for me, who turn away once I've blurted out things I should keep to myself. I never did know how to keep my mouth shut. I want people who also don't know how to keep their mouths shut and who never tell me I should shut mine.
I want queers who feel familiar, who I find myself looking at and laughing with and wondering if we've met before because it's like I know them already. I want to wonder if we knew each other in a past life. I want them to be serious and silly and deep and strong and funny and unexpected and tough and weird and different and hopeful and on the verge of becoming. I want it to be real.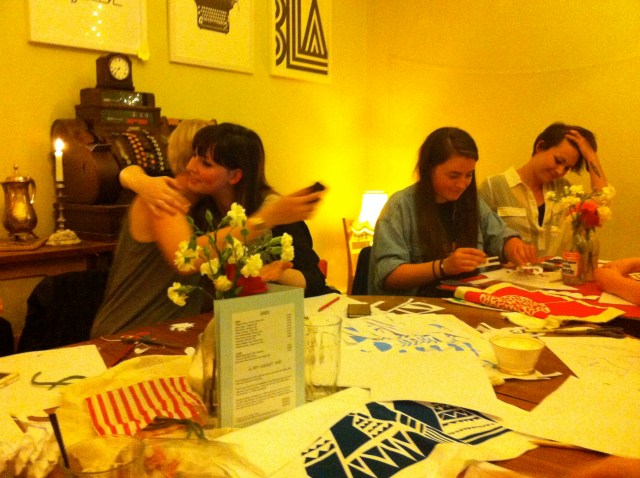 I want us to get it wrong. I want there to be silences and awkward pauses. I want us to figure each other out. I want us to hug when we become aunts for the first time. I want us to tell stories, but also to build them together. I want the sisters, and brothers, and mothers, and teachers, and I want us to pass on those stories, to tell them around campfires, to toast marshmallows and champagne glasses. I want people to run with, bounding through forests as thick as memories, knowing the way through or just guessing which way to go but holding hands and doing it together.
I want people who quote poetry and TV shows and have opinions and argue and travel to places and make me jealous with the amount of things they've seen or times they've been to A-Camp. I want friends I can look up to.
I want them to understand when I talk about Her and know the feelings that curl in my throat when She buys me sunflowers to remind me to turn towards the sun and make u-haul lesbian jokes and not say things like, "but if you had to choose between a guy and a girl…" and, "is that stuff even satisfying though, what do girls do in bed?"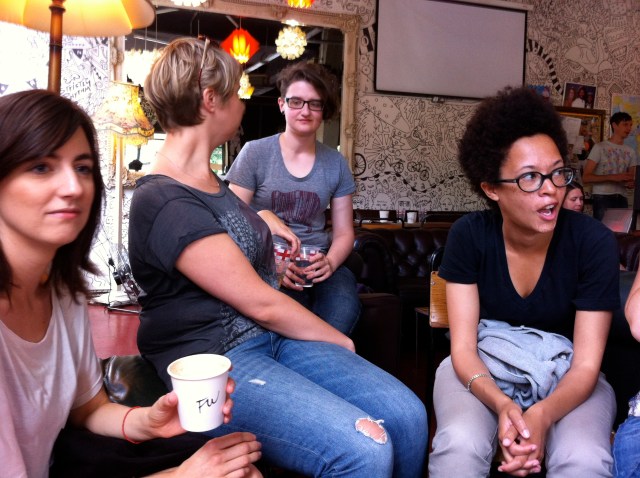 I want us to take over coffee shop sofas and pub benches and be visible for all the times we've felt invisible. I want us to talk about guitars and soap making and philosophy and haircuts and coming out and all the small town drama our friends seem to perpetuate and we chose to move away from. I want them to tell me the best places to get fish and chips, how they met their girlfriends (OKCupid, the girlfriend of an ex best friend, OKCupid, OKCupid), to show me pictures of their vintage dresses.
I want them to tell me I'm still femme even though I shaved my head and I'm not wearing lipstick tonight. I want us to laugh at dirty jokes and convince each other to go to orgies and serve cookies topless and then come back and talk about it. I want sex positivity. I want stiletto femmes who love me in my crocs and wear boots and still consider themselves stiletto femmes. I want an inclusive experience. People who never tell me I'm too much, too little and all the wrong things. I want four hour long brunches and the beginnings of friendships where we forget we're all here because we're queer get used to it and might just stay because something in us connects through the shy awkwardness of performing yourself to people who don't know you yet.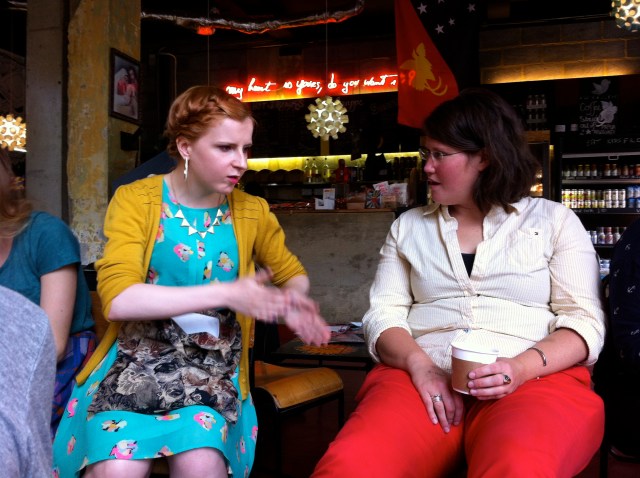 I want us to become the kind of friends who hold each other through the really bad stuff. And then go for afternoon tea and ice cream and hot chocolate and cupcakes and cocktails and pizza and more cupcakes and vintage shopping. I want it not to matter who we love. I want love to be love to be love to be love.
I want to learn from the baby dykes who already know who they are and show them how proud I am of them for getting here way before me, and ask them their secret and what it's like because I still don't know who I am fully. I want a group of queers with whom I can eat burgers, drink cocktails and make the gayest screen-printed tea towels on a Monday night. I want people who make me think of the sea, and remind me to breathe.
---
Hattie writes poetry, film reviews and reveals too much information about her life doing blog-style-journalism. She spends a lot of time hiding from the things she's afraid of under a duvet and through the power of comfort food. She lives in North London with the worst tuned Gay-dar ever… her Jew-dar is pretty good though. She hosted a four hour brunch in London during Autostraddle International Brunch Weekend 2013 and was so inspired by the event that she wrote this essay.