Just because they have no concept of holidays or human cultural traditions doesn't mean your pets wouldn't enjoy a special treat for the holigays. So hang a tiny stocking for your furry or feathered or scaly friend and fill it full of goodies and then Instagram that shit so everyone will see how much you love your little baby boo. Even if they don't care about unwrapping presents and lack the opposable thumbs to do so, your cuddly best friend will love these gifts!
---
Ferrets
Ferrets notoriously love to cause ruckus play games. You could give them a paper bag or a cardboard box, but since it's a special occasion, here are some more adorable ideas.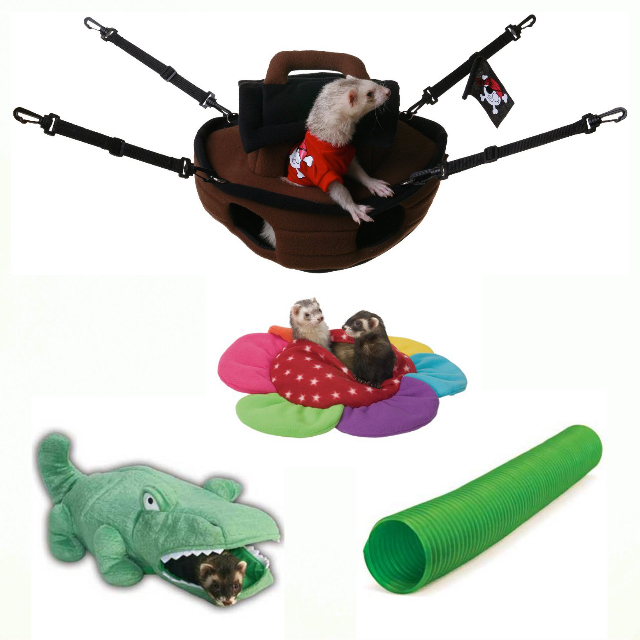 Marshall Pet Pirate Ship
What did the pirate ferret say to the other ferret? ARGH! Wait…that joke doesn't make sense. But that's not even the big issue here. The million dollar question is how to get an tiny eye patch on your tiny ferret's tiny face.
Marshall Flower Shaped Krackle Sack
Shut up about how cute this is. Flower power for your little cutie pies!
Marshall Ferret Hide-N-Sleep Alligator
It's an alligator! It's a bed! It's a hiding place! Get in there, ferret, get in there!
Ware Fun Tunnels
This simple tunnel will satisfy your ferret's desire to burrow and it is very affordable and easily replaceable if it gets gnawed on by little ferret teeth.
---
Dogs
Because sometimes you need to see your dog with a mustache or watch them absolutely lose their shit over stuffed squirrels or work their brains with a food-motivated puzzle. Here's some fun and unusual toys for your doggie friend.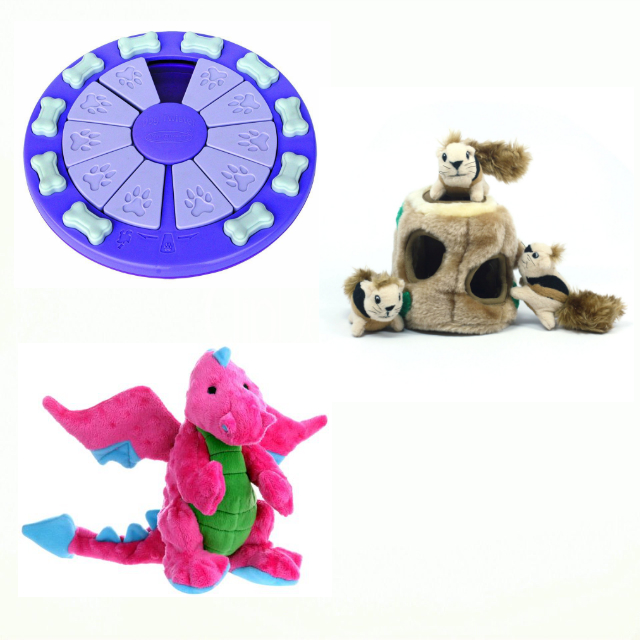 Nina Ottosson DogTwister Interactive game
For the Ivy League dog, a very fun game. For a less advanced dog, maybe a horrible torture device that makes doggie sad.
Kyjen Hide-A-Squirrel Puzzle Toy for Dogs
Come on. Look at all those squirrels that are just begging to have their stuffing ripped out like fluffy entrails! There's nowhere to hide, squirrels!
goDog Dragons With Chew Guard Technology
Well, this dragon is just adorable. And supposedly, according to the reviews, very sturdy and able to resist violent chewing.
Humunga Lips and 'Stache Fetch Toy
Your hipster dog needs this hipster mustache or oversized lips. How ironic but not really because that's not really what irony is.
---
Rabbits
I am the proud parents of two naughty bunnies and Aphrodite and Gandalf personally approve these toys for your bun bun.
Timali Original Activity Zone
This activity center has lots of things to play with and shred and chew on, including the table itself. Functional!
Rosewood Small Animal Fun Tree Boredom Breaker
For the rabbit who likes to dig, chew, so…like…all bunnies ever. Give them this tree so they don't dig and chew your furniture and carpet!
Ware Corn-E-Carrot Small Pet Chew Toy
Your bunny baby needs to chew on something, so why not this little sisal carrot? It's a safe natural fiber that's the perfect size for your bunny to toss around. This is a carrot that's safe to give your bunny every day (since carrots are actually not the best food for rabbits…did you know that?).
Ware Natural Pine and Sisal Wood Bun-E-Fun Ring Toss Toy
Many bunnies like a rowdy game of flip-n-toss and this rope and wood keyring is a great size for such silliness. Give it to your bun and watch them flip their shit, literally.
Hagen Living World Pet Tunnel, Large
---
Birds
Your bird needs lots of fun toys to bust boredom and stimulate their little birdie brains. Here's some fun and pretty stuff you can add to your bird habitat.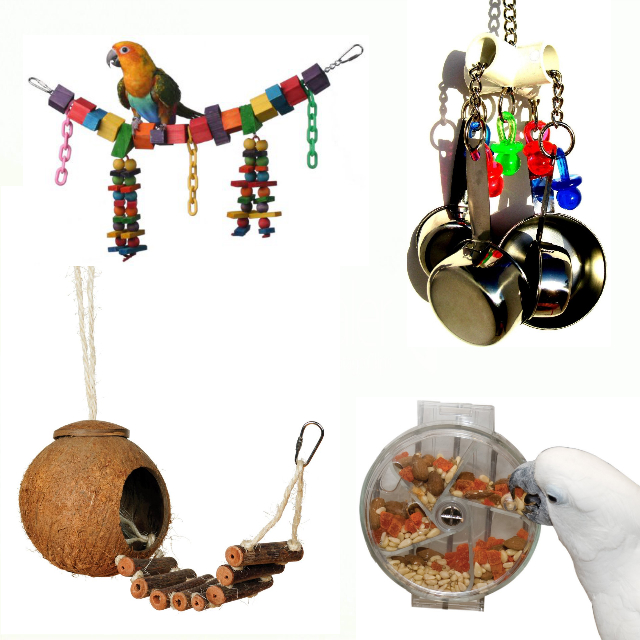 Super Bird Creations Rainbow Bridge
Get your feathered friend ready for Pride with this decadent rainbow-colored chew toy. According to reviews, it is not a bridge or perch so much as a toy for chewing and hanging, nor is it for very large birds, but 9 out of 10 birds agree it is great for destroying mercilessly.
Bonka Clacker Bird Toy
If you love giving your purty birdy toys that they can use to annoy the hell out of you, this dangly noisy toy will fit the bill. The bill, like beak, get it? Also it has random plastic pacifiers so your bird can pretend to be at a 90's rave.
Prevue Hendryx Naturals Coco Hideaway with Ladder
How adorable is this little coconut shell house with the cute little ladder?! Imagine your little bird's face peeking out of the shell. Oh, gawd, so cute! 100% natural and eco-friendly, to boot!
Creative Foraging Systems Foraging Wheel
Indulge your bird's natural desire to forage and curious mind with this foraging wheel by Creative Foraging Systems. Beats cage boredom and makes a fun game out of treat time!
---
Cats
Our weirdo cat eschews all fancy toys and prefers trash: paper strips, plastic bags, boxes, string. He's really into DIY fun. Ugh, he's such a hipster.
For those of you without hipster cats, you need some good fun toys. But you know about catnip toys and tiny mice. Here's some cat toys that will really take your relationship with your cat to the next level. Your feline familiar will freak out for these automated sci-fi-like toys that make playtime last beyond your capacity to keep pushing the button on the damn laser pointer.
FroliCat – Pounce
Lazy pet owners rejoice! Push a button and Marshal Mouse (That's his name. Really. It's trademarked.) will go forward, backward, twitch and run for 10 minutes. The fun won't stop until your cat passes out from exhaustion or your 10 minutes is up.
SmartyKat Loco! Motion Cat Toy Automated Activity Toy
Come on! Come on! Do the Loco Motion! This horrible genius device will keep your cat guessing and pouncing for up to two hours. TWO HOURS. Adjust the speed dial and pick a preset program from 15 minutes to two hours of play and let the games begin!
FroliCat BOLT Interactive Laser Pet Toy
If your cat is like my cat, they just have to catch that red dot. This toy looks like a high end sex toy, but it isn't! It's a fancy laser pointer! You can use it manual mode and control the laser yourself or turn on one of the automated programs, set it on a flat surface, and let your cat have at it for 15 minutes.
SmartyKat Hot Pursuit Cat Toy Concealed Motion Toy
You have seen the commercial for this cat toy, yes? It's one of those tv infomercial things, which probably means it is made of cheap parts. However, I looked for real Youtube videos of real cats playing with this very poorly named toy, like the one above, and it seems to be a real good time. For $12.99, what do you have to lose?
---
Guinea Pigs
Our wiggle pigs love a good house to hide in or a bundle of sticks to chew on. Guinea pig needs are pretty simple: food, food, food, food, love, food, hiding spots, chew toys, food. These fun toys will speak to your piggies' natural instincts.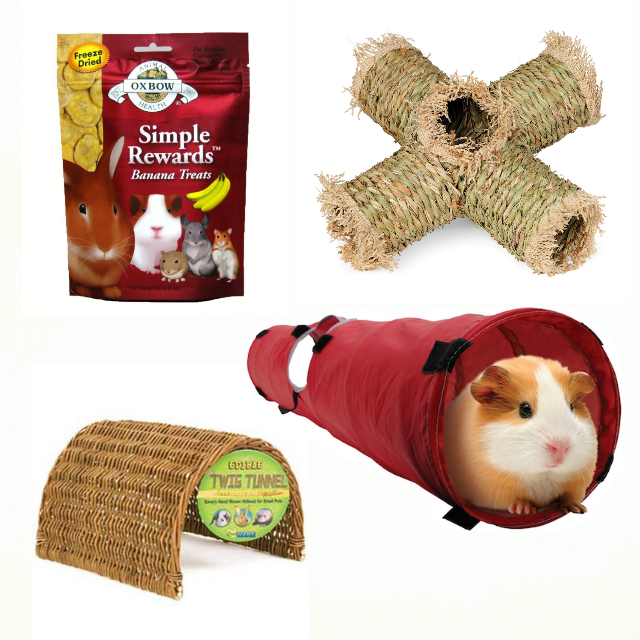 Oxbow Simple Rewards Banana Treat
Our wiggle pigs love Oxbow Simple Rewards treats. The treats are delicious and safe for their sensitive digestive systems. They aren't packed full of sugar and chemicals and dairy like some of the other treats for guinea pigs (and other small critters).
Ware Edible Hand Woven Willow Twig Tunnel Hideout
Is it a chew toy? Is it a house? Is it a play thing? Yes! We always have a couple of these for our pigs to run through, sleep in, and slowly deconstruct with their teeth like tiny performance artists trying to remind us of the impermanence of "home."
Prevue Hendryx Nature's Hideaway Cross Tube Hideaway
I would like an adult size version of this toy, please. This is like a hay maze, but for pigs. Wait, do they have hay mazes everywhere? Is that just an Upstate NY thing? Anyway, pigs like to burrow and this edible tunnel system is a safe and fun way to do so. You can really never have enough burrowing and hiding spots for your piggles, especially if they are also good for chewing.
Hagen Living World Pet Tunnel, Medium
More tunnels! This one is less chewable (though that does not guarantee your pig won't try to shred it), but easy to move around and create different shapes with. You can buy more than one and attach them to create a huge piggie run!
---
Turtles
I hope you really like your turtle friend, because these little cuties can life for a really, really long time. Like, you may need to write your turtle friend into your will. In the meantime, give them a happy home and spoil them with treats!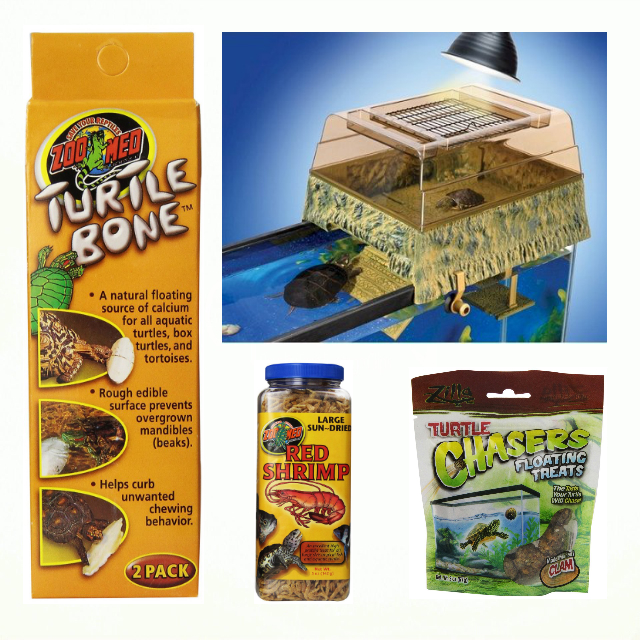 Zoo Med Laboratories Turtle Bone
Keep those turtle mandibles in check with this floating chew bone. It provides supplemental calcium and, unlike the similar calcium toys made for birds, these are made specifically for turtle habitats and don't have a hard backing.
Penn Plax Decorative Turtle Topper/Basking Platform
A penthouse for your turtle friend, this tank topper allows you to fill the aquarium all the way and still provide a warm and dry basking area.
Zoo Med Sun Dried Large Red Shrimp
Not gonna' lie. This looks really gross to me, but I bet your turtle will think it's really delicious. Eww. Delicious.
R-Zilla Real Clam Turtle Chasers Floating Treat
This turtle treat is made with real clam and the tagline is, "The Taste Your Turtle Will Chase!" (Cue chasing clam joke)
---
Rats
I've had five rats as pets over the years and they are, by far, my favorite companion animal of the pocket pet variety. They are super smart, really affectionate, social, and playful. They love their human friends! Show you love them back by showering them with affection and fun toys.
Super Pet Lava Ledge
Rats like to climb and sit up high. This perch, also great for chinchillas, will be a nice addition to their cage. Put a few together in a staggered formation to create a climbing wall.
Lixit Critter Space Pod 2 Large
I don't know what to tell you about this pod house other than that you need to hang it on the cage and let your rats in there. They will love it. It will be the best thing that has ever happened to them. Fits two rats easily and a larger rat pack more snugly.
Kaytee Knot Nibbler Chew Toy
This is just a regular old chew toy and you could find lots of wooden chew toys of various designs and sizes, to be real. This one is here because, honestly, is a bit nostalgic for me. My first rattie, Dr. Pepper, loved his knot nibbler. I still have it because I'm weird. They do last a long time and have lots of interesting bits to chew on and disassemble.
Living World Teach N Treat Toy
Rats are super smart and like to solve puzzles with their rat brains. This treat puzzle is the perfect size for their little rattie paws. There are three levels for your rat to solve.
---
Snakes
Well, Slytherin, your fang-toothed friend would probably refer some dead mice for the holidays, but that's a morbid image for a gift guide. So here are some gift options to spruce up the terrarium your snake calls home.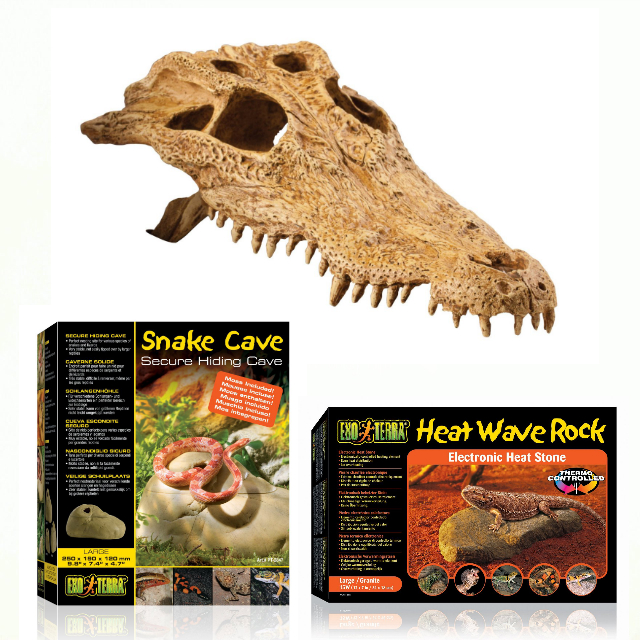 Exo Terra Crocodile Skull Terrarium D
Creepy and perfect for smaller snakes to slither in and out of the eye holes. Hssss!
Exo Terra Snake Cave
Every snake needs a dark and solitary place to call home, because snakes are emo. This cave should do the trick.
Exo Terra Heat Wave Rock
This heated rock imitates sun-baked rocks, great for your snake to relax on and get some warmth from. It has automatic shut-off, so it will never overheat.