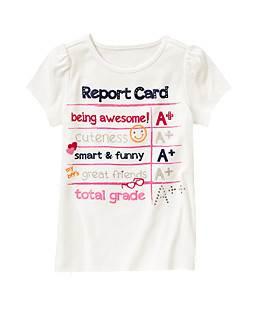 Each year without fail, some 'witty' designers decide that the girls section needs some punching up. "I think girls are really into pink this year," one might say. "Oh and princesses," chimes in another. "No wait, let's just sell them the same crap because girls are dumb! Haha, this is so meta." This year's fashion dunce cap went to The Children's Place for their shirt, but retailers like Gymboree have made the same mistakes year after year without ever learning a lesson themselves. Because while corporations are (finally) universally panned when they imply girls are lacking in the math department, they still get a pass for telling girls they just need to be easy on the eyes. (If you can figure out how to get a PhD in cuteness, more power to you).
It irks me that big businesses think they can get away with things like, "I'm too pretty to do homework so my brother has to do it for me." Groups like Pink Stinks try to hold them accountable and let them know that this 'I'm sorry you were offended' attitude doesn't fly. (Surprise surprise! We're smarter than that.) The UK-based group wants to give girls the chance to say that there's more than one way to be a girl by campaigning against overly gendered clothing, costumes or cosmetics that tell a girl she is (or should) be anything less than herself.
It's hard to get away from the idea of The Girl Section and The Boy Section despite the relatively few differences in prepubescent bodies. Progressively-minded parents can still be thwarted by school bullies and gender-policing fitting room attendants if they shop from the "wrong" section. Even when fellow parents give great advice on finding gender-neutral togs in the boys's section, it doesn't really help that they follow up with tips on girlifying it. Shouldn't retailers think, "Hey! Let's let these kids figure themselves out." Because no matter where your child falls on the gender gradient, they can usually agree with the label "kid."
Where can you shop for clothing without being bludgeoned by a Rainbow Glitter Magic Wand that only extols the virtues of being pretty, pink and purchased? The web of course! If navigating the great land of webstores didn't leave you feeling too great, you can always look to Etsy or any of these designers that think outside of the toybox.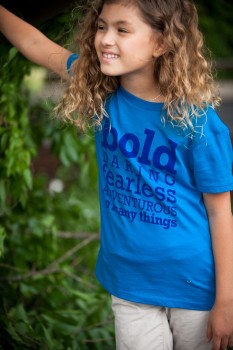 Launched this summer, this clothing line strives for "girl clothes without the girly." Created by Sharon Burns Choski, she wanted a clothing line that challenged her mall's offerings. Following her simple rules of letting girls be kids, while staying away from pink, girly embellishments and stereotypical imagery, she ended up with a line that appeals to adults, tomboys and any girl that doesn't hanker for magenta. As soon as you step away from the status quo, you get neat tees like Girls Will Be So Many Things and effing sharks. When was the last time you could gift your niece a hammerhead?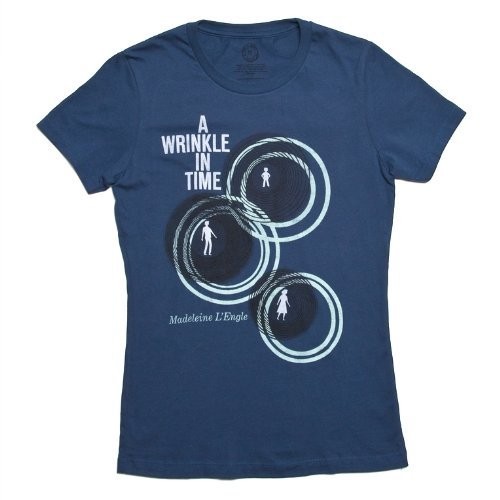 If you just want a resource on how to raise a strong woman, you'll find it at A Mighty Girl, which collects everything that "smart, confident, and courageous girls" could want. Checklists of our actual talents? Female superhero undies? Medical scrubs/onesies for that genius newborn? Caped WonderWoman socks? They've even got presents for you! Like a graphic T section of your favourite childhood books!
3. IndiKidual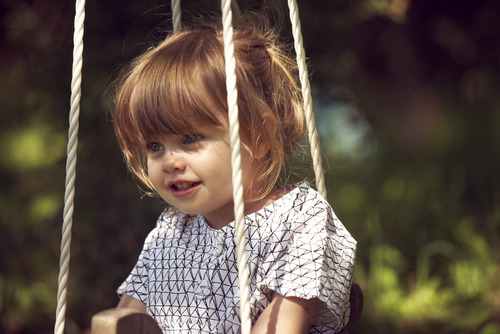 If money is burning a hole through your pocket and you want your kid to be a fashion plate, look no further. Organized just as tops and bottoms, these fun prints are easily wearable by any type of kid. Their monster Ts, tuxedo jackets and astronaut onesies bare a simple message: "only to be worn by indikiduals."
4. Hei Moose
Sparkles! Glitter! Random holographic things. Who doesn't like fun things? Certainly not kids! This Nordic clothing line embraces the belief that kids should all get to play in brightly patterned clothing, including the boys! Although some of their pink items are still labeled for girls  as you can tell, (the gender-neutral shopping task was harder than I imagined) you still have offerings that won't leave either sibling feeling left out.
5. PigTail Pals
This line (along with Ballcap Buddies) just reminds kids to be kids. It just strives to  remind girls (and boys) that they can be whatever they want to be. There's no such thing as male or female professions any more than there are girl or boy colours.
If she likes pink she can wear pink, because she can do anything. Plan Canada isn't just thinking about your youngster, but also about all of the girls around the world that simply need the opportunity to make something of themselves. So if your kiddo decides they love all things Magenta, remind them that it's their decision and buy a shirt that'll help another kid get to make their own choices.
There's nothing wrong with liking pink. Or unicorns. Or glitter. If you were to ask a bunch of our queer, feminist writers how their current wardrobe compared to that of their childhood, I'm sure a lot of them would say, "similar, but adult-sized."
No part of feminism says that certain colours or motifs are off limits. While forcing a hue upon our daughters, sisters and ourselves is ass backwards, so is denying it from its enthusiasts. So if your mini decides that they want to be a princess, you don't need to deny their fun, just remind them they can be whatever type of princess they want. Including a self-rescuing one.