Long distance relationships are hard. The whole entire Atlantic Ocean keeps me in a long distance relationship, and that's scary. The ocean is pretty darn big, and I'm just a small person with a heart too big to toss across the water. So I made a playlist that encompasses my feelings and will (hopefully) help me and you through the worst and best of our long distance relationships. It has two sides to help with two different parts of being separated from the person you love.
Side A is for crying in airports and crying on trains and crying on the second floor of a double decker Megabus when the seat next to you has never felt emptier. It is for very long goodbyes and learning to wake up alone from a fitful sleep. It is the "sad, meaningful emotions" side.
Things Side A sounds like:
the way the pillow still smells like her
how you don't want to count the miles anymore because they're in the four and five digits
calling her up when you see her favorite candy in the pharmacy or hear that song on the radio or find an old grocery list in her handwriting
the minute after you close out of the Skype window and you take a very deep breath and your chest physically hurts
Side B is for getting drunk on boxed wine and crying into your cat, then belting out the lyrics to the worst-best song about long distance you know. Side B is best sung into a hairbrush microphone in front of your bedroom mirror, or on stage with your best friends at Thursday karaoke, or into your webcam so your significant other can giggle hysterically while you attempt your best Celine Dion impression. It's fun and silly because relationships can be fun and silly, even if sometimes they are sad and exhausting. Side B is the "dance like you don't know how to dance" side.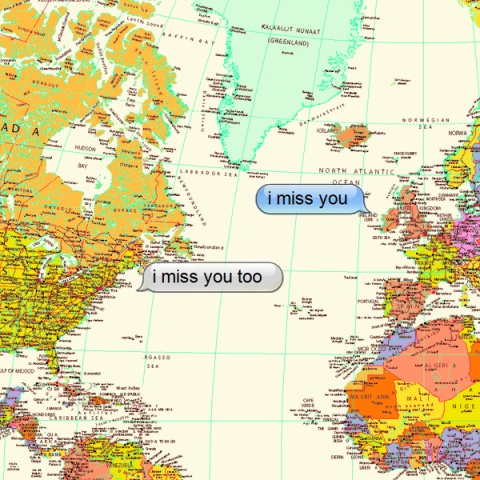 Long Distance Relationship
Side A
Leaving on a Jet Plane – My Morning Jacket
Tomorrow – Daughter
The Fall (Live) – Rhye
Miss You – The Concretes
Hello, I'm In Delaware – City and Colour
Rivers and Roads – The Head and the Heart
Train Song – Feist and Ben Gibbard
Familiar – Nils Frahm
Wait – Alexi Murdoch
Ain't No Sunshine – sistercrayon
Side B
500 Miles – The Proclaimers
A Thousand Miles – Vanessa Carlton
Kiss Me Thru Tha Phone – Soulja Boy
Back Here – BBMak
Back For You – One Direction
When You're Gone – Avril Lavigne
Keep On Loving You – REO Speedwagon
My Heart Will Go On – Celine Dion
Missing (Todd Terry Club Mix) – Everything But The Girl
Without You (Kill Paris Remix) – Lana Del Rey
---
Want to suggest a playlist theme? Hit Crystal up on Formspring and someone of the team might make it for you.