If you're not already familiar with the Brooklyn based lable Marimacho, you're in for the butch-fashion treat of a lifetime. Marimacho is "classic fashion for the unconventionally masculine" and one of my very favorite queer clothing lines. Marimacho floored me last summer with their Super Boi Swim Brief. Later, Marimacho founders Ivette González-Alé and Crystal González-Alé went on to help us out with our Style Manual! So what I'm saying is that we like Marimacho quite a lot around these parts.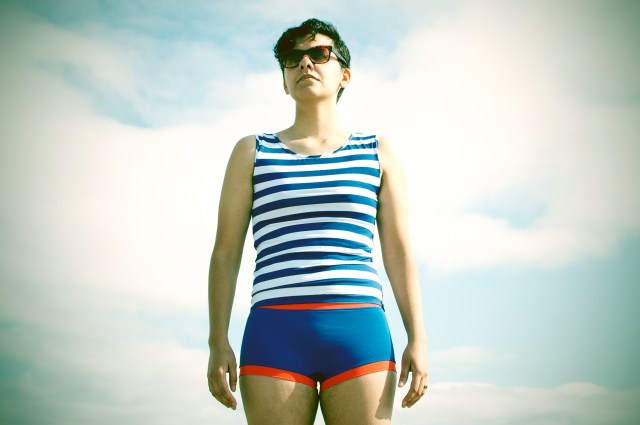 From Marimacho:
A pioneer in the current wave of androgynous fashion, MARIMACHO exists in the negative space between identity and fashion. While mainstream women's designers simply allude to menswear, Marimacho unapologetically embraces masculine fashion without the euphemisms of feminine detail. They create masculine silhouettesadapted to fit those traditionally underserved by mainstream menswear–womyn, trans men, petite men, androgynous and genderqueer people.
This Saturday night, September 7th, at 8pm in Brooklyn, NY Marimacho is debuting its Spring/Summer 2014 collection. Tickets are $15 in advance online or $20 at the door. Plus, at 9pm the bitchin' after party kicks off! If you want to be really cool, you can submit a picture of yourself rocking your interpretation of #futuredandy to contest [at] marimachobk [dot] com and maybe win 2 VIP Tickets!
From Marimacho:
Marimacho invites you to Atlantis 2050, as they make their New York Fashion Week debut. This future world serves as the backdrop to their 2014 Spring/ Summer Collection, a re-imagining of our identities and bodies. Building on the theme of identity, models on a wide spectrum of gender expressions will all walk the runway. The clothing itself will subvert classic menswear tropes with the use of non-traditional fabrics and modern cuts on varied bodies. Marimacho explores the full gamut of the ocean's moods, dangers, and its possibilities for renewal as we embark on our own journey of self-discovery.

Underground fashion, music, art and queer culture converge at the AFTER PARTY in a tidal wave of mythical proportions. Submerge your inner shark in the underwater city scapes of renowned queer, installation artist Diego Montoya. The siren calls of DJs Shomi Noise and Precolumbian will lull you into their sonic boom. From the warm waters of Haiti, The Salivation Army crashes down on Brooklyn by way of Montreal, pulling you into her musical maelstrom. Let the midnight current take you into darker waters with Brazilian Carioca Bass artist, Zuzuka Poderosa, and underground rap queenpin, Wavy Spice. These black pearls will conjure up musical spells with their lyrical brujeria.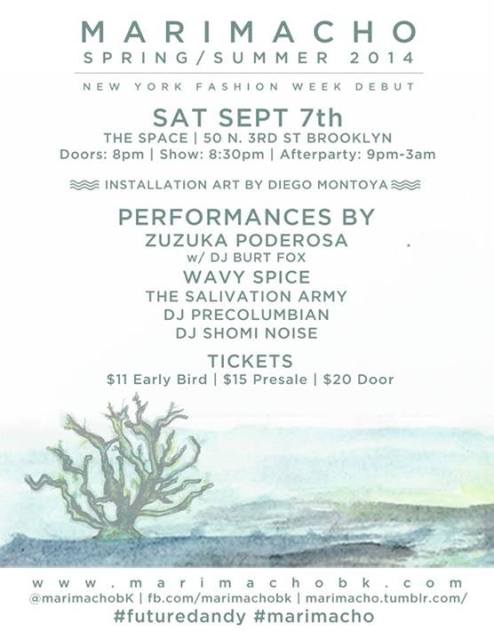 I know you're already calling your friends and making plans, but here's the best part: I'm going to be there! So come join me for a night of hot bois, partying and, of course, top of the line dapper fashion.
Who: Marimacho
What: A dope Runway Show and After Party
When: Saturday, September 07, 2013 8pm, After Party at 9pm
Where: The Space – 50 N 3rd St (between Kent Ave & Wythe Ave) Brooklyn, NY 11211
Why: To watch a runway show, check out really well dressed bois and hang out with Lizz!