Sometimes, SOMETIMES you can't cover your face with smokin' hot lesbians. When this happens why not cover your walls with them instead!? That's where the 2014 Autostraddle calendar comes in!
---
Rachel is Miss September

10 Things You'll Like About Me:
1. My adult ADHD is both debilitating and charming. Good thing there were butterflies flying around the yard during the photoshoot.
2. This is the last thing. Get it? (Think binary.) But just kidding we use the decimal system here. Moving on.
3. I have almost everything in robot, from multiple pairs of underwear to salt & pepper shakers to a robot lunch box full of robot sandwich containers that I bring to my big person job.
4. I have a genderqueer bike named Sunshine because a day without my bike is a day without Sunshine.
5. I'm a Hufflepuff.
6. I have a retail therapy obsession that usually manifests itself in American Eagle tank tops. Sometimes the customers even think I work there.
7. Forget the carpet matching the drapes, my underwear always matches my outfit.
8. Candy Crush Saga is affecting my relationship with life.
9. Sometimes I dance around my apartment like Billy Elliot.
10. Chopping vegetables stresses me out.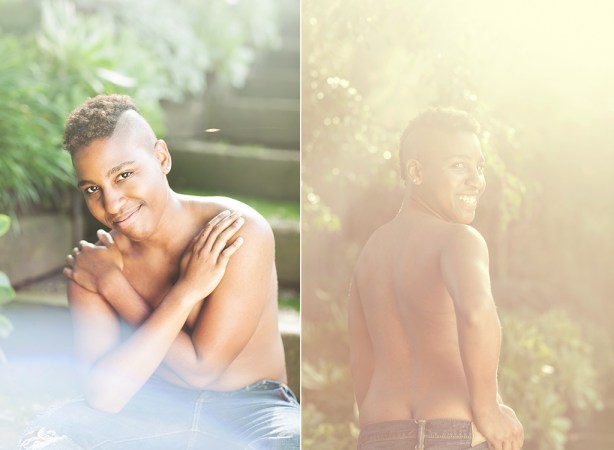 Where are you from?
My mother's uterus, which happened to be in the Chicago suburbs. But I moved to the real city in college and then I left forever and moved to Oakland where I reside now and whine about it every day.
Occupation/Major/Passion:
The major passion that occupies my life is robots, duh! But for real, I am a computer science nerd that currently works for a consulting company. I am looking to become a tech entrepreneur (I know, "just like everyone else," but not). I also have a few ideas for coffee shops that I want to open up. And I'm sure by the end of this month I'll have some other super amazing idea that I'll have to do "right now" (see #1 on my list).
Why did you want to be part of this project?
I'm usually the person that is behind the camera, so I wanted to know what it would be like to be in front of the camera. Clearly, I didn't realize you needed to have more than one face, so I hope you don't get tired of looking at my "super happy big smile" for a month.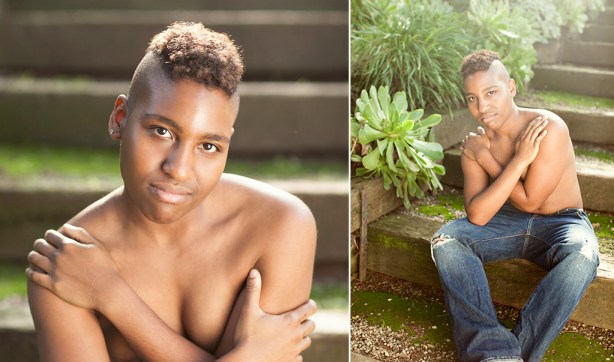 ---
Artist's Statement from Robin Roemer:
I want to start off by saying I wish I had a few weeks to photograph each of our 130 applicants, because they were all beautiful and inspiring! We are honored so many of you wanted to participate and we hope, at some point, we can work with each one of you. I mean that most sincerely.

This year we went through our applicants based on the survey first, the photos sent in to me had little to do with who our final picks were. We chose based on answers to a variety of questions. We wanted people who really had a sense of what the project was all about, were readers of Autostraddle, and were involved in their communities at home. We wanted women bursting with energy and love. Second, we wanted to represent our incredibly diverse our community: beauties of all different shapes and styles and backgrounds and gender expressions. Finally we found ourselves with 13 models — its 2013 now so twelve just wouldn't do — who we feel represent some of the most brilliant our readership has to offer. I hope each of you, especially those of you who applied and were not chosen this year, enjoy this year's calendar.
Crew:
Co-created by Robin Roemer and Sara Medd
Photographed by Robin Roemer
Wardrobe styling by Sara Medd
Hair by Taylor Stevenson
Make-up by Marla Verdugo
Line Production, Location Scouting and Catering: Sarah Croce
Design, Location Scouting, Production assistant: Alex Vega
Lighting Assistant: Kamila Baker
Production Assistant: Christina Bly
Puppy Wrangler: Mollie Thomas
Special Note: As of December 2010, we request that the comments on Calendar Girls posts, unlike every other post on this site, be exclusively positive and remain on-topic. These posts exist to celebrate women, so any  criticisms of the model, her appearance or the appearance of the Calendar Girls as a whole will be deleted. Furthermore, any direct questions/concerns about the project in general can be directed to robin at autostraddle dot com!