Welcome back to No Filter, where I keep my finger on the pulse of the hottest stories in the 24-hour news cycle. This week, it was New York Fashion Week I guess? Everywhere I went, everyone was convinced that Rihanna was partying somewhere nearby. I haven't seen any Rihanna. What I have seen is a great deal of Instagram pictures of various celebrities looking amazing in outfits I cannot afford! Let's get to it.
---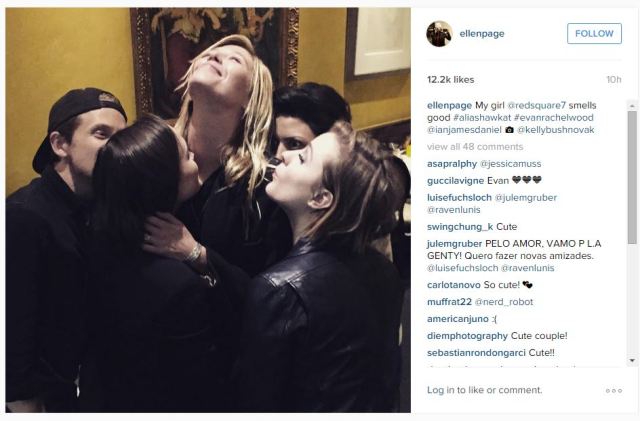 This week, we're here to celebrate Ellen Page's relationship with her hot surfer girlfriend Samantha Thomas — but we're also here to celebrate Into the Forest, a brand new film starring Page and my girlfriend, Evan Rachel Wood. Here they all are, with Alia Shawkat lurking in the background for bonus queermo vibes. Nobody is tall enough to kiss Samantha from a standing position — Ellen only comes up to the base of her neck. My heart exploded when I saw this picture. Take a deep breath before you move on.
---
I can't believe Bette Porter is still hanging out with Ilene Chaiken, even after it became glaringly obvious that she's the one who murdered Jenny — on Bette's property, no less, thus making Bette a primary suspect. I'd probably never speak to her again, but maybe Bette is more forgiving than I am.
---
Laverne Cox met noted fashion photographer Nigel Barker, and she smiled with her eyes the whole time.
---
https://instagram.com/p/7l5kqHsZW_/
Here's Ruby Rose hanging out with this goddamn adorable couple. Everybody's so attractive. What filter is this?
---
Feeling great about Annie Clark's fashion week look.
---
I don't know how to make leggings and I'm probably never going to learn, but I find this video of Jasika Nicole dancing in these leggings she made strangely hypnotic.
---
https://instagram.com/p/7inQIdLmlU/
Angel Haze posted pictures with a lot of good celebrities this week, but this one was the most exciting for me. Spotify just told me that their new record Back to the Woods is available there now, so you know, you should give it a listen.
---

You guys. You guys.
---
Join us next week, when I'll probably still be watching that Jasika video.