Before the end of the first quarter of 2021, twelve transgender individuals have been violently killed. Since 2017, there have been 139 reported murders of transgender individuals in the United States, according to research from Transgender Law Center. The murders in Texas over that time make up nearly 10% of them. These numbers do not just reflect the lives that were taken away, they reflect the lives that will continue to be in danger until further change is made.
The biggest threat against trans folks in Texas — and all over the world — isn't just a weapon. It's a wall. The barriers put in place to keep transgender people, trans women of color especially, from living within our society eventually keep them from living at all.
Like many Black trans women, Mya Petsche has dealt with these oppressive systems firsthand in Dallas, and shares her experience as a way to educate others to prevent that same hardship. Her activism began on Trans Day of Remembrance in 2019 as she read through the long list of names being memorialized that night. "I was thinking just how tragic it is that someone could take someone else's life away because they fear what other people think of them or what they think of the other person."
Petsche explained that fear is nearly inescapable for trans individuals: "We have to live in fear… having to watch our backs. We have to be silent or scared to go to the restroom or do anything that people could call 'confrontational'."
To Petsche, the violence ends where access begins. For trans people, that is making sure that housing, jobs, and gender-affirming identification documents are accessible. These are basic necessities for any human being before they can live a fulfilling life. Petsche isn't the only one who believes that increasing access to resources will decrease anti-trans violence in Texas.
Verniss McFarland, a national community mobilizer, consultant, and local leader in Houston acted on that belief when they founded The Mahogany Project in 2017. The non-profit works to "reduce social isolation, stigma, and acts of injustice in TQLGB+ Communities of Color" by providing a safe and affirming space for trans people to be uplifted in the community as well as by increasing their access to resources and self-defense tools. McFarland makes a point that one of the primary issues that trans people face concerns body autonomy: the right to govern one's own body without the influence of an external party.
"People telling people what to do with their body, how their body should exist, how their body is offensive to others, whether their body belongs…" McFarland remarked. "One of the biggest things that I think is wrong here is individuals telling another individual what to do with their body."
Controlling trans bodies has long been the implied goal of the Texas legislature. In our current 2021 legislative session, several bills have been introduced that are either anti-trans or directly affect the lives of transgender individuals:
House Bill 1424 would allow any medical professional to refuse care to a transgender individual by way of religious freedoms, even if the procedure in question is live-saving care.
House Bill 3083 would legally protect any pharmacy or pharmacist who refused to provide medication due to "religious belief" or "moral conviction."
House Bill 1148 prohibits trans minors from amending their birth certificate to match their gender identity. Not having up to date identification makes it difficult to get a job or driver's license. It also makes it dangerous to navigate spaces where you need to show ID.
House Bill 369 aims to criminalize HIV, which would not only keep trans individuals with HIV from accessing treatment but would also keep sexually active trans individuals from getting tested.
This is nothing new. In 2017, there was a legislative attempt to prohibit trans people from using the right restrooms in schools and public buildings (like many hospitals, parks, DMVs, and government buildings) and additional bills introduced to keep schools and local governments from protecting trans people from discrimination.
The message sent to trans people? We don't want you in our public places. The goal is to keep trans bodies from receiving care. The goal is to keep trans people out of society, whether that means scaring us into isolation or letting us die. The introduction of these bills encourages members of the public to fabricate "what if" scenarios to incite fear to and justify violence against trans individuals, specifically trans women.
"There's a direct chain reaction… it's another form of violence if we're being honest," said Emmett Schelling, the executive director for Transgender Education Network of Texas (TENT), a statewide policy, advocacy, and education organization has worked to fight laws and propositions as a form of harm reduction.
Schelling, who often testifies against discriminatory legislation at the Capitol recently found himself testifying in favor of a bill for the first time — House Bill 73. "It was a literal elimination of gay and trans panic as a legally allowable defense here in Texas and filed by Representative Gina Hinojosa. It sucks. That's our good bill."
Gay and trans panic is legal defense, which claims that a person's sexual orientation or gender expression can trigger violence against another person. It was debunked by the American Psychiatric Association in 1973, but continues to be used as a murder defense to this day. Schelling asserts that transphobia isn't actually the main issue here; the violence clearly conveys the larger struggle of marginalized communities existing in a society founded on the systemic structure of white supremacy.
"We're not just fighting a trans-specific oppressive system," Schelling said. "We're fighting a system that's rooted in white supremacy because white supremacy is the brother of transphobia which is why when we see the manifestation of the violence is largely geared towards black trans women and trans women of color."
Diamond Stylz, the executive director of Black Trans Women Inc., an organization that is dedicated to the socioeconomic empowerment of black trans women, takes it a step further. If white supremacy is on one side of the coin, she argues, misogyny is on the other. Just as the majority of murdered Black trans women are killed by their intimate partners, Black cis women are often killed in similar ways. "The CDC told us in 2015 that Black cisgender women have one of the highest rate of intimate partner homicide. Cisgender women and trans women need to get together and really figure out how are we going to stop the violence against us," Stylz said. "Change legislation with sex workers. Decriminalize it. That will stop violence. Adding legislation that adds stigma doesn't work."
This stigma not only encourages police officers to mistreat trans women, but it also encourages to neglect them, which can lead to the police just allowing fatal encounters to happen.
"I've been in a situation like that where they spilled my tea, and the whole tone of the police change. Once they find out I'm not a cisgender woman, they say, 'You should have fought back,'" Stylz explained.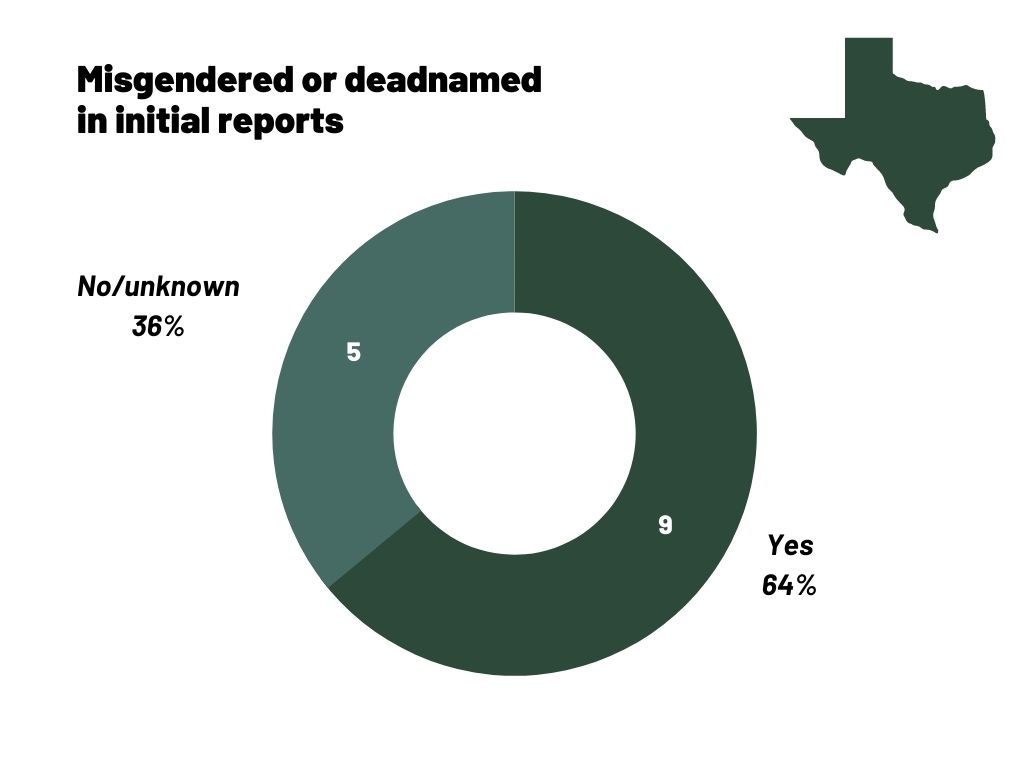 The problems trans people face are not simple. They are deeply rooted in the American legacy of violence that have plagued marginalized groups for centuries.
In 50 years, I want us to be beyond fighting for the right to exist. I want us to be in a situation where resources are readily available, where some resources aren't even needed anymore. When someone has the fantastic realization that they're trans, I don't want any feelings of fear or worry to follow. I want there to only be peace — something that in 2021, many of us can't find in life or in death.
The answer is eradicating stigma through education and action. We need people to know what the problem is, we have to work together to dismantle the oppressive systems above us by being true allies to each other, by listening to each other, and by creating access for each other. We must break down the barriers that are intent on keeping trans people out of society and out of existence. Trans people should not have to show up to save our own lives alone.