Welcome to Queer Outfit of the Week where I scour the world and tell you all about my one favorite queer outfit this week. I'll envision a scenario where you or your girlfriend or your best friend or your mom or your cat could wear it and talk all about why it's a great outfit for that event. Every week will be a different style, gender presentation and event so there's a little something for everyone — even the person who just wants to look at pictures of stylish queers! So let's get to it — we're going to figure out what the heck we're going to wear this week!
Header by Rory Midhani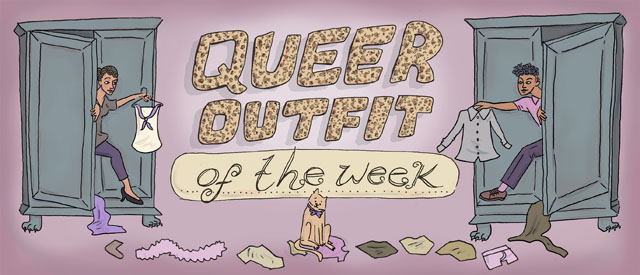 ---
Every year the first day of classes sideswipes students across the country. You've just settled into your summer neons and flip flops and all of a sudden it's time to bust out your blazers. Amongst the stress of new pens and expensive textbooks is the age old question of what to wear. The first day of school is your time to make a splash with your friends while making a good impression on professors.
The first day of classes is usually hot as hell. You might be tempted to wear your new blazer or one of your favorite sweaters, but come noontime you're going to be sweating in all the wrong places. Instead, go for a short sleeved button-up in a late summer/early fall color. I always think red is a good option for this time of year. Remember, however, to go for a short sleeve button-up that is fitted through the shoulders and around your arm, otherwise you'll end up looking like your dad on vacation. If you want to really bump up the style on your top, cuff the sleeves a few times, button your shirt up to your neck, and tuck it in.
You want to pair your top with jeans and shoes that are relaxed, but not falling apart. Mid-rise straight leg jeans in a light wash have a summery feel, but are more appropriate for class than shorts. If you have a pair of fall boots you just can't wait to wear, there's no reason not to debut them on the first day of class. Just be sure to wear lightweight socks and cuff your pants to keep from overheating. Finish this off with a no-nonsense messenger bag and a "just in case" jacket and you're good to go!
If you're on the femmier side of things, you can switch up straight leg jeans for cropped skinny jeans or even a denim skirt. You could also dress up the collar a bit with a fun statement necklace. On the other hand, if you want something a bit more masculine, you can either go for wider-leg pants worn lower on the hips and/or wear your pant legs over your boots. Alternatively you can dress up this look with a fun bow tie or knit tie.
Autostraddle Queer Outfit of the Week Back to School
Whether you're enthusiastically bounding off to school or reluctantly dragging your ass to class, the first day back is a great opportunity to make a fashion statement. By keeping your look simple, clean and a little fun there's no way you can get it wrong!
---
If you see something that you think should be featured on Queer Outfit of the Week, send me an ASS message, ask on my tumblr, or tweet me @Ohheyitslizz