Welcome to Almost Famous, a weekly segment where we ask up-and-coming queer musicians some not so hard-hitting questions about music and life and maybe even convince them to share photos of their pets. Get to know intimate details about your new favorite artist or band before they hit the Big Time and become too famous for us to interview for real.
Header by Rory Midhani

---
Doctor Dogan
Minnesota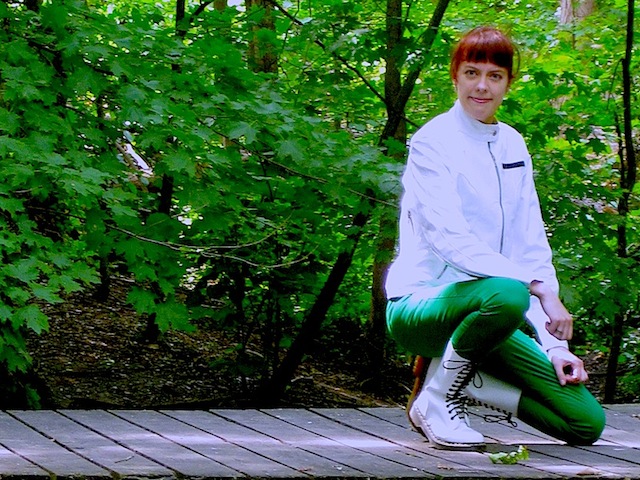 Carla "Doctor" Dogan is a Minnesota based musician who's been playing the violin and making up songs since before she can remember. She started out song-writing for orchestras and other music groups before deciding to focus on making her own indie music full-time. This year Doctor Dogan started releasing her entire first solo album one single at a time. You can check out "Iceland" below, plus two other singles, "Zoom" and "Launch Day", on YouTube and iTunes.
How would you describe your music?
Ambitious. I think people are ready for music that is more substantial again. I don't mean weird, atonal music; I simply mean music with staying power. Every song I'm putting out this year has real drums, real guitars, real violins and other instruments, a minimum of six chords, and no auto tune. These aren't the magic ingredients that make the song good, but they are a sign that I take good care of my things. I make sure every song I write can hold its own, as a single.
Which track would you most like everyone to hear?
I stand behind all my songs as being equally good. That said, "Iceland" has a fun video!
https://www.youtube.com/watch?v=q5my23DFFak
What do you get up to when you're not making music?
Not much, because I'm driven. These days, it's all music all the time. And I've never been happier about it. Look out, world.
What inspires you to write?
I push myself to write songs that aren't just four chords, over and over again. I've heard enough of those for one lifetime.
What's your 'guilty pleasure' music?
No guilt. It's all good. I love musicals, pop-punk, Peruvian flutes, religious music, commercial jingles, all kinds embarrassing crap, even a top 40 song now and then. I don't care who knows it.
If you could only listen to one album for the rest of your life?
I have a three-disc version of Les Miserables, the 1988 Complete Symphonic Recording. I call it the black album. It's been my favorite album since 1998, when I first heard it. It really shows me what music is capable of.
Have you ever had to work a terrible job to support your music career?
Several, but I consider those experiences crucial to my success. You have to suffer to write, absolutely. I've got years of retail experience and wavering health to legitimize my art.
What was the last book you read?
Mixing Secrets for the Small Studio by Mike Senior. If you have some songs written, and you want to do bedroom recording, this book will help you get there. Highly recommended.
Who is your idol?
Idols come and go for me, but I respect the enduring artistic integrity of people like composer-lyricist Stephen Sondheim or Calvin and Hobbes author Bill Watterson. Basically, they make art for art's sake, not to get attention.
Do you have any pets?
It's an older picture, but these are my girls, Melody and Harmony (on top). They each have a cameo in my first video. I am such a cat lady.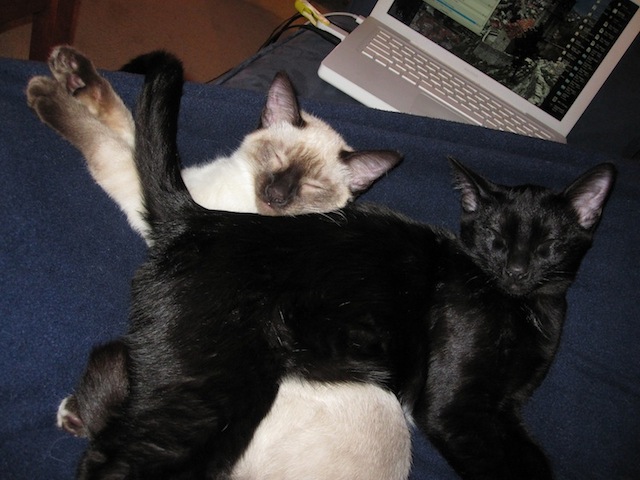 More on Doctor Dogan can be found via this website, YouTube, Twitter and MySpace. Her three singles, "Zoom", "Iceland" and "Launch Day" are available via iTunes.
---
If you are, or know of, a queer artist or band that should be featured in Almost Famous, drop me the details via crystal [at] autostraddle [dot] com. Please write 'Almost Famous' in the subject line!