​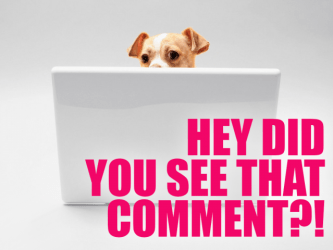 Hi crush monsters! Carrie's on vacation so I'll be hosting this shindig today. Obviously I'm crushing on everyone here. Really, I wanna make you homemade boozy popsicles and hold your hand.
This week we talked about a wide variety of things, which would be a total shocker to Bryan Goldberg, founder of Bustle.com. He should probably read Rachel's brilliant essay about Bustle and what its rage-inducing origin story says about the way the world treats women's media and the women who have been producing it for years. Actually, you and your mom and everyone you know should go read that ASAP, it's really important. I'll wait.
Okay hi again! Welcome back. What else? Cara asked what the heck we should do about the Sochi Olympics, Carmen pondered the legalization of marijuana, and Carolyn found us a bunch of lesbian romance ebooks which can all be purchased for less than $5! Lizz liveblogged the Teen Choice Awards for the third year in a row (someone buy Lizz a drink, stat) and Gabby interviewed Michelle Tea about her new "masterful dyke-centric artsy-weirdo" film, Valencia. In other very exciting interview news, we also had the opportunity to chat with Lea Delaria and Laverne Cox from Orange Is The New Black. It's only a matter of time before we get to talk to Samira Wiley, right?
We got quite a bit of good news this week: NYC's "Stop And Frisk" policy has been ruled unconstitutional, California became the first state in the USA to pass a law that requires treating trans* students equally, North Carolina implemented "Moral Mondays", and the American Bar Association confirmed that neither "gay panic" nor "trans* panic" are excuses for murder.
Additionally, we met Lane and Yvonne, our new associate editors, we stole Esther Quek's badass style, and we interviewed a 42 year old Straddler who seduced her roommate when she was in the US Navy! We got sexy with the NJoy Pure Wand, nostalgic with the women of Woodstock, and creative with qu.ee/r, a brand new literary magazine currently looking for submissions. And now it's Friday, and without further ado we're gonna get cozy with the comment awards.
---
On Teen Choice Awards Liveblog and Open Thread:
The Brustin (Justney?) Forever Award to mc:


On Anonymous Sex Toy Review: NJoy Pure Want:
The Tag Team Vagina Joke Award to Marika and Dena: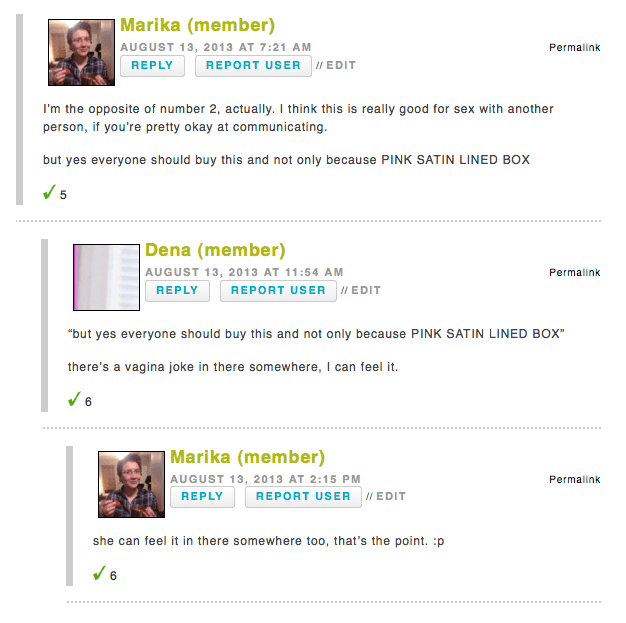 On All Tokes Aside: Making A Very Serious Case for Marijuana:
The True Confessions of a Blood Lusting Stoner Award to Peyton: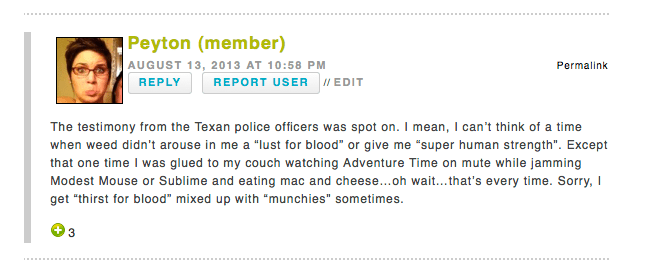 On Bustle.com Conjures Every Terrible Feeling Women in Media Have About Women's Media:
The We Approve Of Your Priorities Award to Julia from MI:
Also on Bustle.com Conjures Every Terrible Feeling Women in Media Have About Women's Media:
The Tell It How It Is Award to Frog, with honorable mentions to Emily Leticia, Evie Frishman, and Emily: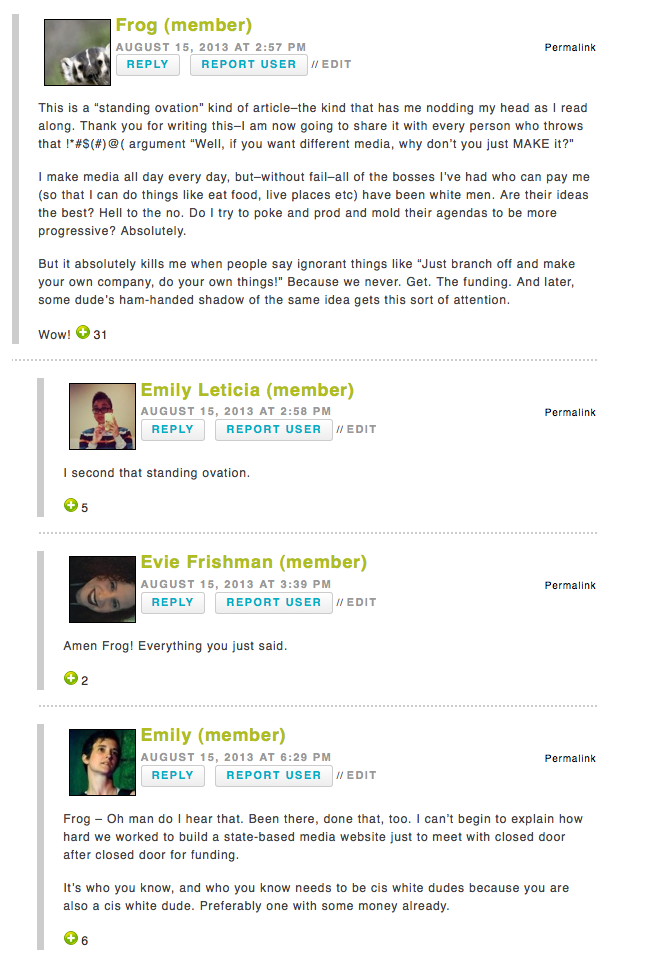 On Misadventures in Queer Lady Dating While Disabled: It's Not Me, It's You:
The This Post Wasn't Written This Week But This Comment Was And We're So Glad You're Here Award to SweetTea:
On You Should Go: The Welcoming Committee's "Flannel Takeover" Is Queering Boston This Saturday:
The Snuggles and Pineapples and Oh My God I'm Excited To Move To Boston Now Award to Steebd: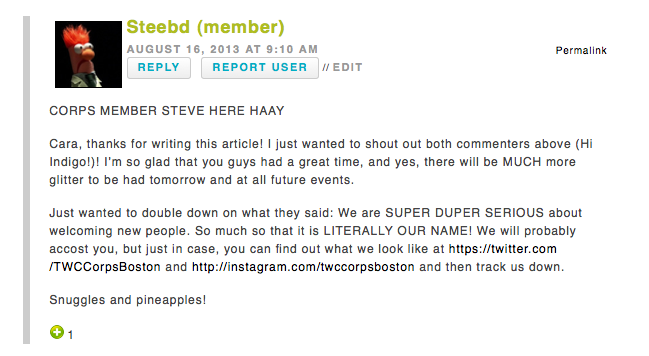 ​​
---
See a clever, hilarious or thought provoking comment around this website-ship? Email it to Carrie at: carrie [at] autostraddle [dot] com!