Lea DeLaria is the stuff of gay legend. She was the first out lesbian comic to ever appear on television with her 1993 appearance on The Arsenio Hall Show, and now 20 years later, she's stealing scenes as the masturbating-with-tools butch dyke, Big Boo, in the hit Netflix series Orange Is The New Black. I met up with Lea to talk about dyke drama, seducing Laura Prepon, and sleeping with drunk girls who didn't mention they already had girlfriends.
Lea and I met up at a Bushwick restaurant whose website included the words "farm to table" and "foraging," so I already knew it was going to be the gayest night ever. The second I walked in with her, it was clear that this restaurant (with placemats that look like this) was pretty much her Cheers.
We tucked away into what looked like a suburban basement where middle class kids play spin the bottle, ordered tequila shots and let shit get real.
Your background is insane. You're an actor, a stand-up comedian, you're in Broadway musicals, you've released albums. 
Yeah, I'm a Renaissance man. That's how I like to put it. Jack of all trades.
Did anyone ever try to make you choose just one career avenue to pursue?
Really, really early on in my career someone said "Well you have to decide whether you're a stand-up comic or a singer," and I said "Why do I have to make that decision? I'm both." And it's very old school, it's very much like Sammy Davis Junior and even older, like vaudeville.
That's exactly what I say when people seem shocked that I do multiple things! In vaudeville, you HAD to do a million things but now if you do more than one thing, people assume you're only really good at one. 
They laugh at you or they're like "Riiiight. Of course, you're a singer." I mean, nobody can belt a D sharp as well as me, you know? It's like, I'm lucky. And in some ways, I've been able to shut those assholes up.
I feel the same way. I was told I couldn't do more than one thing but I always felt like, "But what if you're the exception to that rule?"
And you're not the only one. Like the girls in Orange is the New Black? All of us do something else.
That's awesome. I know Jessica Pimentel is in a death metal band, right?
Yeah that was the one where I was like "WHAT?" When you see her, you're like "Really? Death metal?" She's like this pretty, young Latina. That's the first thing. A fucking Latina? A CHICK? AND she sings death metal???
That's maybe my favorite thing about OITNB. There's not a token woman — Latina, black, white, lesbian — on the show because no character is that easily defined. Not to mention, before this the only show queer women had was The L Word, which obviously paved the way, but still. It was like the Passions of lesbian TV shows. It wasn't real obviously, but it's still so exciting to now see a show with women and queers of varying races and backgrounds and body types.
Orange is a little bit grittier, a little more real. The L Word, let's face it, was a soap opera, like you said, exactly, like Passions. And this is not. It's a dramedy. And I was on One Life To Live for 10 years, so I know soap operas.
[At this point Lea had me Google her role as a psychic on One Life To Live and it was worth it. See?]

Yeah, I've been moderately famous my whole life. I always say it's been a long climb to the middle. I've never had this kind of fame. When you waved at me earlier, I figured you were the person I was meeting at Autostraddle, but I get that wave all the time so I wasn't sure.
Well, you've been around forever. You were the first openly lesbian comedian to perform on TV. That's huge. 
That was 1993. At the time, it was the number one talk show on in America. My opening line was "It's the '90s. It's hip to be queer and I'm a big dyke." In my nine minutes on the show, apparently I said the words dyke or queer about 57 times. (Laughs) There was actually a whole problem with the network where they said I couldn't use the word dyke because they were afraid of getting sued.
Even though you're a dyke calling yourself a dyke.
Exactly! That's what Arsenio said. He told them to go fuck themselves, essentially. He said, "She's a dyke and if she wants to call herself a dyke, then that's what she's gonna be called."
That's so badass! I now love him even more. 
He talks about me like I'm one of the things that he gave the world. (Laughs). Yeah, the world was ready for me! (Laughs).
[Then Lea and I share things that are probably best kept to Lea, myself, and the tequila, but it involves her fucking some shit up at a lesbian coffee house that I'm going to pretend is The Planet and my telling her about kissing people who had girlfriends they didn't tell me about.]
Then why'd they kiss you? Aww, come on. Listen, you gotta tell em you got a girlfriend first! Then you can kiss em and do whatever you want. You gotta give them the option first! Then it's on. (Laughs). That same thing happened to me at a lesbian bar in Brooklyn. I go in there and I have to admit, I'm a little loaded. That's me. Dyke bar, twelve at night, I'm loaded. So I go in and some girl, a pretty hot femme, starts talking to me and here's the thing about butches, ladies, don't come on to them. Jesus christ, you like a butch you gotta stand in the corner and give her the eye and let her know you're interested. So anyway so this girl's giving me the eye and we start chatting it up and I'm like let's get out of here and she's like "sure" and so we go to her place. So we're like, getting it on— I can't believe I'm telling this story. It's a gay website, right, so I'm not gonna get in trouble?
Yes. The gayest. It'll be fine. 
So we're doing it, we're having a good time and I hear this banging on the door and I ask, "What's that?" She says "Nothing, ignore it." So I ignore it and now the person starts screaming the name of the girl that's inside so I'm like, "What's going on?" and she's like "Ignore it!" so I ignore it, I keep going. And then finally the girl out in the hallway says, "Asshole, blah blah blah. I know you're in there and I know you're fucking Lea DeLaria!" Apparently she'd gone to the bar with her girlfriend… and left with me. [Laughs]
What the fuck?
[Laughs.] Exactly. This is another lesson: ladies, if you're gonna leave with me and you're at the bar with your girlfriend, at least go up to her and go, "Daddy I'm feeling sick. I'm gonna go home but you stay here and have a good time," and then leave with me. You don't just walk out with me! Damn. Then I gotta deal with the butch at the door! [Laughs] Who was not pleased! Then they started fighting and I kinda snuck out. And there was this little evil bitch in me because as butch as I am there's a little evil bitch in me who wanted to turn around and say "And by the way, just to keep the record straight, I was fucking her! She wasn't fucking Lea DeLaria! I'M THE TOP!" I love that story though.
So let's talk about Orange Is The New Black. Did you know the show was going to be awesome just from the sides?
Well, first of all, Jenji Kohan, you know? And then I saw Natasha Lyonne, who I've had a crush on since Slums Of Beverly Hills. And then Prepon showed up about the same day I did, getting her hair blacked when I was getting mine blacked. And I just sat there going, fuck me.
Because all those women are so awesome?
Because it's fucking Laura Prepon! Who doesn't love her? I've wanted to get my dick in her mouth forever! (Laughs) She is the driest. Whenever I was doing something I always knew I was doing it right when Prepon was going like (gives a sly smile and slow nod) and I knew that was the right take. We all love each other on that set.
You can tell. There are shows where they'll say that and you're like "Uh, maybe? But probably not" but with that set, I absolutely believe it. It's so hard to find a show with this many complex, realistic female characters, so I can't imagine what it would be like to finally have a bunch of women, especially women of color who are usually only shown in basically one light, all on one set. 
Especially because any time you get these shows it gets fucked up by some producers and it gets turned into something horrible or it gets turned into basically The L Word, to sell spam. We got lucky I think in some respects, but I think that sometimes the universe aligns in certain ways. Netflix is doing something that's never been done. You and me sitting down here, who's done this before? Instagram photos we take on set? Who's done that before? No one! Because the old school says, "Don't do that because there's some marketing thing that you're fucking up." I could go on and on. It's been grassroots from the beginning and look at how huge it is without doing any Tonight Show appearances or anything like that, and they sold it to everybody and everybody's watching it. All over the world.
They are. Even tons of straight people are watching it and not in a way that sexualizes the women on there. Because if you heard a straight person, especially a straight guy, say they watch The L Word, you knew why they were watching it. 
No! Listen to me, girl, I was chilling out in the airport waiting for my flight and this guy goes, "Oh, Big Boo can I borrow your screwdriver?" He's yelling that at me and he couldn't be more heterosexual, right?
I love that. That makes me happy. You have to hope that because this show is so humanizing, not only to prisoners but to queer women and women in general, that this has the power to change so much. 
God bless you, Jenji Kohan.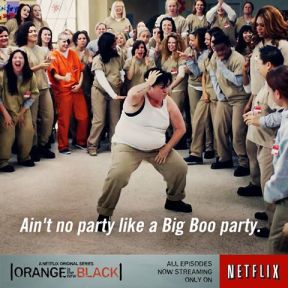 Do you have to do anything to get into character at all?
No.
I didn't think so. (Laughs)
It ain't Beckett, you know what I'm sayin? What makes Boo really interesting is that she's me. I mean, I'm just relaxed and me, I think.
I had a feeling. Because she's very 'no bullshit', which you obviously are. 
I mean if I have to work for it… but I don't have to do that with Orange. It's just so me. That's what's great about it. They're just writing for me. They're completely writing for me. (Laughs).
That's like a comedian's dream because you're selling your personality. 
Oh, totally! They let me ad lib and sometimes those lines they go right in, you know? Sometimes they don't. It's all good. Nobody has an issue. And let me be clear, we all do it. We've got a very talented cast here. And that's what's great about the show. You don't have to deal with a lot of egos.
Right, it's in service of the best joke or the best idea. That's awesome. So last question. Does the show have a lot of lesbian writers on staff?
[Gives me a "Are you kidding me?" face] Lesbian writers, lesbian producer, uh, yeah! Lesbians everywhere! [Laughs]