It's just about the end of the summer and you know what that means! It's time to give brightly colored surf boards out to celebrities as voted on by teenagers with access to a computer! It's time for the Teen Choice Awards!
There are something like 86 different awards voted on and probably only like 10 will actually be announced tonight. So why am I watching? Because I absolutely love Pretty Little Liars' Lucy Hale (aka Aria Montgomery) and Glee's Darren Criss (aka Gay Blaine).
In addition to Ellen Degeneres's usual Choice Comedian nomination, tons of shows with gay characters are nominated this year including Pretty Little Liars, The Fosters, Glee, Modern Family, New Girl, The Voice, Under the Dome, Teen Wolf and probably a bunch more I forgot about. Also TV Lesbian Shay Mitchell and Alternative Life Style Haircut Recipient Miley Cyrus will be presenting!
In other words, for the third year in a row, I'm covering the Teen Choice Awards because everyone on staff knew I'd be watching them anyways.
Join me at 8pm EST to see all the magic happen!
8pm EST: I guess this show is starting off with some One Direction? I don't know anything about these guys and, oh yeah, also I don't care about them at all. Except I hate that "That's What Makes You Beautiful" song. I guess I shouldn't be surprised. They are like five Justin Biebers.
8:05pm EST: Lucy Hale's dress is so cute! And I love her shoes! Darren Criss's outfit is moderately boring. I think he could use some fashion tips from some cute dapper lesbians.
Now as you might remember, there are a billion awards. So when people win multiple awards the host/announcer just awkwardly lists them. Speaking of which….
One Direction Wins a Ton of Choice Music Awards
I'm not even going to list them. It sounded like basically every award they were nominated for.
8:08pm EST: Wait. One Direction is British?
8:10pm EST: Did anyone else hear how oddly Darren Criss just said "Liam?"
Rebel Wilson wins for Choice Comedy Actress for Pitch Perfect
I fucking loved Pitch Perfect. And I love Rebel Wilson. No one can take that away from me. I think they just censored her saying something awesome. At least she's wearing that awesome wetsuit.
Skyler Astin wins for Choice Comedy Actor for Pitch Perfect
Meh. He was fine in the movie. He was no Rebel Wilson that's for sure. I heard he was also in Spring Awakening though. I feel that.
8:15pm EST: Okay, this is what's so hard about the Teen Choice Awards. The awards come so fast and potentially in no particular order except who is on stage at that moment.
 Pitch Perfect wins for Choice Comedy Movie.
Anna Camp accepts the award on behalf of the whole cast. She is dressed like a figure skater.
8:20pm EST: I'm thoroughly enjoying The Gleeks versus the Pretty Little Liars Fans. Obviously I'm on team Pretty Little Liars because I'm all Paily all the time. Side note: this is getting awkward and obviously wasn't properly rehearsed.
Darren Criss: What's your favorite Pretty Little Liars episode?
Jane Lynch: I've never heard of that show.
8:25pm EST: Yay! It's that guy from Superbad and Chloë Grace Moretz announcing the Choice Break Up Song! It's Tay Swift and Rihanna and Selena Gomez with a song that's… not about breaking up? So who of course wins?
Selena Gomez wins Choice Break Up Song for "Come and Get It"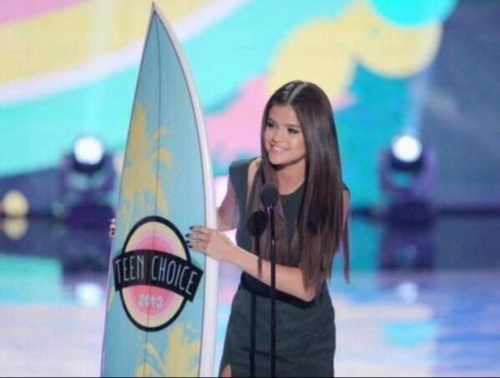 +Alright, drink every time Lucy Hale says "We teens" despite the fact that she's 24!
+Drink every time someone tells you to take a pledge to not text and drive.
8:30pm EST: A Disney Channel Girl and The Kid From Teen Wolf announce Choice TV Drama! I hope Pretty Little Liars wins because even though I love Gossip Girl it ended like last fall. It would be cool if Switched At Birth won too.
Woooo! Pretty Little Liars Wins for Choice TV Drama, Summer TV Show and basically every award any of the actors were nominated for
Is it fucked up that I find Pretty Little Liars' wins deeply validating of my lifestyle?
8:35pm EST: I've been hearing this "Cruise" song all summer long but I had no idea it was by these Florida Georgia Line guys. I just figured it was Train or something. They're still making music right?
Do you think five years ago Nelly thought that at almost 40 he would be doing this with his career? Playing the Teen Choice Awards with two pseudo-country singers?
8:40pm EST: I'm not entirely sure why Lucy Hale is wearing a referee jersey but I'm pretty sure that's a new lingerie look I'm going to add to my personal collection.
I guess the blonde dude presenting is Cody Simpson. My roommate says he's like the Justin Bieber of Australia.
Gabby Douglas Wins Choice Female Athelete
While I would have preferred Brittney Griner or Megan Rapinoe be nominated/win, look how fucking cute Gabby Douglas is! I love her cute yellow dress! I hope she'll be at the 2016 Olympics. Unless since she's 17 now she'll be too old/tall by then.
8:45pm EST: The Acuvue Inspire Award being simultaneously presented by Demi Lovato and Fifth Harmony just feels like a huge ad for X Factor sponsored by Acuvue. They award it to Nick Jonas for having Type I Diabetes. No, seriously. That's basically what they just said.
Nick Jonas looks so effing old.
8:50pm EST: Even though it's gone seriously downhill and Ryan Murphy doesn't care about us….
Glee wins for Choice TV Comedy
And every single person in the entire cast shows up to accept the award. I guess also to speak publicly about Corey Monteith's death. Important points of interest:
+Why do they let Artie speak ever?!
+How fresh are Alex Newell's heels.
+Can I please have a picture of Naya Rivera wearing that outfit poster size for my bedroom? Thanks.
+Everyone in the cast looks pretty upset about Cory's death. I can't even imagine how hard it would be. It's insane that they went right back to filming and that they're writing his death into the show.
 Lea Michele Swings Back for for Choice TV Comedy Actress
I can't even handle Lea Michele tears right now. I think I'm actually also about to cry too. But it's also sort weird that they took this moment as a tribute to him. It feels sad and overly constructed at the same time.
8:55pm EST: I am loving Lucy Hale's hot pink dress costume change.
How did Abigail Breslin get so old? Time huh? it just keeps moving! Also I think that Hailee Steinfeld is dressed as cartoon TNT.
Logan Lerman wins for Choice Movie Actor in Perks of Being a Wallflower
(beating out Hugh Jackman)
It always cracks me up that only at the Teen Choice Awards do Academy Award nominees/Golden Globe winners get undercut by cute guys in their twenties.
9:00pm EST: I wish that Demi Lovato was singing her "Heart Attack" song. I like that one.
I hope that her hair is indicative of current hair styles, because in a few weeks I'm going to have like an inch of jet black roots too and I would love to call that a fashion statement.
Demi Lovato wins for Choice Female Music Artist
I'm pretty impressed that Demi Lovato just beat Taylor Swift. Perhaps the reign of T. Swift is finally over.
9:10pm EST: I'm pretty uncomfortable with the amount of time spent discussing twerking during this show. I guess there's going to be a lot of twerking at the end of the show? I'm guessing lead by Miley Cyrus.
Ah yes. It is not time to announce the Ultimate Choice Award. Hilariously enough I've actually watched the TCAs enough times to know what this is. It's like the TCA's lifetime achievement award. I really liked watching it go to Twiight last year. On the other hand, listening to this dude talk about how he loves his bro Ashton Kutcher is totally boring. I'm just so bored of Ashton Kutcher.
It's also basically just a big long ad for Kutcher's new Steve Jobs biopic.
9:20pm EST How did I not know that Ashton Kutcher's first name is actually Chris? But still, Ashton — I'm speaking directly to you — you know you're old when you're lecturing teenagers about hard work and how being smart is sexy. Again. A big long ad for Kutcher's new Steve Jobs biopic.
9:21pm EST No but seriously guys I'm not done yet. There's nothing worse that listening to someone speak who you know thinks they're going to be quoted in the morning. Actually there is something worse: someone who thinks they're going to be quoted in the morning and also thinks they're an inspiration.
9:26pm EST Wow! Co-presenters I actually like! I'm pretty pleased someone thought to refer to Ian Somerhalder as The Smolder Holder. That's just good copy. More importantly I want to hate Kerry Washington's dress but I just like it so much. It's so fun. Also she could probably wear a paper bag and look good and be talented and perfect. So.
9:30pm EST:
+Drink every time someone says "your votes matter"
I'm pretty impressed that the TV Choice Actor category has  two gay characters and one gay actor as nominees. And the gay actor wins!
Jim Parsons wins for Choice TV Comedy Actor
Yes! I fucking love Big Bang Theory. And I fucking love Jim Parsons.
9:35pm EST: I really like Paramore but I'm still surprised they've won so many Teen Choice Awards. I guess I didn't realize the kids were so into The Rock Music these days. I can never get over what a stone cold fox Hayley Williams is. If possible I'd like to grow up to be her. Or just get her cute new alternative lifestyle haircut.
I'm also very into this punk ballerina dancers.
Miley Cyrus backstage biting a mini-surfboard. I die.
9:40pm EST: Holy shit Maia Mitchell aka Callie on The Fosters is Australian?! How did I miss this?!
Miley Cyrus wins Choice Summer Song for "We Can't Stop"
Is this the part where Miley Cyrus finally comes out of the closet?
9:43pm EST: Still waiting for Miley to come out. Instead she just seems to be winning an award as a trend setter. Like for making the Alternative Lifestyle Haircut something for everyone.
9:45pm EST: Damn. I was really hoping she'd be like "Oh and by the way I'm bisexual y'all! Peace out!"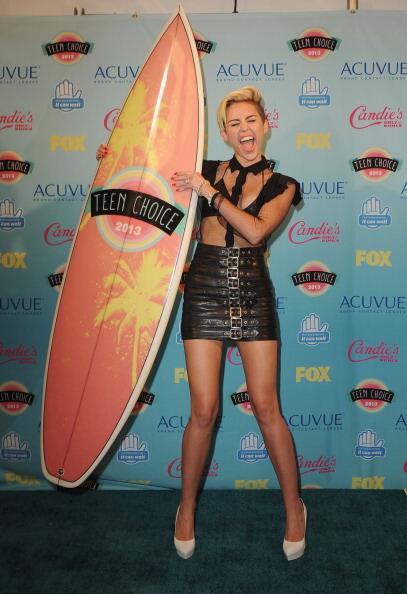 9:47pm EST: Oh what up Bruno Mars! Do you guys remember that time I inducted Bruno Mars into the lesbian haircut club?
Demi Lovato wins Choice Person Being a Person on Reality TV
9:50pm EST: I feel like when reality television stars win anything the person who does the footage editing should win the award.
9:55pm EST: According to Darren Criss and his motorcycle jacket it's time for the last award of the night. And the last award? Given out by the cast of the new Percy Jackson movie. Even though the new Percy Jackson got a 34% on Rotten Tomatoes I'm going to see it anyways because Percy Jackson and the Lightning Thief is my go-to hungover movie. 

9:57pm EST: I love that Sandra Bullock actually showed up to the TCAs. You just know it means that she had a niece or nephew who really wanted to come and see One Direction.
10:00pm EST: In conclusion, no one in this audience knows how to twerk and I think Darren Criss is dressed as a Pikachu. This has been the Teen Choice Awards.