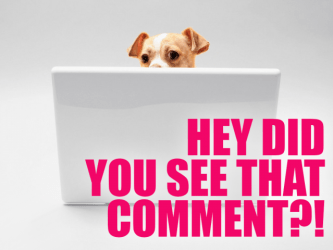 Hello Reindeers!
I hope everyone's Christmas is going swimmingly. I'm sitting on the couch wrapped in an electric throw with my dog at my feet. So things are pretty nifty here.
Things were beyond nifty on Autostraddle dot com this week. Carmen remembered the top 25 Rebel Girls of 2015. And Lyn looked back at the hottest masculine of center hotties of 2015. It was hot.
Kayla came out to 50 people at once while on a stage holding a microphone and with a spotlight on her. This is literally my worst nightmare, but it was a fascinating read.
The Style Thief stole the style of Jenny Shimizu. Mey made tamales with her mom. Her mom wore a Dodgers apron and stylish eyewear. It was adorable.
Ali talked about Star Wars. I could listen to Ali talk about Star Wars for days. Kaelyn gave advice to her 15-year-old self and then all of you did the same thing. It was magic!
Also, alcoholic butterbeer is a thing that you can have in your life! Laura tried lots of recipes to find the best.
And Comments!
---
On OPEN THREAD: Get In Here and Spend Christmakwanzakah With a Bunch of Queermos:
The Luckiest Dog in the World Award to Alyssa: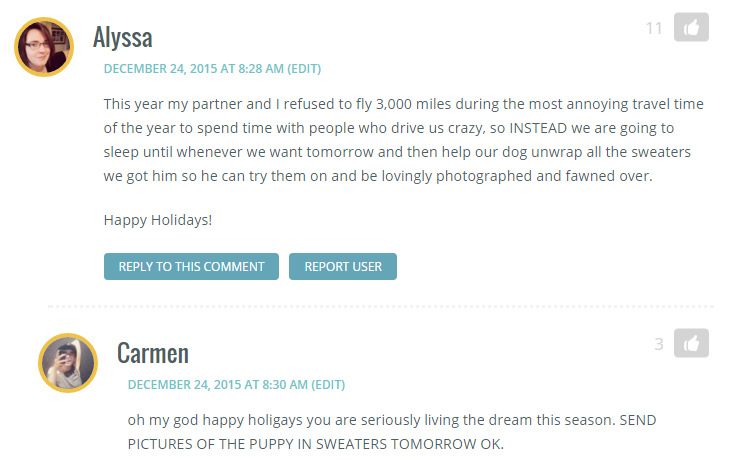 On Top 10 Stud Crushes of 2015:
The 'Nuff Said Award to JP:
The What Else Can You Ask for in a Person Award to Al:

On Coming Out To 50 People At Once Was So Much Easier Than Doing It One-on-One:
The Tangent of the Week Award to Hazel:

On A Muggle's Quest For The Perfect Mug Of (Alcoholic) Butterbeer:
The Harry Potter Award to WRM:

The Autocorrect Award to Nina: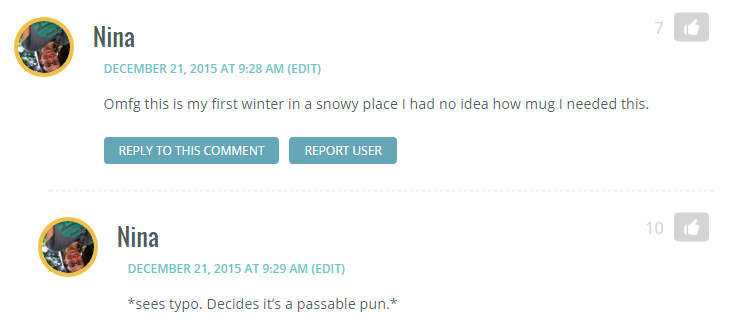 On Also.Also.Also: It's True, Hermione Granger is Black and Other Stories to Make Your Day:
The Little Lesbian Award to queer girl:
On FRIDAY OPEN THREAD: Dear 15-Year-Old Me:
The Preach Award to Vinzzz27:

---
See a clever, hilarious or thought provoking comment around this website-ship? Email it to me at: bren [at] autostraddle [dot] com!