When my grandfather was still alive, he used to go and buy our family — all my aunts and uncles and cousins — tamales somewhere in Downtown LA. We'd all wake up on Christmas morning and enjoy a brunch of papas y chorizo, delicious tamales and fresh pan dulce. This meal — not the presents, not the stockings, not the time off from school — was my favorite part of the holiday.
When my grandfather died in 2009, my mom took over the job of making sure we had tamales on Christmas morning. Ever since then, she's spent hours and hours in the kitchen every December making dozens and dozens of tamales for family and friends. Ever since I was young, I'd always wanted to cook with her, but out of fear that it would make me seem too "girly" and that people would see through the facade of maleness that I put up, I didn't really start learning her recipes or joining her in the kitchen until after I came out. I hate that I waited so long.
For me, cooking and baking with my mother is not only a way for me to connect with her, but it's also a way for me to connect with my womanhood and my Mexican heritage. I'm not saying that cooking is "women's work" or anything like that, I'm saying that it's a way for me to connect with my mother, to feel like her daughter, and to take parts of herself that she's passing down and make them a part of myself. It's also a way for me to connect with not just my mother, but everyone in her family who came before her and made me the Latina that I am today.
Growing up, I desperately wanted to spend mother-daughter time together with her like this, but I never thought that I'd get to. I know that I'm extremely lucky to have the relationship with my mother that I do. And so when I have a chance to spend time with her, learning from her, becoming more like her, I'm going to take it. I'm so thankful to her that she's happy to share these traditions and pass them down to me.
The day I spent in the kitchen making tamales with my mother was one of the most fun days I've had in a long, long time. When I cook with my mother I feel like I'm becoming the woman I'm supposed to be. I can't wait until I get to teach my daughter how to make tamales for breakfast on Christmas morning.
Tamales are so full of love, and they really are the perfect food for the holidays. Not only do they make a great meal for Christmas breakfast, but they make great gifts if you want to let your friends know just how much you love them. If you want to ship them to loved ones, let's say four friends who live in New York, you can freeze them, pack them in Styrofoam and then ship them overnight, even if that might cost you more money than you really should be spending. But hey, if that's what it takes to send your friends tamales for the holidays, it's more than worth it.
Masa (makes 10-15 tamales)
4 1/2 cups masa harina
2/3 cup olive oil or 1 1/2 cup lard, depending on if you want vegan tamales or not
2 2/3 cup vegetable broth or broth from meat (if you're cooking meat)
1/8th tsp salt
corn husks (you won't use these until later)
First, you remove the corn husks from the package and soak them in water for at least two hours.
Heat the vegetable broth until hot (or, if you're cooking meat, use the warm broth leftover from that) and then, in a large bowl, use an electric mixer to mix the masa harina, lard or olive oil, broth and salt. Mix it until the dough feels like it will spread smoothly.
Now, we come to the filling.
Black Beans and Green Chiles (makes a dozen)
2 15 oz cans of black beans with most of the liquid drained
1 7 oz can of diced green chiles, drained
1/4 cup Chile Colorado sauce
1 tablespoon flour
cumin to taste
chili powder to taste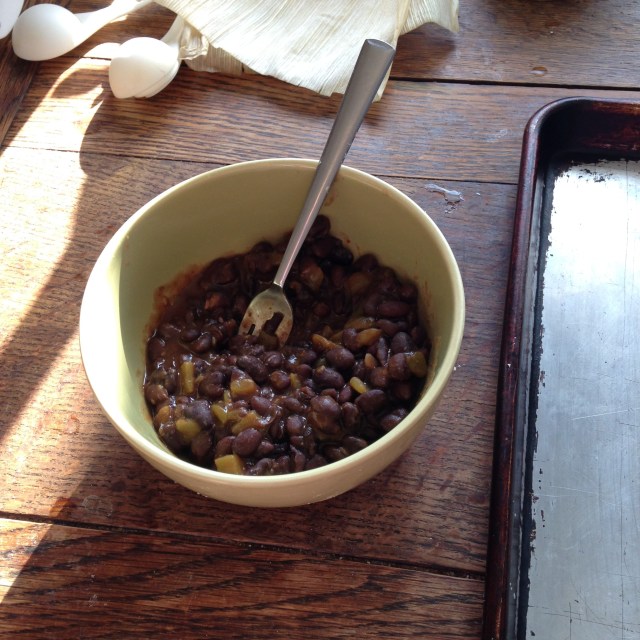 On medium heat, put the beans (with a little liquid in them), green chiles, Chile Colorado sauce, flour and chili powder and cumin in a pot and stir them. Do this until they are warm and mixed well. Taste it to make sure you've added enough cumin and chili powder.
Cheese and Green Chiles (makes a dozen)
1/2 lbs of grated Monterrey Jack Cheese
1 7 oz can of diced green chiles, drained
1/4 cup Chile Colorado sauce
flour
cumin to taste
crushed red chili pepper to taste
In a saucepan on medium-low heat, mix grated cheese, green chiles, Chile Colorado sauce, flour and chili powder and cumin. Stir it until the cheese starts to melt, then remove from heat. Taste the filling to make sure you've added enough cumin and chili powder.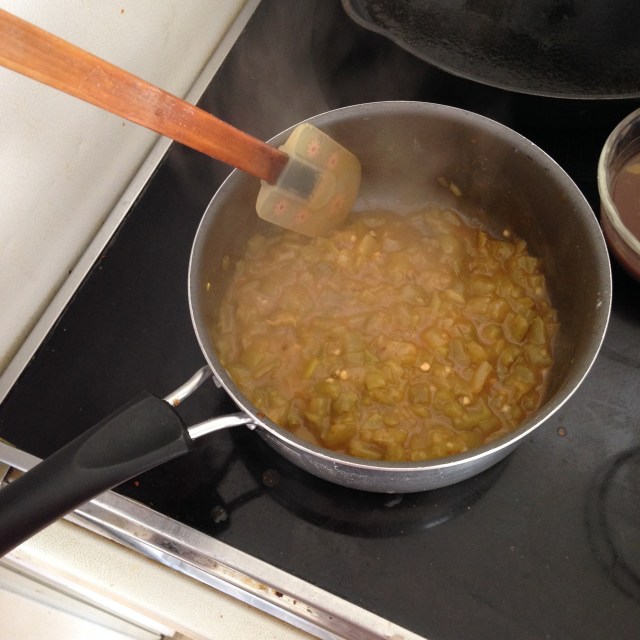 Chicken (or pork or beef or elk or whatever) (makes 4 dozen)
5 lbs chicken breast (or beef or pork or elk or whatever roast)
1-2 10 oz cans of diced tomatoes with green chiles
minced garlic, seasoned salt and onion powder to taste
1-2 28 oz cans of Chile Colorado sauce
2 7 oz cans diced green chiles
chili powder
this will take more than one batch of the masa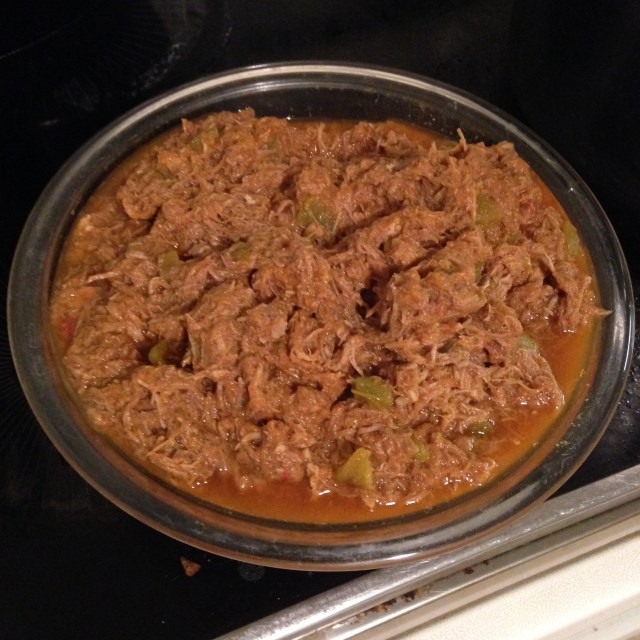 We don't really know how to just make one dozen of these because we always make them for a lot of people.
Boil the meat in water or broth with the cans of tomatoes, minced garlic, seasoned salt and onion powder. Cook it until the meat is tender. Remove the meat and shred it, saving the liquid.
In a large saucepan, mix together the shredded meat, 2 cans of diced green chiles, Chile Colorado sauce and chili powder.
Now it's time to actually make the tamales.
First, you take the corn husks that I mentioned earlier and you squeeze the water out of them. Lay one of them flat on your table or counter. Take a ball of the masa about the size of a tennis ball and start to flatten it into the corn husk. Using the ball of your hand, spread the masa around the corn husk until it covers the whole thing other than the top inch or so.
Next, you take a few spoonfuls of filling, whichever kind floats your boat, and spread it a little to the side of the center of the masa. Start at the bottom and move up to the pointy end, stopping before you get to the end of the masa.
Roll the masa and corn husk over the filing tightly, fold down the top point, and then roll it over again so that it forms the traditional tamale shape. You can also peel off the sides of the corn husk to make strings to tie your tamales shut with.
Now, it's time to cook them! All you have to do is steam them with the lid on for two hours! Just get a steamer, put in two inches of water, line the steamer basket with foil and place the tamales in the steamer vertically with the open end of the the tamale facing up.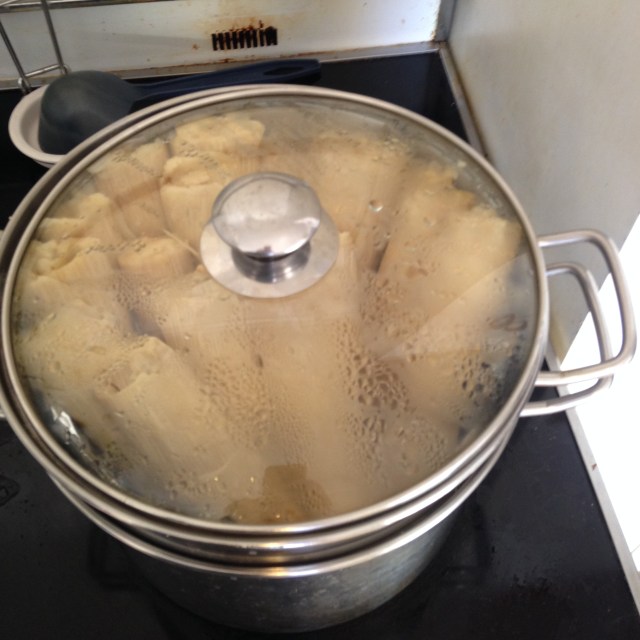 You're probably going to not want to do this the morning you eat them, so you can refrigerate or freeze them and then warm them up by steaming them for about 15-20 minutes. Then you can cook up some papas y chorizo, conchas and piggies and have a wonderful family breakfast on Christmas morning.