Which former supermodel can boast being both a mechanic and Angelina's ex? None other than Jenny Shimizu. Although she was outside of industry beauty "norms," Jenny first rose to fame as a prolific Japanese-American queer mainstream model. Active in the fashion industry as a model booker, Jenny's style has always been original, both relaxed and striking. Growing up under the influence of a laid-back West Coast upbringing combined with a lengthy career in fashion means that Jenny possesses a unique and enviable style. The good news? I'm going to show you how to get it!
Denim Days
Jenny Shimizu is no stranger to the wonders of denim. Whether it's a well-layered jean jacket with a moto jacket and a tee or a loose Canadian tuxedo, denim takes on another life. Relying on simplicity for impact, the effect is decidedly relaxed. A masterful take on a typically casual realm of dressing.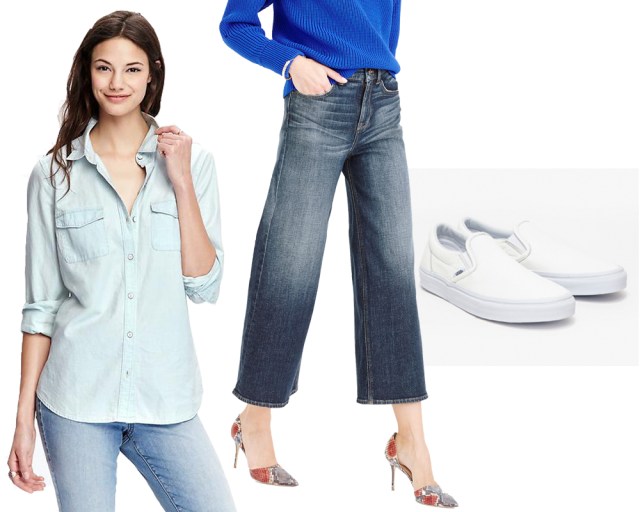 Classic Chambray Shirt, Rayner Jeans,
Vans Leather Classic Slip-On
Dashing and Dapper
Whether it's hitting up a event or a night out with her devastatingly fashionable wife Michelle Harper, Shimizu slides into dashing suiting when the occasion calls for something more formal. Jenny is not one to shy away from tailoring. Crisp white shirts are a staple, adding a boyish uniformity to these looks. Wearing a streamlined three-piece look or a loose Pepto-Bismol look, the dapperness knows no bounds.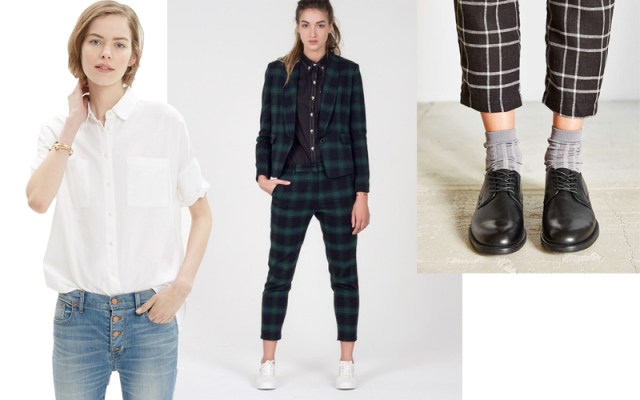 Madewell White Cotton Courier Shirt,
Jagger Pant, Hepburn Blazer, Amina Leather Oxford
Casual Cool
In her "off-duty" looks, Jenny's looks offer up part mechanic, part painfully cool human. Shirts with the sleeves cut off, white t-shirts, leather jackets and beat-up brogues. She is an avid collector of vintage tees, and often wears perfectly aged, slightly threadbare shirts with loose-ish leather leggings or jeans. Is there anything better than feelin' hella comfortable and lookin' super fly? I think not.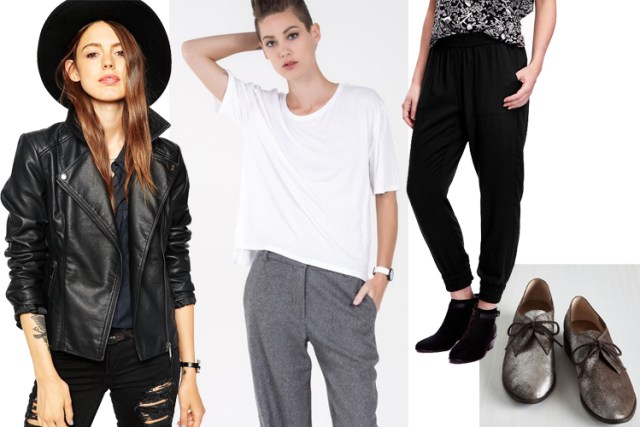 ASOS Ultimate Leather Jacket, Taylor Tee, Crepe Joggers, Welcome Back Flat