When I came out on stage, it wasn't at a famous comedy club or on national television. It was in the grungy basement of the house I shared with eight other college students in Ann Arbor as part of a show we'd thrown together for new comics. It'd be my first time doing stand-up, actually, but all the comedians who performed that night were looking to work on new material in a safe environment before hitting the open mic circuit.
For weeks, I'd been cobbling together notes I'd taken over the years, putting together my debut set. But when I read it back to myself, something was missing. More accurately, I was missing. My sexuality doesn't define me, but by going so far out of my way to not talk about it in an otherwise personal set about so many different aspects of my life, I felt like I was lying to myself. In a bit I wrote about how everyone in your life suddenly becomes a relationship expert when you're going through a breakup, I'd completely replaced my ex-girlfriend with an imaginary dude.
I didn't want to start my comedy path with a lie. I wanted to start it with a really good fucking joke.
So I rewrote.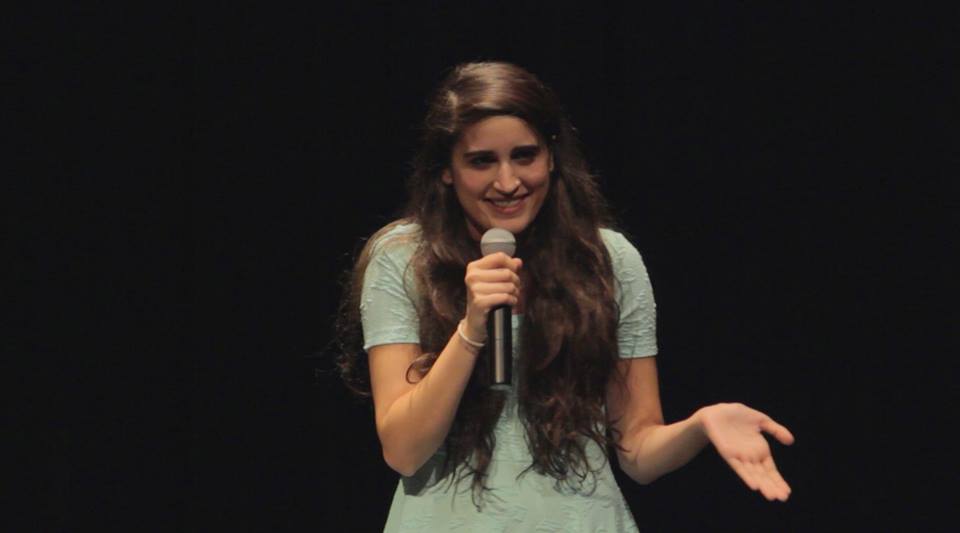 ---
Almost everyone I went to high school with — at Appomattox Regional Governor's School for the Arts and Technology in Petersburg, Virginia — thought I was gay.
Everyone, that is, except for me.
Appomattox was a very strange place. Students came from over a dozen central and southern Virginia school districts, we had majors and I took Ballet and Modern Dance instead of gym. And everyone was gay.
Okay fine, everyone wasn't gay. But when I started college at the University of Michigan and met people with entirely different high school experiences, I started truly realizing how queer mine had been. I mean, we were one of those schools were a boy could win prom queen and a girl could win prom king. Sexuality wasn't something we whispered about in the halls, it was out in the open and up on stage.
So it wasn't weird or particularly unusual that my high school friends often asked me if I liked girls. Still, I denied it outright the first time — and the second time. And the third time. As doubts started creeping in, those denials softened into uncertainty. "I'm straight" became "I'm surprisingly straight."
Meanwhile, I lined my locker with Jennifer Garner pictures and literally got into a screaming match with a kid on the bus who denied Angelina Jolie's attractiveness. But it was easy to dismiss female celebrity obsessions as "girl crushes." Dismissing my very real crushes on friends of mine was considerably more challenging, but denial can be a powerful thing.
---
I've always been a stickler for the rules. It made me a particularly annoying child. In third grade, when my cousins from Norway visited for New Year's Eve, they asked my parents if we could set off some fireworks. I stormed to my bedroom and returned with a coloring book we had been given in school by a fire marshal as a fun way to teach us about fire safety. On one page of the coloring book, our county's fire laws were listed plainly. I pointed out the most pertinent one to my family: "Fireworks are illegal," I recited through tears.
Unsurprisingly, my attempts at high school rebellion were feeble and included innocuous acts like skipping show choir once and sneaking out of my house in the middle of the night to help distribute Obama campaign door hangers on the eve of the 2008 presidential election.
I wasn't out to myself in high school because, to me, being gay seemed too much like breaking the rules. I didn't grow up in an anti-gay church, and Appomattox Regional Governor's School for the Arts and Technology certainly didn't have any kind of rules about homosexuality. I wouldn't go so far as to say that being gay at my school was wholly uncomplicated, but it was relatively easier than it would have been in most other public high schools in Southern Virginia. I had several openly gay friends and even a few gay teachers.
But I wasn't ready. No one in my family had ever come out as gay, and those few gay teachers were the first gay role models I was ever exposed to. No one was technically telling me I couldn't be gay, but no one was really telling me I could either.
It just went against so many dominant social norms, you know? — norms I saw replicated over and over again in media. I've always loved romantic comedies; it's a staunchly hetero genre. I didn't see women falling in love with each other in any of my favorite romcoms. The gayest movies I'd seen at that point were Rent and The Hours, and everyone is either sad or dying or sad and dying in both.
But I also saw those norms replicated in my real life, even with my relatively liberal upbringing. My mom, after all, always thought I had crushes on the boys in my life and didn't hesitate to ask me incessantly about them. While it wasn't an explicit rule that I couldn't be gay, it was an implicit one. It was an expectation. And I always met expectations, whether they were grades or who I was supposed to be crushing on.
It's pretty hard to be out to others if you're not out to yourself. I was embarrassed and confused by my own uncertainty. In my mind, if I wasn't 100% sure I was gay, then I wasn't. Turning it into a joke was the easiest way to ignore my crushes on friends and the moments in class when I'd lose track of math thinking about Jennifer Garner's perfect cheekbones. My friends would joke about how I was the gayest straight girl, and I joined in, making fun of myself for wearing ties and TiVo-ing The Ellen Show (I was a parody!). "My Neopets username was topangaisdabomb6…I'm so gay," I'd say, only to follow it with a swift "just kidding."
Around the same time, I was also getting very into Tumblr, mainly because of a little show called Glee. (Look, I maintain to this day that the first season of Glee was good stuff. Plus, I was a musical theater major at an arts school… Glee spoke to me.) My Glee feelings needed an outlet, so I took to Tumblr, where I connected with other fans. We started texting during the episodes and becoming closer. I'm still friends with some of these people today, and we're all equally embarrassed that the initial foundation of our friendships was a shared interest in Glee, of all things. At the time, I brought my Tumblr friends in on the joke, playing up the ambiguity of my sexuality on my blog. Considering how much Naya Rivera dominated my blog, people started asking if I was sure I wasn't gay, and I laughed it off. "Surprisingly heterosexual" and "bad at heterosexuality" became phrases used very regularly on my blog.
To this day, my Tumblr remains a fairly detailed chronicling of my queer journey, starting in those early days of denial, through all the sardonic jokes about how gay I was, to the eventual somewhat vague posts about my first girlfriend, who I met at a party in D.C. one summer and immediately jumped into a serious, long-distance relationship with. As far as first girlfriends go, she wasn't the absolute worst, but she wasn't great either, especially when it came to how I felt about my sexuality. She was both wildly self-obsessed and insecure, and a part of her liked that I was closeted because it was a guarantee that I wasn't hitting on other girls.
---
In college, I kept up the "gayest straight girl" identity, even with my secret girlfriend in the picture. Comedy became an easy defense mechanism, a way of delaying coming out.
It wasn't until my junior year, when I was on secret girlfriend #2 (who was much kinder than SG1), that I finally started coming out to my closest friends. Most of my hesitation about coming out came from my uncertainty about how to do it. I've always been a meticulous planner. I'm the friend who makes reservations for brunch. "Coming out" wasn't a structured, defined process like the term suggests. Most of what I knew about "coming out" came from television, where gay characters would get their "coming out" arc, and it all seemed so straightforward.
Where was my coming out arc?
I'd have to write it myself, I guess.
In 2002, Rosie O'Donnell publicly came out while doing a standup set for a benefit at the famous New York City comedy club Caroline's. "I'm a dyke!" she declared on stage in front of everyone. Five years before that, Ellen DeGeneres basically used her sitcom as a way of coming out. While some people might be horrified by the idea of coming out in such a visible and public way, I think for a lot of comedians, it actually feels safer. When you're at the mic, you're the one in control. Standup is a performance, but you're playing yourself. And if you're a good comedian, you're playing the realest, most honest version of yourself.
For me, the thought of one-on-one conversations with people about my sexuality was much scarier. Even when I told my very best friend in college about secret girlfriend #2, I had to chug champagne beforehand to get my confidence up. Again, it was the uncertainty that spooked me. I knew deep down that she would be instantly supportive — and she was — but I still worried. A part of me felt guilty for saying "so you know that thing we always joke about, well actually, it's true!" I worried my friends would think I didn't trust them. Coming out on stage, there can pretty much only be two outcomes, and they're the same for any joke you tell: People laugh or they don't. No one was going to ask me questions about whether I was sure, about why I kept it a secret for so long, about when I first knew, etc. if I was standing on a stage in front of them in the middle of a show.
---
The night of my first show arrived, and there I was, running through my set in my head one more time, feeling pretty good about the rewrite.
The already-filthy basement where we hosted the show was made even filthier by the 50-or-so sweaty bodies who'd packed in for free comedy and free booze (mostly for the free booze). We'd strung up Christmas lights and rigged a makeshift spotlight. It was scrappy, but so were we.
I started my set off talking about my weirdo high school, which I described as even queerer than it actually was:
It's safe to say I had a bit of a different high school experience from my college friends, partially because I went to a weird Arts school, but moooostly because everyone I went to high school with was homosexual. Well, that's not true. There were a lot of bisexuals, too. And maybe like five straight dudes. At my school, you were basically gay until proven straight. All my English teachers were lesbians. The gay kids also were the ruling class in my school. Like, the straight kids got straight up bullied. I kind of wish I could have been back at high school for the DOMA ruling just to witness the reaction. I feel like there'd be lots of hugging and crying. The gay students would be hugging, the straight kids would be crying because the gays would be beating the shit out of them in celebration.

There really are people out there who believe that the "gay agenda" is just to destroy straight people. Like, there are actually people who believe that gays want to have the right to marry just to undermine heterosexual marriage. And not, you know, because they just want the government to recognize them as real people with rights.
So I told those 50-or-so bodies about how everybody at Appomattox Regional Governor's School for the Arts and Technology thought I was gay:
SO, when I was in high school, everyone thought I was gay, and it probably had nothing to do with the pictures of Sarah Silverman in my locker or the Merrell sandals I wore. every. day.

The thing about having a bunch of people think and insist that you're gay…you start to think "maybe?" Maybe my classmates and lesbian teachers had incepted me. Maybe I've been gaycepted. But no. No, no, no, I'd remind myself. Gayception is not real. Nor is Inception, for that matter. Gayception. Is. Not. Real.
I paused and took a sip of water (not champagne!) before saying very matter-of-factly: "So about a year and a half ago, I was in a sexual relationship with a woman." I didn't even have time to get to the next part of the joke before the crowd went wild with laughter, not expecting that pivot. I had successfully turned my sexuality into a punchline, which is another way of saying I'd successfully turned it into the most genuine form of expression I knew.
This time, it wasn't a defense mechanism. It was the first time I'd ever explicitly said those words and meant it (the "being gay" part, not the gayception part, in case that needs to be clarified… gayception still isn't real). The bit became the foundation for the early stages of my standup career. After years of willingly participating in a joke that erased my identity, here I was, using it to tell my own story and be more honest than I had ever been before. After the show, my friends swarmed around me with words of encouragement. "That was so badass," one said, pouring me some celebratory champagne.
Comedy went from being the thing I hid behind to the place where I could be my truest self. The joke is no longer at my expense; the joke is now mine. Standup has allowed me to tell my story over and over in my own words, on my own terms. It isn't just about the laughs (although, let's be real, I do love getting laughs). Coming out is often awkward. It's something I'm forced to do repeatedly (thanks to living in a heteronormative society). I might as well get to have some fun with it.
---
Months later, I opened with my "I'm gay" bit again in front of an audience of over 150 people — including friends, professors, exes, and strangers — and I'd never felt more empowered. I started nervously that night, having never done my set in a theater. When I first walked out on stage, I felt swallowed up by its size. My hands shook a little as I took the mic out of its stand, and I stuttered in the first twenty seconds. But as I started easing into that bit about my super gay high school, I found my groove. Even though I had written material before that night in the basement, I've always considered this my first joke — where it all began. I knew this joke so well, and I knew myself better than ever before. That gave me the confidence to not fuck up in front of 150 people.
I was met with the same overwhelming laughter and even applause for the joke. "That's right!" I shouted, feeding off their energy. "Clap because I'm gay!" Now every time I'm bombing, I think about how the biggest laugh I ever got was for just being myself.