I feel like I've spent a lifetime avoiding any sort of Google search with the phrase Star Wars in it, lest I accidentally spoil the movie for myself before I see it on Sunday. But y'all, I feel like technology nerds have been talking about only two things this week: Martin Shkreli getting his comeuppance (thank fuck) and Star Wars. Of course, Star Wars. The newest installment, The Force Awakens, was released on December 18th and I've been dodging would-be spoilers since. But, being science fiction, there's a lot of really cool tech stuff that Star Wars brings to mind — whether it's how people are responding to the film or the animation techniques used in it.
---
The Spoiler Brigade
A group called The Alliance to Preserve the Expanded Universe wants to ruin The Force Awakens for everyone online. Why? Because when Disney bought the franchise, they scrapped the storylines in the books, comics, video games and more — all that work formerly known as the Expanded Universe would now be called Star Wars Legends and only the films (as well as the animated Star Wars: The Clone Wars series) would be considered canon. Some of the more hardcore fans went ballistic, and they're threatening Disney with heading out onto social media in hordes to ruin the movie for everyone who didn't get to see it immediately. The only way to stop them, they say, is to reconsider the canon-ban and give the fans the Extended Universe exactly the way it was.
I do not understand this at all.
Mostly because, aside from social issues such as admitting characters are gay in order to further a culture of acceptance and model to queer children and adults that they exist in art, the mirrors of our lives (cough Bubbline cough), I don't necessarily understand why a story or character has to be canon to be valid. We live in an age of fan fiction — we have a whole column on Autostraddle dedicated to writing that is not canon. Is it that Star Wars fans don't want their books and games to be relegated to the same corner that fan fiction is? Does that have something to do with the assumptive link between fan fiction and teenage girls? Who knows.
But what everyone knows is the subsequent internet culture phenomenon that is asking for Star Wars not to be spoiled. It feels like the entire internet has a vested interest, spurring a movement that feels like every single person is posting a meme like this: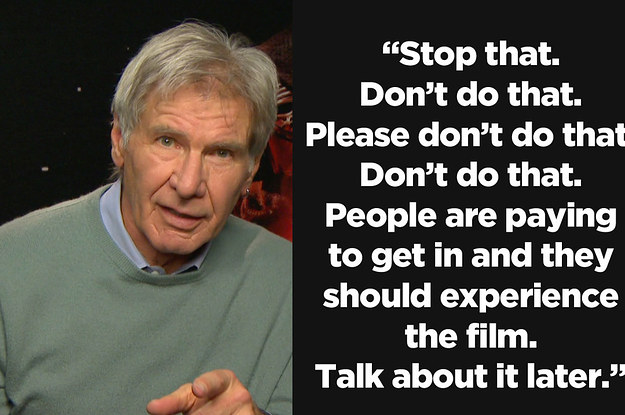 and saying things like Han Solo hates you if you spoil the movie. This has been semi-successful — the only status updates I've seen so far are about how so-and-so liked it and that's all they're gonna say about that. A friend, though, logged on to a sports website and got spoiled by an image of the movie on the big screen that someone dropped in the comments. Short of staying off the internet until everyone has seen it, the only way to ensure we all get a pristine experience is to a) not be a dick on the internet and b) hope to the heavens above none of your friends are going to be dicks on the internet. And even then! Some rando might post something in the comments. No one do that here, by the way—if not for your fellow queerdo, then for me. I get all the comments emailed to my inbox and I don't see The Force Awakens until tomorrow.
---
These Are The Droids We're Looking For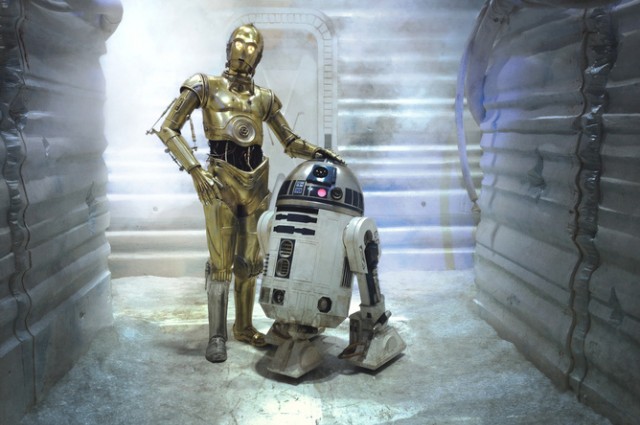 With the return of Star Wars comes the return of our favorite droids — there's even a new kid on the block with the addition of BB-8. I Fucking Love Science posted this amazing article about what it would take to actually build R2-D2 and C-3PO (and how we probably won't see droids this advanced in our lifetime). From that article:
To understand why this is so hard, think about what happens when people talk face to face. We use our voices, faces and bodies together in a rich, continuous way. A surprising amount of information is conveyed by non-verbal signals. The meaning of a simple word like "maybe" can be dramatically affected by all the other things a speaker is doing.

Real-world communication doesn't take place in a context-free vacuum either. Other people may be entering and leaving the scene, while the history of the interaction and indeed all previous interactions can also have a large effect. And not only must the robot fully understand all the nuances of human communicative signals, it must also produce understandable and appropriate signals in response. We are talking about an immense challenge.
There are some robots that are very good at humaning in specific ways, like NASA's Valkyrie:
Now y'all know I feel strongly in two opposite directions when it comes to robots — on one hand, they're fascinating. On the other, they will take over the world. But IFLS had an answer for that too!
---
Lupita Nyong'o's Motion Capture
I also came across this Ellen clip that I felt like was safe to watch. It's Lupita Nyong'o on her character, Maz Kenata and the experience of motion capture.
Motion capture is really cool, but considering that the first fully computer animated lead character in a feature film was Jar Jar Binks, I was a little worried. My concern did not detract from how cool I think motion capture is, though. Gamers will know a good deal about this technology, as it is very popular in video game performance. Here are a couple more videos about mo'cap for you to feast your eyes upon:
https://www.youtube.com/watch?v=FHuXSZv6Tqs
And remember, if you spoil Star Wars for me or other Straddlers, I will set my destructive and moronic cats loose in your living space! XOXO!