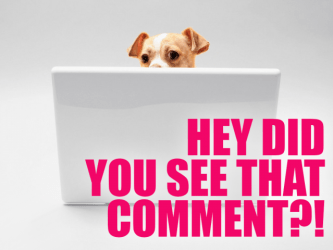 Happy last Comment Awards of 2012, New Year's babies!
In this final week of the year, we open-threaded our holiday feelings, checked out Art Basel in Miami, infused some rum and paid homage to Lesbionic Homoerotic Stock Photographs (someone name their band that, stat). Highlights from recurring columns included Straddler on the Street: Tiara, Kristen's Ode to Salt and Butch Please: Broken-Hearted Butch. Laura gave advice for staying busy indoors, Riese talked about 2012's queer female characters on TV and Lizz wants to dress you for New Year's Eve debauchery.
Do your 2013 goals involve not texting that ex, taking up more DIY projects or not making resolutions at all? How about being even more hilarious on the internet like this week's comment awardees?
---
On Also.Also.Also.:
The Somebody Put That On A T-Shirt Award to Ambra Tieszen "I fight breast cancer by touching boobies. What have you accomplished today?"
On Style Thief: New Year's Eve Edition:
The Someone Had To Do It Award to Ashley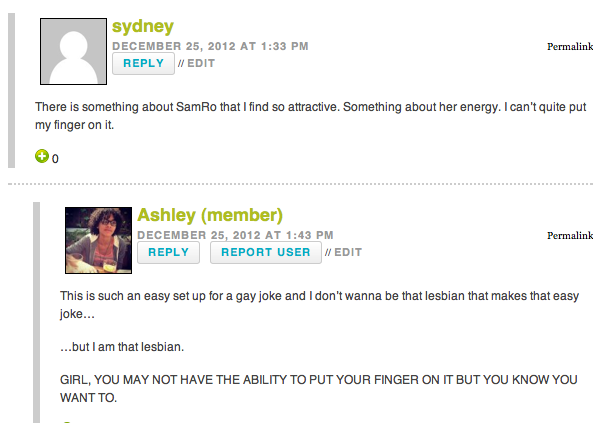 On 2012's Most Popular Autostraddle Posts and Top Search Terms:
The And Ever And Ever And Ever Award to Emily "Evan Rachel Wood Bisexual 4eva."
The Maybe One Day Taylor Swift Will Write A Breakup Song About Autostraddle Award to Elinor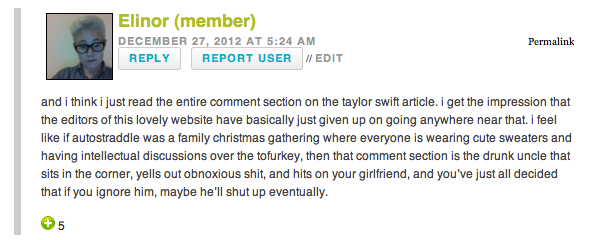 The Happy Holigays Award to Liz "One of my favorite things about Christmas is the number of old carols that want everyone to be gay. 'Deck the Halls' and 'Have Yourself a Merry Little Christmas' to name a few…"
The 5-7-5 Award to Caley

On Christmakwanzakah OPEN THREAD:
The Family Bonding Award(s) to Megan and Robin