Previously on The Fosters, Brandon can't do the grocery shopping adequately or keep secrets. Brandon's inadequate? Must be Tuesday.
Callie gets a text message intended for Diamond but she has no clue what it means. Before she can find out, Mariana pops in wanting to know if she snuck into Aaron's bedroom and if they had sex. Callie says they just kissed for a while and then cuddled. After Callie leaves, Jude pops in to ask Mariana if he can tell her a secret. Nope! She's done with secrets! Totally done.
Stef has some questions about why Brandon has Emma's letter in his pants. He explains that she asked him to take it so no one else besides him and grandma would read it. And why does he know? Oh right because he took Emma to Planned Parenthood. It's fine because impotent Jesus doesn't have a clue.
The moms don't think it's anyone's place but Emma's to tell Jesus so they ask Brandon to keep it quiet but thank him for being there for Emma. Once he's gone from their room, Stef and Lena can't believe that A) they just told Emma and Jesus they could have sex in the house, B) Sharon didn't tell them about the letter, and C) that Callie's trial is less than a week away and they don't know the legal strategy. Oh and they still have three other kids!
Callie is drinking tea in the corner when Brandon arrives in the kitchen. She scares the daylights out of him and then they trade questions about the largest calamities of their lives. Remember when we were friends before people thought we would be better as boink buddies? Yeah, good times.
Gabe is meeting with the twins about the tree house project. Mariana promises to find the perfect tree for it. Perfect! She can do perfect in her sleep. Ana comes out with Isabella and seeing Gabe and Ana with the baby is too much for her. She and Jesus look at each other like "Why weren't they like that with us?" before she runs out. Ana tells Gabe she found his a job working for her brother and Jesus wants to know if he has gotten any help for his depression. Wow, there's a lot of meddling/caring going on in this scene. The doctor wanted Gabe to take meds which Gabe says only screw you up more, right? Jesus agrees. Oh lord.
Stef and Lena are meeting with Callie's lawyers. They want Callie to look young, innocent, and as doe-eyed as possible. The poor dear didn't know what the law was so she left the scene of the accident. She, of course, torpedoes this by refusing to go along and by announcing that they know Troy killed his grandmother. Lena thinks the true story makes much more sense than the bullshit the lawyers came up with. Oh my god this storyline is like Paul Rueben's death scene in the original Buffy. It just never ends!
Mariana wonders if it hurts Jesus to see Ana being a good mom now. He remembers being in their crib for hours or more than a day without her around. He remembers trying to take care of Mariana, but getting mad at Ana and Gabe doesn't help. She was a drug addict who shouldn't have had kids. Mariana wants to know if he were Gabe if he would have asked her to have an abortion. He says no; he would have been a dad no matter what. Well, now she's going to feel compelled to tell him about Emma.
Daphne and Callie are talking about her case when Diamond butts in, but Daphne who tells her to get back to work. Diamond gets back to work trying to recruit another GU girl to work for Russell. Why shouldn't Diamond get money for sex since men have been having sex with her since she was eleven? This storyline is horrifying (obviously, that's the point) but I wish they would focus on fewer storylines on this show (yes, I've been saying this since season one).
Mariana is being snappish with Emma so she asks what the hell is going on. She knows Emma had an abortion and didn't give Jesus a chance to say what he wanted. Emma, rightly, says it's not his choice to make. Well, they're adopted so maybe she should have considered that, Mariana says and flounces up the stairs.
Stef is showing Diamond the horrific pictures of another one of Russell's girls who he beat within an inch of her life (she's now missing). Diamond says she beat the girl for Russell. She also knows the guy Russell might have stolen meth from. A kind of guy who lets girls do his dirty work is a coward, Stef says. Stef promises they can keep Diamond safe if she will testify against him. She agrees. Diamond sees Callie hugging Brandon and asks Stef if he's her boyfriend. Nope. Definitely not. Not at all. Nothing to see there!
Jesus is helping Gabe move his stuff in when he starts feeling ill. Gabe asks what's up and it turns out Jesus thought not taking his meds was a great plan because he needs to be able to have sex more than he needs his brain to function. Gabe is like "what the fuck do I do?" But he's saved by Lena walking into the garage. Lena offers Gabe lunch but he promises he won't stay long or be much of a bother. But it's time for Jesus to take his pills, so yay for everyone having secrets!
After Stef leaves, Russell wanders by to say hello to Diamond. When Callie says hi he explains that he's the neighbor from up the block (sure and I'm the Jolly Green Giant) and that they might want to bring in the garbage cans before they get a fine. Diamond hops right to them. Oh Diamond, Callie knows all the bullshit tricks so she watches Diamond scoop a bag with a cell phone out of the recycling bin.
Mariana offers Jude his laundry, folded, and then wants in on his secret.
Lena and Monte are having tea. Hey Monte, missed you, lady! Lena doesn't think Monte should resign, by the way. But Anchor Beach is throwing cash at her and really, she's a business woman right? Mariana comes barreling down the stairs and yells "they want to make our school private! Oh hey, principal!" Lena calls Jude down after Mariana gives up her source. Man, I wouldn't tell you shit, Mariana.
Callie tells Daphne she saw Diamond take something out of the trash so they scope out where Diamond was gardening. Sure enough, they find the phone and then call Stef. Daphne and Callie would be a hell of a Nancy Drew pair (Daphne is Nancy, obviously). Stef wants Callie to call her on the phone, delete the call record, wipe it clean, and put it back. Stef, this is not helping Callie's sleuthing gene.
Brandon lays into Mairana for yelling at Emma. She can't keep secrets and Jesus couldn't be a dad so maybe lay the fuck off Emma. Of course! Jesus walks in at the end of all of this. Mariana lies about the fight to Jesus and they get interrupted by Lena who wants them not to share the rumor about the school going private. Stop it with all the secrets! Of course Mariana already tweeted about the school going private.
One secret that's not going to last is Jesus not taking his meds. Lena wants to know how long he's been playing neurologist on his own brain.
The moms spoke to the lawyers who now agree that having Aaron testify about Callie's state of mind at the time of the accident is good but they still need Callie to admit she thinks Kyle killed Mrs. Johnson. Stef produces some more convenient evidence that Kyle's guilty but Callie needs to see him before she will testify to his guilt. Kill the storyline. Kill it dead. Use the Peacemaker, bury it in the ground, salt the damn earth. I have had it!
Stef will allow Brandon to drive with Callie to Folsom but she wants his assurance they won't have sex on the way. He's mad now. He tried to remove himself from the family so they would stop being suspicious (dude, you guys snuck around and then had sex, it's not like you didn't earn the suspicion). But sure, let's ret con this as the moms' fault.
Lena checks to be sure Jesus swallowed the pills which he finds ridiculous but she's going to do it until she can trust him again so his whole life. No biggie. Gabe walks in and Jesus yells at him. Gabe acted like a damn adult by telling the moms about the medicine. But Jesus thinks he's a hypocrite for refusing to take his meds to help with the depression. Maybe he should have gone to Tahoe, Jesus screams. When Gabe leaves Brandon tells Jesus that not being able to have sex isn't the end of the world. Jesus thinks Emma is going to leave him because it's not like she's with him for his IQ. Brandon says Jesus is a really good guy and funny and kind and maybe he should think about taking care of Emma. He could ask her how to do that. This is actually good advice. Well, done Brandon. Now don't fuck it up in the next scene.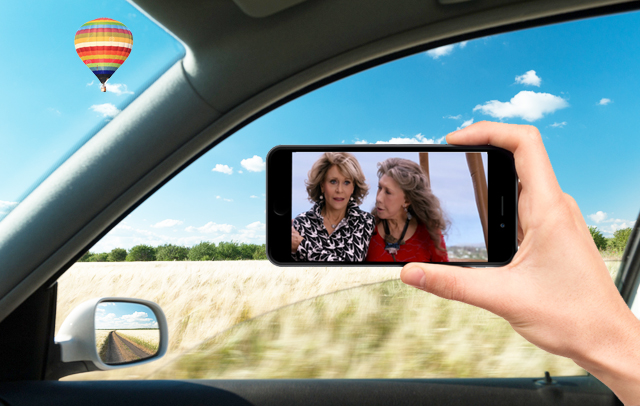 Lena and Monte are staking out the parent board meeting. Forgive me mother for I have sinned: I love Monte. Anyway, they have binoculars, a terrible hiding place, and Nick's dad as the prime suspect as the probable bankroll for this endeavor.
Callie is visiting Kyle in prison. He's got new ink on his neck and face. He joined a gang for some protection. Callie can't believe he let her risk going to prison for him. But she won't go to prison, he says. Not with a rich father and white skin. She'll have a nice life while he's in prison. Honestly, if this is the upshot of this entire awful, boring, stupid storyline I am going to have to give this show up.
Mariana is at therapy and she's brought Ana with her. When Mariana asks about being left in her crib for a day or more Ana says it never happened, refuses to agree that she might not remember if she were on drugs at the time, and leaves upset.
While Stef is looking through the text Diamond is sending Russell, Grey comes in with Doug Harvey. The DA asked him to check out the story about Doug Harvey's DNA. He tells Stef to double check the security footage Harvey has of his house. The footage with Callie sneaking in.
Jesus and Emma are kissing a little in his bed when she asks him about Anchor Beach going private. She shows him a screenshot from Mariana's anon twitter account and when he scrolls through he sees the old post about a pregnant girl. Oh dear. Looks like the cat is out of the bag.