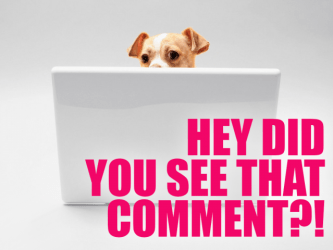 Hi there, pumpkin seeds! I hope you spent yesterday eating treats and marathoning scary movies with a cuddly significant other or pet!
This week Carly and Robin debuted their brilliant Gomez and Morticia Addams costumes, Tinkerbell popped in to give you a Candyland girl gallery and Lizz came up with 30 costumes for redheads. And did you spy Laneia's brilliant Wednesday Addams costume in the Auto-staff childhood Halloween gallery?  According to Vanessa's photo album, you've all been having quite the festive week too.
What else? We introduced even more writers and columnists, Hansen profiled Autostraddle's amazingly talented illustrator, Rory Midhani, and Marni-the-bear was the guest on DeAnne's Smith's podcast. Speaking of DeAnne Smith, have you watched "Tiny Pineapple" yet? Get on it.
---
On Dear Queer Diary: On Pens As Secret Handshakes:
The Didn't Join The Pen15 Club Award to EmVee: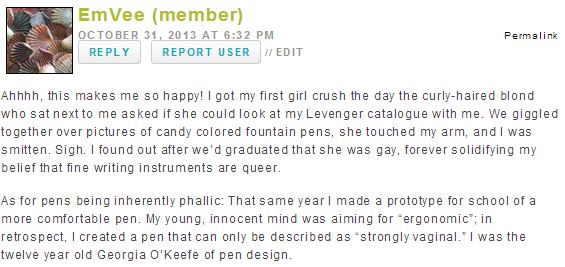 On Tiny Pineapple: The Next Big Thing on Small Screens:
The Oranges Are Not The Only Fruit Award to Brianna:

On 15 Lesbian Couples Time Forgot:
The Because Sausage Rolls Award to Sally:
On Party of Five: Jacqueline McKenzie, Owner of Crazy Cat Lady Clothing:
The Cash Cat Award to jenfriday:

On Make A Halloween Thing: Salt Dough Ghosts:
The Convert Award to Cat:

On Millenials Love Cheap Wine And True Love Is A Beautiful Thing:
The #winelife Award to Hannah:


The Bag Lady Award to Weez:

 
​​
---
See a clever, hilarious or thought provoking comment around this website-ship? Email it to me! carrie [at] autostraddle [dot] com!