Welcome to Dear Queer Diary, a column about the joys (and occasionally, the pains) of journaling. We'll be cracking open our tiny notebooks and breaking out the rainbow-colored pens on the regular, so get ready to limber up your writing hands and document all your beautiful feelings!
Header by Rory Midhani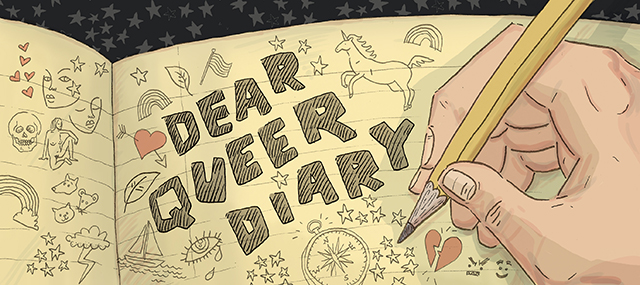 According to one of my favorite children's books, "The ballpoint pen has been the single biggest factor in the decline of Western Civilization. It makes the written word cheap, fast, and totally without character."
While I must admit that the age-old combination of pragmatism and laziness has made me a frequent ballpoint pen user, I have always been drawn to the romance of this sentiment from The View From Saturday, by E.L. Konigsburg (who made gender-ambiguous initials cool before J.K. Rowling had even so much as written the words "boy wizard" on her legendary paper napkin).
My mother can attest to the fact that I was the type of kid who frequently attempted to write using bird feathers I had collected from the yard, and my childhood penpal still has letters that I painstakingly scratched out with a calligraphy pen I had found in a box in the basement. It is obvious, then, that since way back in my youth, I have been fascinated by the world of writing utensils—and it is equally obvious that, since way back in the very first installment of this column, the Straddleverse has needed to talk about pens:
As an English major (who is dating an English and Gender Studies double major!), I feel pretty comfortable stating that the pen is a phallic symbol. However, this is all the more reason why we girl- and boi-types should whip out our goose feather quills and rollerballs in order to appropriate said symbol for our own uses. Whether you prefer to dip into an inkwell or pull out a ballpoint, our pens are our swords in the swashbuckling fight scenes of self-expression.
For me, the Excalibur of pens will always be the Pilot G2 Retractable Gel Roller, preferably with green ink and an extra-fine tip. In high school, the G2 was the official unofficial writing implement of the Colorado high school speech and debate circuit, so it was with great joy that I discovered my own (gloriously rainbow) eight-pack in my Easter basket circa 2006. I guarded this first set of pens carefully, as though they were my children, or the equally cherished A.P. European history notes that I used my G2s to write during the fall of my senior year.
Today, my collection of G2s contains none of those original pens, whose smooth-gliding rollerballs ran dry long ago. Instead, I have a varied collection that contains practically every color currently in production (after the original green, my favorite is probably hot pink) and which I have used for everything from making birthday cards to grading paper to yes, you guessed it, writing in my journal. In spite of the many exciting options available to me, I almost always use black for diary entries. Call me a purist, but there is something extremely satisfying about black ink spreading across white paper.
But let me return, momentarily, to The View From Saturday. Although there is not a single gay character in the novel, it is my not-so-humble opinion that TVFS falls into the vast category of children's and young adult books that—while they don't explicitly address queer themes—are about as gay as two naked ladies playing hopscotch under a rainbow flag. (I have a related theory about the Rudolph the Red-Nosed Reindeer TV special we can talk about sometime closer to Christmas.)
The View From Saturday, my dear queer diarists, is not about kissing girls or coming out, but it is about Being Different, something that we queer folk know a great deal about. Its characters are too nerdy, too polite, too kind to be cool in their sixth grade world, but in the book, they find their people—the other kids who are similarly nerdy, polite, and kind who just want to sit around drinking tea and talking about Alice in Wonderland. It's wonderful and adorable, and if you haven't read it, you should remedy that situation immediately.
The world of speech and debate, like The View From Saturday, was, if not explicitly, at least implicitly queer: a community of people who for the most part did not belong to the mainstream teenage culture, who may or may not have dressed in conformity with gender norms, who put on funny voices and spent hours arguing the same cases over and over. Rather than spending our Saturdays at lacrosse games, we sat in school cafeterias, practicing our speeches and listening to kids from other teams play the banjo.
My G2s were like a secret handshake, a coincidentally rainbow sign that I belonged to a world where being different—awkward, nerdy, highly freckled, athletically disinclined—was the norm. Now, perhaps, it is the aesthetic or tactile pleasures of the G2 that keep me coming back, again and again, to its gel-filled cylindrical form. But then? I think it was more than just the particularly fine point and excellent selection of ink colors.
Tell me about your favorite pens, Straddlers! I want to go to my nearest office supply store so I can buy them all and add them to my journal-writing stockpile.