by carolyn & riese
Books! They are really great. You just won't believe how great they are. You may think that the Internet's great, but that's just peanuts compared to books. Welcome to Lez Liberty Lit, our column about literary shit that's happening that you should probably care about.
The name "Liberty Lit" was inspired by the short-lived literary journal produced by Angela Chase at Liberty High School in 1994.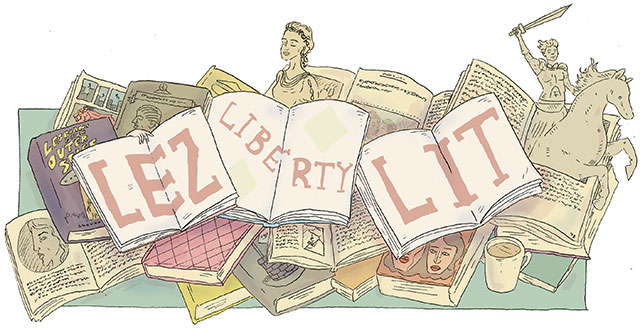 Lit Links
Malinda Lo breaks down the last 10 years of queer YA:
"Despite the struggles that go into publishing LGBT YA, I don't think the prognosis is entirely grim. The number of LGBT YA books has been rising, albeit slowly, and the kind of LGBT YA books being published has been changing. There are more LGBT YA books being published in which the LGBT aspect is not situated as a problem to be overcome; more LGBT YA is simply about a character who is LGBT; and recently there have been more science fiction and fantasy LGBT YA novels. When you look outside the major commercial publishers, there are many more ways to get LGBT YA published today than there were ten years ago. I'm an optimist, so I'm going to interpret all of this as ultimately positive, even if it's not changing as fast as I'd like."
Jia Tolentino recommends 12 books that will creep you out, including Sideways Stories from Wayside School, Magic for Beginners, Waiting for the Barbarians, Kafka's Complete Stories, which perhaps goes without saying, and more.
Or you can read 50 books that will creep you out, a list included here mainly in the hopes that someone will want to talk about The Turn of the Screw in the comments (but also featuring work by Margaret Atwood, Shirley Jackson, Lovecraft, Kafka, Octavia Butler, Ray Bradbury, Harlan Ellison and more).
If you need a last-minute Halloween costume, visit the Toast's guide to advanced feminist cosplay.
If someone read Goodnight Moon like "The Tell-Tale Heart," this is what it would sound like.
Lipstick Lesbian Reviews has some recommended queer Halloween reading.
There's been a growing focus on Canadian literature since Alice Munro run the Nobel Prize recently. The Millions has a guide to what to read to catch up, including works by Joseph Boyden, Robertson Davies and Esi Edugyan.
New forms of poetry are thriving online. At the New Yorker, Kenneth Goldsmith writes about less poetic poetry and "more extreme forms of modernism than modernism ever dreamed of."
A new archive lets users browse thousands of Emily Dickinson's manuscripts.
Scratch Mag is a new journal that aims to help broke writers.
The third edition of the Oxford English Dictionary is 18 years behind schedule.
Natasha Post Rosow reviewed Susan Choi's My Education, a novel about a student who sleeps with her professor's wife.
Malinda Lo interviewed Sarah Diemer, author of The Dark Wife and part of Project Unicorn, on self-publishing, why you don't have to be a lesbian to read books about lesbians, genre books and more.
City of Night, a classic of both gay and American literature by John Rechy, turns 50 this year. At Lambda Literary, Charles Casillo writes about how the classic has withstood time.
Let's play Where's Waldo with the Paris Review, because literary magazines are secretly everywhere in pop culture.
If you're into memoirs, or want to build a memoir to-read list that will break light- to medium-weight tables, Beth Kephart, author of Handling the Truth: On the Writing of Memoir, has some recommendations.
At the Toast, Ardo Omer writes about Fangirl and finding fiction to identify with.
Casey the Canadian Lesbrarian reviewed the second issue of Plentitude, a Canadian queer literary journal. And the third.
At the Lesbrary, TB reviewed Broken Star by Joann Lee. Jill reviewed Carry the One by Carol Anshaw. Rachel reviewed Elena Undone by Nicole Conn.
At Lambda Literary, Anna Furtado reviewed Letters Never Sent by Sandra Moran. Edward Parker reviewed The Suiciders by Travis Jeppesen. Paige Cohen reviewed Blue is the Warmest Color by Julie Maroh. John Bavoso reviewed Very Recent History: An Entirely Factual Account of a Year (c. AD 2009) in a Large City by Choire Sicha. Susan Stinson, author of Spider in a Tree, answered questions about insects, writing, biography and more. Sarah Sarai reviewed Happiness, Like Water by Chinelo Okparanta. Julie Harthill Clayton reviewed Secret City by Julia Watts.
Don't forget to check out all the awesome book-related things we published recently: Carmen reviewed Blood, Marriage, Wine and Glitter by S. Bear Bergman. Cara wrote about witches and "which"s. Plus, we're giving away copies of Blue is the Warmest Color!
Events To Watch Out For:
November 3, Toronto: Marc Epprecht, author of Sexuality and Social Justice in Africa, will be reading from his books and doing a q&a at Glad Day (598a Yonge St), 1:00 p.m.
November 3, New York: Bluestockings' feminist book club will discuss Zami: A New Spelling of my Name (172 Allen St.), 2:30 p.m.
November 6, Philadelphia: Reading Queerly will discuss Julia Serano's Excluded at Giovanni's Room (345 South 12th St.), 6:45 p.m.
November 10, Toronto: Julia Serano will be reading from Excluded at Glad Day (598a Yonge St.), 7:00 p.m.
November 13, Seattle: Nicola Griffith will be reading, drinking, answering questions and signing copies of Hild at Hugo House (1634 11th Ave.), 7 pm.
November 27, Toronto: S. Bear Bergman will be reading from Blood, Marriage, Wine and Glitter at Buddies in Bad Times Theatre (12 Alexander St.), 8:00 p.m.
Know of a queer event with literary merit? Send it to us! Please.
What We've Been Reading:
Riese: I'm presently reading Terrible Girls by Rebecca Brown, as recommended by the ladies of Emily Books. I'm always surprised when there's a lesbian writer I've not already heard of! I'm also reading Remote by Jason Fried and David Hansson to make me feel better about the fact that I wish my team was in this room and instead they're all over the world!
Carolyn: I've been reading The Modernization of Sex, which chronicles a few early sex researchers and their findings (or more accurately, "findings"). I've also been rereading the Harry Potter series, on and off, because sometimes you want challenging literature and sometimes you want Harry f*cking Potter.
Rachel: I've been working on In the Shadow of Magic Mountain for a while now to feed my weird obsession with Erika and Klaus Mann, the bizarre and fascinating queer bohemian kids of novelist Thoman Mann. They EACH SLEPT WITH EACH OTHER'S FIANCES IT'S SO NUTS. It's overdue from the library, though, so I need to finish this up soon. I'm also in the middle of The End of San Francisco, which I'm super excited to review for the website! When Alice Munro won the Nobel Prize recently, I felt embarrassed that I haven't read more of her work, so I started looking for places to start. I found "Dimension" in the New Yorker and was pretty into it! Worth reading if you like reading about death, prison, put-upon female narrators, or any really long fiction written by Canadians.