Growing up, there weren't many ways for me to figure out my sexuality. Picking up books with obvious lesbian themes, going on certain sites when we shared a family computer, etc. were out of the question. Music videos gave me a chance to explore my sexuality without alerting my family and friends that I was gay before I was ready to come out. If someone walked in during a music video, regardless of the content, you can say you didn't even know it was on and feign disappointment and anger at what dared to cross your television screen as your back was turned (this is why I kept books around, so I can say I was reading). Going down memory lane (and a few from the present) I'm now trying to use music videos as a guide to figure out my type, but I think I ended up more confused than usual.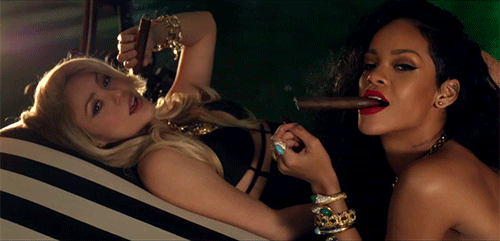 ---
Missy Elliott is the one time I answer both to the classic question of "do I want to be her or do I want to date her?"  An artistic genius who has fun in every video (let's all fall in love with her in Work It again, shall we?) and AND IS JUST GORGEOUS.
She gave so many looks and this is the reason pink is one of my favorite colors. As a young one, I gave up pink because of internalized misogyny and homophobia but fear not, this video has brought me back to the light.
So they've decided the man that's cheated on both of them isn't worth their time and they wish they could heal the pain in each other, which basically means they're girlfriends by the end of this video. We are so blessed.
"Ladies, I think it's time to switch roles."
Imagine my disappointment when I learned she didn't mean it was time for us to do as in the good ol' days and take the mens' place as other women's lovers.
LOOK AT ALL THE BUTCHES, IT'S A DREAM COME TRUE.
IMAGINE MY SURPRISE WHEN CIARA DID THIS RIGHT AFTER "LIKE A BOY." I was not only shook, I was wrecked and a mere composition of crumbles.
We've got to be real here. There's no story going on here. This is four minutes of Rihanna showing us how beautiful she is, especially when wet. And I think we need to honor the gift she has given us here. Also, I have never been more jealous of an umbrella in my entire life.
Let's travel back in time, before the "make-up free" and "cheated with Swizz Beatz" Alicia Keys, to the "Fallin'" and "You Don't Know My Name" era Keys — back when cornrows and black girl soft butch swag was the style.
I had this as a t-shirt and a huge ass poster hanging over my bed:
Deadass, this was my closeted lesbian anthem. I be going into school looking at every pretty girl crush mentally sangin' YOU DON'T KNOW MY NAME even though they obviously did. There were like 20 of us, but I was like BUT YOU DON'T KNOW MY* (*LESBIAN ASS READY TO RISK IT ALL FOR YOU) NAME and I liked the idea that for six minutes and six seconds, there was a possibility that I could shoot my shot and have that shit work out. Also, Mos Def is one of my favorite rappers/actors ever and he made it easy when the girls in class asked who I was looking at in this video. Also, to each their own, but I am so disappointed that I cannot go back in time and tell middle school / high school me that Alicia Keys is not some kind of not straight. I'm not saying my gaydar is amazing, but I didn't think it'd let me down like this.
The literal moment Keys went "oh fuck, I can't believe I just said that" but didn't backtrack and she soldiered on was this not life goals. LIKE, YEAH, I LIKE YOU. DO YOU LIKE ME? CHECK A BOX MOTHERFUCKER!
"But I always use milk and cream for you cause I think you're kinda sweet"
I was like DAMN BABE, LET 'EM KNOW. The spoken part of this music video was ridiculous. I was like taking notes on how to ask girls out cause, "I know girls don't usually do this." Oh but they do, Ms. Keys. Maybe not the straight ones, but they do.
Answering the door in lingerie #iconic.
If I could've aged myself and then gone back in time, I would've gone back to be the CompuNerd in this video tbh.
So Beyonce and Shakira didn't work out. It's chill. Sometimes that's how life goes. They're still great friends, hang out every couple of weekends to catch up. And now, Shakira has more to share because look at who she has recently fallen for. The moment Rihanna walks down the hall and we see Shakira smile is when you knew they were in this shit for real. I mean they keep singing about this guy they can't remember to forget and I completely believe them because whenever I've had boy troubles I'd cuddle with my best friend in heels and lingerie.
I mean, how else do you cope with the sadness? It totally makes sense. Let's also take a moment of silence for Rihanna here:
I used to wait in my cousin's room at my grandparent's house before we went to school and this video came on MTV. I vaguely remember thinking "This is the best day of my life," and then immediately going straight to the chapel when I got to school.
I seriously considered becoming a rapper just so I could, like T.I., have enough gumption to give my number to the cute cashier.
Could Reagan Gomez be any more adorable?
The opening shot, literally, that was enough.
But then she explained all the things she wants, and I was like "BET, I CAN DO THAT." I was like "I'm American and sometimes I dress like a boy so I'm already halfway and like .2% there."
This entire video is all I want in life. A girl gang that initiates new recruits by double dutch? Soft butches everywhere? Music that makes me jam every time I hear two notes? I don't know what your heaven looks like, but this is mine.