It's the most wonderful time to be queer! There's another episode of DeAnne Smith's suh-weet podcast Questionable at Best on the World Wide Web!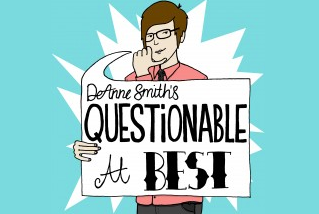 This week DeAnne hit me in the heart space with a segment that consisted of two of the most amazing people on both Mt. Feelings and The World At Large: DeAnne Smith herself and Marni, the Co-Director of A-Camp and the Face of Canada. Marni's a "deep-voiced rando," just like you like her, and she sits cross-legged across from DeAnne drinking cider to solicit submissions for marnithebear.tumblr.com and talk about the philisophical question of "where" "there" "is," which can apparently be either near a "bevlege" or within arm's reach of Cabin 22B.
What I'm saying here is, everything is hilarious (and heartwarmingly sweet in the spirit of friendship) and nothing hurts in this week's Questionable at Best.
Are you listening yet? Are you "there?" Good.