Welcome to the new DIYke Club! Some friends and I started a DIY/crafting group that gets together a couple of times a month. We try a fun drink recipe and do a craft we haven't made before. We're having a blast and thought you might want to get in on the action. Maybe you'll start your own local DIYke chapter? Let's all get liquored up and make things!
Header by Rory Midhani

---
So you've been cooking for that cute vegan girl you just met. And the more vegan food you make, the more spices you use (because let's face it — not even vegans are crazy enough to like plain tofu). Now you have a surplus of empty spice jars you don't want to throw out because naturally you're an environmentally conscious queer.
Rustic Hanging Vase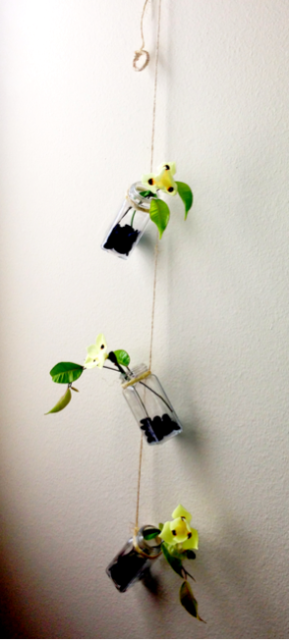 Supplies needed:
+3 recycled spice jars
+Twine
+Key ring
+Gorilla glue -or- hot glue (White glue will work as well but it is not usually water proof which would make it difficult to wash out your vases)
+Filling of choice (I used black pebbles and fresh flowers that were definitely not from my neighbors yard)
+Scissors
Step 1:
Remove the labels on your spice jars. If they don't scrub off easily, soak the jars in warm water and a dash of vinegar for about 10 minutes to loosen the labels before scrubbing.
Step 2:
Cut one long piece of twine that is 1.5 feet plus the length you want the vases to hang (when making this decision think about -or even measure- the space where you want this to hang). My twine was about 3.5 feet long.
Step 3:
Put a dab of glue on your key ring and attach twine. Start wrapping the twine around the key ring until the entire ring (including your dot of glue) is fully covered. Tie the twine in a knot around the key ring.
Step 4:
Apply a ring of glue to the rim of your first spice jar.
Step 5:
Starting with the bottom of the twine, wrap the twine around the sticky rim of the spice several times.
Step 6:
Apply a dot of glue to the string when finished and hold tightly with your fingers ~30 seconds to ensure the twine stays put.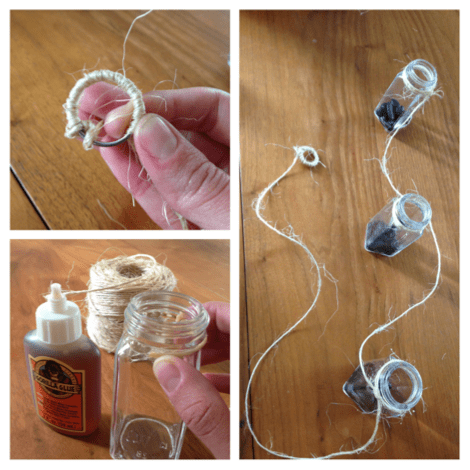 Step 7:
Measure just shy of 1/3 of your remaining twine and repeat steps #4-6 to attach the second spice jar. Then one more time for your final spice jar.
*These measurements are only a suggestion–adjust the proportions to suit your preferences!
Step 8:
While your glue fully dries (depending on the type of glue you choose, dry time may vary–read your glue packaging), fill the spice jars with an inch or so of pebbles and flowers of your choice.
Step 9:
Hang up on a hook or nail and enjoy your handy work!
Notes:
These aren't just pretty with fresh flowers. You can fill exclusively with greenery or even paper flowers if you are feeling less motivated to water living things
Iced Vanilla Soy Chai Latte
What's that? You don't have a bunch of empty jars right this moment because you use things at a normal rate? No worries. This Chai recipe will surely deplete your spice collection and spice up your life. And if it doesn't work, try this.
Prep time: ~5 minutes
Cook time: ~10 minutes + optional freezing time
Serves: 4-6
Supplies needed:
+3 cups water
+3 cups vanilla soy milk
+2 teaspoons ground cinnamon
+1 teaspoon ground cardamom
+1/2 teaspoon ground ginger
+1/2 teaspoon ground nutmeg
+1/8 teaspoon ground cloves
+1 pinch (preferably white) ground pepper
+6 black tea bags
+1/3-1/2 cup sugar
Optional Supplies:
+ice cube tray
+4 shots of vanilla vodka
+4 cinnamon sticks (for garnish)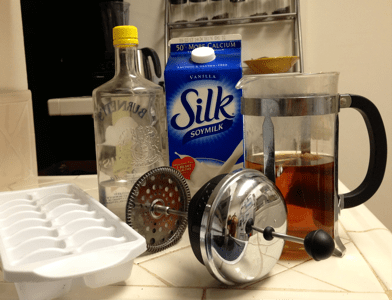 Step 1:
Mix all the ground spices with water and bring to a slow boil in a small stovetop pot
Step 2:
Reduce heat and toss in black tea bags and steep to taste (approximately 5 minutes).
Step 3:
Remove tea bags and stir in sugar.
Step 4:
CHOOSE YOUR OWN ADVENTURE!
a.)Pour the chai tea mix into an ice cube tray and freeze for refreshing frozen chai whenever you want it.
Fill glass with chai cubes and pour ~1/2 cup soy milk (and ~1 shot vanilla vodka if desired).
-OR-
b.)Pour chai tea mix over ice and add ~1/2 cup soy milk (and ~1 shot vanilla vodka if desired).