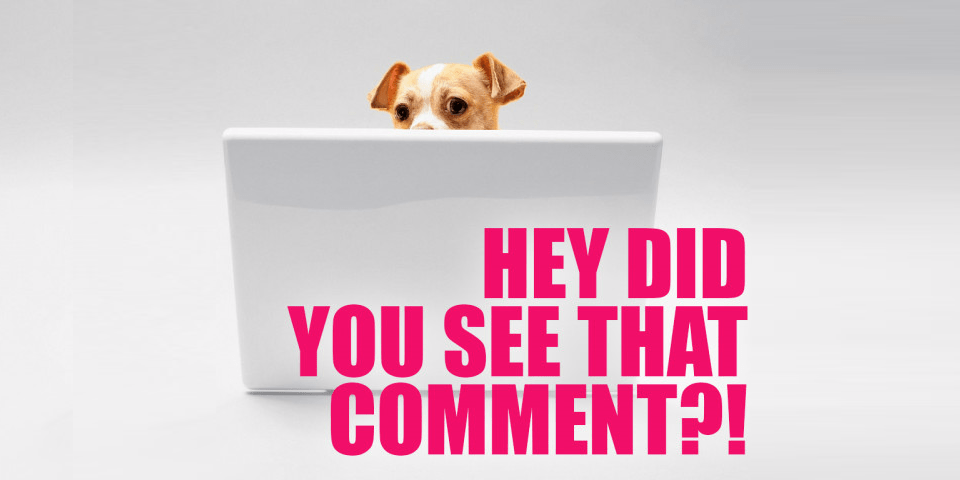 Hi, fireflies! Did you miss me last week? I missed you! But if you picked last week to write the perfect comment, DON'T WORRY!
Depending on who you ask, a Double Double is either an order from In N Out Burger, or an order from Tim Horton's — but today, it's also a double edition of the Comment Awards! And just in time for Pride Month!
Last week, a VERY important list came out: The 50 Lesbian and Bisexual TV and Film Characters With the Dyke-iest Swagger.
Ready to have queer sex for the first time? Luna (and Autostraddle) are here for you!
Drew interviewed THE Daniela Shea about playing Max on The L Word, and about making a world in which true queer liberation is possible. This interview gave me such hope!
Sci-Fi stars got Pride Month off to a great start by coming out!
Need some Pride merch? Buy an LGBTQ+ t-shirt from an LGBTQ+ business!
And last week, Sally helped us find the queer romcom character in all of us. (This is a platonically! perfect! quiz!)
I love this series! MISSED CONNECTION: Gay Brunch Apology.
Carmen interviewed Lena Waithe (!!!) about the new season of Master of None.
May was Masturbation Month! Ya know, if you needed something to do.
I did not like the movie Army of the Dead but I DID very much like Tig Notaro's green screen acting in Army of the Dead. Kayla's got everything you need to know, right here.
There's going to be a new Rugrats! Phil and Lil's mom is a confirmed queer person, played by Natalie Morales! As a die-hard Rugrats fan from childhood, I have no idea what to make of this information!
The L Word: Generation Q now has a summer premiere date! WHAT HAPPENS TO SOPHIE AND FINLEY AND DANI, I NEED TO KNOW! I mean it's fine, it's chill, whenever.
And then there were your comments!
---
On I Still Can't Believe a Sixty Second Scene from "The OC" is My Gay Root:
The Right Back Where We Started From Award to Alexandra: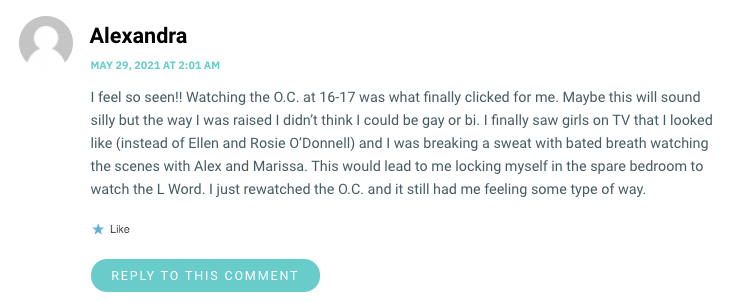 On The 50 Lesbian and Bisexual TV and Film Characters With the Dyke-iest Swagger:
The Category All Her Own Award to Dawn Denbow's Lover Cindi:

On What Is The Meaning of This Dianna Agron Gay Smooching Instagram Photo?!
The It's Been 84 Years Award to Elizabeth, Heather Hogan and msanon:
On Daniela Sea On "The L Word," Gender Identity, and Imagining Queer Liberation:
The Connection Award to cph:
On Queer Horoscopes for June 2021: Buckle Up:
The TPS Reports Award to September:

On Two L Word Generation Q Season 2 Trailers Are Here and Full of Sex, Hair and Hands:
The Top Off Award to Chloe, Brittany Mitchell, and Allison St. Rock:
On Quiz: What Job Would You Have in a Lesbian Romance Novel?
The Lois Lane Award to Excellence to Marissa H: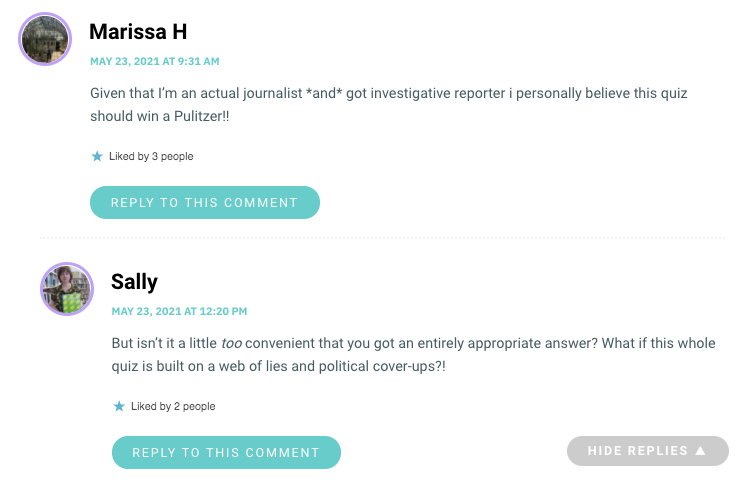 And the Home for the Hallmark Holidays Award to msanon: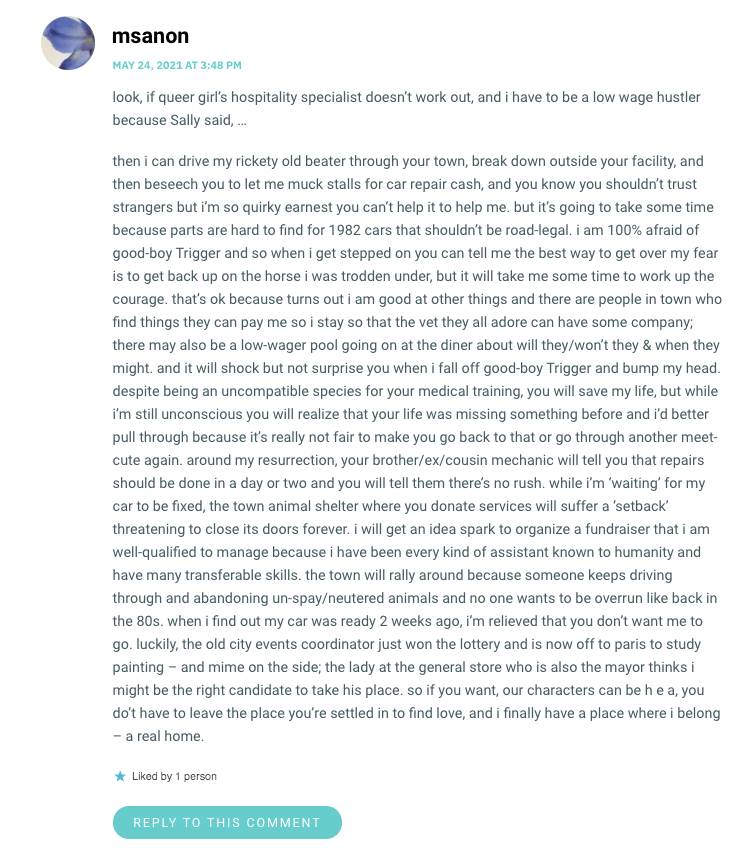 On MISSED CONNECTION: Gay Brunch Apology:
The Singin' In The Rain As I Fiddle On The Roof Award to Gina: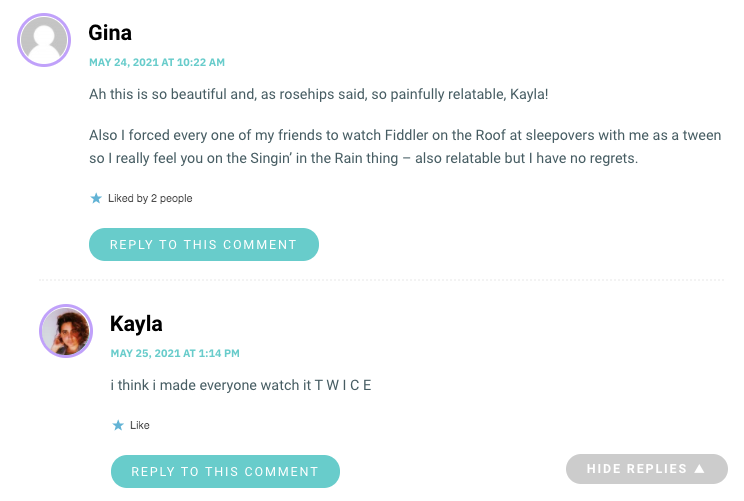 On Pop Culture Fix: Laurel Holloman and Rosie Had a Hoot Filming The L Word: Generation Q:
The Burden to Bear Award to shamblebot:

And the Butch Please Award to Chloe:

On Lena Waithe on "Master of None" and Making Messy Beautiful Black Lesbian Art:
The Masterclass Award to Gina:

On Your Questions About Tig Notaro in "Army Of The Dead," Answered:
The Swaggerverse Theory Award to Harper: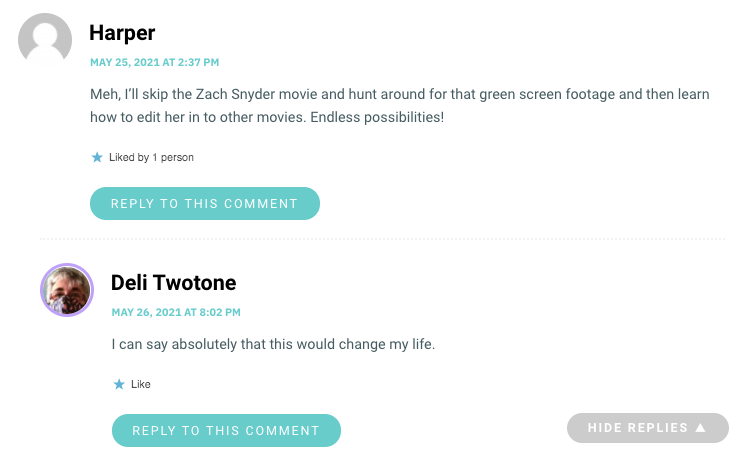 On MISSED CONNECTION: You Deleted Your Comment on my Instagram Post:
The Portrait of Drew In Paris Award to shamblebot:

And on You Deserve to Practice Elaborate Masturbation in Your Life; Here's How:
The Erotic Charge Award to Snaelle:
---
See a comment that needs to be here? Let me know! Tag me [at] queergirl.