---
If you wanna give your money to actual LGBTQ people this Pride season, have I got the thing for you: it's called THE INTERNET, and it's chock-full of queer-owned businesses who have designed and produced their very own t-shirts that you could potentially purchase for yourself and wear to a Pride celebration or really anywhere t-shirts are worn. Plus, these indies have also been known to produce social justice and LGBTQ+ apparel that goes beyond straight-up rainbows! Imagine that.
If you are a writer using this list as a reference tool to write your own list of queer-owned businesses for a website that makes more money than we do, we would very much appreciate it if you could include our store or credit us!
This post was originally written in 2017 and has been updated for 2023.
---
Autostraddle: Our #1 Most Favorite Queer-Owned Business
Up top is our #1 most favorite queer-owned business store on the entire internet. There is no other store in the world that will make you as happy as the Autostraddle store. The people who you support by shopping at the Autostraddle Store are some of the best people to have ever existed in the world! Wow, where do I begin? All these shirts look great on a body that contains a head that contains a face that is pretty bummed about Wells Fargo sponsoring Pride.
Many of the slogans that are now common on queer tees, like the "Gal Pal" t-shirt, were pioneered right here on Autostraddle!
I could go on and on because there are so many shirts from Autostraddle that will pop at Pride, but you can make your own choices!
---
FLAVNT Streetwear is an independent clothing brand based in Austin, Texas created with "the goal of creating clothes that promote confidence and pride." They sell binders, stickers and sweats and run fundraisers for organizations like Black Lives Matter as well as individual trans people who need money for surgery.
Flavnt's LGBTQ+ relevant t-shirt selection is pretty vast, ranging from a "Gender Roles are Dead" tie-dye to the Pride/Riot rainbow crop top right there on the left.
---
Created by Black, Indigenous hard femme Sabine Maxine Lopez; a Tribe Called Queer is a multidisciplinary brand featuring gender-netural and size-inclusive clothing as well as a podcast, zine, virtual events and a blog.
The brand's extensive selection of t-shirts tout slogans like "Hella Queer Hella Proud," "The First Pride was a Riot," and "Radical Queer."
---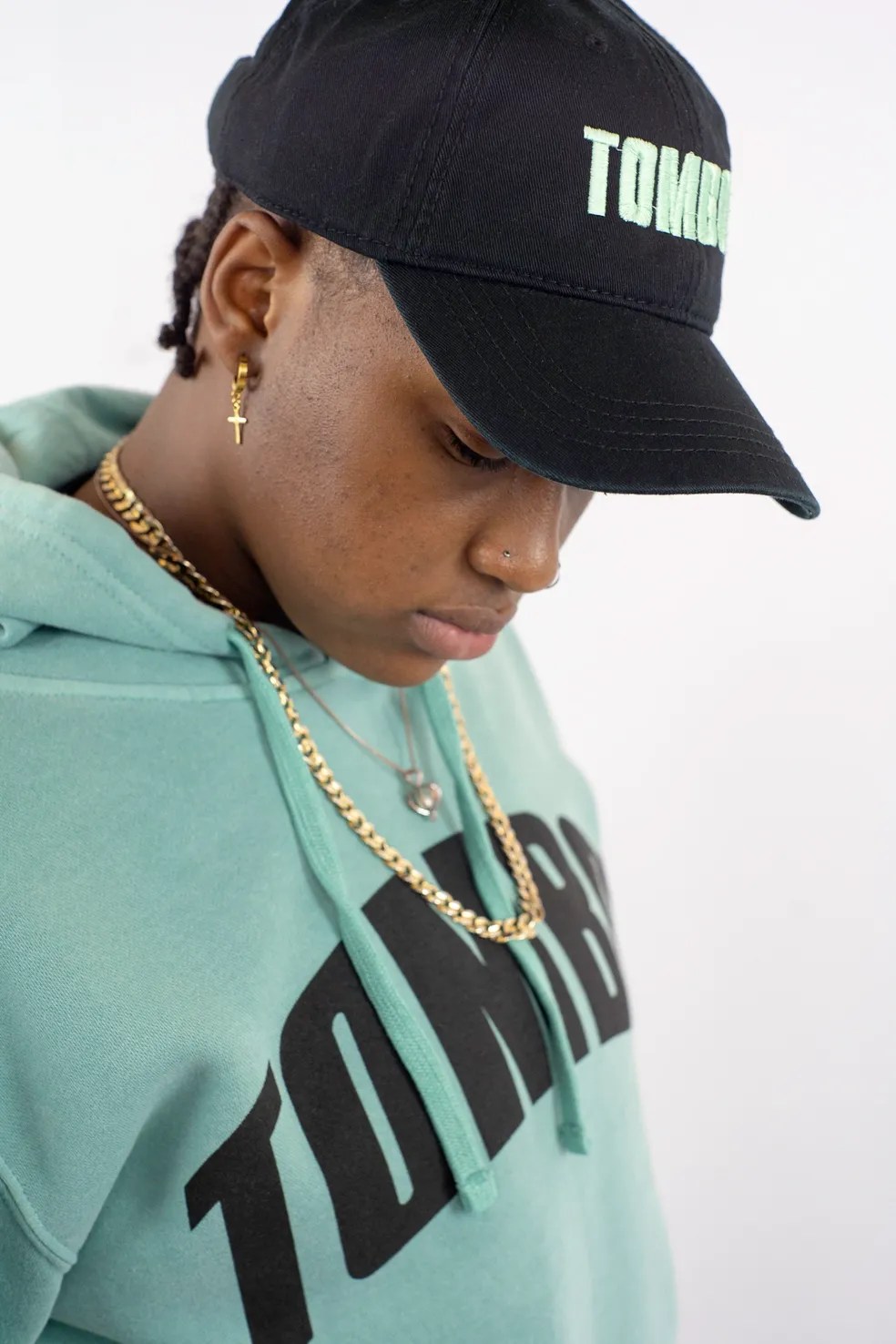 This "Tomboi Lifestlye Brand" from designer Toni Branson sells snapbacks, beanies, sweatshirts, tees, wallets, slides and more.
---
dfrntpigeon is a social enterprise apparel and lifestyle brand run by marginalized youth in Portland, helping them to develop their creative abilities into a potential career path. This year's #CreatePride collection focuses on queerness and pride history, created in collaboration with wieden + kennedy, swift, laundry service and eROI.
---
Based in Philadelphia, Two Minds Press is a QWOC-run silkscreen press that aims to create "original hand-printed apparel, accessories, and prints around themes of emotionality, wordplay, social justice, and radical joy."
---
Androgynous menswear designer Kirrin Finch celebrated World Pride with this United By Love T-shirt.
---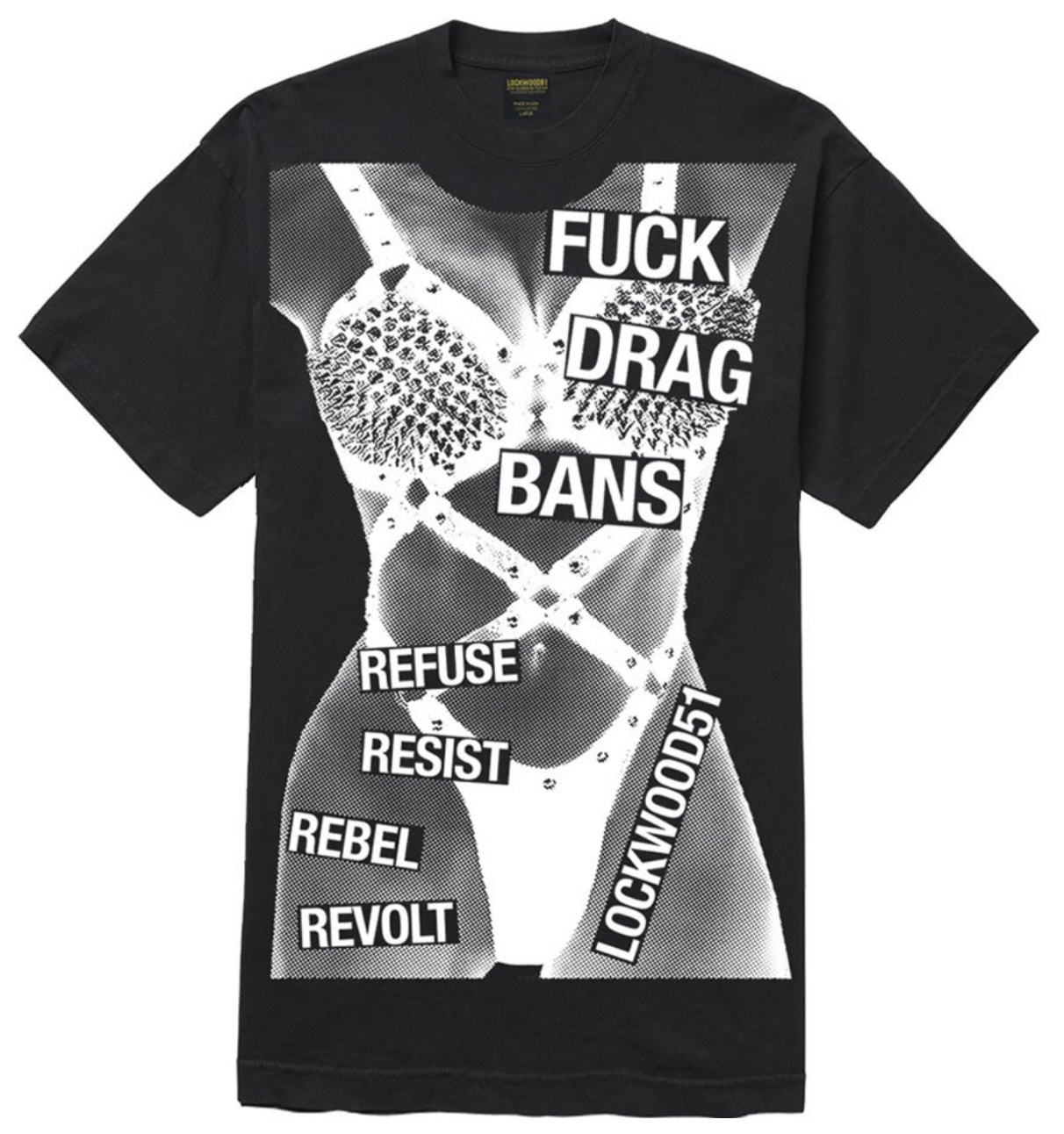 Shirts, socks and bags from this queer-owned Los Angeles shop with a mission to "empower queer youth" tout the benefits of staying queer as fuck, queer anarchy and destroying homophobia / racism / transphobia / sexism.
Their Dyke Day LA t-shirts and Read Banned Queer Books are especially hot and sadly sold out!
---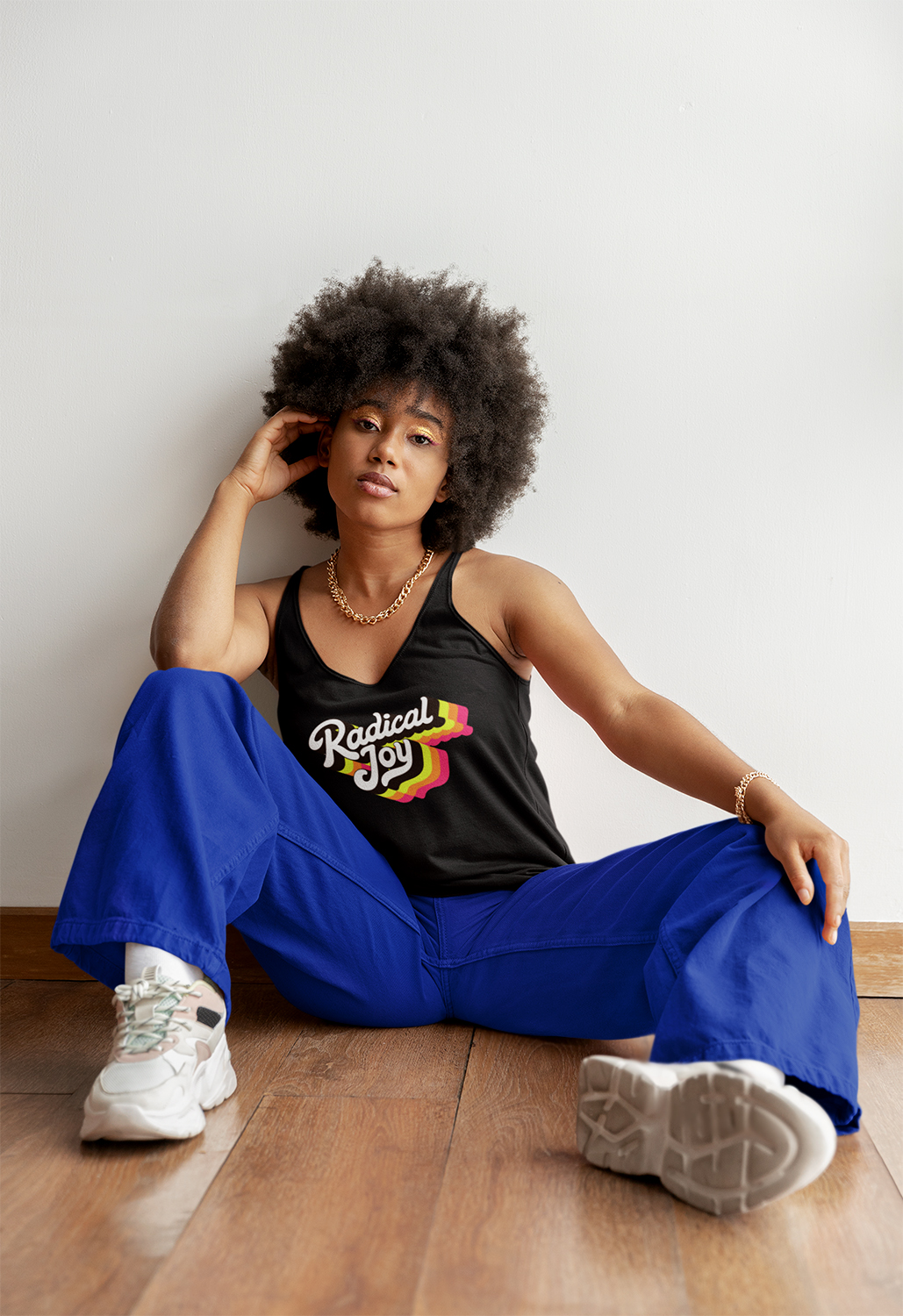 Sabor a Libertad is the project of a graphic artist in San Juan, Puerto Rico, aiming to make clothes that represent them and other queer, trans and/or non-binary people in Puerto Rico. They sell a ton of cute original graphic tees in bright, fun colors in both Spanish and English like Mariconx Caribenx Muscle Tank, Suck by Spiritual D*ck and a Disrupt Rebuild Oversized Tee. (h/t to Vico via whom I found this shop!)
---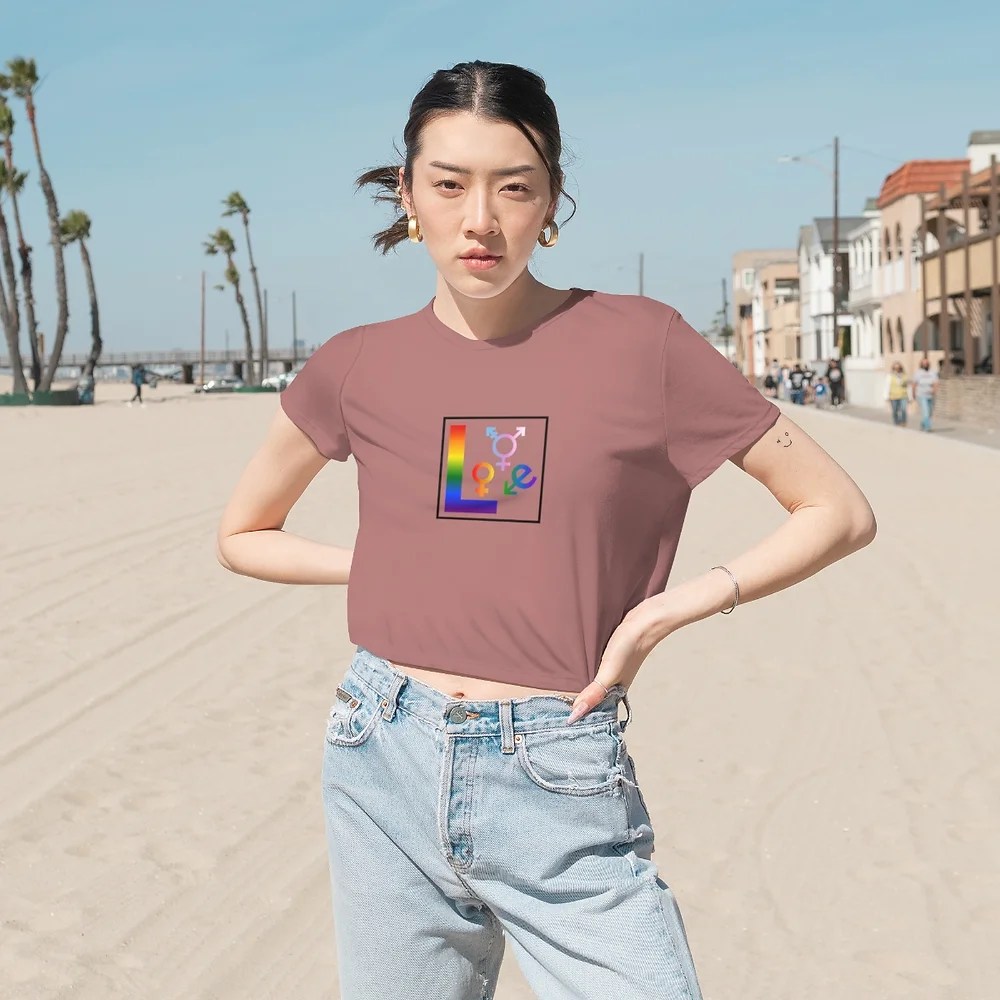 This queer-owned business' apparel includes the Handsome Classic collection and a Black Lives Matter Collection with shirts that come adorned in rainbows or the trans flag for whatever floats your boat.
FRE Collaborative is an LGBTQ+ owned-company that aims to "translate personal and universal messages that convey a sense of pride, FREdom and social awareness."
---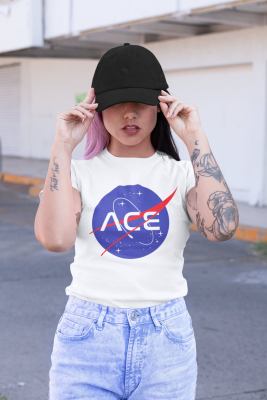 Based in Austin, Texas, ManyManyMoonsAgo's shirts sport slogans and illustrations relevant to topics including astrology, tarot, feminism and being QUEER. Great for anybody looking to hex the patriarchy or promote the concept that queerness is infinite.
---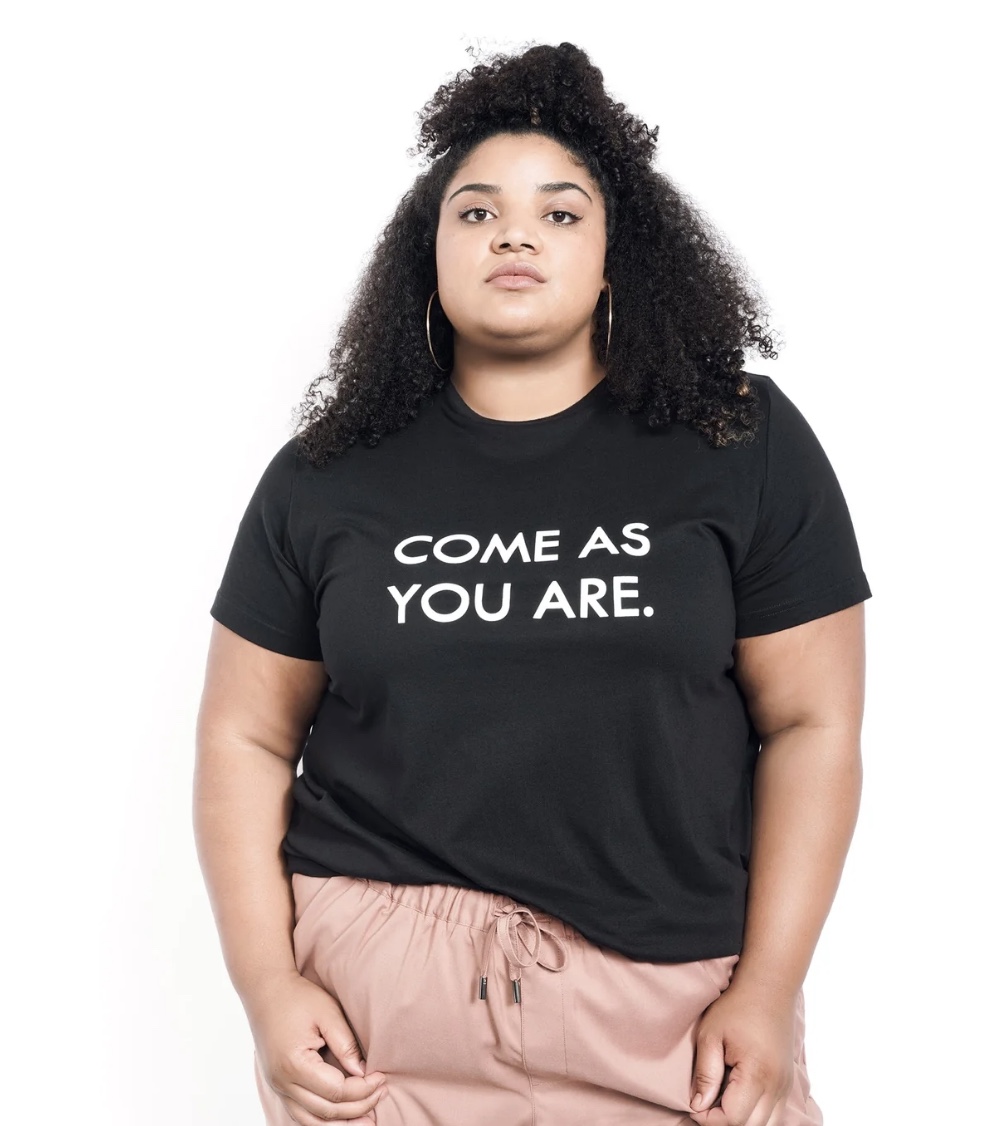 These self-described "modern-day, female Robin Hoods raiding men's closets and maniacally dispensing blazers, cardigans, wingtips and bowlers" launched their dapper-tomboy brand in early 2013. The WILD FEMINIST tees remain a staple.
---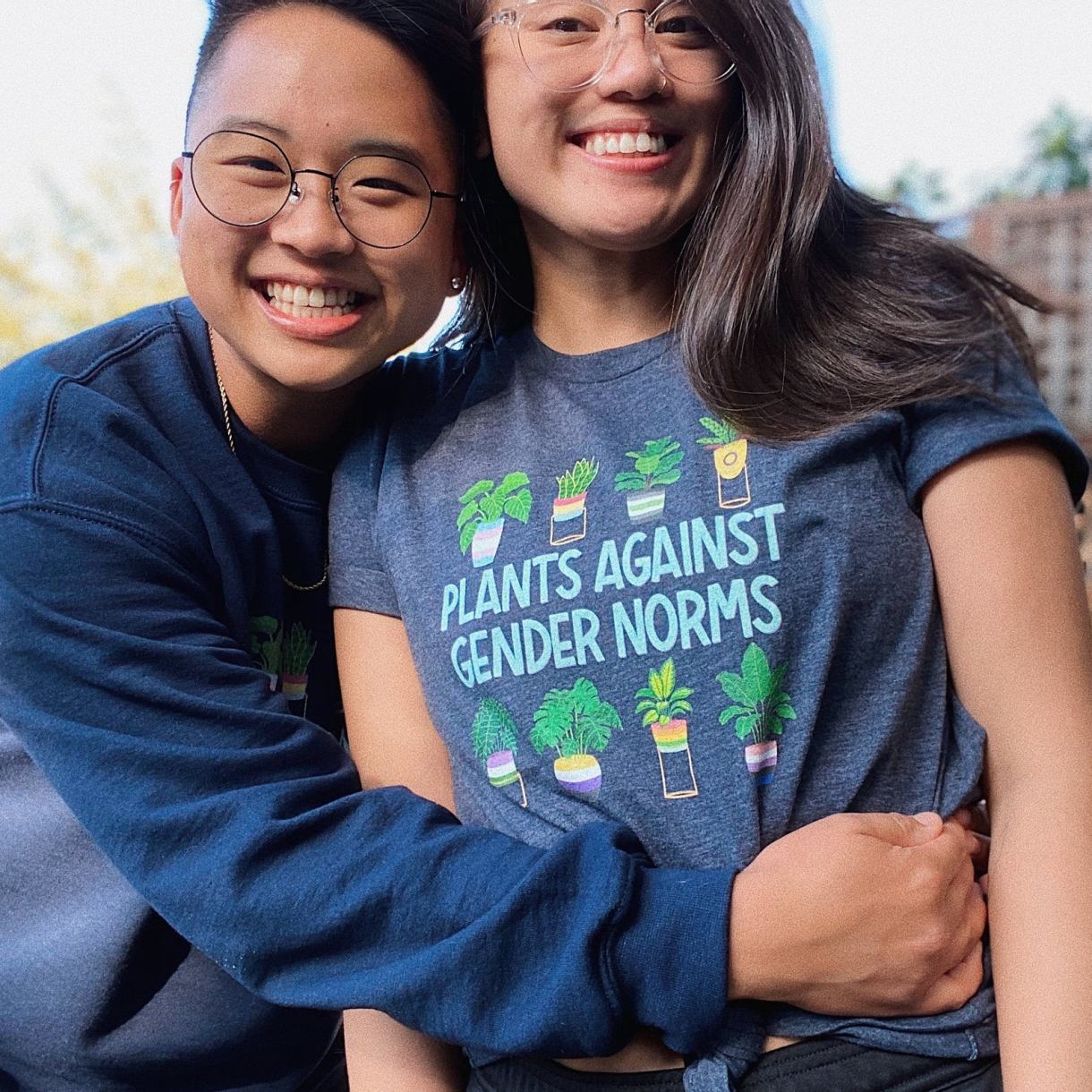 This Asian-American non binary artist's wares implore you to protest trans kids, feel valid, stop Asian hate, believe in trans happiness and push back against gender norms.
---
Tomboys Fran and Naomi invented TomboyX to create "men's style" underwear that fit women's bodies, and their success encouraged them to create a whole range of apparel, including these oversized 'Anywhere Tees" that come in very Pride-appropriate patterns.
Alternately, just embrace the melt and wear a bra as a top!
---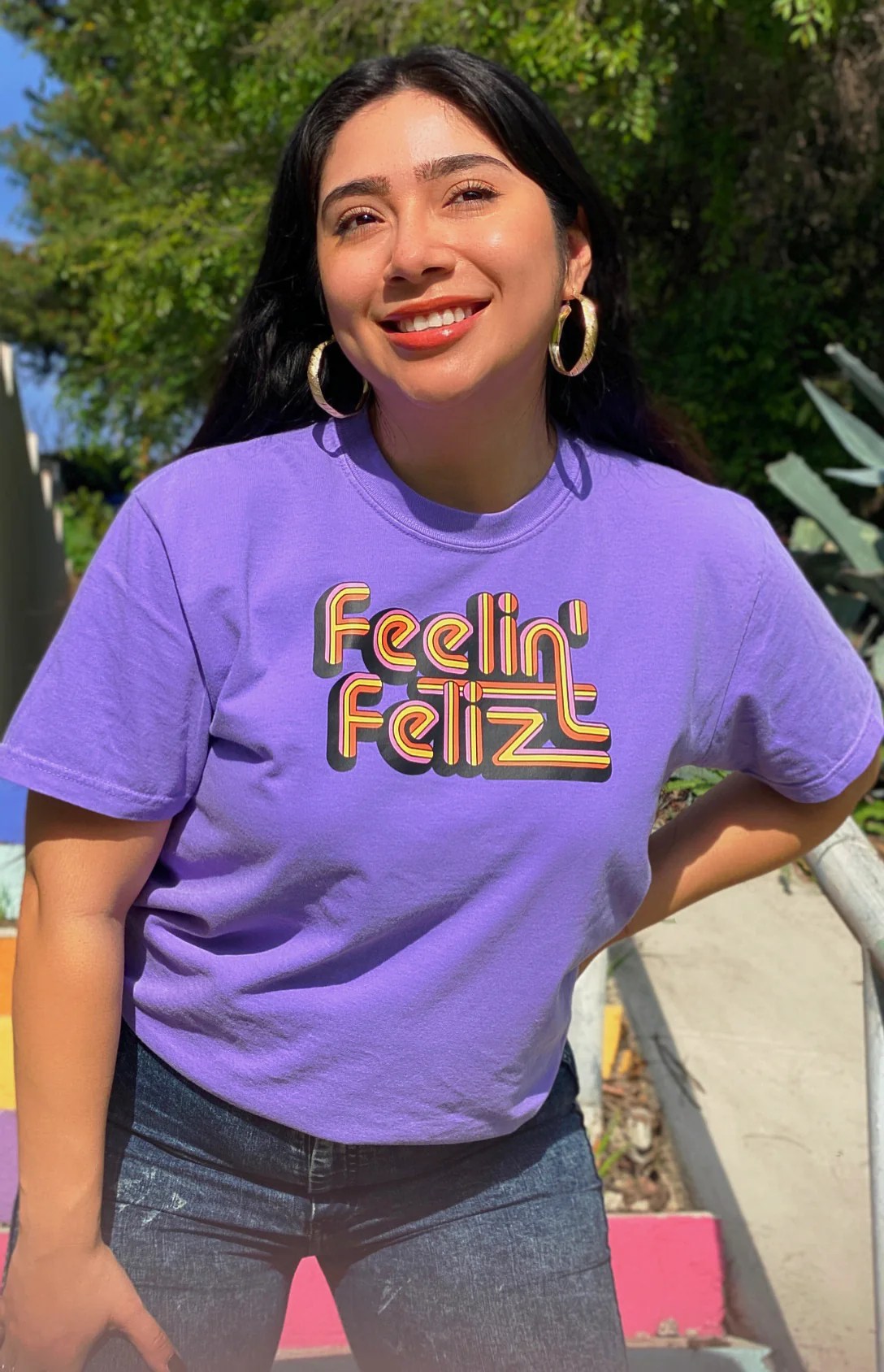 Noelle Reyes founded her LA-based store in 2008 "with the purpose of providing the surrounding the surrounding community a shopping experience that compliments their lifestyle, incorporating cultural elements into fashion and functional art." The tees aren't gay-specific, but they definitely have Pride-appropriate attitude.
---
Rebirth Garments is a gender non-conforming wearables line centering non-binary, trans, disabled and mad queers of all sizes and ages. You can shop all their signature designs including their Star Queercrip tees and all-over-prints on fanny packs and tees.
---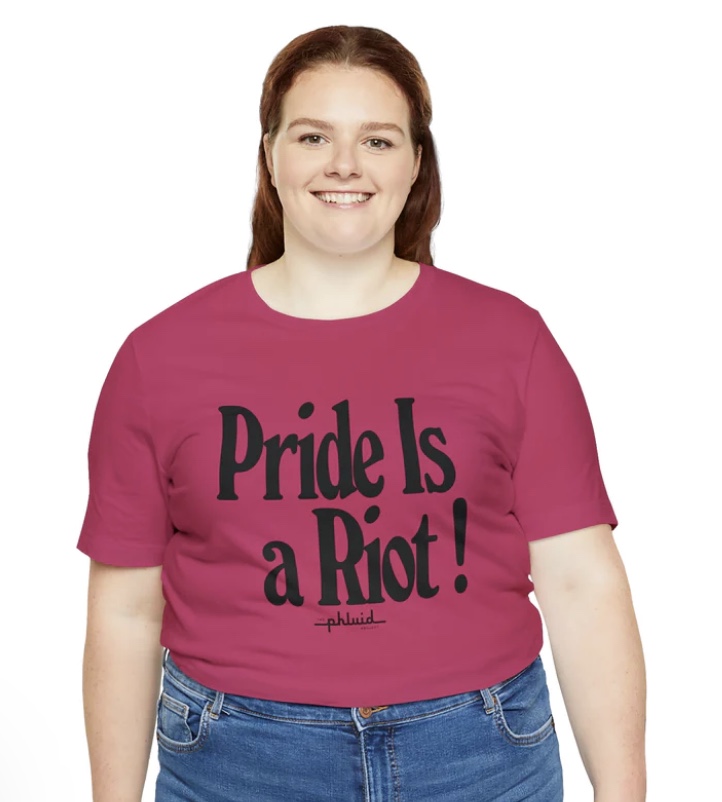 In 2018, The Phluid Project launched in NYC and online to make gender-free apparel and accessories available worldwide and to improve humanity through not just fashion, but also through the Phluid Foundation's community outreach, activism and education.
There's plenty available in the 2023 Pride collection, and the Phluid Project also supports an impressive variety of other queer, trans, women, Black and Latinx owned brands.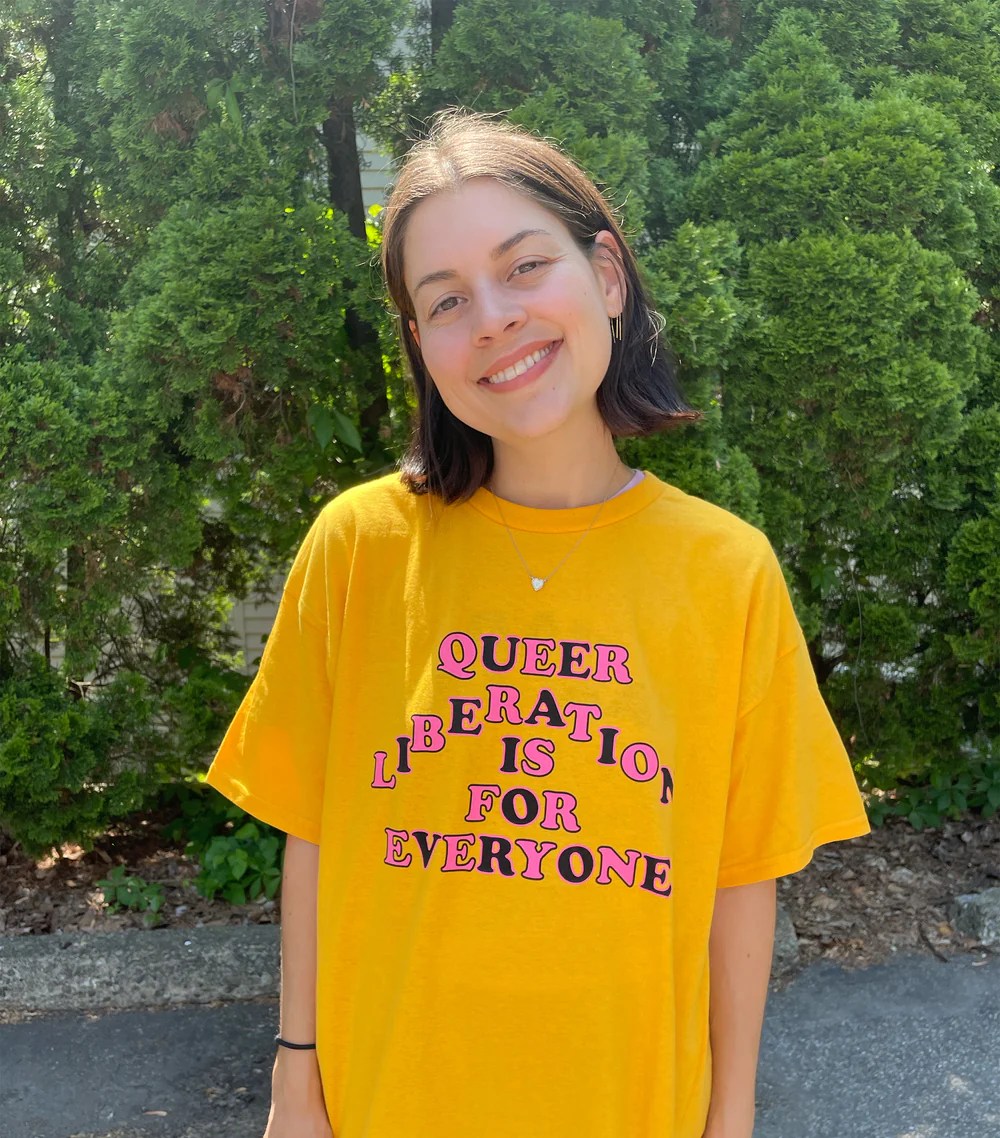 Ash & Chess is a joyful, eye-popping stationary shop run by a queer and trans couple in Richmond, VA. They "create greeting cards and art prints that are bold, retro color palettes and they often use their artwork to make a political statement and to uplift the queer community."
Their t-shirt selection encourages all to support trans kids and reminds people that all bodies are good bodies and boys do cry
---
The self-described "lesbian Anthony Robbins" sells tees with just about every slogan under the sun, from "Be Gay Take Nap" to "Hot Gay Summer" and beyond.
---
100% of the proceeds from these tees go to the Tegan & Sara foundation, which "fights for economic justice, health and representation for LGBTQ girls and women."
---
Official Rebrand specializes in breathing new life into discarding clothing through painting and other alterations. This process "celebrates the fluidity of identity, dissociating garments from gendered categories, reintroducing them without arbitrary social constraints."
---
Boston-based maker Femme Brulée is a burlesque performer "known for her over-the-top costumes and props," and as the founder and coreographer of the Glitter Bombs, Boston's Premier Strip Hop Troupe. Her glittery store offers pasties and earrings as well as t-shirts.
---
"The Goddesses" t-shirt celebrates queer icons Audre Lorde, Gloria Anzaldúa and Angela Davis as well as our other fave bell hooks. You may as well pick up a "Butch Please" hat while you're over there!
---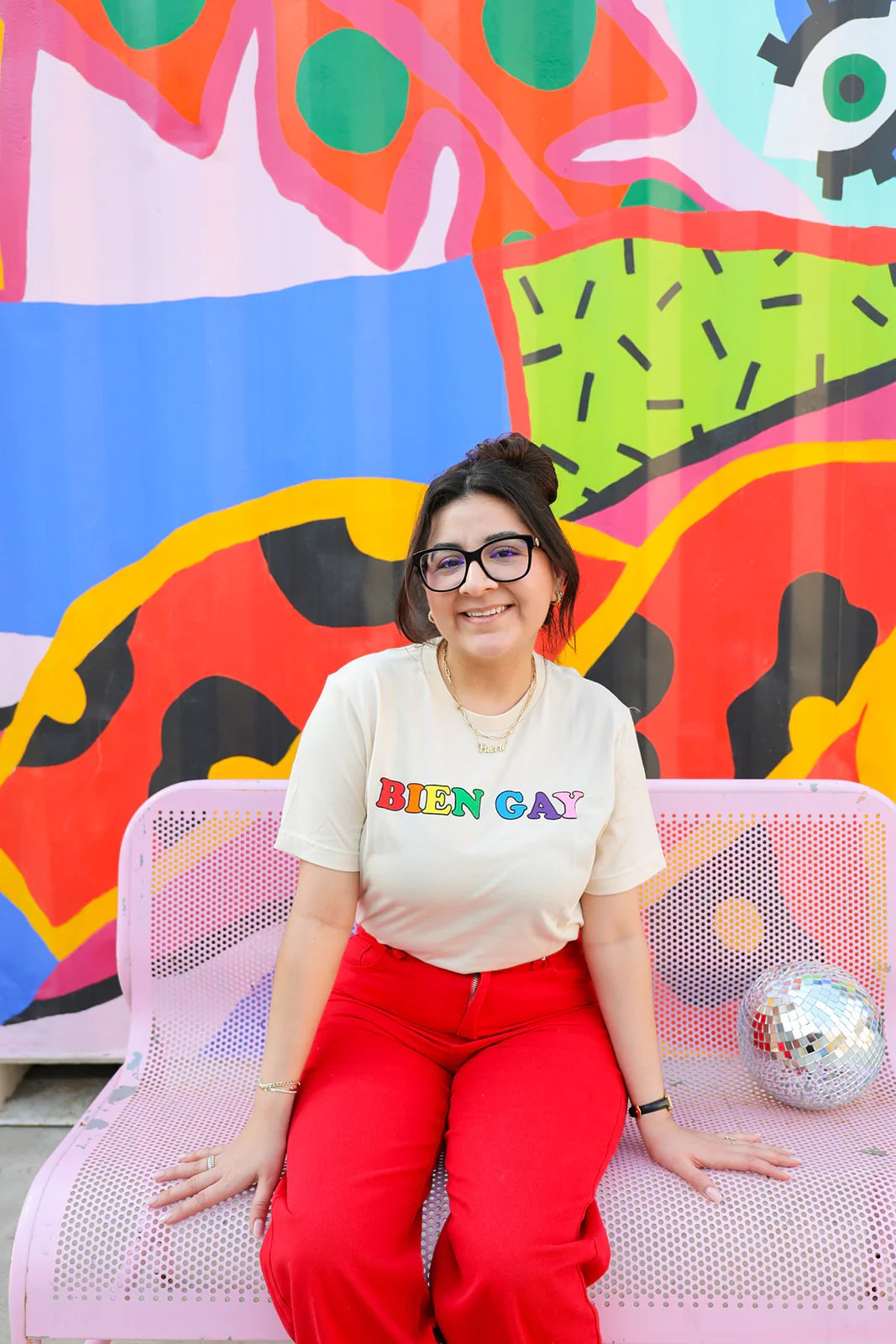 Wife-and-wife team Jen and Vero started Jen Zeano Designs in 2014, the same year they got married, launching the store with a Pink Latina Power Tee. The brand celebrates Latina community & culture through tees, sweats, accessories, bags, stationary, drinkware and kids stuff, including their limited edition Bien Gay Pride Tees.
---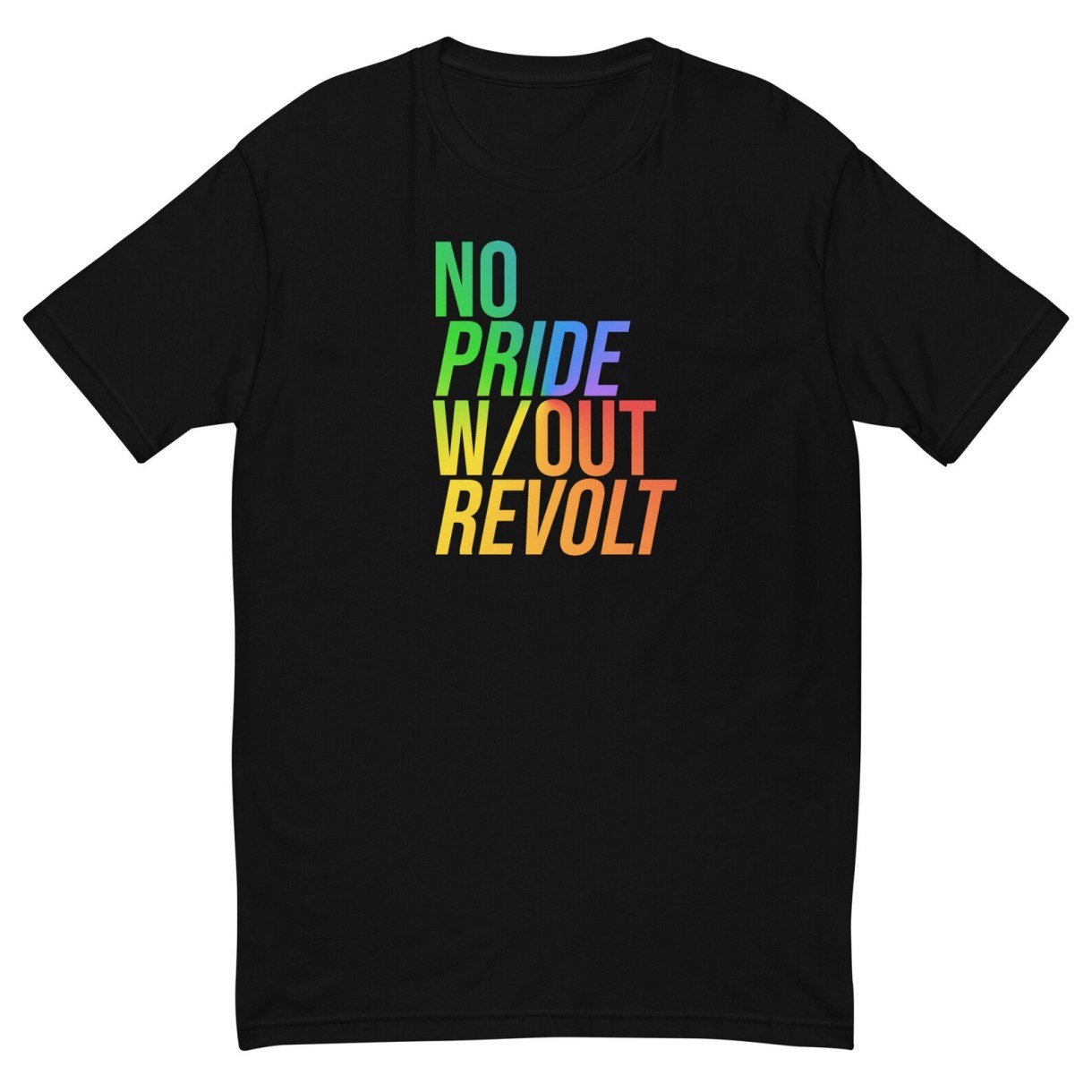 Demian Diné Yazhi' is a Portland-based artist and transdisciplinary warrior whose work is "an archivalization & exploration of memory formation, landscape representation, HIV/AIDS-related art & activism, gender / sexuality, & indigenous survivance." Demian is also the founder of R.I.S.E.: Radical Indigenous Survivance & Empowerment, an Indigenous artist/activist collective.
---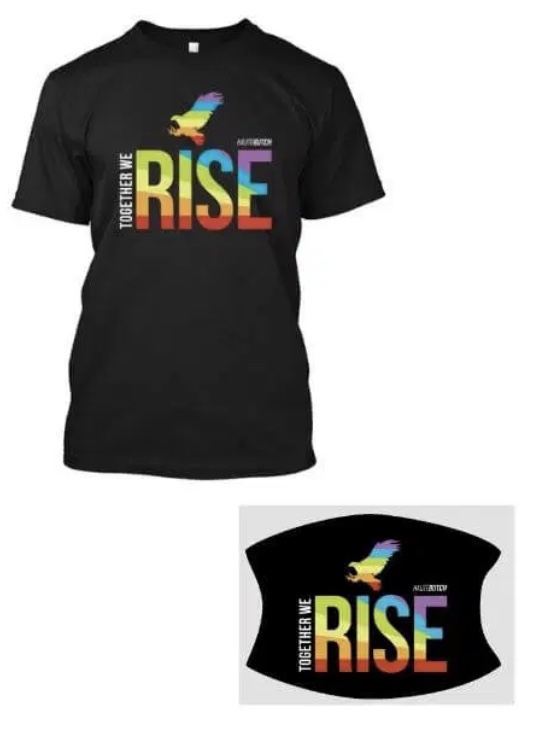 Selling "fierce dapper stud style" and "tomboy-style clothes," Haute Butch features suits, vests, watches, belts, footwear, briefs and so much more at their online store. Karen Roberts opened her store in April 2012 with a focus on becoming"a clothing, footwear and lifestyle destination for butch women, studs, bois and transmen who prefer 'menswear' inspired finishes."
---
"Queer Gearmakes must-have pieces that are perfect for Pride parades, date night with your partner, political events, awkward holiday dinners with the family, or anywhere else you want to be uniquely, proudly, and unapologetically you."
---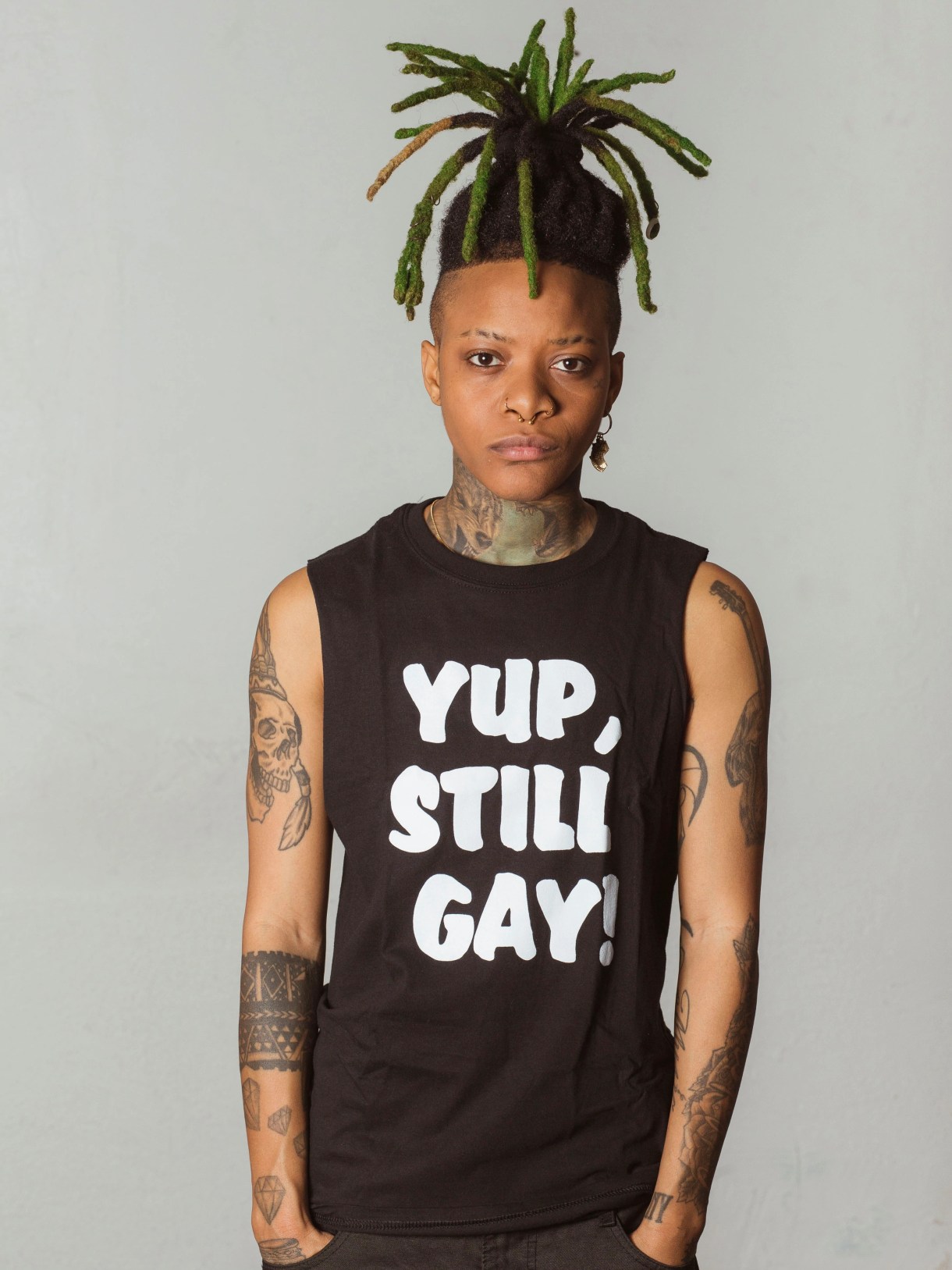 Owned by QPOC couple Stoney Michelli and Uzo Ejikeme, DapperQ describes Stuzo as "a line of androgynous, athleisure, and Cali-casual-cool style."
They sell hats, button-downs, blazers, faux fur masks (!!!), candles, harnesses and more, all made in Los Angeles.
---
The Transfigure Print Co. is a small screen-printing store based in Grand Rapids, Michigan, "surrounded by a unique, nation-wide community of individuals who want to make—and wear—a statement."
Since 2017, this trans-and-queer owned store has partnered with myriad like-minded small businesses to raise over $70k for LGBTQ+ related causes.
---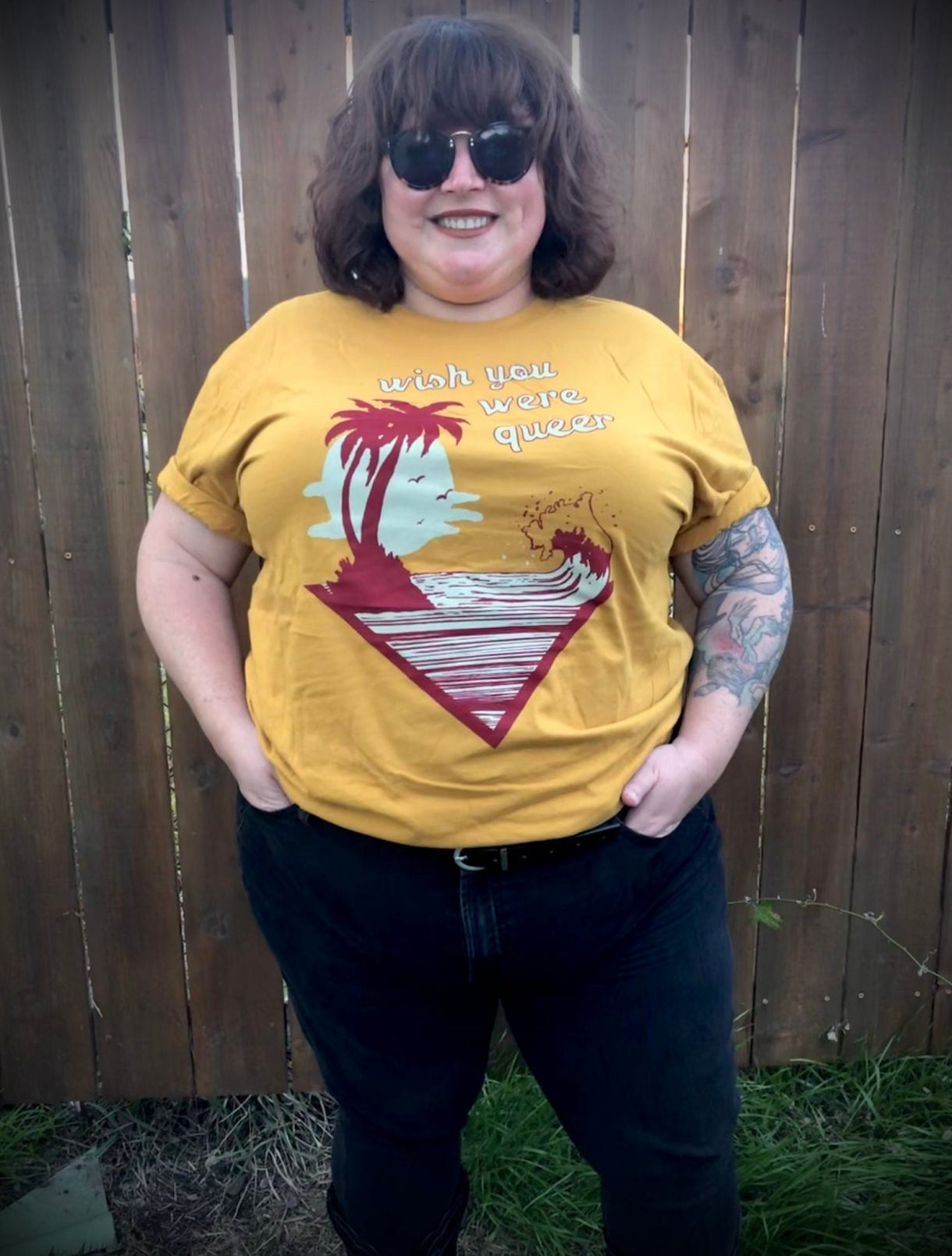 Kiernan Dunn is a printmaker and zinemaker based in New Orleans.
---
In a field chock-full of repetitive and re-appropriated graphics and slogans, Gbee Studios presents fun, original designs with real character. Aside from our own store of course, this is my favorite shop on the list from a t-shirt design angle! Creator Gabriela Borjas created Gbee Studios "to bring more graphic options to the lgbtqia community."
Tees include The Future is Crystal Queer, I Prefer Women, Queer Cutie, Gay: It Literally Means Happy, and so much more!
---
Autostraddle Cartoonist Archie Bongiovanni, a "genderqueer mesh-wearing, french fry luver, leather-daddy-in-training, "Satan is an ok dude", drunk cartoonist trash living in MPLS," sells tees and tanks on their threadless shop.
---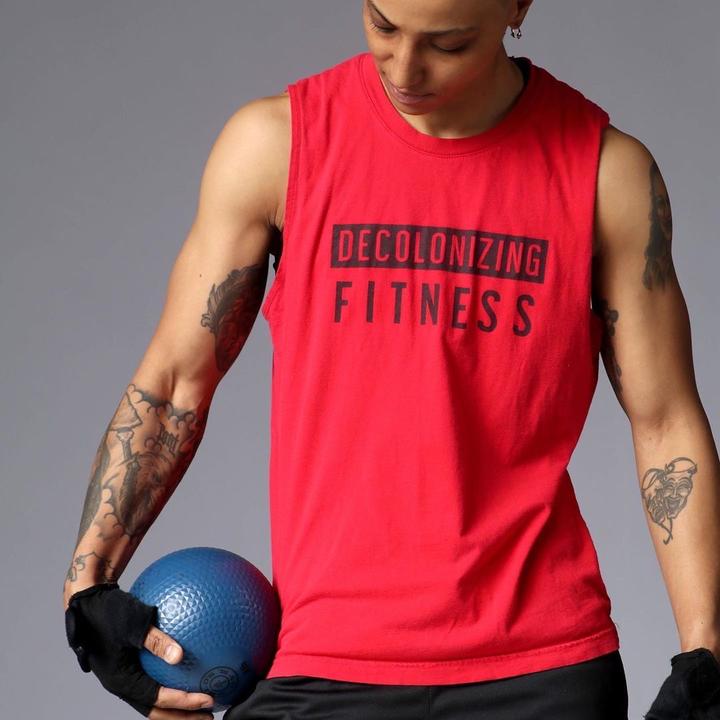 Decolonizing Fitness is a social justice platform that provides affirming fitness services, community education and apparel in support of body diversity. It's owned by Black non-binary trans masculine person Illya, a physical therapist assistant and ACE Medical Exercise Specialist.
100% of Shirt sales on the Decolonize Fitness website — t-shirts that suggest concepts like "down with the binary" and "Fitness is for All Bodies" will be donated to help support Black Trans and Gender Diverse folks who are currently experiencing houselessness.
SaveSave
---
Headquartered in my beloved Ypsilanti, Michigan, this Black and queer-owned business sells gender-neutral apparel. Their super-wearable and very cozy premium tees and sweats are made from organic and recycled fabrics.
---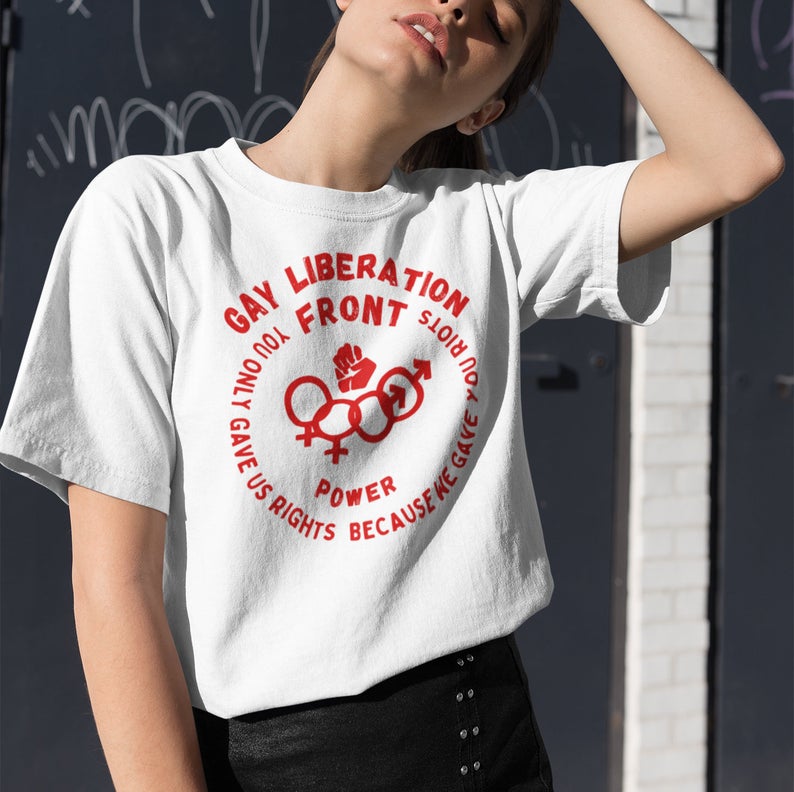 Surpride's mission is to create apparel that LGBTQIA+ people can relate to, by sharing their thoughts and purposes and being a part of the community themselves as a queer-owned business.
Many of their designs are inspired by Gay Activism shirts designed in the 70s, 80s and 90s, like their Gay Liberation Day line.
---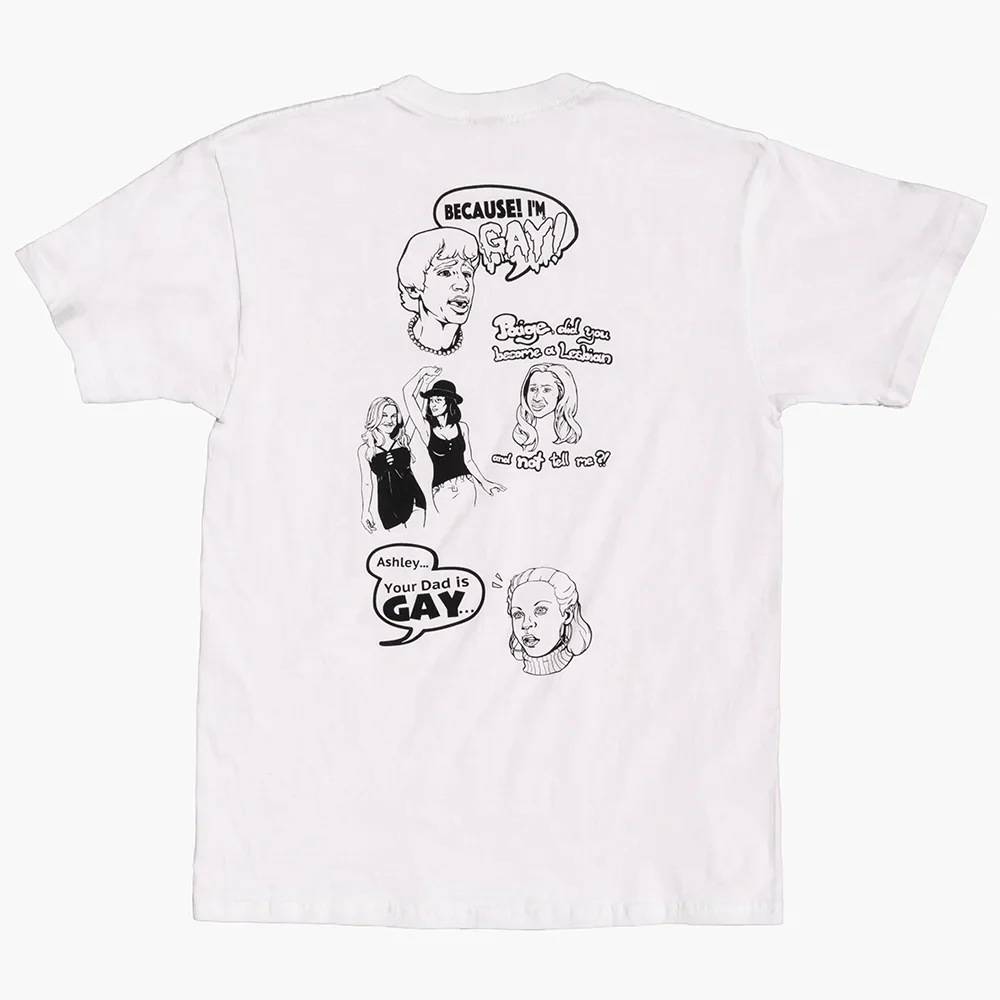 This queer-women-owned South Street Art Market in Philadelphia sells goods from 130+ indie artists in their store and online, embracing whims from kitschy nostalgia to nerdy indulgences to the dark arts. And now, an important quote from the description for this gay bat t-shirt:
"Bats are gay icons. Always have been. In Finnish, bat islepakko, which is the same word used by some to refer to lesbians! Also, the common vampire bat is known to engage in homosexual behavior. The heroes we deserve!"
---
Just another friendly reminder that the Autostraddle Store on Hello Merch is full of great goods for you + yours! HM also sells merch for queer artists like Angel Olsen, Japanese Breakfast, the Buffering podcast, Queer Kid Stuff, Jenny Owen Youngs, Julia Nunes and The Ally Coalition if you want to make a bulk buy.
Anyways, Happy Pride
SaveSave
SaveSave
SaveSave