Welcome to Almost Famous, a weekly segment where we ask up-and-coming queer musicians some not so hard-hitting questions about music and life and maybe even convince them to share photos of their pets. Get to know intimate details about your new favorite artist or band before they hit the Big Time and become too famous for us to interview for real.
Header by Rory Midhani

---
Hannah Thomas
Atlanta, GA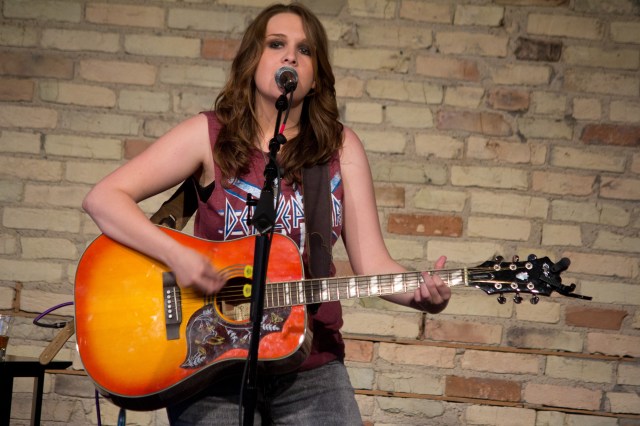 Over the last couple of years, Atlanta-based songwriter Hannah Thomas has played over 200 shows, opened for the Indigo Girls and made a name for herself as a force to be reckoned with.  Georgia Music Magazine describes Hannah as "the soul of old country, and that will always be there, but she's also a die hard rocker with some punk thrown in the mix." Her new record Goodbye on Wasted Time is available now through her own web store.
How would you describe your music?

Rockin' Americana. I think Americana has become a catchall for music that isn't quite hard rock, isn't quite pop and isn't quite country…that's exactly what I am.
Which track would you most like Autostraddle readers to hear?
Church on Friday; it's about doing all the wrong things right.
https://www.youtube.com/watch?v=r4w0DV38z2I&feature=youtu.be
Do you have any pets, and if so can we see a photo?

I have a dog named Roxy I adopted while playing on a Sweet Vacation in Mexico. I am really not sure how it happened, but she has been a great tour companion and, well, she is the cutest dog in the world…
What would constitute a 'perfect' day for you?

Starts with coffee on a balcony, listening to "Sunday morning music" (Matt Nathanson, Tori Amos…etc.), playing guitar, mushroom risotto for dinner and probably ends with me playing a show to a room full of screaming fans!
What were the first and last records you bought?
Hanson – Middle of Nowhere. I bought my first CD player and that CD the same day. My parents probably still know all the words.  The last record I bought was  Kacey Musgraves – Same Trailer, Different Park. I am so happy to hear country music not following the same formula. It's great to hear a voice saying be who you are and be ok with it (Follow Your Arrow).
What was the last piece you wrote about?
Well, the last song I wrote was about having a bad day. You know when the transmission goes out in your car, you can't get to your gigs, your bank account is on zero, and then it starts raining. You know, one of those Murphy's Law kind of days that just never seem to end…
What's your 'guilty pleasure' music?

Spice Girls. They were my first introduction to girl power. I still want to duet with Geri Halliwell, if anyone can make that happen!
If you could share a line-up with any two other artists, which ones would you choose?

Indigo Girls and Terri Clark were always my dream lineup and this year I have been fortunate to open for both of them. So now I need to put a new dream lineup out to the universe so… Jennifer Nettles and Melissa Etheridge! I am waiting for your calls!
Describe the environment that you write your songs in.

I don't have a specific place or way to write songs. I've written songs inside, outside, during the day, in the dark, in the car, just anywhere that makes me feel inspired at the moment. I have lyrics written on bar napkins, hotel paper, on my hand, in my phone, whatever is handy. So beware if you see me sitting in bar being quiet, I might be writing a song about you!
What is the best piece of advice you've received, in music or life?

Don't filter your songs – always be yourself. People know when you aren't being honest. Before I came out, I was always trying to write what other people thought I should be saying, but after I starting writing music for me that is when people really started to listen.
---
If you are, or know of, a queer artist or band that should be featured in Almost Famous, drop the details to stef [at] autostraddle [dot] com. Please write 'Almost Famous' in the subject line!