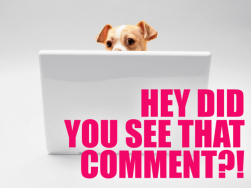 It must be Friday! Will you still love me if I tell you that I like Spindrift bubbly water better than LaCroix?
This week, Boob(s on Your) Tube came back!
Carrie brought us the best of the Disabled and Cute hashtag, and Kai interviewed the author of Infect Your Friends and Loved Ones.
Dorothy Snarker made her Autostraddle debut with a recap of The Good Fight!
A duck or a cannibal or Frank Underwood might make a better President than Donald Trump. Thank you, Riese.
Abby Wambach and Glennon Doyle Melton are engaged!
Ellen Page posed in a perfectly normal-sized deck chair in No Filter, and Alyssa introduced us to the Gelders.
Jasmine wrote a love letter to Grace Jones.
Erin gave us a gift and I need you to read it: More internet haikus!
Audrey's reclaiming their faith in a new column.
And then there were your comments!
---
On The Good Fight Episode 101 Recap: Lawyers, Lesbians & Money:
The Make America Kittens Award to Rachel W.:
On Also.Also.Also: You Are the Special People and Other Stories for Your Week:
The Poet Laureate Award to Catherine:

On Sunday Funday Is Smooching You on the KissCam and Trolling Trump From the Great Beyond:
The Glove Lunch Award to Darcy and AnnieStinkle: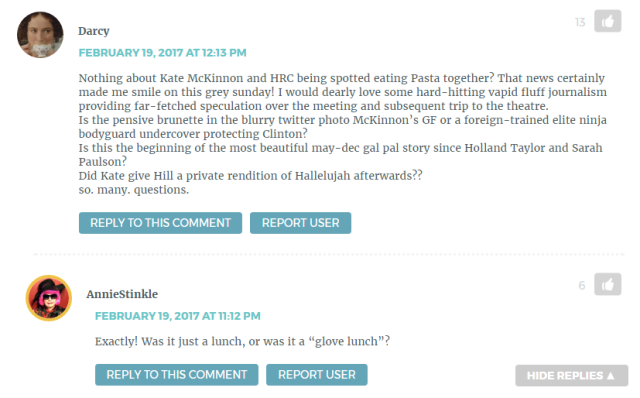 On 15 Dubious Fictional Presidents Who Are Still Better Presidents Than Donald Trump:
The Little Shop of Horrors Award to Charlotte and Chandra: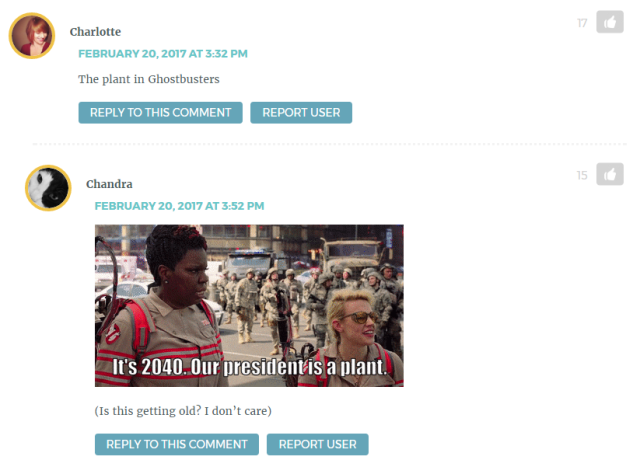 On Abby Wambach Is Getting Married Again as Hope Springs Eternal Even on the Darkest Timeline:
The Love is Love is Love Award to Chloe:

On "Supergirlwp_postsEpisode 213 Recap: Conversation Hearts:
The Fabric of our Lives Award to Amarie:
On No Filter: Ellen Page's Completely Normal-Sized Birthday:
The Gloating Award to Vicky and Sally:
On The Fosters Episode 414 Recap: Degrassi Overload:
The Boy, Bye Award to Catherine:
The Herbal Essences Award to Jilliandie Holtzmann: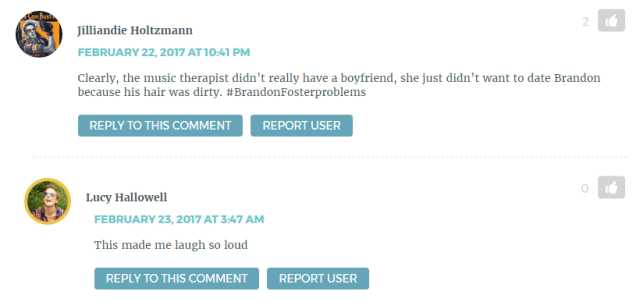 On Pop Culture Fix: Carol Aird Performs "You Don't Own Mewp_postsat the Stonewall Inn:
The Artistic License Award to amidola:

And finally, the What a Lovely Way to Burn Award to Darcy:
---
See a funny or amazing comment that needs to be here? E-mail me at queergirlblogs [at] gmail [dot] com!