Previously on The Fosters, Stef flipped out and took the bedroom doors because these kids have been up to no good for four seasons (which may only be 18 months in the land of TV) and goddammit she's had enough. Callie is out, awaiting trial, Jesús has a TBI, Jude has a pothead boyfriend, and Mariana has enough PTSD to last a lifetime.
But you guys, Brandon is having such a hard time. Now that he broke up with Cortney, got rejected from Juilliard due to academic fraud, he is stuck at home with Leisl, Brigita, Kurt, Louisa, Marta, and Gretel. Poor Freidrich can't get a turn in the shower because he's too busy bellyaching. Mariana doesn't want to go to school because it's embarrassing that she and Mat broke up again (possibly the most normal high school thing we've seen on the show, actually) and she also doesn't want to go to therapy. Stef couldn't care less. Everyone is going to school no matter how much snarking they do at her or at Lena or at the other Von Trapp family singers. Oh but the morning dramatics aren't finished! Jesús falls while trying to climb the stairs to reach the den of unhappiness on the second floor.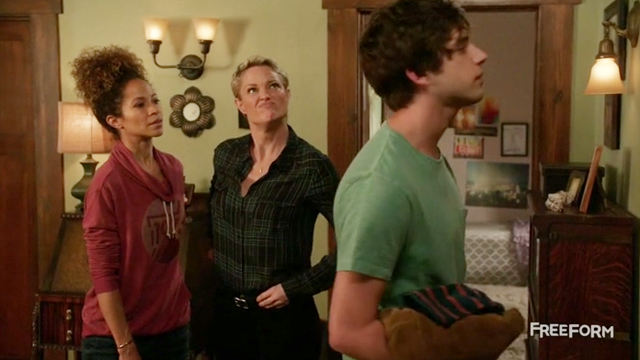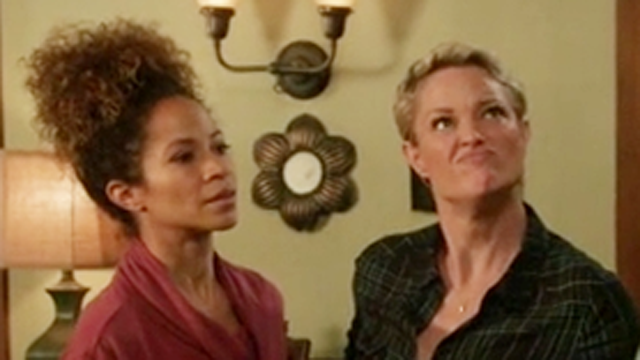 Mariana skips right up to Emma, asks if everyone is talking about her super embarrassing Mat break-up, and then is like, "So, knocked up?" Emma says she's not but in a shady way that makes me think maaaaybe that test wasn't so clearly negative after all.
Callie and Aaron are meeting with Kyle to explain that while Callie is maybe, probably, going to prison for helping him out they found some DNA evidence that, if they jump through four-hundred hoops and stick the landing just right could get him out of jail. Don't get your hopes up, kid.
Jesús is doing stability exercises at the rehab facility. When the therapist adds flashcards, Jesús gets frustrated and throws the weights to the floor. Lena cheers him on. You can do it, buddy! He screams at her to shut up (which, to be fair, her cheering was kinda annoying). The therapist tells Lena it's totally normal in TBI patients (and teen boys) but it doesn't make it any more fun to get yelled at by your kid.
In the offices of Dewey, Cheatum, and Howe, Callie, Stef and Robert are meeting with some lawyers. They think they can get Callie out of this mess by paying off the victims of the accident. Sure, it will cost about three-hundred grand but it's a drop in the bucket if it keeps Callie out of prison. Callie is insistent that Troy McMurder gets none of the money but Stef is going to try to talk her into it. Robert would like it if Stef could figure out why some weirdo stalked Sophia at #JusticeForJack Fest. Stef has an idea and it's sitting in the front seat of her car.
Stef lays into Callie for breaking into a dude's house. Callie isn't all that sorry since it's how she Nancy Drew'd that Troy is the real murderer. If they can just prove that she won't have to go to prison. And if you buy that, may I interest you in this unicorn?
Jesús is working on his fine motor coordination under the supervision of both Lena and Emma. When he asks for some water he cheats his ass off. Lena isn't letting him off that easy. He almost flips the table over and screams at her. This time she screams back. When she goes to get the broom Brandon offers to take Jesús to therapy to give Lena a break. Good boy, Brandon. You'll have your door back after about four more season of that kind of behavior.
Mariana did go to therapy (one win for Stef) and is doing some eye exercises while recalling her lifetime of traumatic experiences. When do you first feel powerless? Well, when my ex-boyfriend broke into my house with a gun, and when my mom got shot, and when I was a kid and my mom abandoned me and my twin brother in our cribs to get high. Mariana is definitely the best kid on the show by a mile and exhibits again why Brandon's whiny pouting will never work for me while it's juxtaposed with real, actual issues beyond "it's not my turn to shower."
While Stef is taking a stroll through Troy's financial records, Mariana is taking her power back. That's right, her therapist told her to do it so she is putting up a curtain where her door once was. Stef is indignant but Lena smiles and agrees that they will come meet with the therapist to discuss Mariana's well-being the next day. Stef gets a call from Captain Roberts who is ready to meet and chat about that internal affairs thing Stef promised Lena she wouldn't bring up. Good lord, you two! Lena can't believe Stef would risk her job since they are down to one income. Lena uses the door on the bathroom. It slams nicely in Stef's face.
Aaron has come to story hour with Callie. This week she's reading her criminal record out loud. Scintillating stuff. Aaron doesn't know anything about construction but AJ does so he can help build a cell for Callie's 47th senior project.
Brandon is cheering Jesús on at rehab. Jesús doesn't punch him in the face but you can tell he considered it. Brandon steps outside and hears a room full of patients playing music. Methinks Brandon has an idea for how to spend his time while he's not going to Juilliard. He gets off on the wrong foot with the teacher, which is part of the schtick, but promises to come back and learn more about how music can help his brother.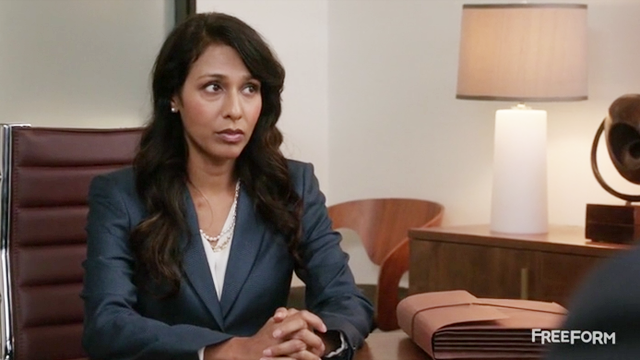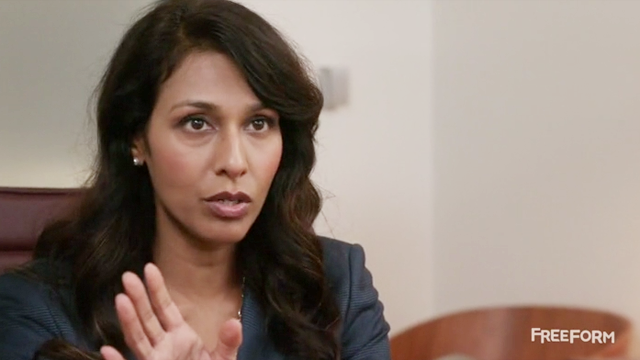 Captain Roberts, I have missed your gorgeous face and your badass swagger. She tells Stef that she made detective and perhaps wants to think twice before she shares anything that might screw that up. Stef's one of the good ones, and Roberts wants to see her help people. Stef pulls up to the precinct and has a nice chat with Detective Grey. He thinks Stef owes him for putting in a good word. She thinks he maybe didn't do his job in the Troy Johnson case. He gives her access to the case files and tells her to go nuts.
Back at home, Callie, AJ, and Aaron have built a giant structure. Did anyone tell the moms or get a permit? AJ doesn't understand why Callie would wallpaper the walls with her police file so Aaron explains it to him like a doof. After Aaron leaves, AJ and Callie continue to bicker. He's glad she's going to take the money from Robert and make it all go away. His brother didn't have that option. Callie gets pissed that he's accusing her of using her white privilege to get out of trouble. Well, you are but he wasn't accusing you of anything. Ty would have done the same and so would AJ if given the chance. The point is they didn't have the chance. Don't go to prison out of spite, dummy.
When Lena gets home there is some terrible Row, Row, Row Your Boat being banged out on the piano. But Brandon has found a way to help Jesús by getting him to play music with Emma. Lena looks happy and almost relaxed. Maybe she found a bit of Noah's weed in Jude's room (Jude is Out of Town for the episode).
The moms want to tell Callie what they learned from the case file. Troy Johnson didn't kill his grandma. He was at work (there's video) when she was killed. So Callie is going to take her get out of jail card from Robert. She storms off to her room in a fit of rage over the unfairness of the system. I smell another senior project project coming on.
Stef, Lena, and Mariana are at therapy and whoa boy does the therapist think that Stef and Lena are doing a terrible job. Mariana doesn't feel like her problems are being taken seriously. Then she lists the other drama in the house and it's laughable. TBI. Prison. No college. Pothead little brother. Yeah, so maybe not wanting to go to school because you're embarrassed about breaking up with your boyfriend is a little silly. I feel for Stef and Lena in this scene. Sure they aren't being the best parents when it comes to Mariana. I think they would admit their imperfections. But, they have more than their fair share of stuff falling apart around them and the fact that neither has taken up drinking excessively, hard drugs, or serial affairs to deal with it is pretty darn good. That's soap opera 101, and they have avoided it. So, while the therapist isn't exactly wrong, it's his job to advocate for Mariana's needs, Stef and Lena should get a bit of slack.
Emma is crying on Mariana's bed when Brandon comes to check on her (thinking it's one of his siblings). She has something to tell Jesús but isn't sure she should in his current state. It's something she thinks Brandon already knows about. While they talk, Jesús is trying to climb the stairs. She's a few weeks along and she can't be a mom at sixteen. She doesn't want to tell Jesús with everything else going on. Jesús sees them come out of Mariana's room and of course jumps to the wrong conclusion.
Callie breaks the news to Kyle that she's out of suspects. He's angry and upset and not very nice about the fact that she's getting off scot-free while he goes back to juvvie until he turns eighteen. Yes, the system is unfair. But that doesn't mean Callie should go to jail just to prove a point.
Jesús is cranky and mean to Emma while the moms unload groceries. Stef is going to take that promotion. Sometimes you have to take the wins when they come. And if it means she has access to all that detective stuff, maybe she uses it to fight for justice. They hug it out. But it's a celebratory, sexy hug. Totally like a kiss.
Stef and Lena put the doors back. Trust will take longer to build but as long as the kids stop keeping secrets everything will be fine. Good lord. You two are like Wile E. Coyote. The next anvil will be arriving on your head in 3… 2… 1…
Callie is sitting outside her in cell, staring at the wall she decorated when Aaron stops by. He's happy that she's going to take the deal. She feels bad about it but he reminds her that she, the little girl who lost her mom and bounced around foster care and protected everyone she loved, deserves the break. And he's damn glad she's going to get one. She cries and Aaron wraps his arm around her and leans like he's going to kiss her but she interrupts him. She has a project to finish (and a boyfriend).
Mariana has the brilliant idea to start a Twitter account where she confesses all her secrets. This is not what the moms had in mind! Downstairs Jesús tries to read one of his cards but the letters just swim and he starts bawling.