The ACLU has recently launched its "I Pee With LGBT" campaign, which is meant to address and combat the looming Texas Senate Bill 6, known simply as SB6, Texas's incarnation of an anti-trans bathroom bill much like the one passed in North Carolina last year. Essentially, the campaign is meant to encourage people to contact state representatives about the bill and to support the ACLU in the form of purchasing branded #IPeeWithLGBT merchandise. The campaign even has a nifty filter that one could add to a social media profile pic in support of the cause.
While any and all support for the trans community is necessary and welcome, the ACLU is missing the mark with this hashtag. The big swing and miss for me is the fact that SB6 is an anti-trans bill that specifically aims to single out trans feminine individuals, regardless of sexual orientation. That means transgender women, amab nonbinary femmes and femme-presenting intersex individuals are the ones at high risk of being discriminated against through the language of SB6, and are the ones who lawmakers are hoping to hurt, alienate and imprison.
Yes, it will affect trans men, it will affect butch cis women, and it will affect femme cis gay men as we'll see more and more gender policing when it comes to public spaces should such a bill pass. But when Dan Patrick and his merry band of conservatives sat down to discuss the wording of the bill, I guarantee you they had some warped version of a trans woman in mind as their primary target, hence the vilifying rhetoric they continue to feed to their constituents.
We are the ones that conservatives are daring to call men in dresses, we're the ones that have to face direct physical and systemic violence for living publicly in spite of misconceptions, and yet we're the ones they claim are out to molest and assault unsuspecting (cisgender) women and children, despite there being zero evidence to back this up. So we have every right to be prioritized in this fight as opposed to this being treated as a blanket LGBTQ issue.
The ACLU glossing over the fact that this is a matter of transphobia with its semi-catchy slogan follows the pattern of LGBTQ issues often being painted as equally affecting all facets of our community. It's like putting someone in a full body cast when only their right arm is broken; the idea is there but it's not focused enough on treating the immediate problem at hand. How can I as a trans woman feel like SB6 is being taken seriously if advocates won't even call it an anti-trans bill, instead opting to place it in the larger scope of an anti-LGBTQ agenda? How can I feel like allies are fighting for my rights when they're erasing my identity from the center of the issue?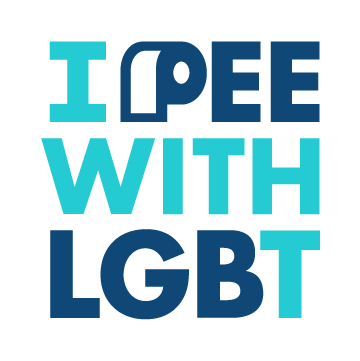 Make no mistake, bathroom bills and the rhetoric that fuels them are rooted in transphobic ideologies, and these damaging sentiments aren't contained to gendered spaces; rather, they permeate through nearly every aspect of our society. The fact that trans people are so frequently discriminated against through not only policy, but also through everyday acts of violence, microaggressions and invalidations reveal why the fight doesn't begin and end with bathrooms.
The work to dismantling transphobic rhetoric is never over and thus cisgender allies of all sexual orientations need to stand up for the trans community, and that starts with focalizing us when we have conversations about these so-called bathroom bills. And while "peeing with LGBT" is great, cisgender allies have much greater responsibility to the trans community than just being bathroom buddies. They need to show that they're willing to take concrete actions to help trans people, especially when we're the ones who are being specifically targeted.
If allies want to show trans people that they mean business, they need to step up and fight for us.
Allies need to start calling out transmisogyny and transphobia rather than being complacent in it. If you hear someone being purposefully misgendered and you are able to safely interject, please do so. There's no room in our political climate for this "free speech for transphobes" bullshit that's been seemingly more prevalent lately. If you believe someone's hate speech is more important than a trans person's safety, you're not an ally. Call transphobic remarks out directly if and when you can, even if it's just online, because it is so much more dangerous for trans people when we have to defend ourselves.
Avoid engaging in cissexism. This means putting forth a conscious effort to include trans experiences in everyday speech rather than speaking as though we do not exist. Cissexism often occurs when someone speaks about something in gendered terms, and it was highlighted recently when large numbers of cis white feminists reduced womanhood to a particular set of genitalia via signs, chants and pussy hats at the recent national Women's March.
I hate having to remind people that trans bodies exist and that we are just as valid as our cisgender peers, and yet, I seem to do it pretty much every single day. That is why using language of specificity is so important to addressing nuanced issues from an intersectional perspective. For example, when you talk about women, are you identifying which women it is that you're talking about? Are you making a generalization about all women? Could you use more precise language to better communicate your statement?
Help make every space safe and trans inclusive as well as inclusive to those who do not align with the Eurocentric gender binary. Because it's not just about bathrooms; legislators are slowly working towards excluding us from being in all public spaces. And this idea that the world is better off without trans people existing publicly only serves to embolden misguided cisgender folks to harm us physically. Again, call transphobia out and stand up for trans people who are being bullied or targeted, especially trans youths, and make sure that when you're organizing an event or a hashtag movement that you are encouraging the safe participation and involvement of trans people. After all, there wouldn't be an LGBTQ movement without transgender pioneers like Marsha P. Johnson who rioted at Stonewall.
Educate yourself on trans issues instead of exhausting your local trans person as a free resource. Some of us are happy to clarify things here and there, but many of us are quite literally trying to survive day-to-day. Youtube, Google and even Wikipedia are great jumping off points for learning the basics about what issues, like job discrimination for example, that affect trans people. There are also organizations, including ACLU and Lambda Legal, that have infosheets and educational material available online for free.
Now, I'm personally okay with answering some questions if I must, but the person asking them needs to use the knowledge you gain from me to implement some kind of change, either personally or at a community level. Otherwise, you wasted both of our time and my emotional energy. Trans people can't drop everything to give a Gender 101 class for well-meaning cis folks, but I'm sure some of us would reconsider if y'all are trying to pay us.
Stop entertaining ideologies that reduce trans people to anomalies. This includes trans-exclusionary radical feminism, biological essentialism, and the false notion that being trans is a mental disorder. We notice when you post a trans-exclusionary article or when you use terms like "male-bodied" to describe trans women. How you approach the topic of transgender rights speaks volumes to whether or not you are a safe person to exist around online and in person. Whether it's putting trans people on a fetishistic pedestal or referencing outdated medical terminologies, your politics make a difference. FYI, certain infamous gay white supremacists are not authorities on trans issues and should be avoided at all costs.
Allow trans people to tell their own stories. Speaking over or talking for trans people is not the same and standing up for us. We obviously know our experiences better than anyone, so if an opportunity arises to bring trans issues to light, our voices should be uplifted first and foremost. Prioritizing trans voices when it comes to something like a bathroom bill serves to portray an accurate account of the trans experience as well as to humanize us in ways that we're often not in this overarching conversation of trans exclusion. At the very least, trans writers, activists, artists and so on deserve to have a platform to address our own marginalization before a cisgender person tackles our problems. Work with us, not in lieu of us.
Contact your representatives to tell them that you're not going to stand for anti-transgender legislation. The ACLU got this one right when they included a form on their #IPeeWithLGBT website for people to email their legislators. We all need to be aware of who represents us from local, state and federal levels of government. These proposed laws will contribute to systemic violence and marginalization that trans people already face, and they will only lead to more direct forms of abuse, so it is up to the people to hound our reps for fair and just representations for ALL. And to my fellow Texans, and everyone honestly, please get out and vote if and when you are able to do so. It might seem futile when the political climate lends itself to corruption, but we owe it to our marginalized communities to at least try to get some of these conservative goons out of office.
Not to be cliche, but this is just the tip of the iceberg here. There are endless things allies could do to make the burden of fighting for trans rights less difficult on trans people. While some folks are down to be bathroom buddies, and that's totally valid and necessary, there is more work to be done interpersonally and at a systemic level. The fight doesn't end after we wash our hands, and for a lot of us, it never does, so dedication to promoting justice and inclusion of the transgender community is crucial if any progress is to be made.