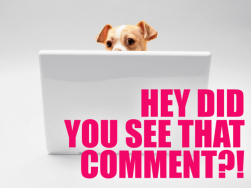 Hi, loves. What a week! Let's eat some chocolate.
This week, Molly interviewed Emily Danforth about the upcoming Miseducation of Cameron Post movie, and growing up as a Montanan baby gay.
Looking for holigay gifts for your favorite queer types? We've got you covered, whether they're sporty, super scary, into photography, into flannel, all about hot takes, kind of dirty, or raising a feminist baby. Whew!
From Alyssa: This is a perfect comic for anyone who's tried to survive kindergarten.
I'm definitely making these dark chocolate candy cane brownies tonight, because I need something sweet and powerful in my life. Thanks, Reneice!
90's kids will remember this — Sally wrote about Tonya Harding, camping in front of the tv watching figure skating as a child, and the narrative that asked us to condemn her as we celebrated Nancy Kerrigan.
READ THIS RIGHT NOW, because Heather is wise and we must be kinder to ourselves: You Need Help: What Should You Do With Your One Wild and Precious Life?
And then there were your comments!
---
On Femme Brûlée: Dark Chocolate Candy Cane Brownies:
The Paul's Not Invited Award to Porsupah and Jay:
On The Definitive List of Places Carol and Therese Ate in "The Price of Salt":
The Does A Body Good Award to Caitlin:
On Self-Acceptance & Butt Cover-Ups: 8 Queer Women's Tattoo Stories:
The Gay As An Arrow Award to Shea: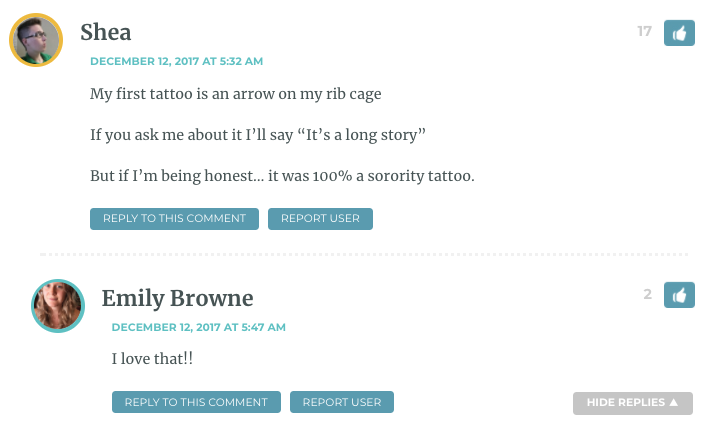 On Emily Danforth Is Drawn Back to Montana and We're Drawn Back to "The Miseducation of Cameron Post" (the Movie!):
The Representation Matters Award to Eli, and the Isn't That a TV Show, Not a Movie? Award to Molly: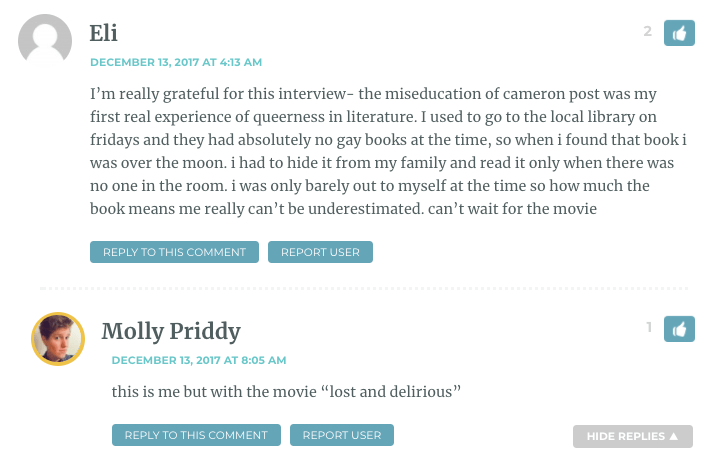 On Holigay Gift Guide: Advice for My Mother on What Flannel to Buy My Butch Fiancée:
The L.L. (Les)Bian Award to amidola:

And the Flannel of Lesbians Award to Carmen SanDiego:

On No Filter: Cara Delevingne Meets Lesbian Lion, Sparks Fly:
The Looks Like Everything To Me Award to Even Rachel Would:

And on You Need Help: What Should You Do With Your One Wild and Precious Life?
The Great Unknown Award to lmhendrix: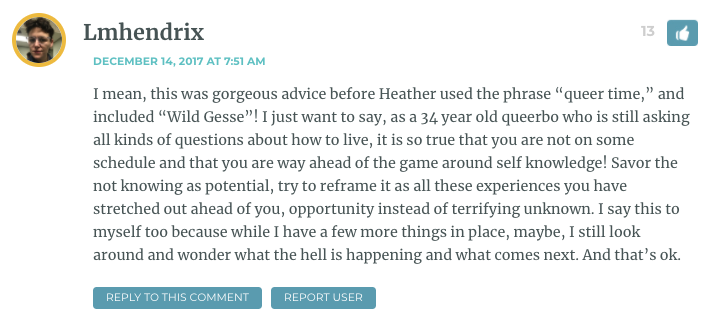 ---
See a funny or amazing comment that needs to be here? E-mail me at queergirlblogs [at] gmail [dot] com!