On a warm afternoon this past fall, I finally did something that I have wanted to do ever since I was an angst riddled 16-year-old with a love of side bangs and Paramore: I got my first tattoo. I've always admired others who adorn their bodies with art, but I was too nervous about permanence to ever get inked until a recent life change removed my doubt. While it's far more commonplace than it used to be, getting tattooed can still feel like an act of rebellion, much like owning your sexuality, gender, and self-worth. It's the purest form you doing you.
The tattoo I eventually chose – which I dub "Escape to the Night" – was symbolic of me taking control of my life in a very physical way. For the first time, having earned the money to pay for it, I was living on my own! I realized the design itself mattered less than the meaning behind it, and the whole process was super fun and bizarrely emotional. I've been endlessly curious about others' tattoos, so I decided to talk to several smart, artistic, and wonderful inked-up queers in my life about what inspired their body art.
---
Jess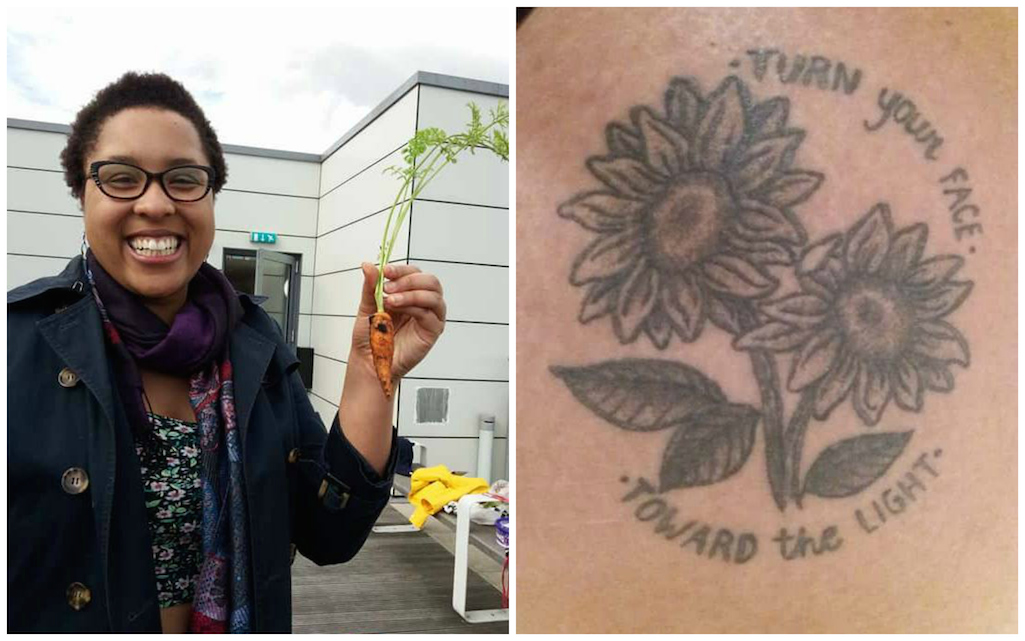 "I'm terrified of needles. I have a habit of head-butting the fears that my counsellor says I ought to be proud of, but it's safe to say that going from crying at every blood test to "I'M GETTING A HUGE BUNCH OF SUNFLOWERS TATTOOED ON MY THIGH" was a bit of a leap!
"When I planned my tattoo, I was thinking a lot about what it might mean to live with depression. Something that gave me hope was a kind of internal voice that pointed to the things that made me better; even if couldn't always hear it, it was always there. I had a dream of living in a safe home with a vase of sunflowers on the coffee table. It was so vivid and so insistent that I did a lot of hard and scary things — including running away from an abusive situation — to make that dream come true. And it did! I was happy for five whole minutes! But then the sun went down, and I got hungry, and that girl I liked didn't text me back, so I knew I needed those sunflowers tattooed on me somewhere.
"Being well is hard and sometimes boring work, and life would be so much easier if I could just remember to trust the light inside of me. When my tattoo was done, I knew that even though it was scary and it hurt, the sunflowers were totally worth it."
---
Fran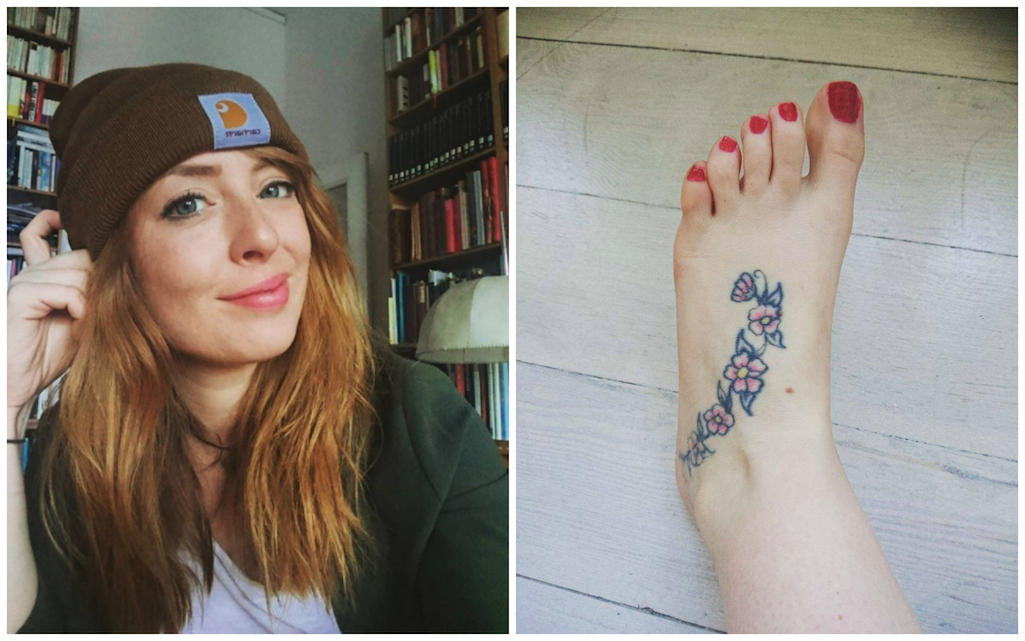 "My first tattoo was shit. When I was 16, I had a girlfriend called Katie. We each got kicked out of our parents' houses around the same time, so I moved in with my dad and Katie pretty much moved in with me. A few months later we were in this town in England, and we discovered that you could get tattoos there without ID — you just had to sign a form saying you were 18, weren't pregnant, and weren't scared of blood. I had no idea what to get, so I picked something off the wall in a panic and we both got inked at the same time. It's a daisy chain on my foot. Terrible."
---
Hannah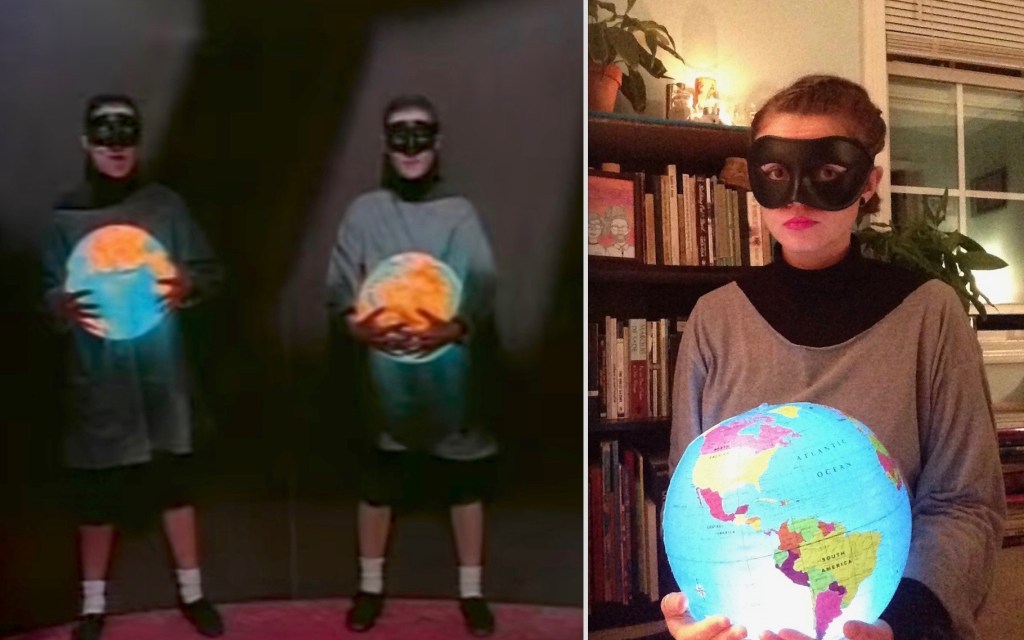 "I got the robin on my arm because I like robins. Honestly, there isn't a whole lot more to it than that. I love that they're curious and friendly (not to mention adorable). Where I live in London is not quite far in enough into the center to be convenient and fun, and not quite far out enough to enjoy its nature — but I could always easily see robins where I grew up, which I found comforting. I never wanted to get a tattoo with a deep or mysterious meaning because I was worried that my feelings would change over time. The robin, however, is something I will always love."
---
Jancy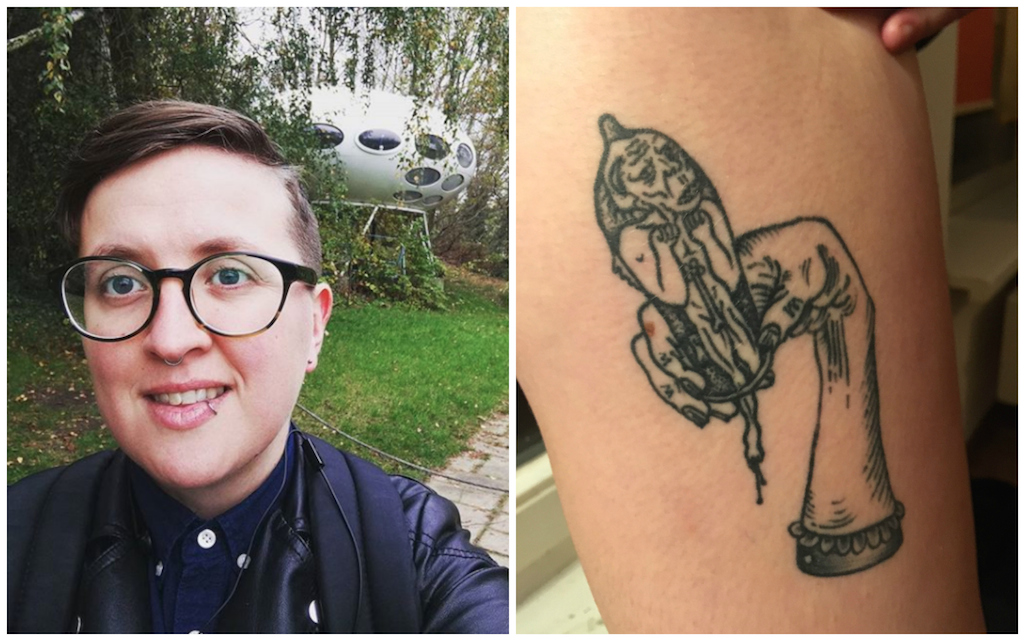 "The gross condom man… I was at a tattoo solidarity party and my friend Sierra had a bunch of weird leaflets she'd designed about how to make your own DIY vegan dildos and I was like "that would make a good tattoo." A few hours later I was on her table. Now I have a tattoo of a withered old man being stuffed into a condom and I couldn't love it more. Everyone asks me if it's Lord Voldemort."
---
Fabi

"I like to think of my first tattoo as a coming of age symbol marking the birth of a new me. I got it when I was 24, after going through a dark phase of my life: I had ended a four-year relationship with a man and had been battling depression for over a year. The state I was in, I was forced to search for help to understand what was happening with me and why I had been so unhappy for so long. Through therapy I was finally able to admit some truths to myself, including that perhaps I wasn't entirely straight, but that realization didn't make my life any easier. What was I supposed to do now? Being gay was not something that my family supported, and having a queer daughter was definitely not what my parents had envisioned for me.
"Soon, I started going to queer events and met some new people. Hanging out with others who shared similar experiences gave me the courage I needed to open up. I decided that I had been living a life that was not mine for too long, and it was time for the real me to come out of the shadow. I came out to my parents, and their reaction was not what I expected; they were worried about me more than anything, because being a black queer woman in South America is not a walk in the park, but they said they would always be there for me no matter what.
"The months that followed served as a rehabilitation of the soul. I started to accept and love myself more, and in that process I shed layers of self-doubt, hatred, and feelings of not being good enough; I saw the real me coming through in the way I interacted with people. I was finally happy to be living in my own skin. The day I went to get my Phoenix tattooed, my mom sat by my side. It was only appropriate that she was there on the day that marked my rebirth."
---
Karly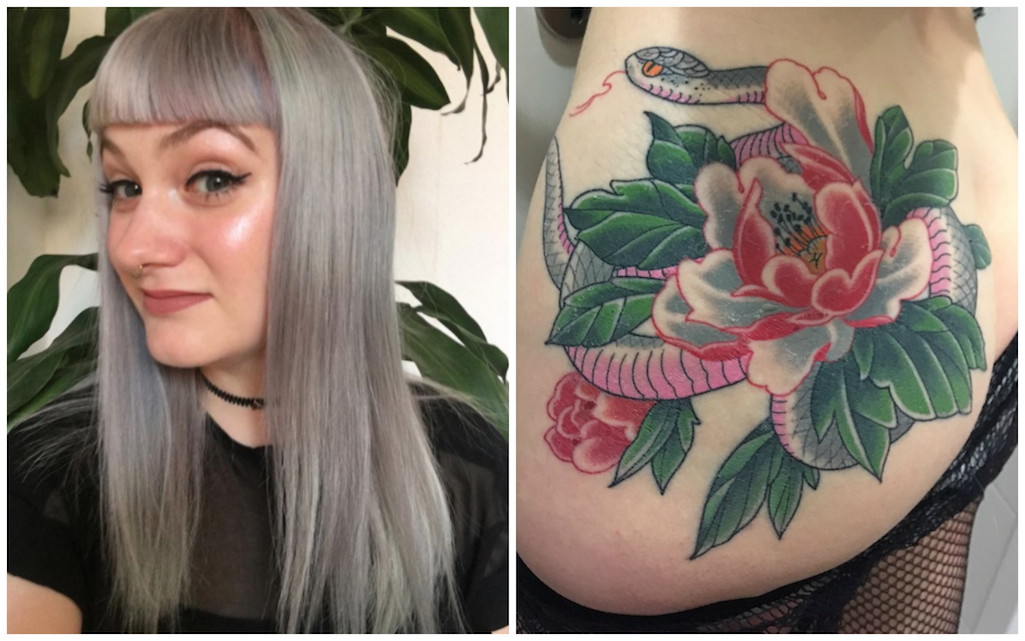 "This tattoo was done by my ex-boyfriend who ghosted me after two years of dating; he's given me really bad tattoos in the past, but now he's really, really good. I used to have 'Nur Für Dich' written on my butt, which means 'Only for you' in German, but then I moved to Germany and decided to get a cover-up. I wanted something big and good and cool – all my other tattoos are enormous, flowers and nature and things I'm always going to like, so this continues the trend. Oh, and he gave it to me for free."
---
Laura
"On my ankle I have a little stick-and-poke 'me' written in a heart; it's to remind me to look out for and continually love myself, and to not allow myself to be walked over because of the kindness I so often extend. I got it when I was traveling alone to the U.S. for the first time. I had just turned 25 and had been staying in New York for a couple of months. It was during an unsure period for me creatively, but I met some of the most gorgeous people who really made me assess my interests, and aided in me finally pursuing photography and modeling work.
"I've had two exhibitions this year showcasing my work, which I don't think would have happened if my friends hadn't shown me how to respect my own creative power through taking up space in the modeling industry as a fat femme, and through creating photographs that celebrate queer joy, which is so often overlaid with trauma and devastation. The tattoo itself was done by a lover and friend who really looked out for me while I was traveling. I still look at it and remember how giddy they made me feel."
Click here to check out Laura's photography!
What's your tattoo story? Let me know in the comments!
Update: Since the initial publishing of this post, the meaning of "Nur Für Dich" has been corrected.