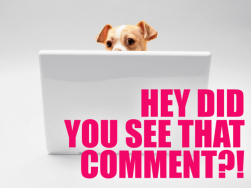 Hello, friends! What did you do this week? I spent a few days by a lake, swimming and detoxing from Twitter and swatting mosquitoes, and oh boy did it help me feel better about the world, and my place in it. Need a bit of that peace for yourself? Here, have a dog in a kayak!
This week, Laneia wrote something so perfect, I'm still not over it.
Austen assembled an all-star team of queer comedy pros to talk about Hannah Gadsby's Nanette, which I have been saving for this weekend and am absolutely dying to watch!
Reneice is a personification of the fire emoji, and oh, also there were swimsuits.
Well this was fantastic: You Need Help: Validating Womanhood as a Trans Lesbian Without Changing Your Appearance.
Autostraddle wants to hear about your bad behavior!
And then there were your comments.
---
On Grease Bats: Feeling The Gender Feels:
The Magic Dust Bunnies Award to Gilbert:

On You Need Help: Is Love Really a Lie? Should You Even Try?
The Hello Fresh (Tears) Award to Amanda Ling:
On These Shirts Were a Choice:
The Time Traveler's Blouse Award to Lee and Chandra: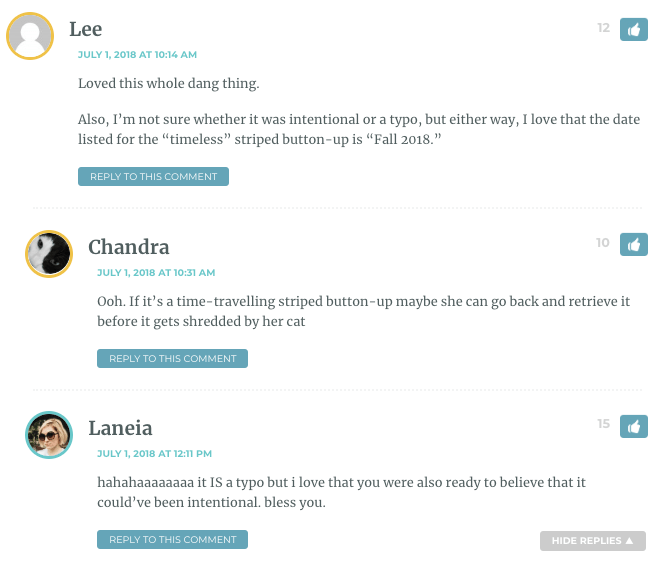 On I Still Love That Heterosexual Show "GLOW"!
The Boffo! Socko! Award to Jay:

On Find Your Fit: The Skater Boyfriend Who Wants Professional with an Edge:
The Tru Love Award to Laura and Cleo:
On 20 Happy Lesbian and Bisexual Romantic TV Storylines That'll Warm Your Heart Right Up:
The Gal Pal Award to Bex:

On No Filter: Hayley Kiyoko Says Thanks for All the Bras:
The Bravissimo Award to Snaelle, Kristana, Chandra and Al:


And on For a Movie That's Not Gay, "Incredibles 2" Sure Is Gay:
The Super Here, Super Queer, Super Excited Award to Mel and CD: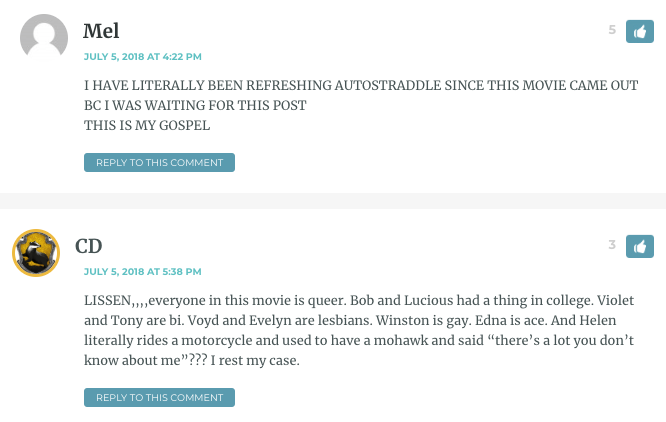 ---
Take care of yourselves this week, pals!
See a funny or amazing comment that needs to be here? E-mail me at queergirlblogs [at] gmail [dot] com!