Once again, Wednesday has arrived and today we celebrate the Vapid Fluff celebrities of queer social media. This week, all anybody can talk about is Tessa Thompson and whether or not she's actually dating Janelle Monáe (she denies it!). What do you guys think? Have we considered the possibility that these two could [ALLEGEDLY] be totally doin' it but not putting labels on it because they're both successful and very busy right now? Have we considered the possibility that maybe they're just really private and backtracking? I have spent most of the week pondering the possibilities and mostly I'm just over here like: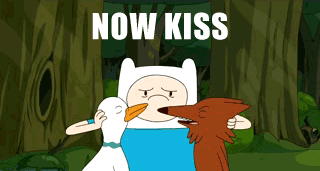 ---
https://www.instagram.com/p/Bkb46Gyni2f/?taken-by=kehlani
Thought we could all take a few minutes out of our Wednesday to appreciate Kehlani's dancers, who are all my camp crush.
---
https://www.instagram.com/p/BkrJboEAmPv/?taken-by=bishilarious
Just a weekly update into how goodlooking Brittani Nichols is.
---

Relatedly, a weekly update into Rhea Butcher's butt. In a respectful way.
---

Our own Austen has requested that Hannah Gadsby be added to this column and I think we can all agree this is a great idea, especially since there are currently two of her. This photograph is not new but it's still very important.
---
https://www.instagram.com/p/BkniBh7jHTL/?taken-by=ddlovato
This is definitely not a Westworld host of Demi Lovato plotting her revenge upon all of humankind. Just a nice normal human Demi Lovato getting her makeup done.
---
https://www.instagram.com/p/BkiMpnOlQLW/?taken-by=evanrachelwood
Speaking of, here's Evan back with another dramatic '80s montage. I'd appreciate one of these each week from now until the end of time, please.
---

Three of my favorite things in one photo (spaghetti, wine and badass bi babes).
---
https://www.instagram.com/p/Bko0cE0BRkm/?taken-by=janellemonae
Listen, all your faves came to see Janelle Monáe and everything was beautiful and nothing hurt.
---
.@JanelleMonae is one of those artist that comes around only every few decades🙌🏾 that artist that CREATES HER OWN LANE! She's CUT FROM A DIFFERENT CLOTH! Great minds think alike😉 keep doing ya damn thang Janelle🤗🙌🏾🔥 pic.twitter.com/VQSemQBVRm

— Missy Elliott (@MissyElliott) June 25, 2018

THIS IS FINE I'M FINE WE'RE FINE
---

Gaby Dunn is just as much of a sports fan as I am! Go…. whatever country Mika is rooting for! IDK! I like the field's alternative lifestyle haircut!
---

I guess Paris Jackson started a band? So far it looks like they're into lying on the ground with acoustic guitars, which is a genre I can get behind.
---

Approximately 42 of these were mine. I read once that Tom Jones has kept all the ladies' underwear that's been thrown at him over the years; nice to see that Hayley has found a better use for hers.
---
https://www.instagram.com/p/BkjZ9bzH9F7/?taken-by=teganandsara
I wonder how many bras have been thrown at Tegan and Sara's cats.
---
Join us next week, when we shall delve further into this fascinating query.