Summer is in full swing! That means plus-size swimsuit season is back in full swing too, and the selection this year is really outstanding. Ever since the fatkini burst onto the scene to save us all from the curse of frumpy plus-size swimsuits a few years back, suits catering to larger bodies have gotten better and better every season. There's so much diversity available in cut, color, and style of plus-size swimwear that it makes my heart sing.
Summer is now my favorite time of year for shopping because I adore plus-size femme swimwear, which is not something I ever thought I'd say in the past. Finding the courage to wear swimsuits was a central part of my body love journey. Ever since I learned to embrace myself, to truly embrace my rolls, stretch marks and curves and celebrate them unapologetically, I can't get enough, and my favorite way to do so is in a bikini at the beach or by the pool. It feels like an epic reclamation of a space that for many years I avoided in fear and shame because I believed the lies society fed me about my body not belonging at the beach. No more! I will strut my ample swimsuit stuff with pride and I hope you will too, cause you deserve to love your body and take up space as well.
Even though its way more fun now, swimsuit shopping can still be overwhelming so I'm hoping this guide will help out! This is a collection of some of the cutest, trendiest swimsuits available this season in multiple style categories and cut options in each to cater to different body types. I'll also be showing off some of my favorite suits! If you're ready for some Lizzo, Good as Hell level "in there swimwear goin to the pool shit" vibes, scroll through this list and get ready to click "add to cart".
Eternal Retro Sweethearts
I love black and white swimsuits because they're a fun but mild way to play around with prints before taking the step of mixing colors and prints together. Suits like this also never go out of style, especially polkadots and stripes — the eternal retro sweethearts of swimwear! Suits like these are also really easy to blend into outfits if you're having a day that calls for looking cute and collected for a beach side brunch or a date before hitting the sand.
I just got this adorable Black & White striped "Summer Vibes" suit from the Essie Golden X Rebdolls collection and it's quickly become my new favorite. I love the pop of color around the waist bands and it's very comfortable and supportive despite having no underwire which is SUPER important to me. I know boob support can really make or break a plus-size swimsuit, so I've tried my best to include suits in this guide that are both adorable and supportive enough to hold up to jumping through waves and frolicking on the beach without fear of a nip slip.
Get The Look: Black and White Swimsuits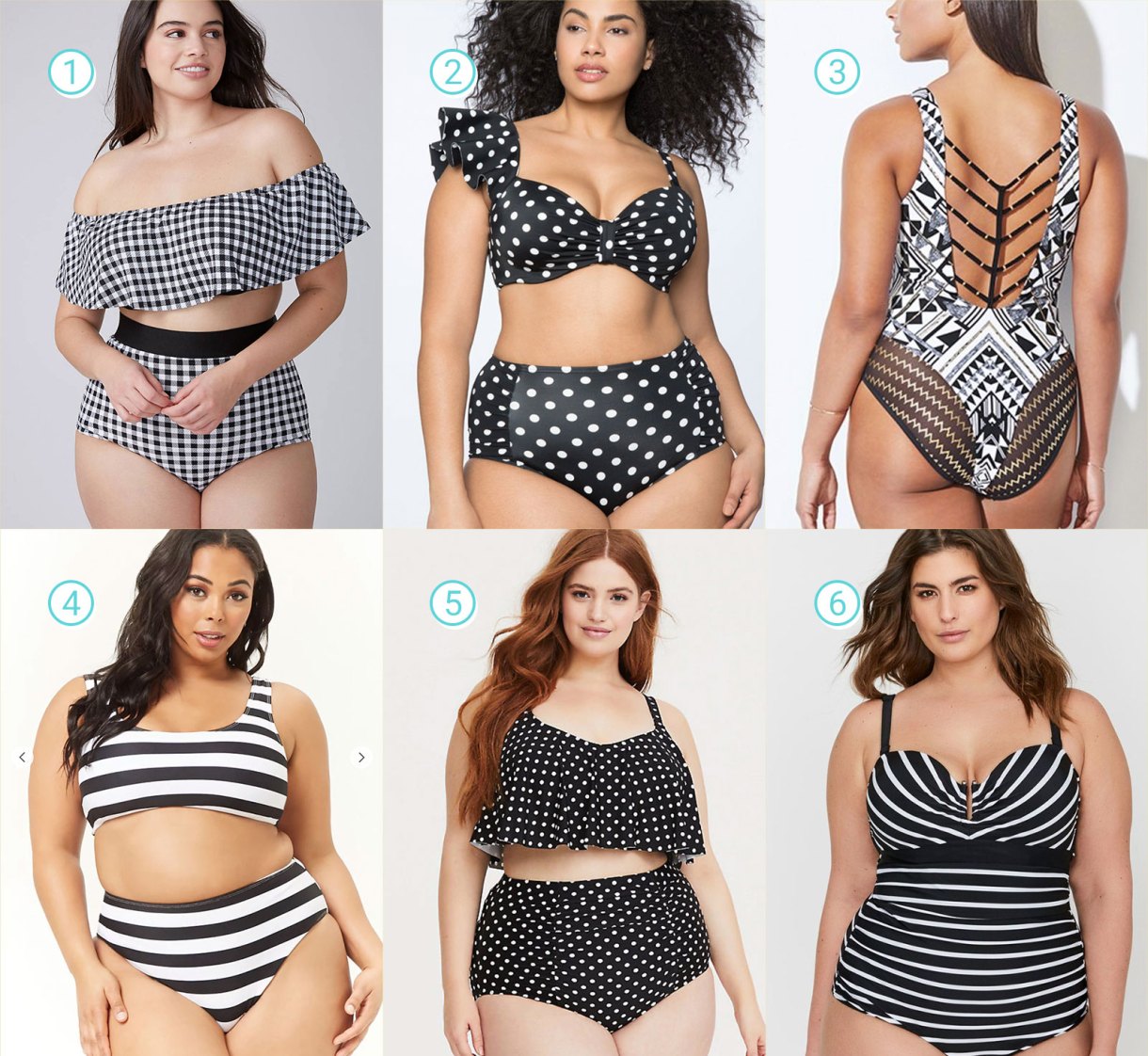 1 / Strapless off the shoulder flounce bikini top ($70.50)
2 / Ruffle Strap Bikini Top (79.90) and Ruched High Waisted Bikini Bottom (59.90)
3 / Ashley Graham X Swimsuits For All Roaring Swimsuit ($78.00)
4 / Forever 21 Plus Size Striped Bikini Top ($17.90) and Plus Size Striped High-Rise Bikini Bottoms ($15.90)
5 / Torrid Black & White Polkadot Wireless Bikini Top ($58.90) and Black & White Polkadot Ruched Swim Bottom ($44.90)
6 / Additionelle Cactus Striped One-Piece Swimsuit ($110.00)
---
Neon Moon
Neon swimsuits are really popular this season and I could not be more excited about it! These suits command attention and are incredibly sexy. If your goal this summer is to turn heads by the pool and make everyone so hot that they have to take a dip, I suggest you slip those amazing curves of yours into a showstopper like the ones below!
I've been rocking this Gabifresh X Swimsuits For All Roller Coaster Bikini this summer, and so have Yvonne and Vanessa and we all LOVE it. It looks amazing with diverse skin tones, has super sexy cut outs, that ever important support, and is the kind of suit that you can't help but feel powerful in which is exactly how you should feel in your beautiful body.
Get The Look: Neon Swimsuits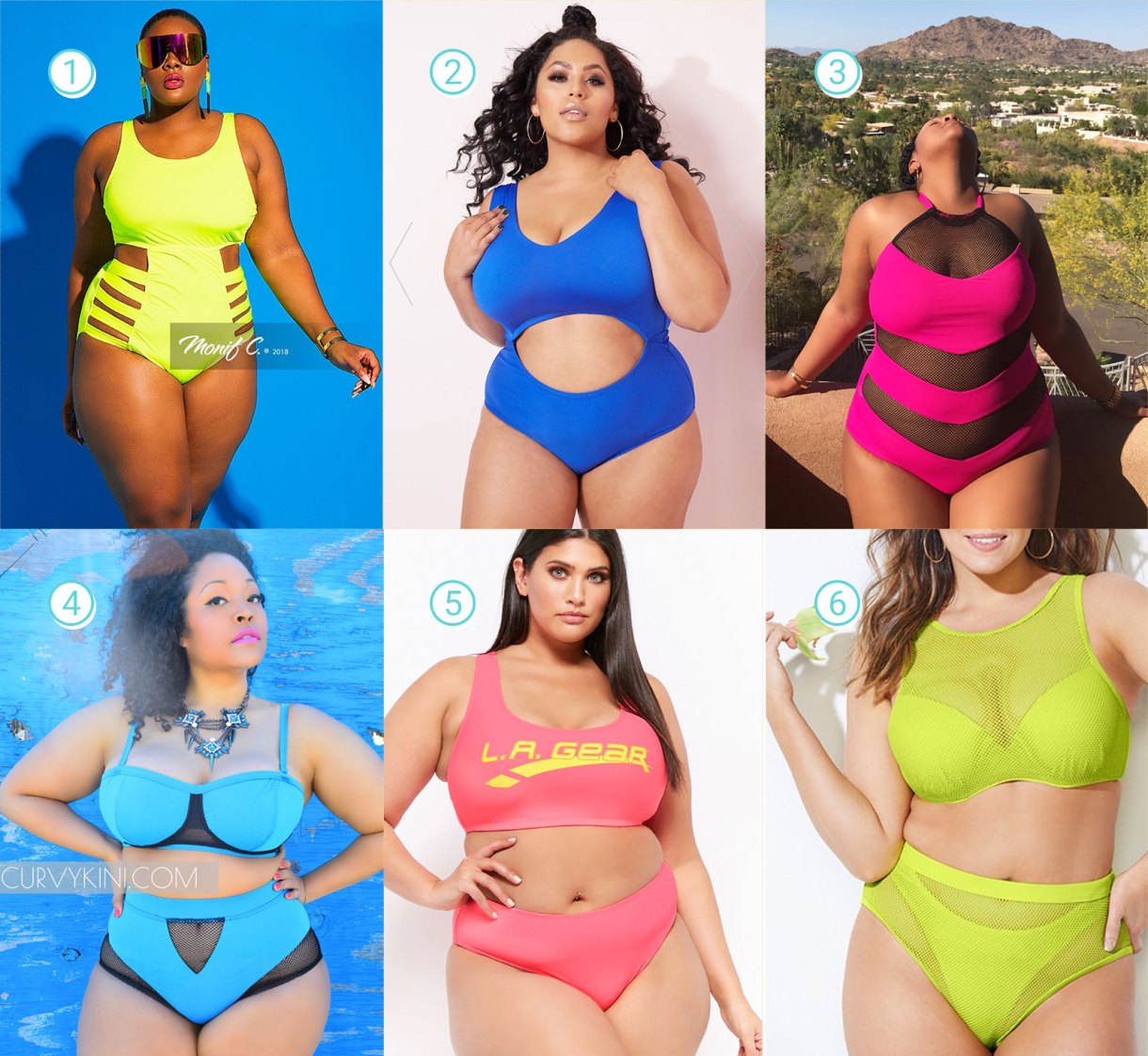 1 / Monif C. Zanzibar One-Piece Monokini Swimsuit – Neon Yellow ($168.00)
2 / Essie Golden X Rebdolls "Feel the Breeze" Cut-Out One Piece Swimsuit– Royal Blue ($39.99)
3 / Curvykini Bree-Hot Pink One Piece Swimsuit ($137.00)
4 / Curvykini Hollis- Scuba Blue Bikini ($133.00)
5 /  Forever 21 Plus Size L.A. Gear Bralette Bikini Top ($19.90) and Plus Size L.A. Gear High Waist Bikini Bottoms ($17.90)
6 / Gabifresh X Swimsuits For All Scrambler Underwire Bikini ($66.30)
---
Be Gay, Wear Prints!
Maybe you're going on the tropical vacation of your dreams this year, or maybe you're manifesting it by shopping for swimsuits in advance, either way I've got you covered with palm leaf, floral, flamingo, and pineapple prints galore. It's summer! Be gay, wear prints! You can wear a different depiction of tropical life in swimsuit form EVERY DAY if you want, and if you do I hope you post tons of pictures so I can yell "Slaaaaaaaaaay" in your comments and give you the affirmation you deserve for being cute as fuck in the face of the fat-shaming culture we live in. If you have a partner or friend who's into matching it could also be real adorable to find complimentary tropical print beach outfits!
My favorite printed suit of the season is another Gabifresh X Swimsuits for all cutie, the carnival underwire bikini. This was a real hit at A-camp so if you've got a queer pool or beach function going up I highly suggest this one. You know how much queers love pineapples printed on things!
Get The Look: Fun Tropical Prints & Patterns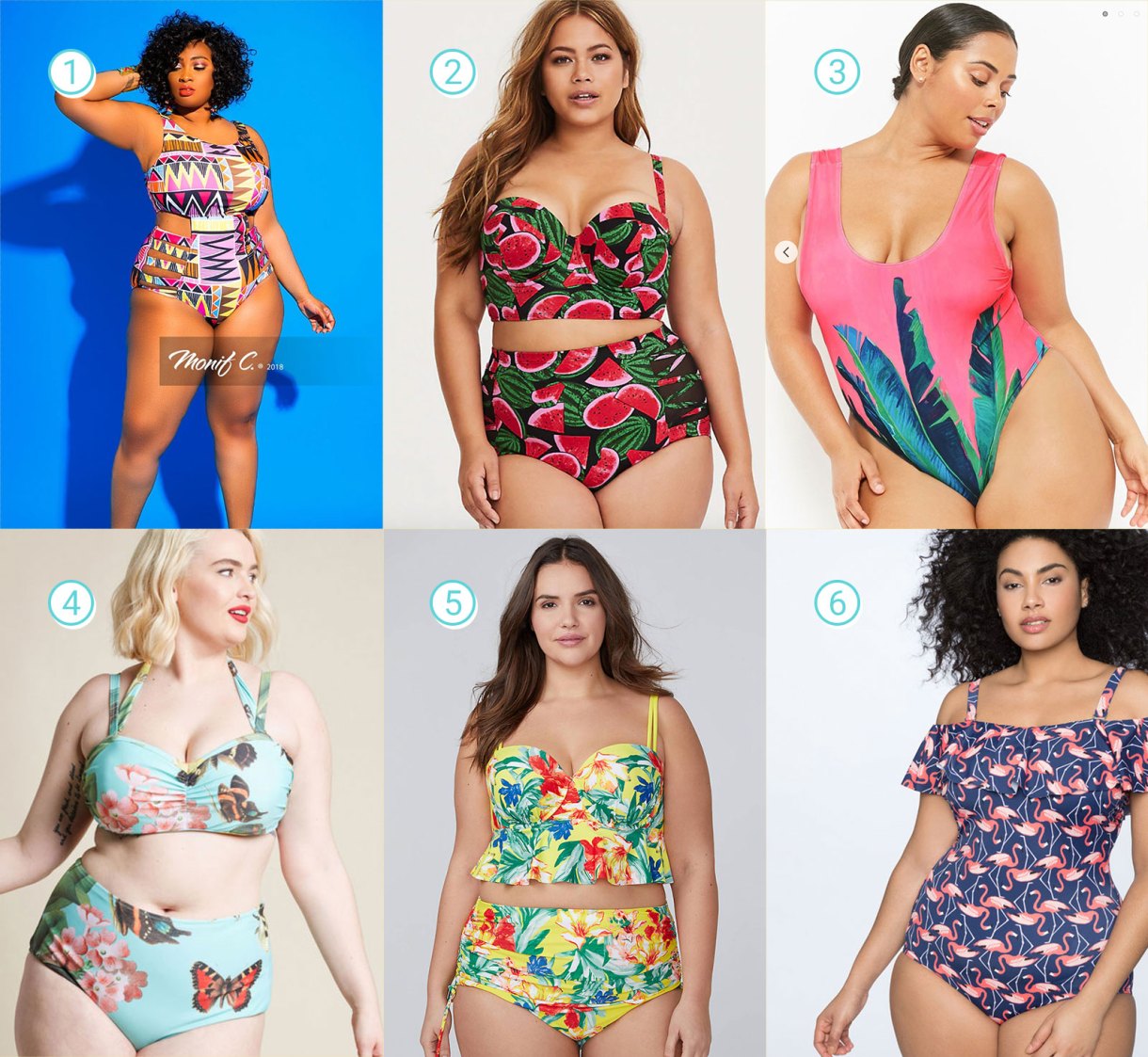 1 / Monif C. Zanzibar One-Piece Monokini Swimsuit – Pink Aztec ($168.00)
2 / Torrid Watermelon Push-Up Strapless Bikini Top ($68.90) and Watermelon Lattice Mesh Swim Bottom ($44.90)
3 / Forever 21 Plus Size Kulani Kinis Palm Leaf One-Piece Swimsuit ($58.00)
4 / Modcloth Waterfront Flaunt Bikini top in Nature ($49.00) and Waterfront Flaunt High-Waisted Bikini Bottom in Nature ($39.00)
5 / Lane Bryant Tropical Floral Flounce Bikini Top with Built-in Bandeau Bra ($70.50) and Tropical floral High-Waist Drawstring Swim Brief ($54.50)
6 / Eloquii Ruffle Off The Shoulder One-Piece Swimsuit ($119.90)
---
Sexy and Chic
Sometimes life calls for swimsuits that play absolutely no games when it comes to exuding sex appeal. You want to cause heart attacks, give your crush the sweats, and leave no question that you are the sexiest person at the pool. If that sounds like you, this is your category. These are some of the most alluring plus-size swimsuits available this season thanks to mesh, lace, cutouts, and lots of room for cleavage. All the suits on this list are sexy in their own way, but these combine sexiness, style, and sophistication in jaw-dropping ways.
My go to swimsuit when I'm feeling like giving Rihanna-level sexy vibes at the beach is this striped two piece from Forever 21. Unfortunately it's not currently in stock BUT theres a suit very similar to it available on their site now, and you absolutely cannot go wrong with any of the options listed above.
Get The Look: Sexy AF Swimsuits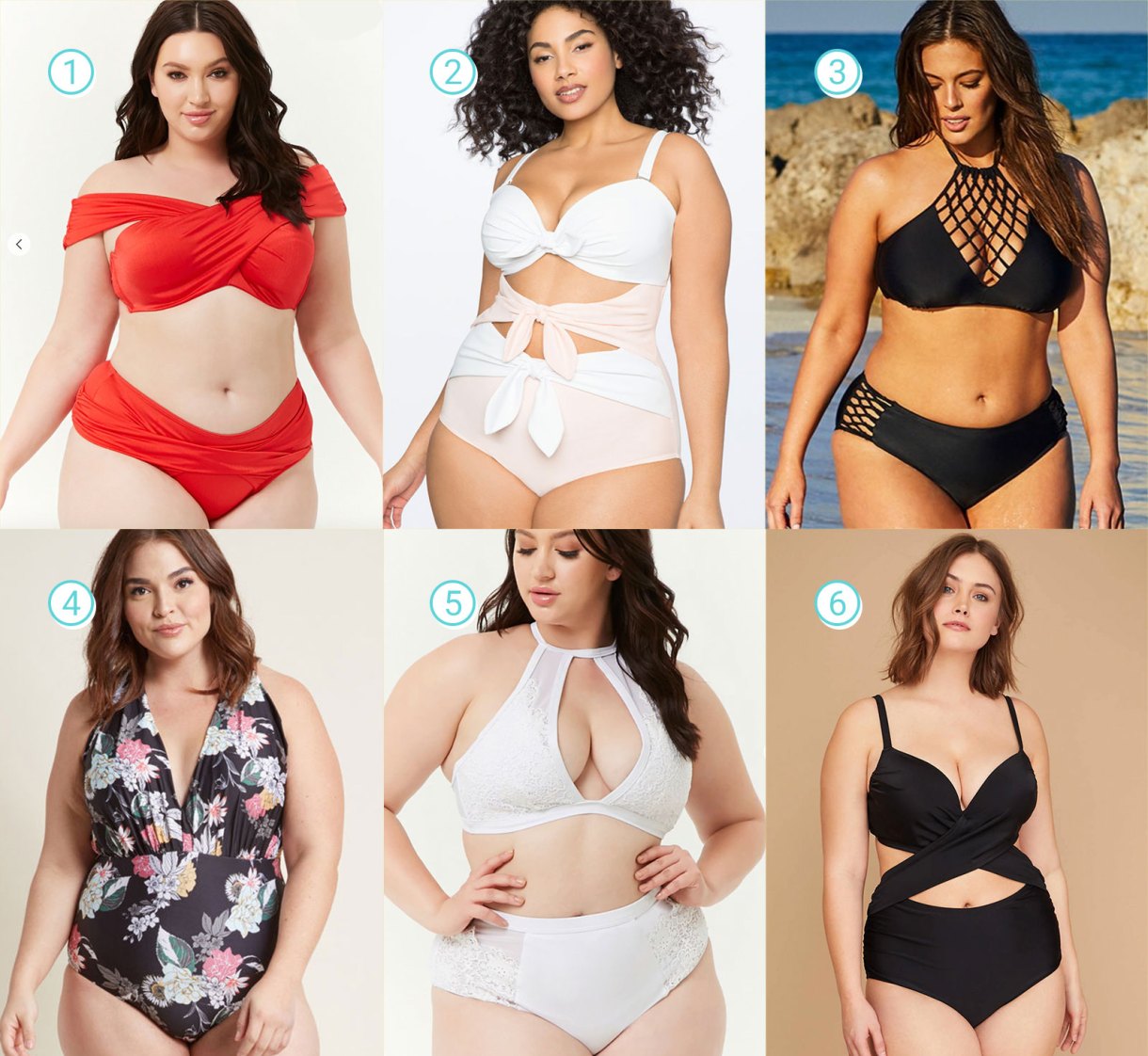 1 / Forever 21 Plus Size Hunter McGrady x Playful Promises Bikini Top ($48.00) and Plus Size Hunter McGrady x Playful Promises Bikini Bottoms ($35.00)
2 / Eloquii Tie Front One-Piece Swimsuit ($119.00)
3 / Ashley Graham X Swimsuits For All Leader Bikini ($67.20)
4 / Modcloth Promised Paradise One-Piece Swimsuit in Black Bloom ($85.00)
5 / Forever 21 Plus Size Hunter McGrady x Playful Promises Lace Bikini Top ($38.00) and Plus Size Hunter McGrady x Playful Promises Lace Bikini Bottoms ($35.00)
6 / Lane Bryant Swim Monokini with Built in Plunge Bra ($120.50).
I'm honestly struggling not to add all these swimsuits to my cart. I'll have to shop vicariously through you all instead. I hope you'll give one of these swimsuits a try, and wish you the happiest summer full of sunshine, body positivity, and a tidal wave of self love.