Find Your Fit is a style advice column helping real queer people find the masculine, butch, and tomboy styles that make them look and feel hot.
Today's fit is for Paige!
Hi Mika,
I'm a 25 year old Cancer talking, laughing, loving, breathing, etc. in Brooklyn. I'm leaving my marketing job in August to pursue a Master of Social Work degree at Columbia. I'll be in class two days a week and in a field placement for three, case managing participants in a program that helps people who can't afford bail avoid pre-trial detention. I'll be working out of the district courthouse, which means I need to maintain a fairly professional look, plus have some kind of blazer situation for the occasional court appearance. Help!
I identify as genderqueer/non-binary and have become increasingly uncomfortable with my body as of late. I want my chest to appear flat, and I try to minimize my hips/butt. However, the "dapper" butch looks I find when I try to google outfit inspiration don't really fit my personality. I prefer an edgier, street style-esque sort of look, and I want to carry some of that style over into my workwear. Weird overalls/jumpsuits, obnoxiously patterned button ups with a long sleeve tee underneath, and cuffed trousers are my faves.
I wear a men's size 30 pants and medium shirts (although longer shirts can sometimes hug my butt too tightly), and my shoe size is a women's 9.5. Currently rocking a closely shaved head, multiple facial piercings, and a "Leave Britney Alone" tattoo.
Style icons: Adam J Kurtz, Keith Haring, anyone's 90's skater boyfriend
Thank you so much for this series, I've learned so much already <3
Best,
Paige
(they/them pronouns)
P.S. I'm on a fairly tight budget, so pieces that can be dressed up for work and then dressed down for class/the weekend would be especially helpful.
You know, Britney is a Sagittarius sun/Aquarius moon, and so am I; I don't think this is a coincidence.
I totally get your vibe, and you are in luck because the current trend is mixing skater/street style elements with formal wear. We can achieve this look without compromising your edge quite easily!
And you fall, and you crawl, and you break, and you take

Inspo:
Okay, first of all I love Adam, second, he definitely is like the modern-day Keith Haring, so like a little inception moment happening here with your style icons, love it, love consistency. Something Adam does well is keeping a 'minimalist' street/skater look going by wearing a lot of black which adds a bit more 'formality' to fits, which I find super sweet giving how colorful his work is in contrast.
Styling:
Okay, I'm gonna start with by saying this which applies to every fit I put together for you: you already know how to accomplish the street thing with your accessories — that short chain, your glasses, the piercings, etc. I didn't shop for that many accessories for you because I don't think you need much help in that department. Even though I didn't include these things, please continue to incorporate them to every one of these fits.
Now back to black. You can wear a ton of black/dark colored things, and that will give you formal-ish look while also helping your chest appear flatter. Incorporate patterns to bring that street look; have them clash but in the right way, which means that you don't want any of them cancelling each other out but rather coexisting together. I often do this by looking for a shared variable between all the pieces I'm putting together — in this case, black is that variable.
These drop-crotch trousers from ASOS are dope because you can dress them up or down; for example, wear them with a plain t-shirt for class, but dress them up with a shirt for work. They won't hug any wrong places because they're supposed to be a loose carrot fit. This polo/shirt/long-sleeve hybrid will give you a bit of sophistication because of the neck/zipper but without sacrificing the fun. Look for tops like this to dress it up (you can thrift a ton, honestly since you're on a budget) and you won't have to do dapper. Since you live in Brooklyn, consider investing in a cream/tan/stone trench coat for the fall/winter; even though they're 'dapper' in nature DO NOT FEAR, mixing them with the right pieces will give you a professional look without doing dapper as a whole.
I picked some low-cut Vans for you, because you tend to cuff your pants a lot and these socks deserve to be seen. Because of the nature of the trousers and the incorporation of the trench coat, you can be as casual as you want with your shoes. Pair it with a fisherman beanie to add a pop of color.
Cause she's like, so whatever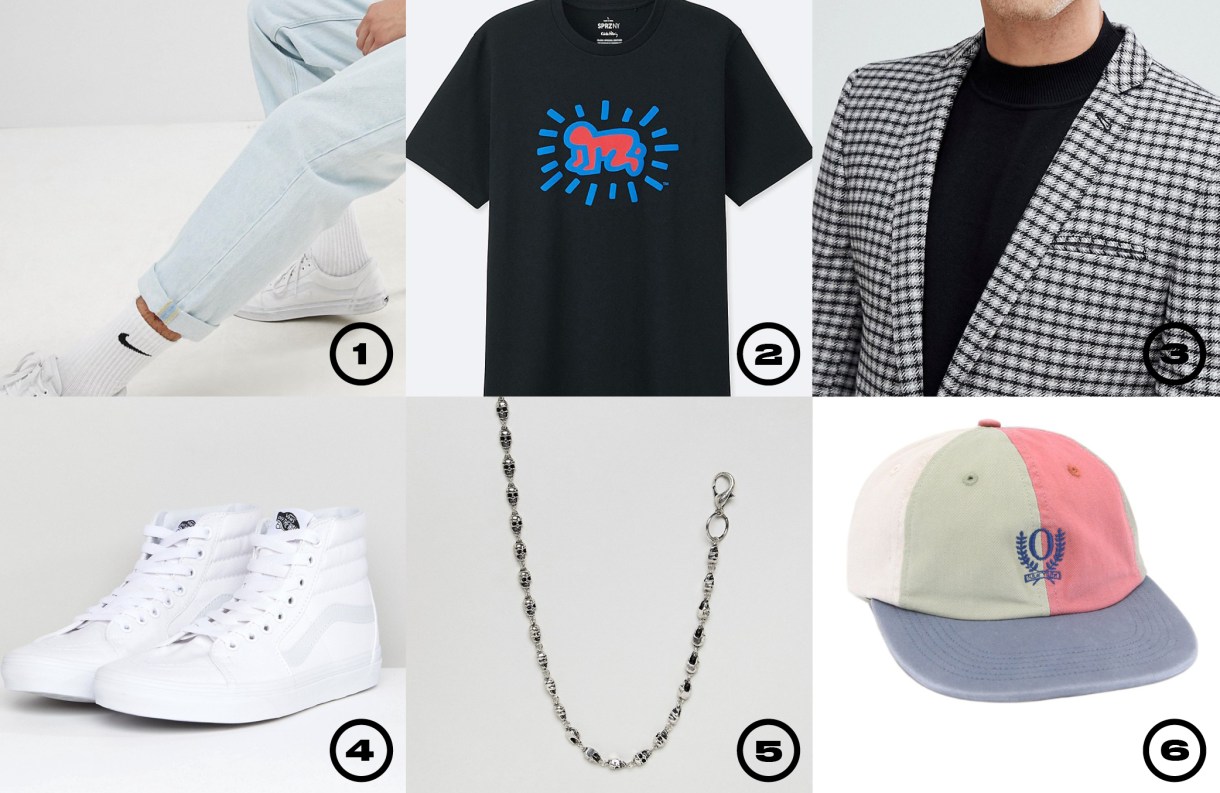 1.Jeans // 2. T-shirt // 3. Jacket // 4. Vans // 5. Chain // 6. Hat
Inspo:
Keith Haring loooooooved a light denim/white sneaker situation, a fit as legendary and eternal as Haring himself. For this fit I want to bring that aesthetic, but pair it with a couple current trends to make it a bit more formal.
Styling:
Even though I'm linking you to to specific items, I'm sure you know half of these you can thrift for cheap if you find yourself with money woes. Your style aligns itself with a lot of vintage wear and living in Brooklyn probably has its perks in terms of cool places to thrift.
Pair the light denim with the high-cut white vans you already have. When you're choosing your tee try to do a dark color to dress it up, a light color to dress it down. I picked this one from UNIQLO, because they usually have a ton of graphic tees and collaborations and they are always affordable. Wear it with an oversized 80's looking blazer to dress it up, or any sort of denim/bomber jacket to dress it down. Don't be afraid of denim on denim if you want to have a 90's moment.
There's a current trend going with jean chains that I'm really into and would definitely modernize this fit; ASOS has a couple options for an affordable price. You can try to wear a black belt if you feel like tucking in the shirt (full tuck, not french). Wear the blazer open if you decide to tuck in the tee. Depending on where you're going, think of wearing a five-panel hat or a fisherman/mini beanie to add that extra touch. I picked this hat from Only, a NYC-based brand. They have a good range of prices and their pieces are right up your alley!
He was a boy, she was a girl, can I make it any more obvious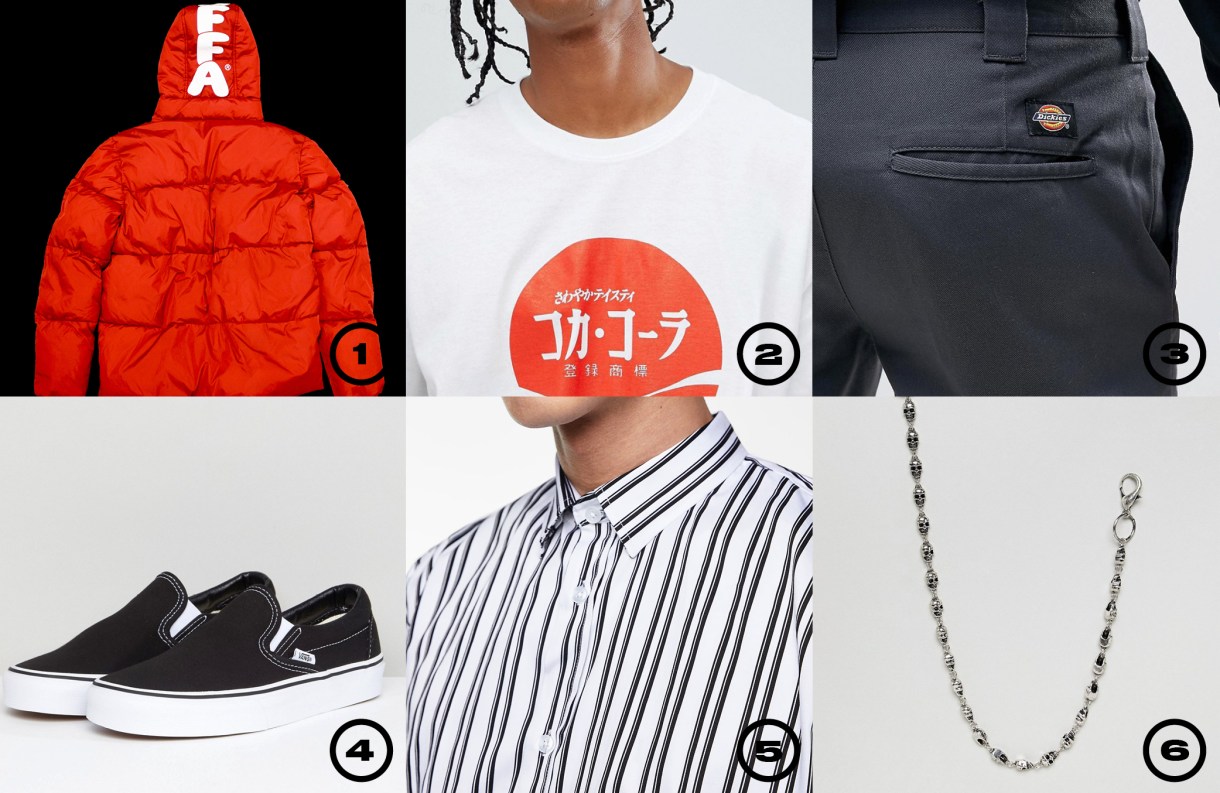 1.Puffer Jacket // 2. Tee // 3. Pants // 4. Vans // 5.Shirt // 6. Chain
Inspo:
I may or may not have listened to Avril's whole discography while putting this look together! Who knows! Maybe I did! Maybe I didn't! Let Go (2002)! A groundbreaking album!
Styling:
For this fit I wanted to do a more California street style look. There's two items that this fit is built around, and the first is the chinos. Dickies, a brand legendary as Avril herself, can sometimes be pricey, but man will they survive through the apocalypse. Dickies are so hardcore they're a serious contender in taking the "I Will Never Die" trophy from 2001 Nokia phones.
I would invest in a nice pair of Dickies because they're extremely flexible, and you can wear them constantly without losing their quality. You get to dress them up and down as much as you want, and they're for sure the #1 skater boyfriend pant.
The second key item is the puffer coat. Since you live in Brooklyn you know winter is, in fact, coming. A bright-colored puffer coat will carry you through the winter in style while keeping you cozy and warm. I love Puffa because they keep their designs simple but incorporate cool graphic elements; I would also look into brands like Lazy Oaf. Since we made a point of having you wear more neutral/dark tones consider buying a bright puffer coat (bright green, yellow, orange, red, hyperlink blue, etc) to bring that edgy element.
I picked this t-shirt, but any white graphic tee will do — tuck the tee in the pants and add the chain and or a belt to elevate the fit, wear a pinstripe shirt over it untucked to add another (more formal) layer if you want to dress it up. Cuff the pants and pair them with some low-cut Vans and black socks. If you pull this fit in the winter, the puffer jacket will cut at the hip and the contrast against the button up lengthwise will add a nice touch. You can also switch to any sort of Docs if you wanna dress it up more or during the winter.
---
For help finding your fit, write to mika [at] autostraddle [dot] com with a little about yourself, your personal style icons, and three or four selfies in your current favorite outfit(s)!