Hi, and welcome to the first FOT I've hosted in…over two years! Wow, is that true? I just checked, and yes, it's true. But I'm back! And I'm…going through something! It's Cancer season, so maybe we're all going through something. Given the general state of The World, we're definitely all going through something.
It's fine! I'm fine! Maybe one day I'll be able to write about it. For now, I just made a goat cheese and fig tart about it. Salted with my tears. Just kidding ha ha!
This unraveled quickly.
I really came here not to talk about the emotional hurricane that is my life right now but instead to share with you all that I have not been able to stop reading Incredibles 2 fanfiction!!!!!!!! Which is, of course, probably a symptom of the emotional hurricane or, at least, a way to pretend it isn't happening. But it turns out that fanfiction can be a very satisfying distraction during tumultuous times.
Have you SEEN Incredibles 2 yet?! It might surpass Thor: Ragnarok as the superhero movie with the most gay subtext released in recent years?! I am certain that Elastigirl is queer, and I would die for her…a fictional, animated character. And one of the new characters introduced in the sequel, Evelyn, is in love with her, too. GO SEE THIS MOVIE RIGHT NOW! And then look up Elastigirl/Evelyn fanfiction and dive into this rabbit hole with me. This one is extremely slow-burn and actually quite sad but the queer angst had me HOOKED. This one is sexy but also angsty. This fandom is…incredibly angsty.
Look, I know that fanfiction is one of those things where like you're super into it or you're super not. I hope I haven't lost anyone who doesn't really buy into the obsessive fandom life in the way I have since…age 5 when I first saw Grease? If you do use fanfiction as a way to escape or just as a genuine source of entertainment, I want to hear about some of your favorite things you've read! Or the weirdest things you've read! Show me your fav problematic ships, and I'll show you mine ;)
But if this isn't your thang, I wanna hear about your late-night "badwp_postshabits that aren't actually that bad. Maybe they're a little unhealthy—but not toxic. See, sometimes I drink a cappuccino at 10 p.m. and then go on a Riverdale fanfic bender. Probably not the best choice, but it's also not necessarily self-destructive! Do you secretly read a bunch of celebrity gossip? Do you look at apartments you know you can't afford? Do you not have late-night habits because you have a perfect sleep schedule that you never deviate from and treat your body like a temple? If you answered yes to the last one, I DON'T WANT TO HEAR FROM YOU!!!! Just kidding, teach me your ways?
I'll leave you with a photo of my baby cat Paulson (yes, named after Sarah Paulson). Her late-night habits include chasing ghosts around the apartment, head-butting me until I let her under the covers, and knocking things over when the head-butting doesn't work.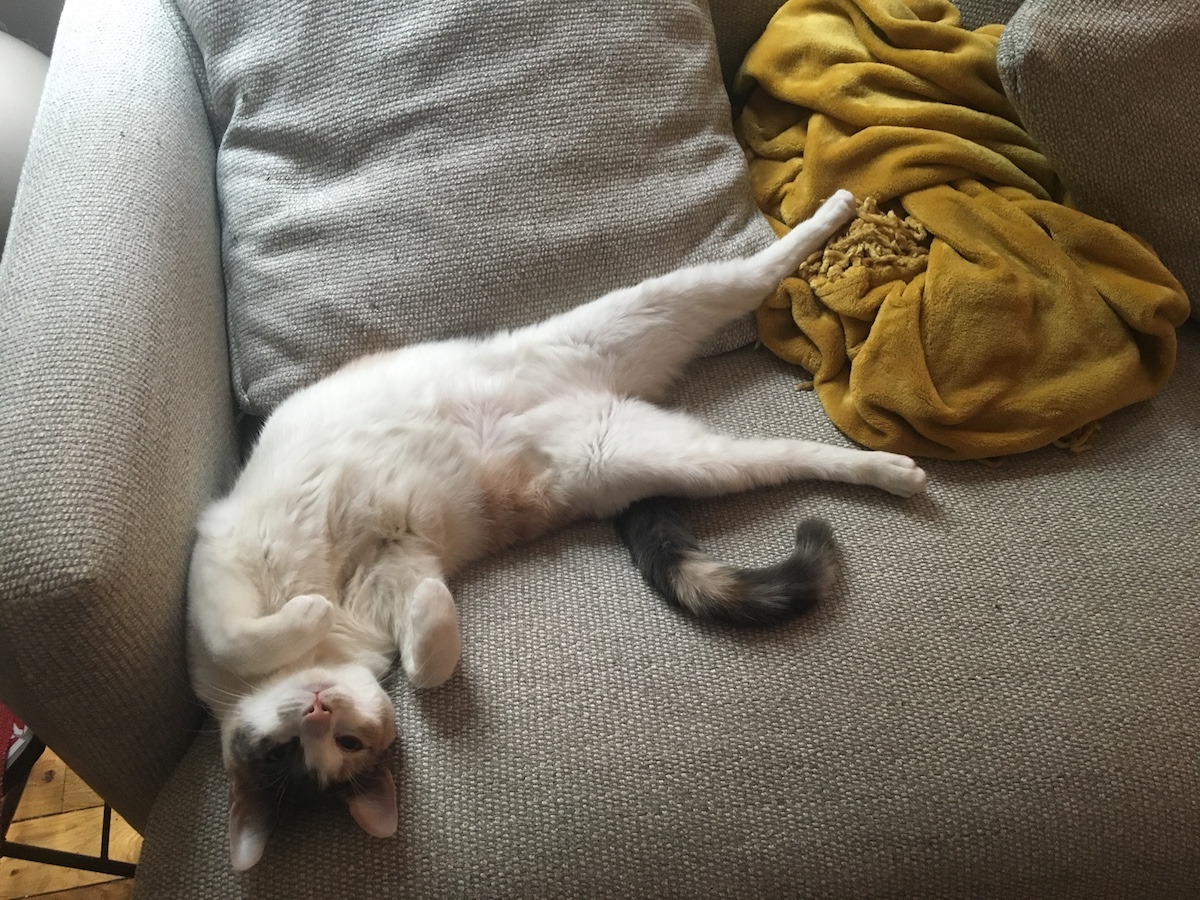 ---
How To Post A Photo In The Comments:
Find a photo on the web, right click (on a Mac, control+click), hit "Copy Image URLwp_postsand then…
code it in to your comment like so:
If you need to upload the photo you love from your computer, try using imgur. To learn more about posting photos, check out A.E.i's step-by-step guide.
How To Post A Video In The Comments, Too:
Find a video on YouTube, copy the URL, and paste the link on its own separate line in your comment. You no longer need to use the "embedwp_postscode!