The world sure does feel more on fire by the day, huh? If you're like me, between being engaged with the news and being out there fighting the good fight, you need some downtime to recharge your brain and body with a little bit of goodness and hope. I do that with stories, especially teevee — and I thought, hey, you might like some recommendations to do that too. Below are 20 happy lesbian and bisexual storylines you can watch to power up your spirit with laughter and swooning.
Special thanks to Carmen, Natalie, Valerie Anne, Riese, and Sarah Sarwar for their encyclopedic knowledge of women kissing women on teevee. 
---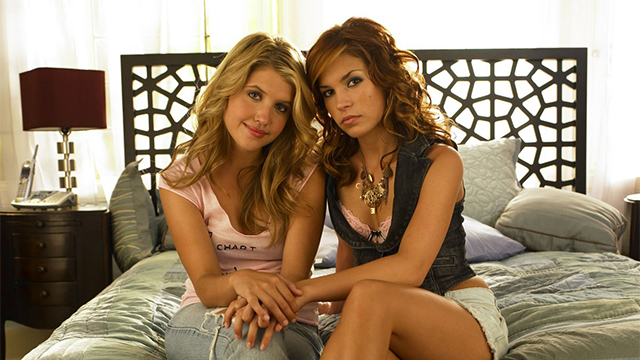 Spashley! If anyone knows about surviving a long, hard walk through the metaphorical desert it's Spashley! They premiered in 2005, when queer TV was a wasteland and the only thing gay women had to do was sit around and wait for season three of the The L Word to start. Theirs is a timeless lesbian coming of age story/queer love story that has a happy ending and, as a bonus, features a homophobic mom who rights her ways and ultimately even attends Pride with her daughter.
Most swoon-worthy episodes: 101 "Secret Truths" // 105 "Girls Guide to Dating" // 110 "What Just Happened" // 203 "Guess Who's Coming to Dinner?" // 308 "Gay Pride"
Where to watch: Logotv.com
---
Naomi and Emily, Skins (Series Three and Four)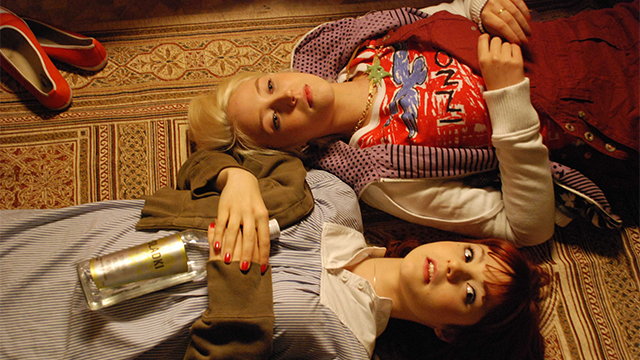 Before you start Skins, HEED MY WARNING! You must stop after the series four finale. After the show ended, the creators rolled out a couple of made for TV movies and they are an abomination in literally every way; they absolutely are not canon; and you SHOULD NOT WATCH THEM! However, the second generation of real Skins features my favorite ever love story between shy, buttoned-up, blossoming lesbian Emily Fitch and her surly, self-destructive, self-righteous pal Naomi Campbell.
Most swoon-worthy episodes: 306 "Naomi" // 309 "Katie and Emily" // 402 "Emily" // 408 "Everyone"
Where to watch: Netflix
---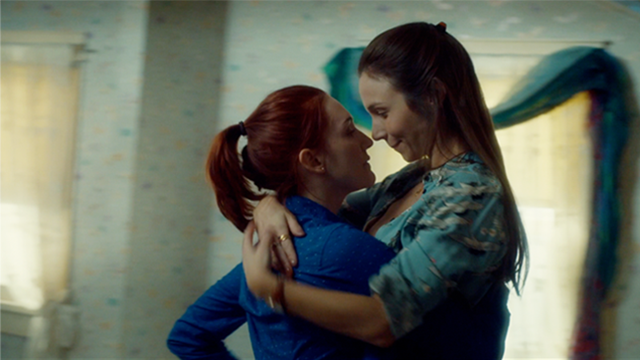 The sparks between Waverly "Hermione Danger" Earp and Nicole "Hot Cop" Haught start flying in the pilot episode of Wynonna Earp and haven't stopped yet. Waverly doesn't even know she's bisexual when the show starts, so her journey from confused-but-interested to climbing-Nicole-like-a-literal-tree is quite a treat. Both characters have their own storylines and grow as individuals, and they have a super-couple through-line where they grow together. They're sweet, they're sexy, and they get the exact same treatment as the straight couples on the show. Canada! So wild, so magical!
Most swoon-worthy episodes: 109 "Bury Me with My Guns On" // 112 "House of Memories" // 113 "I Walk the Line" // 202 "Shed Your Skin" // 211 "Gone as a Girl Can Get" // 212 "I Hope You Dance"
Where to watch: Netflix
---
Maggie and Alex, Supergirl (Season Two)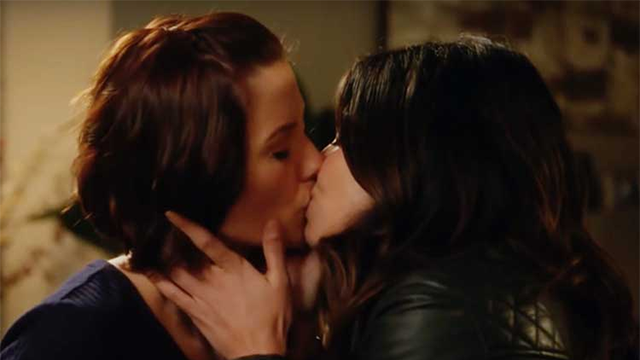 I, personally, am a fan of Maggie and Alex's storyline from start-to-finish because it's really rare to see two queer women on broadcast TV get treated with the kind of care and respect Supergirl's writers took with these two. However, Floriana Lima, the actress who plays Maggie, wasn't contracted through the entirety of the third season, so the two do eventually share a tearful goodbye; if you only want what's happy, just follow them through season two. There you'll find a beautiful, authentic coming out story; a glorious slow burn will-they/won't-they; a teensy bit of longing heartache; and a sweeping soaring second kiss that'll make you want to sing.
Most swoon-worthy episodes: 206 "Changing" // 208 "Medusa" // 209 "Supergirl Lives" // 213 "Mr. & Mrs. Mxyzptlk" // 219 "Alex" // 302 "Triggers" // 305 "Damage"
Where to watch: Netflix
---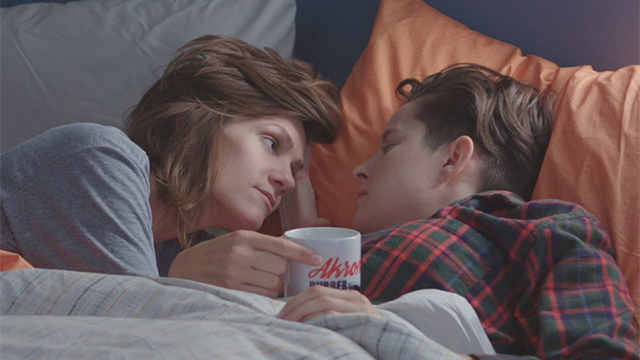 Take My Wife is Cameron Esposito and Rhea Butcher playing fictional versions of their real life selves in the best queer comedy on TV ever. It's smart and it's hilarious and it's romantic and it's so very heckin' gay. It's even full of guest stars you know and love, like Jen Richards, Brittani Nichols, and Gaby Dunn. You will laugh, for sure, but the only tears you'll cry will be good ones, and that's a guarantee.
Most swoon-worthy episodes: All of them
Where to watch: iTunes, Starz.com
---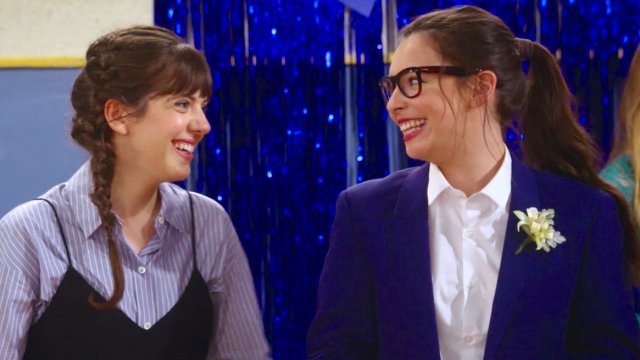 One Day at a Time is one of the best comedies of the golden age of TV, and the whole show is absolutely worth your time. Rita Moreno and Justina Machado are transcendent in theirs role as a Cuban-American mother-daughter dynamic duo. Elena's storyline is just icing on the cake. She comes out in season one, and finds love with a non-binary lesbian nerd named Syd who just gets her.
Most swoon-worthy episodes: 110 "Sex Talk" // 113 "Quinces" // 203 "To Zir, With Love" // 205 "Locked Down" // 211 "Homecoming"
Where to watch: Netflix
---
There's never been a show like One Mississippi, and especially season two, which features a middle-age masculine-of-center lesbian falling in love with a woman who doesn't even know she's gay yet. If you're feeling overwhelmed and hopeless and want some well-earned laughs and the ability to believe love is not a lie, this one's for you.
Most swoon-worthy episodes: All of them
Where to watch: Amazon
---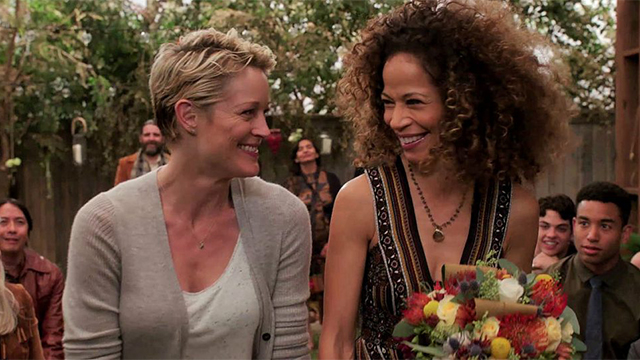 The Fosters always spent more time on Stef and Lena's kids than the queer adult audience wanted, but in between their high school shenanigans, Stef and Lena had one of the realest, rawest, most uplifting lesbian relationships in TV history. They got married multiple times, even.
Most swoon-worthy episodes: 101 "Meet the Parents" // 110 "I Do" // 318 "Rehearsal" // 416 "The Long Haul" // 518 "Just Say Yes"
Where to watch: Netflix
---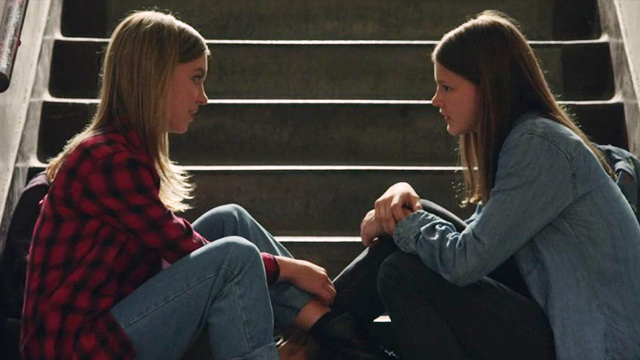 Netflix's 90s-era show was a breakout among young queer people (and, um, queer people in their late 30s too) but Netflix cancelled it after just one season. What a tender gay season it was, though!
Most swoon-worthy episodes: 105 "What the Hell's a Zarginda" // 108 "I Just Wanna Be Anybody" // 110 "We Were Merely Freshmen"
Where to watch: Netflix
---
Santana and Brittany, Glee
Glee was not without its glaring issues, but it remains one of the only shows on television to give its queer female couple a very happy ending. In between the now iconic throwaway line — "Sex isn't dating; if it were, Santana and I would be dating" — and that #BrittanaWedding, there's plenty of laughter and tears and songs and dances and a coming out story that ends up with a dude getting punched in the face. Lots to love, is what I'm saying.
Most swoon-worthy episodes: 113 "Sectionals" // 215 "Sexy" // 313 "Heart" // 512 "100" // 603 "Jagged Little Tapestry" // 608 "A Wedding"
Bonus Brittana Songs: Me Against the Music, 202 "Brittney/Brittany" // Songbird, 219 "Rumours" // Rumour Has It/Someone Like You, 306 "Mash Off" // Hand in My Pocket/I Feel the Earth Move, 603 "Jagged Little Tapestry"
Where to watch: Netflix
---
Marceline and Princess Bubblegum, Adventure Time
It seemed like subtext in the very beginning, but Adventure Time finally gave itself over to a canonical relationship between the ruler of the Candy Kingdom and her curmudgeonly vampire best friend. By the end, they're promising to grow old together.
Most swoon-worthy episodes: 310 "What Was Missing" // 529 "Sky Witch" // 702 "Varmints" // Season 7 "Stakes" Mini-Series // 1007 "Marcy & Hunson"
Bonus comic book mini-series: Adventure Time: Marceline and the Scream Queens
Where to watch: Hulu
---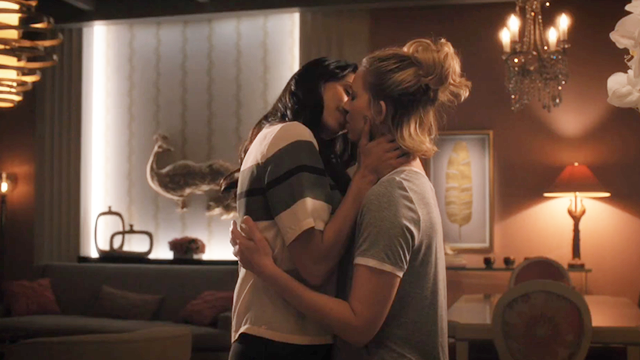 Jane the Virgin fans read Petra as bisexual for a good long while before the show's writers decided why not? and gave her a woman love interest. Watching Petra physically melt into her kisses with Jane Ramos was fun, but watching the sure-footed Slytherin navigate real romantic feelings for the first time in a very long time was even better.
Most swoon-worthy episodes: 410 "Chapter Seventy-Four" through 416 "Chapter Eighty-One"
Where to watch: Netflix
---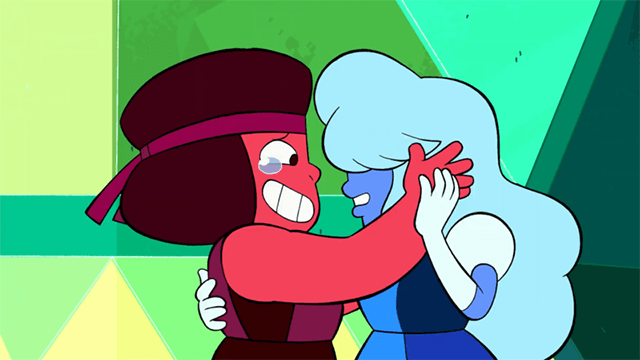 Unlike other animated shows that hinted around at queerness, Steven Universe made it clear that Ruby and Sapphire were in lesbian love with each other as soon as they made it clear that Garnet was Ruby and Sapphire. They are the emotional anchor of Steven's whole family, and the episodes when they're unfused and interacting are some of the most romantic queer moments on TV, full stop.
Most swoon-worthy episodes: 212 "Keystone Motel" // 221 "The Answer" // 415 "That Will Be All" // 519 "Now We're Only Falling Apart"
Where to watch: Hulu
---
Nomi and Amanita, Sense8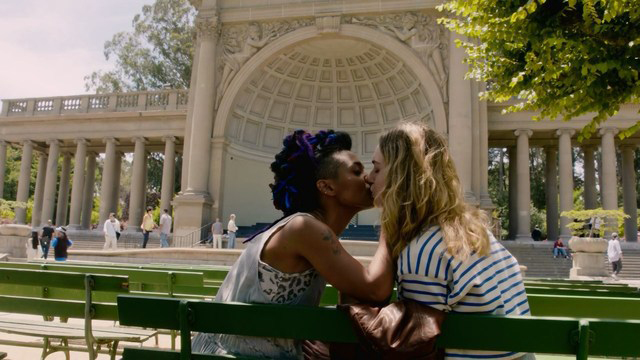 Sense8 was cancelled too soon, but the show's writers knew they had something special with Nomi and Amanita's romance; so much so that the two of them join Brittany and Santana as one of the only queer couples on TV to be sent off into the sunset with a big gay wedding.
Most swoon-worthy episodes: You kind of have to watch this whole show to get it, but the most swoon-worthy episode is the series finale.
Where to watch: Netflix
---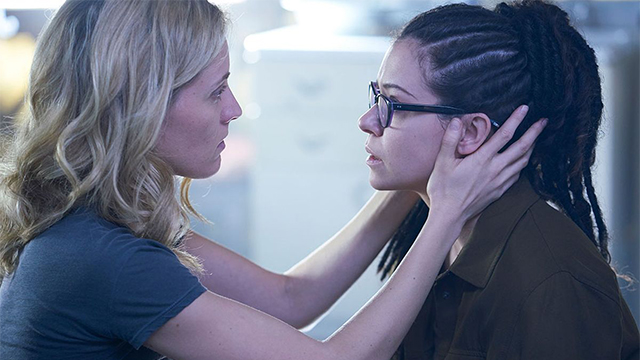 Cosima and Delphine's relationship started out as just a little crush and a little crazy science and, well, some serious duplicitousness — and became the most moving, epic romance on the entire show. It seems like one or both of them are gonna be dead at the end of basically every season finale, so prepare yourself for that TV trickery. In fact, when the show revealed the Delphine actually was alive, I literally leapt from my couch and rushed the TV to press my nose against it. Plus Delphine and Cosima's season four reunion features the best fan fiction trope: "naked body heat to stay alive!"
Most swoon-worthy episodes: 105 "Conditions of Existence" // 108 "Entangled Bank" // 202 "Governed by Sound Reason and True Religion" // 410 "From Dancing Mice to Psychopaths" // 505 "Ease For Idle Millionaires" // 510 "To Right the Wrongs of Many aka Happily Ever After"
Where to watch: Amazon, BBCAmerica.com
---
Kat and Adena's story was one of the sweetest and most surprising things on TV last summer. It tackled an adult coming out as bisexual, Islamaphobia, the Trump administration, and U.S. immigration. This year, so far, it has tackled oral sex. The writers of The Bold Type have given Kat and Adena as much — more, really — care than any of the straight pairings on the show. As of this moment, they're even still together!
Most swoon-worthy episodes: 104 " If You Can't Do It With Feeling" // 105 "No Feminism in the Champagne Room" // 109 "Before Tequila Sunrise" // 201 "Feminist Army" // 204 "OMG"
Where to watch: Hulu, Freeform
---
Bette and Tina, The L Word (Seasons One, Five and Six At Your Own Risk)
Ah, Tibette. The L Word's supercouple. Loved and loathed by The L Word fandom in equal measure. They were committed to each other, they cheated on each other, they cheated with each other, and at the end of the day the rode off into the future together. Also, to this day, nothing competes with The L Word's lesbian sex scenes, and Bette and Tina are always second best at that. (Behind Carmen and Shane, obviously; I'm a shipper, not a monster.)
Most swoon-worthy episodes: 101 "Pilot" // 504 "Let's Get This Party Started" // 506 "Lights! Camera! Action!" // 510 "Lifecycle"
Where to watch: Netflix
---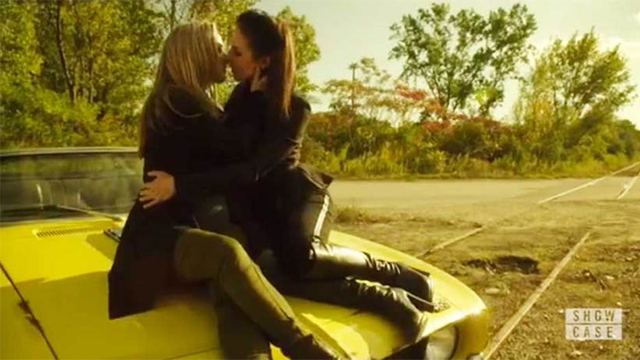 Lost Girl was hit or miss in its final seasons, but Bo and Lauren never lost their sizzle. There's an egregious Bury Your Gay in the final episode, but if you can fast forward past that or Eternal Sunshine it from your memory, you get the resolution of a five-season love triangle that concludes with the two women in each other's arms.
Most swoon-worthy episodes: 108 "Vexes" // 206 "It's Better to Burn Out Than Fae Away" // 222 "Flesh and Blood" // 405 "Let the Dark Times Roll" // 507 "Here Comes the Night" // 512 "Judgment Fae" // 516 "Rise" //
Where to watch: Netflix
---
Karolina and Nico's relationship is a slow burn without too much screentime, but the scenes they do share are charged and intimate and so very relatable. Plus who doesn't love that age-old story of the innocent, most popular girl in school falling in love with the tortured goth outcast.
Most swoon-worthy episodes: 106 "Metamorphosis" // 109 "Doomsday" // 110 "Hostile"
Where to watch: Hulu
---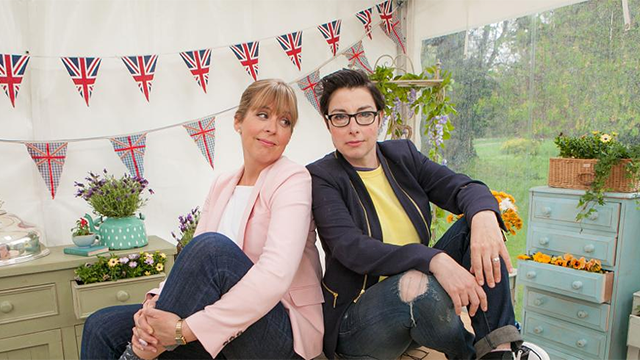 Okay this isn't technically a storyline and Sue and Mel aren't technically a couple. They're just professional partners! But Sue Perkins is one of the most famous lesbians in the UK and Great British Bake Off is hands-down the most feel-good show in the history of the world. Series four even stars queer superstar chef/bestselling writer/masterful tweeter Ruby Tandoh.
Most swoon-worthy episodes: Every moment of series one through six
Where to watch: Netflix
---
Drop your favs in the comments with a list of best episodes if you have them!