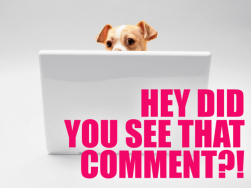 Hi loves! In just a few shorts days we'll be counting down at midnight, and this whole weird trip of a year will be over. How was your year? At least some of mine was good — after all, I got to spend it with you! All of you Straddlers are my silver lining for 2017, so thank you from the bottom of my heart. Let's save 2018 (and the world!) with more puns, memes, and the only civil, caring comment section on the internet!
I'm really feeling Baopu #41 this week. Feelings truly do make us strong.
One Day At A Time and Runaways star Ariela Barer is out!  Congratulations, kiddo!
Some of us still had perfect moments in 2017.
Also, also, also: Laneia is a perfect gem, and other stories for your face!
It's hard to be a person, but Alyssa is a really good one.
Love is NOT a lie, Stef, no matter how many times you say it might be.
This was really good: What It Means To Call Ourselves Non-Binary: An Autostraddle Roundtable
And then there were your comments!
---
On FRIDAY OPEN THREAD: Impossible Things:
The True Directions Award to Lauren:
On The 24 Most Honest and Self-Righteous Also.Also.Also Headlines of 2017:
The Artistic License Award to Carmen SanDiego:
On Monday Roundtable: Our Personal Perfect Perfect Moments in 2017:
The 100% This Award to katiek:

On No Filter: Of Course Samira Wiley and Lauren Morelli Had Matching Christmas Pajamas:
The Evan Rachel Does Award to Chloe and thatottergirl:
And the High Art Award to Chandra:
On 26 Celebrity Gal Pals Who Made Us Swoon In 2017:
The Puppy Episode Award to Gaby Dunn:
And on What It Means To Call Ourselves Non-Binary: An Autostraddle Roundtable:
The Your Damn Turn Award to Amanda ling: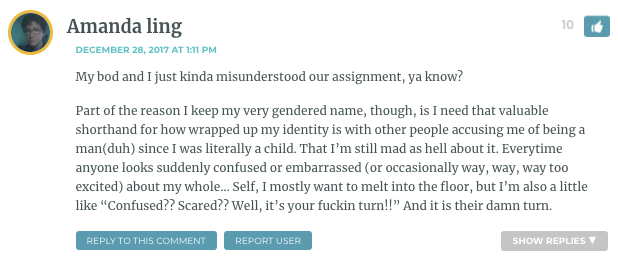 ---
Happy New Year, my pals! See you in 2018.
See a funny or amazing comment that needs to be here? E-mail me at queergirlblogs [at] gmail [dot] com!