We first fell in love with her as Elena's goth friend Carmen in One Day at a Time. We fell even more in love with her when we saw her playing outspoken feminist Gert Yorkes on Marvel's Runaways. Our love was further solidified by her feminist, funny and gay-culture-filled Twitter and Instagram accounts. Well now the Jewish-Latina actress Ariela Barer has come out by tweeting about being gay. Ariela, you're awesome and we love your acting and we're so happy for you!
https://www.instagram.com/p/Bbp-iR0lwSY/?hl=en&taken-by=arielabarer
In the past few weeks, Barer has tweeted several times about her sexual orientation. At first she tweeted, "Literally everything I do is to get back at the people who called me ugly & gay n middle school. They were right, but it was mean spirited!" A few weeks later she retweeted a joke about straight culture by saying "bi culture is having your friend hack it off then going to the salon to get it fixed." That first tweet went viral on Tumblr, and yesterday Barer tweeted about it again. The only time she's been explicit about her sexual orientation was in the truly great tweet where she said "For everyone asking: my sexual orientation is that part in Funeral by @phoebe_bridgers where the violin swells on the second verse." So, Ariela, whether you identify as bi or gay or the really beautiful violin part in a beautiful and haunting song about death and feelings and fear and hope, we're happy to have you and so happy that you're able to be yourself. Also, if you don't know Phoebe Bridgers or the song "Funeral," both are great and you should check them out.
girlie im screaming lmao @ArielaBarer pic.twitter.com/jVpTstN0dQ

— anjelica (@hollowedgrace) December 24, 2017
Barer, whose parents are both Jewish and from Mexico has been a standout performer on two of our favorite queer shows this year. In One Day at a Time, she played Elena's best friend Carmen who won us over with her goth style and deadpan reaction to everything. She also brought to light an important real life issue, when her character's parents were deported and she was homeless and sneaking into Elena's room to have a place to sleep at night. Now, in Runaways, she plays the daughter of two geneticists who are members of a cult/crime organization and made a deinonychus (a dinosaur that looked in real life what the velociraptors in Jurassic Park looked like) in a lab to protect her and her younger sister. Gert is a total fan favorite character both in the comics and the show, and Barer is playing her perfectly. If you haven't seen these two shows, head over to Netflix and Hulu and binge them right now, you'll thank me.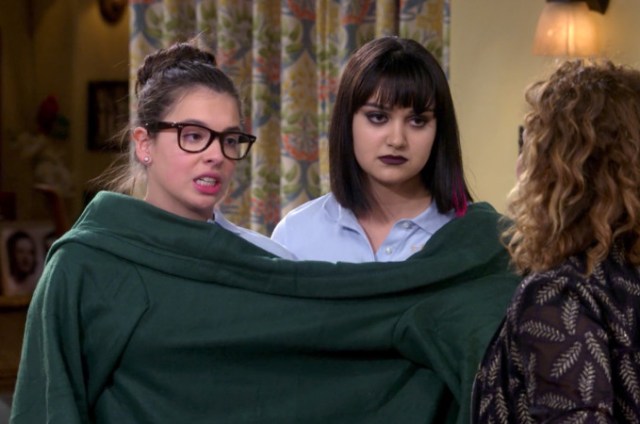 Following Barer on twitter and instagram has been one of the best decisions I've made this year. She's an extremely talented rising star who cares deeply about her craft and the messages the media she's in sends. She works hard to learn and get things right. She speaks out about what's important to her. She has great taste in music and is a modern fashion icon. She's weird in the funny, great way that so many queer millennial are. She's one of my favorite public figures. Congratulations Ariela and keep being your awesome self.